Calling all the sneakerheads out there – this list is for you! Find the coolest shoe drawings below.
In fashion, they say that shoes can either make or break an outfit. The same goes for drawings. Shoes can make good drawings into something extraordinary. Learn how to draw the coolest kicks to level up your drawing skills.
Arg! Here are easy pirate drawings that will be perfect for the kids' next project.
Be the Best Artist with these Tools
8 Easy Shoe Drawings
1. Small Boots for Kids Drawing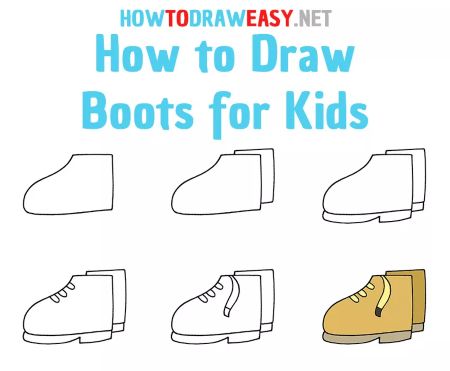 These heavy-duty boots will complete their drawing that's based in the outdoors or during winter.
Follow the steps by How to Draw Easy to know how to level up a simple pair of boots into fashionable boots.
Get the coolest winter sensory bins ideas here.
2. Easy Shoe Sketch
Watch this short but informative video of Tyo Story to learn how to draw these classic red sneakers.
The kids will find this tutorial useful because the red velcro sneakers are true classics and will be drawn most of the time.
3. Princess Shoe for Kids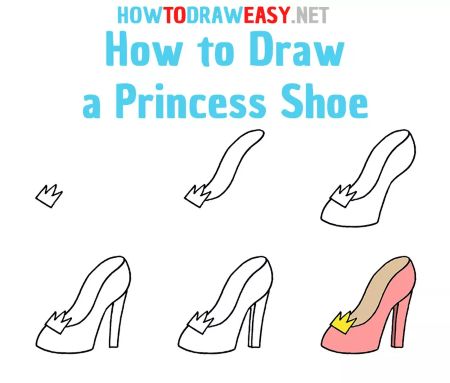 Complete the look of the fairies and princesses by drawing these elegant crown shoes from How to Draw Easy.
These shoes aren't limited to them because the kids can also draw themself wearing this lovely footwear.
Unleash your little artist's potential by doing these rock painting ideas for kids with them.
4. Checkered Vans Shoes Drawing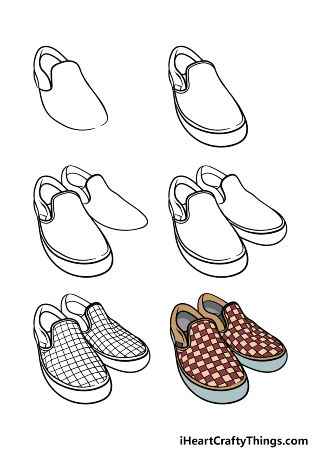 This checkered Vans from I Heart Crafty Things will steal the show.
They're unique, cool, and will level up any drawing.
Brownie points for the easy-to-follow drawing tutorial, too.
5. Simple Sneakers for Kids Drawing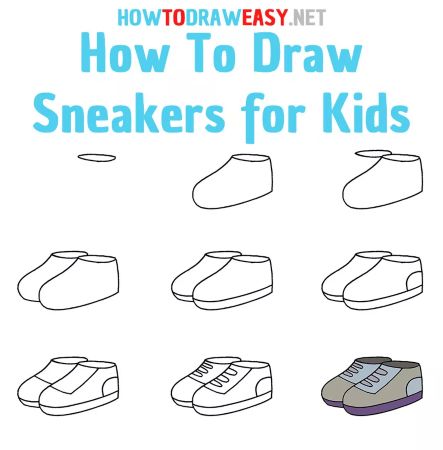 If you're looking for a drawing of a pair of shoes that will easily blend with the drawing then this one from How to Draw Easy will be a great choice.
The colors of these sneakers are muted so they will camouflage with the outfit perfectly.
You can also opt to change it up a little by choosing a different color of your preference.
6. Easy Brown Boot Drawing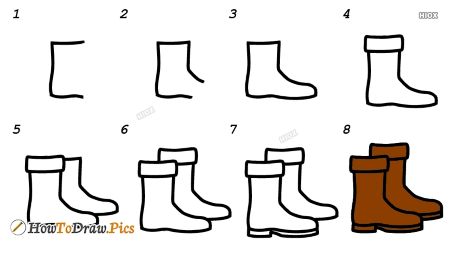 It will be a great idea for younger kids to try out drawing these brown boots from How to Draw Pics.
They're simple to draw so the kids won't have a hard time sketching them.
It will allow them to hone their drawing skills one pair of boots at a time.
7. Simple Blue Sneaker Drawing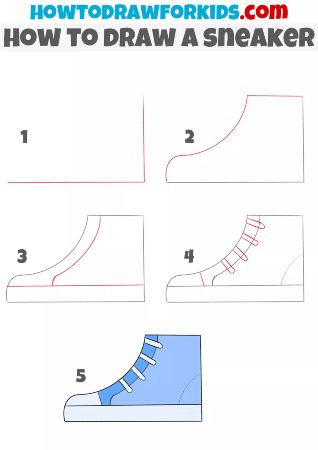 Does your kid know the letter "L"? If they do then drawing these blue sneakers from How to Draw for Kids will be a piece of cake.
The first step in drawing the shoes is by drawing a downward "L" as seen in the tutorial.
The succeeding steps will be easy to do as well thanks to the detailed guide,
8. Heart Sneakers Drawing
Star-studded and heart sneakers will never go out of style, especially for fashionable girls.
Don't miss out on the trend by following the instructions from this video by KS ART.
Here's a list of rainbow crafts for kids for a colorful and fun project.
7 Shoe Drawings
9. Shoes from the Front Drawing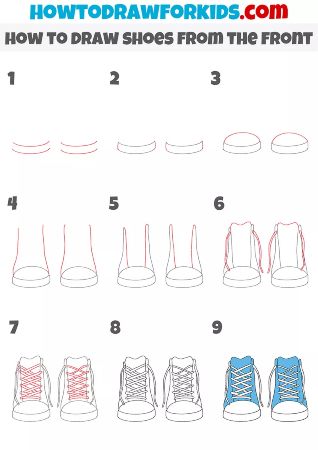 One must know how to draw shoes from different angles to make drawings more realistic and diverse.
Use this guide from How to Draw for Kids to know how to sketch shoes as seen in the front.
Follow the nine-step guide to get the right angle.
10. Ice Skating Shoes Drawing
Your child will also love drawing these ice skating shoes as much as they enjoy being on the ice rink.
Get a glimpse of how to draw these shoes from this video by Sherry Drawings.
Let the kid's imagination run wild with these Toy Story crafts.
11. Ballet Shoe Drawing

Is your kid a prima ballerina in the making? They'll love these dainty ballet shoes drawing from Easy Drawing Guides.
Practice how to draw the bend and curves of the feet while dancing ballet through this informative tutorial.
12. Formal Shoes Drawing
Their drawings will look more elegant and dapper thanks to this drawing of shoes from Super Easy Drawings.
The video will teach you how to draw a pair of leather shoes that are perfect for different occasions.
Spread your wings like a butterfly and do these amazing butterfly perler beads patterns.
13. Yellow Rubber Boot Drawing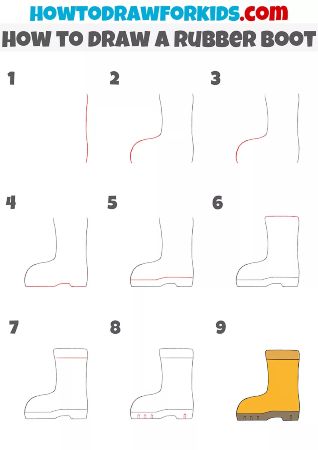 Don't let the bad weather dampen your mood.
Draw this adorable yellow boot from How to Draw for Kids for a better and brighter day.
14. Red High Heels Drawing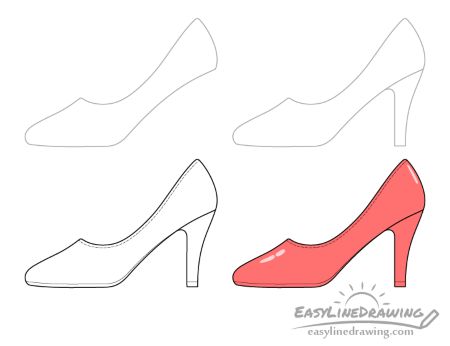 Another must-have for fashion drawings of the kids are these gorgeous high heels from Easy Line Drawing.
You can also change up the colors to match the pretty blouse and dress drawings.
Prepare the honey because we'll be making these Winnie the Pooh perler beads patterns next.
15. Crocs Drawing
People either love or dislike the aesthetics of Crocs. Which side are you on?
You're in luck if you're a fan of the shoes because our next project from PurPur Kids TV will show you the simplest way how to draw them.
5 Sneaker Drawings
16. Red Sneakers Drawing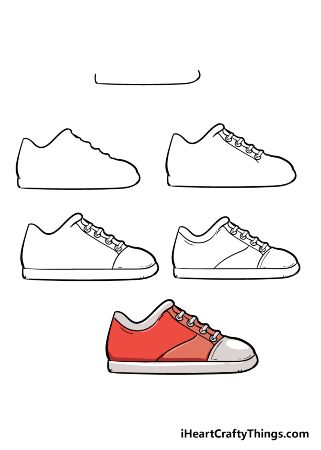 One can never have too many variations of the classic red sneakers.
Good thing I Heart Crafty Things has this six-step tutorial that the kids can easily copy and draw.
17. Black Converse Shoes Drawing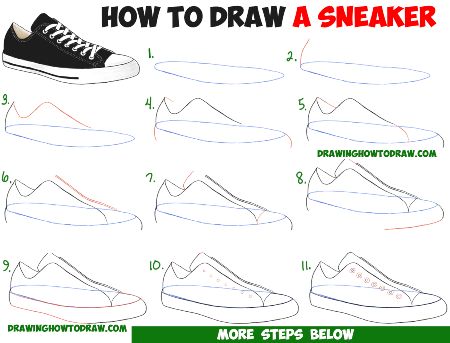 Converse shoes have been the go-to footwear for people for many years now because they're durable and look cool, too.
With this tutorial from Drawing How to Draw, the kids will learn the proper techniques of how to draw them.
More fun awaits you in these easy tiger drawings project.
18. Adorable Sneaker Drawing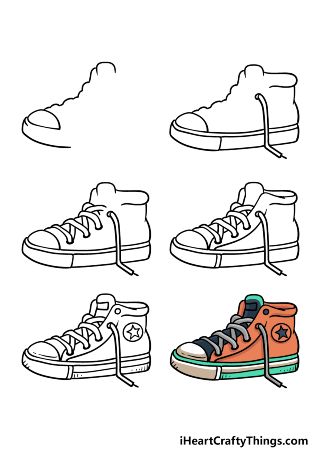 Go old school and try drawing these sneakers from I Heart Crafty Things.
Choosing the colors orange and blue-green is a nice move because it makes the sneakers look more unique and awesome.
19. How to Draw Adidas Superstar Sneakers
A pair of white Adidas Superstar sneakers will look great on any outfit.
Whether their drawing is sporting a pair of jeans, a skirt, or a dress, these shoes will level up the outfit.
Watch the full tutorial of Mister Brush and discover how easy it is to draw these Adidas shoes.
20. Blue and Orange Sneakers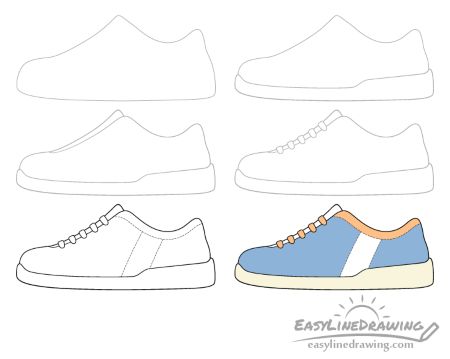 For those looking for a fast and easy tutorial without compromising the quality of the drawing then this one from Easy Line Drawing will be the perfect choice.
It features cool blue and orange kicks that can easily be drawn in six steps.
Shoe Drawings for the Best Kicks
This list has the best shoe drawings for all occasions and purposes.
Whether the drawing needs comfortable sneakers, lovely heels, or durable boots, this list has got it all.
Check out the posts below for more amazing crafts: