Embark on a magical journey with your child through this list of princess drawings.
Prepare to be swept away not only by these captivating princesses but by the artistic skills of the kids, too. Let your child's imagination soar as they adorn their princesses with splendid gowns, sparkly crowns, and magical wands.
Unlock another skill and talent of your child through these amazing drawing tutorials.
Your child will also love doing these DIY dream catchers for kids.
5 Easy Princess Drawings
1. Magnificent Princess Drawing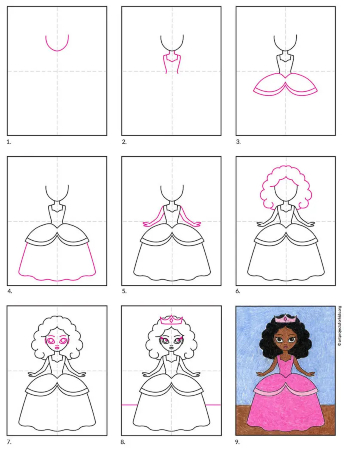 Your child will feel like they're part of something magical while drawing this princess from Art Projects for Kids.
Her glamorous tiara and dress will also ignite an interest in fashion among the kids.
2. Simple Princess Drawing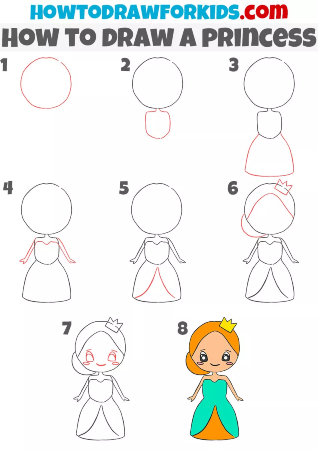 This pretty princess sketch from How to Draw for Kids will be perfect for the young and blooming artists.
Each stroke of their pencil and color of the crayon will enhance their artistic skills.
Someone is being a little sus. Find out who it is by doing these entertaining Among Us perler beads patterns.
3. Kind Princess Drawing
Princesses are beautiful inside and out.
They have the best interests of their subjects at heart while also looking glamorous wearing their gowns and tiaras.
Capture the outer beauty of the royal with this helpful guide from Yala Kids Channel.
4. Lovely Princess Drawing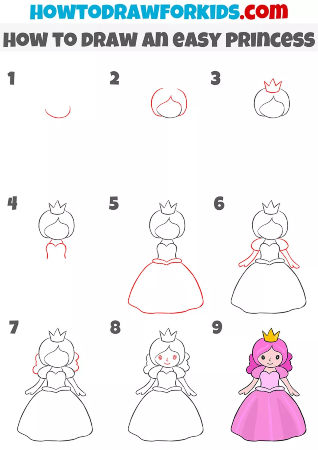 I bet your child has never seen a princess with bubblegum pink-colored hair before.
Show them this awesome drawing from How to Draw for Kids that broke the royal traditions by choosing a funky colored hair for the princess.
Oink oink! Craft more adorable pink creatures with this list filled with pig perler bead patterns.
5. Pretty Princess Drawing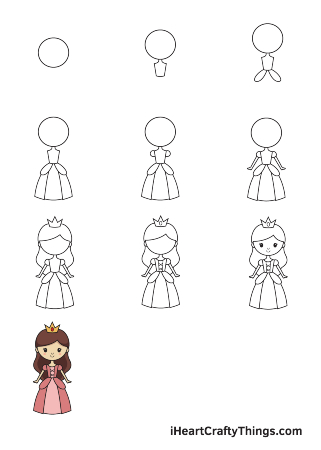 Here's a very dainty and sweet princess drawing from I Heart Crafty Things.
From her pretty smile and gorgeous dress, this sketch will be on top of the kid's favorite things to draw.
Feel the magic with these Hocus Pocus perler bead patterns.
9 How to Draw a Princess: Step-by-step Guide
6. Princess Peach Drawing

Combine their love for video games and princesses with this drawing of Princess Peach from Easy Drawing Guides.
Check out these cool Mario perler bead patterns as well.
7. Princess Amber Drawing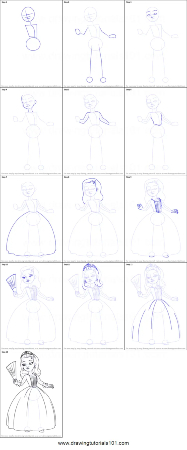 Calling all fans of Princess Amber!
Our next project from Drawing Tutorials 101 is for you.
There'll be no rivalry between Sofia the First and Amber in this project and everyone will just have a fun time doing it.
8. Kawaii Princess Jasmine Drawing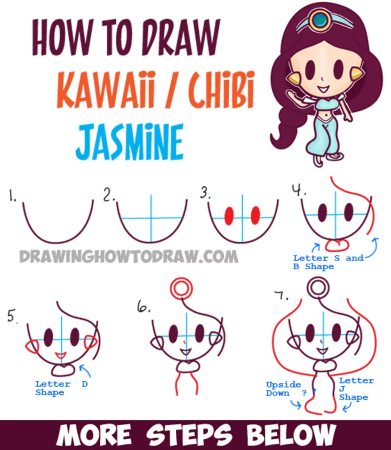 No magical carpet is needed to capture the elegance and beauty of Princess Jasmine.
Drawing How to Draw has the best tips and tricks that will make it easier for the kids to draw the princess.
Did you know that Princess Jasmine has a pet tiger? Do some easy tiger drawings with the help of this list.
9. Gorgeous Princess Elena of Avalor
Princess Elena of Avalor is a great example of a courageous and adventurous royal.
Draw So Cute will prepare the kids and help them draw the princess from her iconic red dress to her beautiful crown.
10. Princess Belle Drawing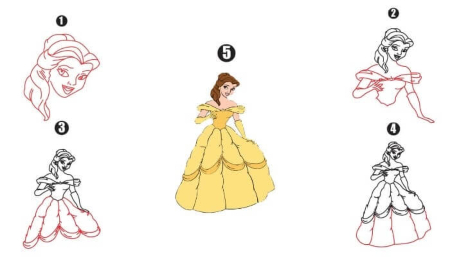 Drawing Belle will never get old because she's a true classic.
Get ideas on Cool Drawing Idea's guide on how to draw the beautiful French princess.
Fans of Belle will also love these Beauty and the Beast drawings.
11. Chibi Belle Drawing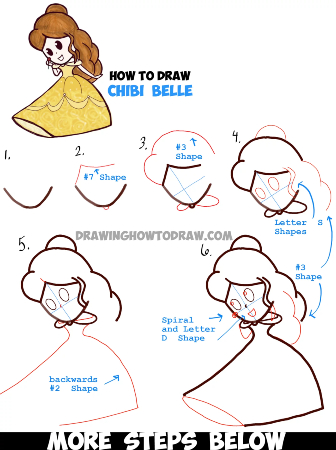 Drawing How to Draw will show another technique of how to draw the iconic princess.
The kids' drawings will turn out cuter and more charming because of their chibi characteristics.
12. Beautiful Pocahontas Sketch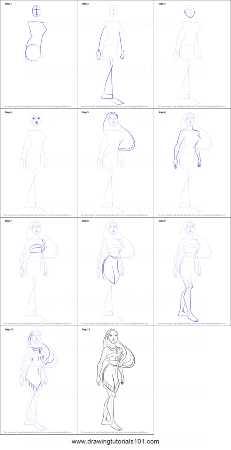 Be one with the wind and nature through this exquisite sketch of Pocahontas from Drawing Tutorials 101.
This guide will also teach the kids how to draw flowing hair realistically which can be a challenge especially for beginners.
13. Princess Anna Drawing

Draw the other half of the beloved Frozen sisters using this guide from Drawing How Tos.
They'll fall in love with the brave character of Anna all over again because of how enjoyable doing this project will be.
More cool crafts await you in this list of Frozen perler beads patterns.
14. Fierce Princess Mulan Drawing

Mulan has proven her bravery by helping the men defeat the Huns.
Let Drawing How to Draw teach the kids how to capture the princess who's both beautiful and courageous at the same time.
7 Princess-themed Sketches
15. Disney Castle Drawing
Knowing how to draw a castle is a must once the kids learn how to draw a princess.
After all, palaces will only elevate and make their drawings look more complete.
This Disney castle drawing from Easy Drawings Net will be a great place to start.
16. Princess Dress Sketch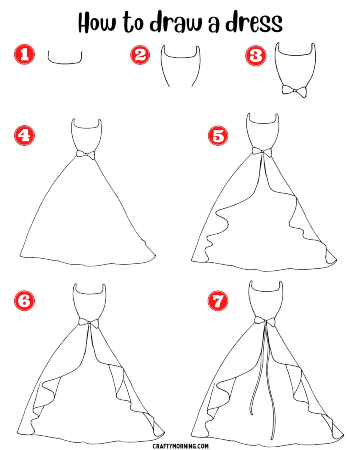 A princess's entire look won't be complete without a stunning ballgown.
Checkout this gorgeous dress from Crafty Morning that will look great on all of their princesses drawings.
Know which are the best shirts to tie dye from this list.
17. Sparkly Necklace Drawing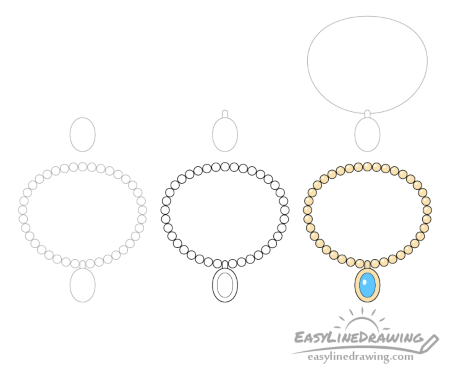 Bedazzle their princess drawings with trinkets and precious stones like this necklace from Easy Line Drawing.
Accessories such as this one will effectively elevate the look of their royal drawings.
18. Princess Heart Shoe Drawing
Sketch beautiful shoes that will perfectly fit every princess drawing they make with the help of this video tutorial from Zeichnen für Kinder.
The fun part about this drawing is that the kids can freely choose whatever color they'd like the shoes to be to match the outfit of the princess.
19. Extravagant Tiara Drawing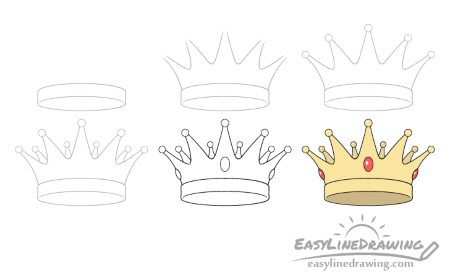 Every princess needs a crown on top of her head so this drawing from Easy Line Drawing is a must.
Changing the color of the gems will also yield different meanings so make sure that the kids try that out as well.
20. Prince Charming Drawing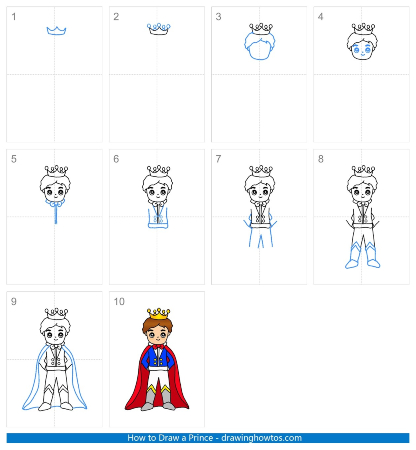 Match their beautiful princess with this dashing handsome prince drawing from Drawing How Tos.
Together with their beautiful castle drawing, the two royals will live happily ever after.
21. Magical Wand Drawing
All the magical stuff happens around the kingdom because of the power of a wand.
Transform their drawings into something more marvelous and enchanted with the help of this drawing guide from DRAWLANDIA.
Glamorous Princess Drawings for Your Princess
Discover the joy of doing princess drawings through this list.
With the power of the imagination of the child together with the guidance of an adult, anything can be drawn and created. Support and enhance the kids' talent by continuously doing crafts that are both enjoyable and educational.
Make more magic happen through these fun projects: