Prepare to embark on an enchanting journey into the realm of easy dragon drawings especially designed for young aspiring artists.
In this guide, we'll discover the best techniques that make drawing dragons a breeze. From capturing their magnificent scales to bringing their majestic wings to life, these easy-to-follow tips will help the kids create captivating dragon illustrations in no time.
Grab your pointy pencils and get ready to bring these legendary creatures to life.
Get ideas on which are the best diamond painting kits to buy for kids in this post.
Useful Art Materials for Kids
6 Easy Dragon Drawings
1. Flying Dragon Sketch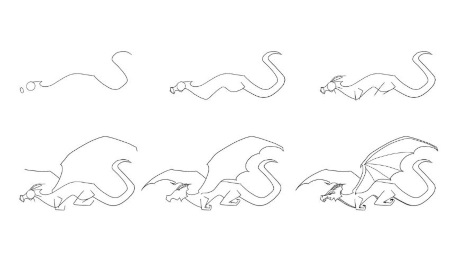 Let's start off the list with a bang by recreating this epic dragon drawing from Jae Johns.
In this drawing, the kids will need to trust the process because it starts out with some squiggly lines but once they're done, they'll have this cool sketch.
2. Easy Dragon Face Drawing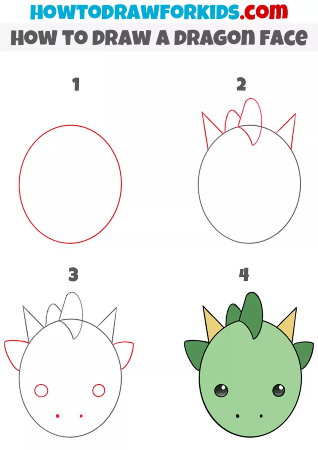 Here's a dragon drawing anyone (and I mean everyone) can do.
Even young kids or beginners won't have a hard time doing this illustration from How to Draw for Kids.
3. Adorable Dragon Drawing
Dragons don't have to be scary and threatening all the time.
They could also be cuddly and adorable just like this drawing from Mofukawa.
Watch this video tutorial to give the kid's dragon drawings a makeover.
4. Simple Flying Dragon Drawing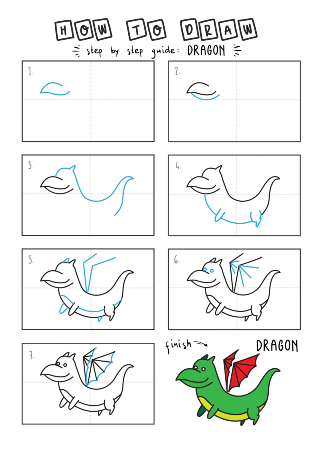 This dragon drawing from Rainbow Printables will make its way to your child's heart.
Plus, it's a great drawing that's very easy to do.
D is for daisies, donuts, and dragons. Check out this letter D crafts for more exciting projects.
5. Cute Dragon Drawing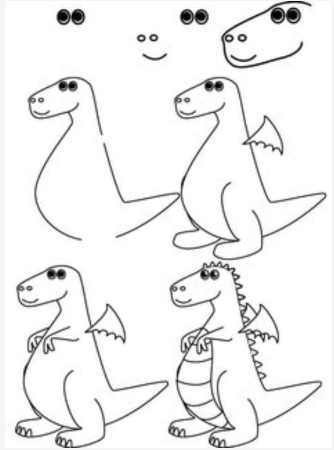 If your kid can't decide whether they like dragons or dinosaurs more then this drawing from Painting Valley will be perfect.
It will give them the best of both worlds because the sketch looks like a combination of their two favorite creatures.
6. Flying Baby Dragon Drawing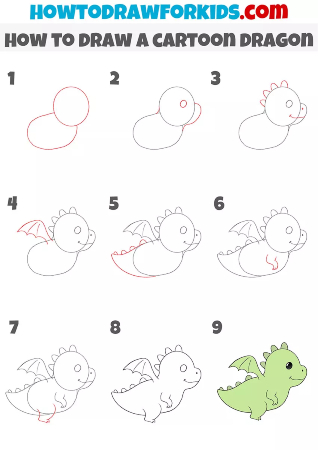 One can never have too many flying dragon drawings.
Check out this adorable baby dragon illustration courtesy of How to Draw for Kids.
Get creative and do these pine cone crafts for kids.
7 Cool Dragon Drawings
7. Fire Breathing Dragon Drawing
This perfectly captured the majestic and intense characteristics of dragons.
Make sure to watch happycolorz's video to learn how to draw a fire-breathing dragon that the kids will enjoy.
8. Cool Dragon Face Drawing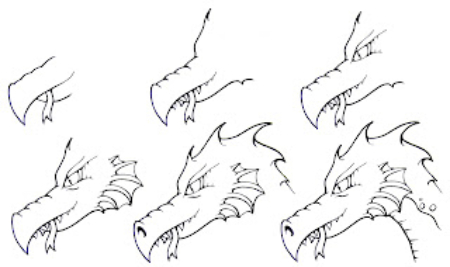 Daryl Hobson Artwork's dragon drawing looks like it came straight out of a fairytale.
The kids will be intrigued by this drawing especially because of its chilling eyes and scaly face.
9. Dragon Drawing from the Word Dragon
The children will love the idea behind Jon Harris's artwork.
The best thing about it is that this can easily be recreated at home or even in their school to show to their friends.
10. Charizard from Pokemon Drawing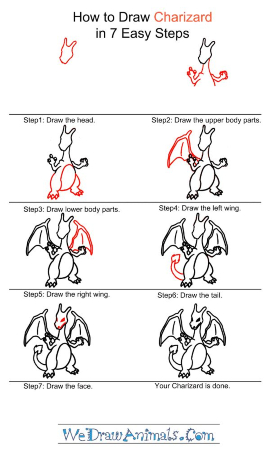 Draw the mighty Charizard with the help of this drawing guide from We Draw Animals.
Join Ash and Pikachu in their quest to be the very best by doing these Pokemon perler beads patterns.
11. Three-Headed Dragon Sketch
Fearless kids will admire this monstrous three-headed dragon sketch from Rio Art Club.
After all, this just makes drawing it three times the fun.
Get spooked with these ghost perler beads patterns.
12. Realistic Dragon Drawing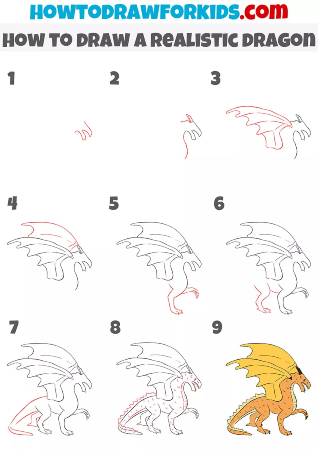 How to Draw for Kids' version of a mighty dragon should be on your to-do list as well.
It will be a challenging project for the kids but will be extremely rewarding too once they've completed it.
13. Ice Dragon Drawing
Take your project to the next level by tryout out this epic ice dragon sketch from Art for Kids Hub.
Watch the full video to get the best tips and tricks on how to perfect their artwork.
10 How to Draw a Dragon for Kids
14. Happy Dragon Drawing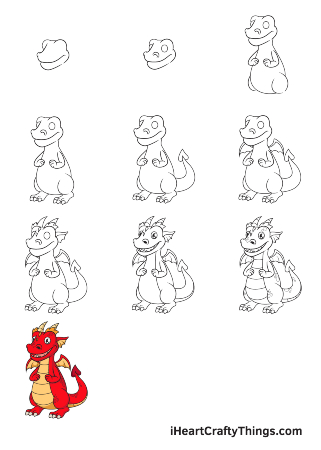 The kids will be just as happy as this dragon once they've successfully completed this drawing guide from I Heart Crafty Things.
Don't worry because the tutorial will guide the kids all throughout the process from drawing its face up to the details like its horns and nose.
15. Purple Baby Dragon Drawing
Expect to have a fun-filled and productive day creating this adorable dragon drawing from Easy Draw Everything with the kids.
With its cute ears and sparkly eyes, this drawing should be on the top of the kids' drawing list.
16. Funny Dragon Drawing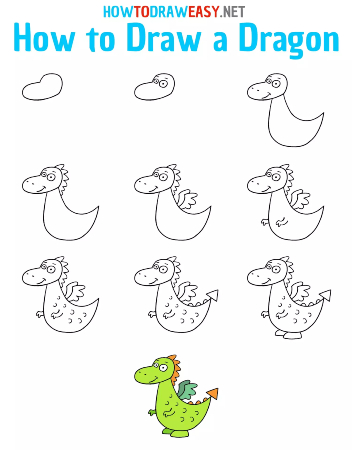 This will be the ideal dragon drawing if you're on the lookout for cartoon-like features.
How to Draw Easy has got this simple tutorial that will make the kids feel like a pro in no time.
17. Cheeky Dragon Face Drawing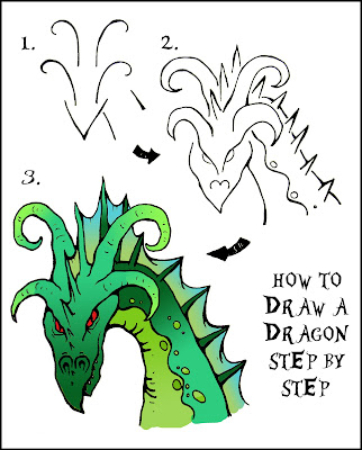 Daryl Hobson Artwork's incredible dragon drawing will be more suitable for children who have already mastered drawing the creature.
The key to perfecting this craft is to practice so it's crucial to encourage the kids to practice all the time.
18. Soaring Red Dragon Drawing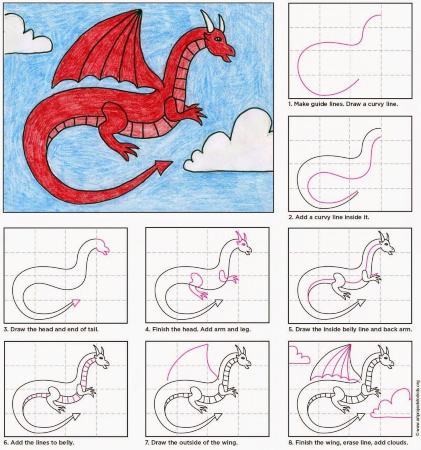 See the allure of a flying dragon in the sky with this drawing tutorial from Themeroute.
This will be a cool drawing to try out because aside from learning how to draw a dragon the kids will also learn how to draw a clear blue sky.
19. Terrifying Dragon Drawing
Get ready because this dragon drawing from GuuhDrawings will be a lot of fun to make.
The video tutorial will be super helpful in drawing this mighty creature so don't forget to watch it until the end.
20. Fierce Dragon with Wings Drawing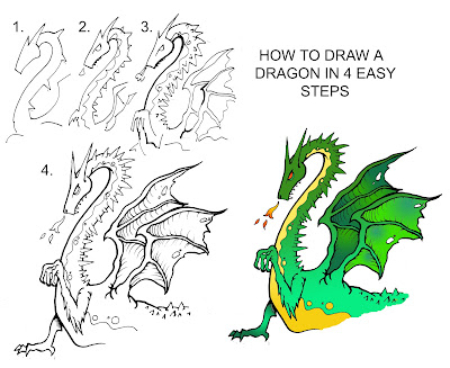 An artistic and enjoyable day will be laid out in front of you once you decide to make this dragon drawing from Daryl Hobson Artwork.
You'll be amazed by the finished product especially because it only took four easy steps to complete it.
21. Chinese Dragon Sketch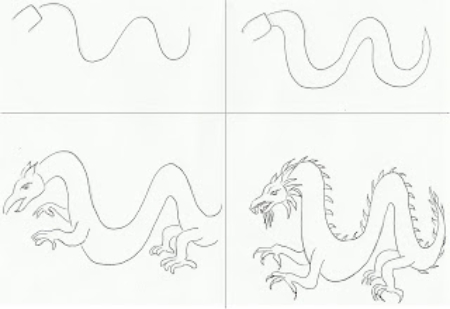 Dragons come in all forms, colors, and sizes.
Introduce a different kind of dragon to the children with this sketch from Art Class Ideas.
22. Red Eyed Dragon Drawing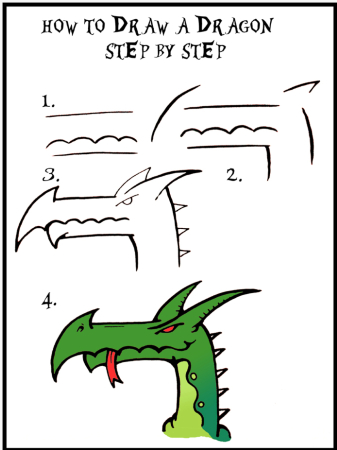 Two horizontal lines and a wavy line are all it takes to get started on this dragon drawing from Painting Valley.
Follow the easy and quick guide to recreate this awesome illustration.
23. Fire and Ice Dragon Drawing
Are you team fire or ice dragon?
Regardless of which team your child will choose, this drawing from Rio Art Club will be a sure fire.
Easy Dragon Drawings for a Mystical Adventure
The kids' imagination has been ignited and their artistic skills have grown thanks to these easy dragon drawings.
Keep honing their artistic skills by continuously experimenting with different styles, colors, and poses to create their very own personalized dragons. With practice and imagination, there's no doubt they'll be able to create fantastic drawings all the time.
Have a go at these fun crafts, too: