Help your kid be the very best Pokemon trainer by doing these epic Pokemon crafts with them.
You'll find all sorts of projects that will not only be fun to do but will be useful as well. This includes Pokemon bookmarks, pencil cases, collages, and a whole lot more.
What are you waiting for? Do these Pokemon crafts for a guaranteed fun and productive day with the kids.
The kids will also enjoy doing these Fortnite perler beads patterns.
Materials to Prep:
7 Easy Pokemon Crafts
1. Pokemon Bookmarks
These cool Pokemon bookmarks from Kids Activities will motivate and foster the kids' love for reading.
Whether it's reading for school or leisure, these bookmarks will come in handy.
2. Pokemon Nature Collage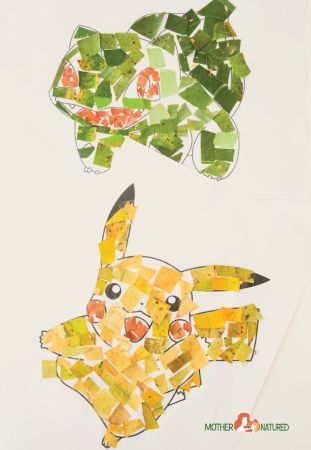 Go out and have an outdoor adventure with the kids this weekend.
Collect some leaves and create these epic Pokemon collages from Mother Natured.
It will serve as a great keepsake of the wonderful time you spent with each other.
3. Pokemon Toilet Paper Roll Craft
Got a couple of toilet paper rolls lying around the house?
Why not create something beautiful out of them like these cool Pokemon crafts from Easy Kids Craft?
Check this out for more toilet paper roll crafts.
4. Poke Ball Paper Plate Craft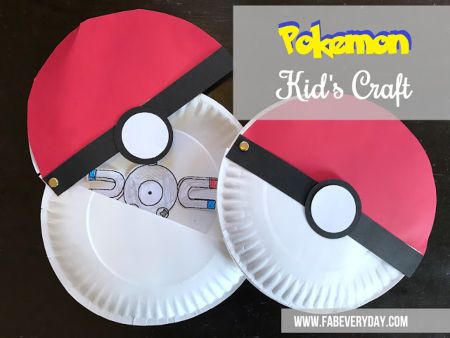 Gotta catch 'em all!
Be the very best Pokemon trainer and catch Charizard, Snorlax, and Charmander with this awesome craft from Fab Everday.
The cool thing about this is that you can shake things up by creating new Pokemons for the kids to catch every week.
5. Pokemon Paper Puppets
Bedtime stories will be more fun and interactive thanks to these adorable Pokemon puppets from Love Jaime.
These will help kids visualize the stories and adventures in the Pokemon universe.
Our friendly neighborhood superhero is coming our way with these Spider Man Perler beads patterns.
6. Origami Bracelets
The kids will feel like true Pokemon trainers while wearing these cool origami bracelets.
Choose from red, blue, or yellow Pokemon bracelets.
Watch Polly's origami's video to learn how to make them.
7. Pokemon Rock Painting Craft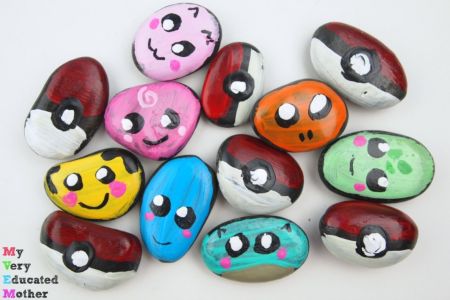 We'll be needing some rocks and paint for our next Pokemon craft courtesy of My Very Educated Mother.
Your little artist will have a lot of fun while creating this beautiful artwork one brushstroke at a time.
Get more rock painting ideas for kids here.
8 DIY Pokemon Crafts
8. Pokedex Notebook
Your child will feel like a Pokemon trainer in real life because of this cool Pokedex notebook from Crafty Prapty.
Get tips and ideas on how to create your own by watching the video tutorial.
Feel like you're in Hogwarts while making these magical Harry Potter perler bead patterns.
9. Pokemon Lanterns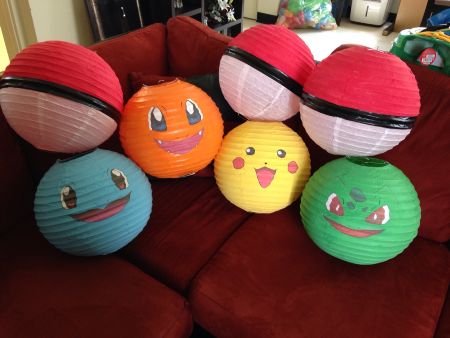 Be loud and proud by decorating your home with these beautiful Pokemon lanterns from Red Ted Art.
The kids will appreciate them and will think that they've got the coolest house ever.
10. Pokemon Mason Jars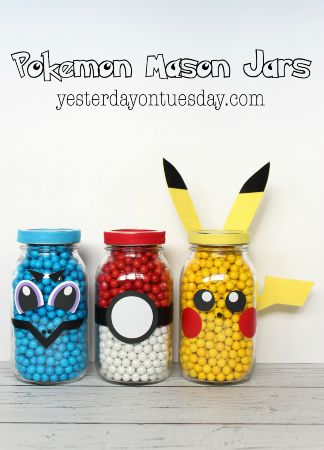 This project from Yesterday on Tuesday will encourage children to be creative using eco-friendly materials.
Plus, the materials you'll need for this craft can be found in your home like mason jars and scrapbook papers.
11. Pokemon Badges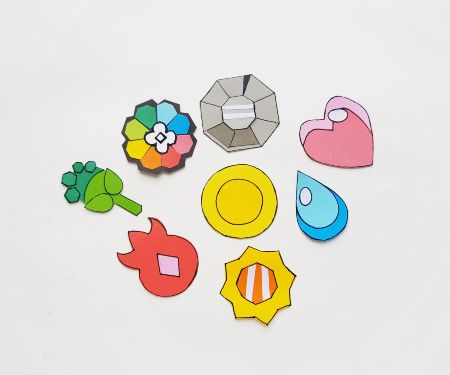 Pokemon trainers earn a badge for each Gym Leader that they defeat.
Collect all the badges known in the Pokemon universe by doing this project from Activity Mom.
12. Pokemon Card Holder
All their Pokemon cards will be organized and safe in this card holder from Hello arts and crafts.
It's compact, sleek, and cool so I'm sure Pokemon fans will love it.
13. Gyarados Paper Chain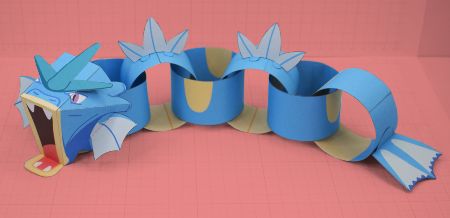 This Gyarados Paper Chain will be an awesome addition to their Pokemon craft collection.
It's a unique piece that's also very easy to do.
Follow the instructions of Polygon to achieve this fiery Gyarados craft.
14. Charmander Puppet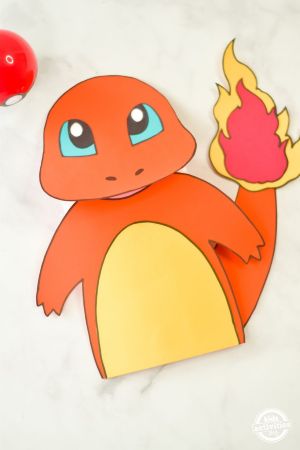 Does your kid like the fiery Charmander? This puppet from Kids Activities will be a great project to do.
Kids Activities provides a step-by-step tutorial that's easy to do and follow.
The kids will enjoy doing and also playing with it once it's done.
15. Poke Ball Surprise Drawing
Prepare your markers and paper because we're about to draw something amazing.
With the help of Art for Kids Hub's video tutorial, you'll create a Poke ball with a surprise Pokemon inside.
You can catch different Pokemons (because this craft is not limited to only Pikachu) like Puplup, Squirtle, and Bulbasaur.
8 Pikachu Crafts
16. Pikachu Valentine Card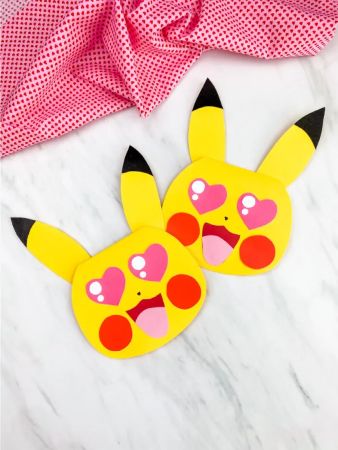 Spread the cheer and love with their friends, siblings, or teachers by doing this adorable Pikachu card from Simple Everyday Mom.
Every day will be Valentine's Day with these cute cards.
Join us in making these easy Valentine's Day Crafts for toddlers, too.
17. Pikachu Snow Globe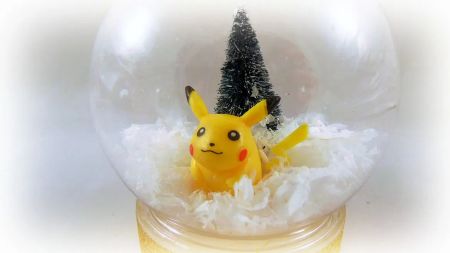 They'll have Pikachu with them whether it's winter, spring, summer, or fall thanks to this magnificent snow globe from Krysanthe.
Doing this DIY snow globe craft will be a new and interesting experience for the kids.
18. Pikachu Toy
Teach the kids all about Physics (even at a young age) through this Pikachu toy.
CreativeIdeas created this cool Pokemon toy that's operated by gravity.
It's like hitting two birds with one stone because they'll have fun and learn at the same time.
19. Pikachu Crochet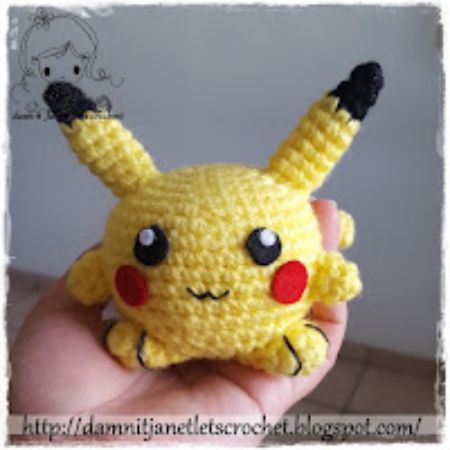 It's beneficial for the kids to learn how to crochet. It will hone their motor skills, allow them to express their creativity, and make this cute Pikachu crochet pattern.
Head on to Damn It Janet Let's Crochet to learn how to crochet this little Pikachu.
Find out what's the best kid's crochet kits here.
20. Pikachu Hat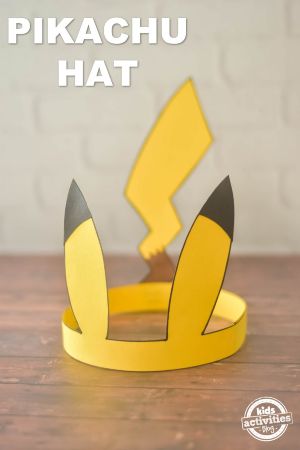 Let your kid be their favorite Pokemon on their birthday or Halloween by making this Pikachu hat from Kids Activities Blog.
Download and print the template provided for an easy and smooth project.
21. Pikachu Paper Cups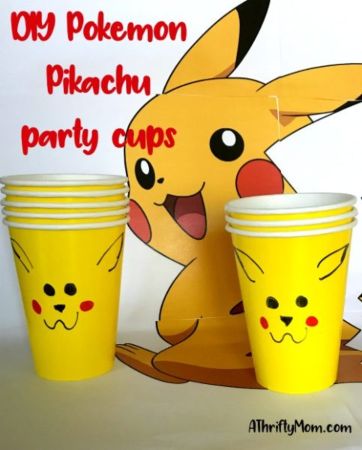 Your kids will master drawing Pikachu once you've done this Pikachu cup design from A Thrifty Mom.
Seeing Pikachu on the kitchen table with or without an occasion will make each day more special.
22. Pikachu Origami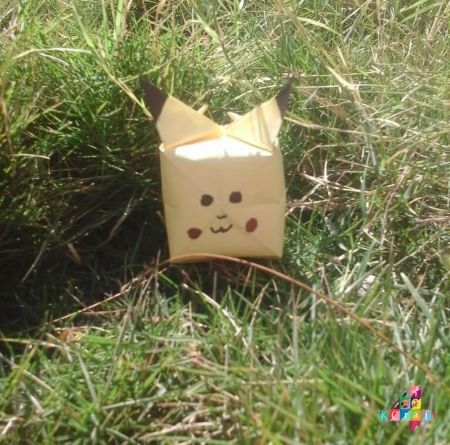 A wild Pikachu appears!
Check out this Pikachu origami from K4 Craft. I'm sure that the kids will feel the joy of making origami once they've done this project.
The best origami kits can be found in this list.
23. Pikachu Pencil Case
This craft by Arts and Crafts with Crafty Carol is not only creative but handy as well.
They've created this adorable Pikachu pencil case with materials that can be easily found at home.
Watch the video tutorial to learn how to do it yourself.
The Very Best Pokemon Crafts
I hope you enjoyed making these Pokemon crafts as much as we did in compiling and creating them ourselves.
Pokemon fans of all ages will find something that they'd love to do on this list.
Loved these crafts? You'll like these projects as well.