The countdown for the best New Years' Cupcake ideas begins in 3..2…1!
Start the year right by making these cupcake ideas with the kids. You'll begin the year with giggles and a full stomach through these cupcakes.
We've compiled some sweet treats that will be perfect for New Year's Eve and New Year. They won't just satisfy your sweet tooth cravings but they'll be super instagrammable, too.
Say hi to the cutest feline character from Japan with these Hello Kitty perler beads pattern.
Get Ready for the Last Hurrah of the Year
Have these materials at hand before making these New Years' cupcakes ideas.
8 New Year's Eve Cupcakes
1. New Year's Eve Countdown Cupcakes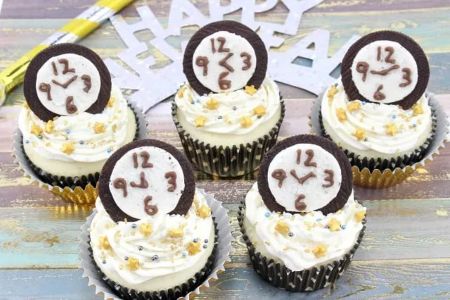 These cute cupcakes will serve as a reminder that we'll be welcoming another year in a few hours time.
Follow the steps provided by More or Less Cooking to create your own ticking countdown timer.
It would also be a great idea to create 12 cupcakes— one cupcake for each hour on the clock.
2. New Year's Eve Confetti Cupcakes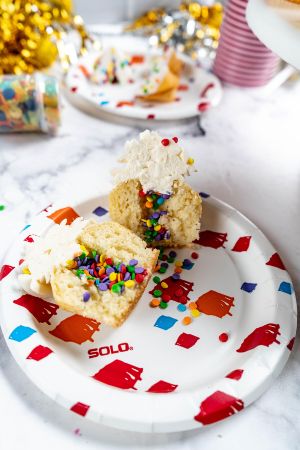 Your guests won't see this awesome surprise coming.
Take a bite from this cupcake made by Solo Cup and get an unexpected and colorful treat inside.
Every bite from this flavorful cupcake will be a delight. It has the perfect mixture of flavors that provides just the right amount of sweetness.
3. New Year's Eve Big Countdown Clock Cupcakes
What's great about these cupcakes from cupcakesbyvannis is that they're interactive as well.
Let your kids move the hands of the clock as we slowly approach midnight.
Use these silicone molds for the numbers on the clock.
4. Cute New Year's Eve Cupcakes
Celebrate the last day of the year with a bang by making a toast to your loved ones.
This creative fondant design from Pink Cake Princess will allow the kids to also make a toast using their tiny edible glasses.
Explore the outdoors with these camping crafts for preschoolers.
5. New Year's Eve Ball Cupcakes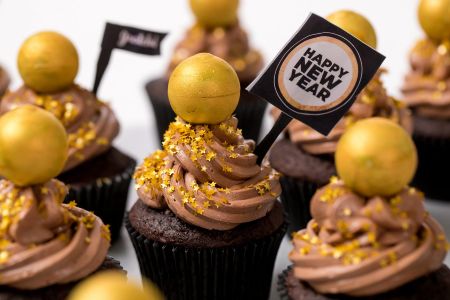 Garnish the cupcakes with golden chocolate balls to add an elegant touch.
Making this design is easy because of Make It Grateful's tutorial: place a gold-painted Lindt white chocolate truffle on the frosting and sprinkle in some golden stars at the top.
Tada! You'll create these exquisite cupcakes by following those simple steps.
6. New Year's Eve Donut Topped Cupcakes
Can't decide whether to bake cupcakes or donuts for New Year's Eve?
With SprinklePopShop's creation, you won't have to choose because you'll get both and more.
Your kids will love this idea of having sweets on top of other sweets.
7. New Year's Eve Ball Drop Cupcakes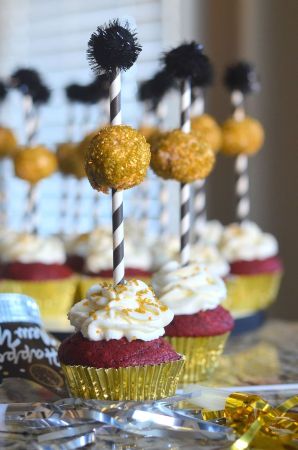 Experience the excitement and thrill of waiting for the ball to drop in the comfort of your own home. (No need to go to Times Square!)
This is made possible by these creative and yummy cupcakes from Mooshu Jenne.
Craving for more projects? Don't worry because we've got you! Here are more cute food drawings for your kids.
8. New Year's Eve Party Cupcakes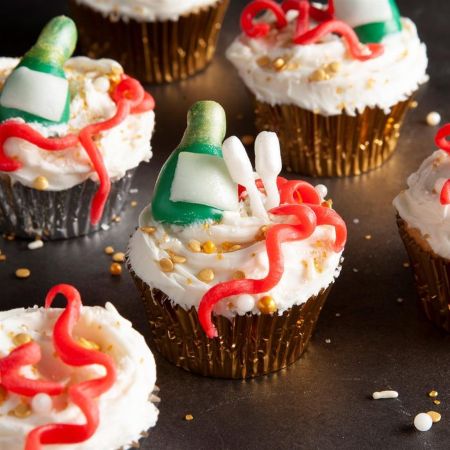 Nothing says "party" and "celebration" better than champagne, fancy glasses, and confetti.
With these cupcakes from Taste of Home, your kids won't feel FOMO because they'll fit right in the crowd.
To infinity and beyond! Enter outer space with these space crafts for kids.
10 New Years Cupcake Ideas
9. Welcome New Year Cupcakes
New Year's Day is like a double-sided coin. We say goodbye to a fruitful year and welcome another with new hopes and dreams.
These cupcakes by thebaking.girl perfectly captures that feeling by designing them with fireworks, champagnes, and clocks.
Make the most out of the cold with these winter sensory bins.
10. New Years Cupcake with Popping Candy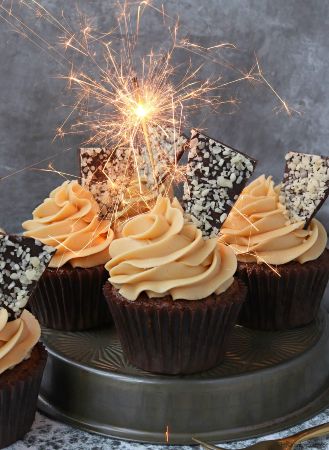 Feel the party even in your mouth through these amazing cupcakes from The Baking Explorer.
I assure you that the kids won't be able to get enough of this popping goodness so I highly suggest baking a lot of batches.
Scare those nightmares away with these DIY dream catcher crafts for kids.
11. Bright Neon Party Hat Cupcakes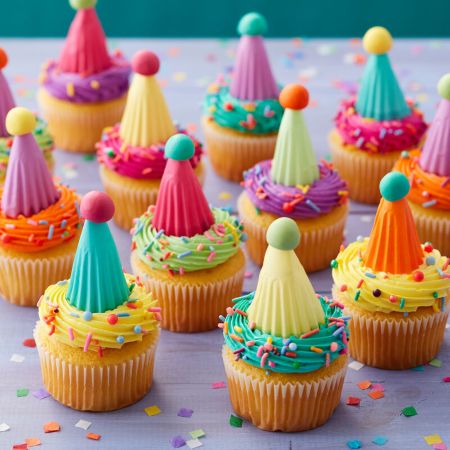 These cupcakes from Wilton are wearing their fanciest hats to welcome the new year.
Choose these cupcakes if you have toddlers or young kids because they'll really be mesmerized by the radiant colors and enjoy adding the sprinkles.
Your kids will love these Minecraft perler bead patterns.
12. Colorful Cupcakes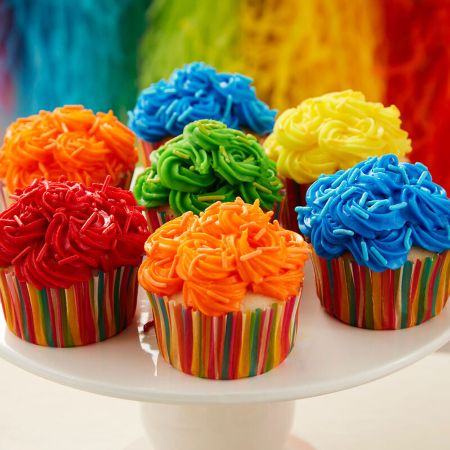 A fun and colorful year is guaranteed when you open up the year with these sweet and colorful cupcakes from Wilton.
These cupcakes will take center stage among all the other dishes you've prepared for the special day.
Plus, decorating them with your child makes them all the more special.
13. Elegant Year Cupcakes
If you're aiming for aesthetic and minimalist cupcakes, then this one from queen_of_cupcakes_x is the way to go.
They made the design simple yet elegant by adding the year on top of gold frosting.
Learn how to draw a hummingbird here.
14. Star-Studded Celebration Cupcakes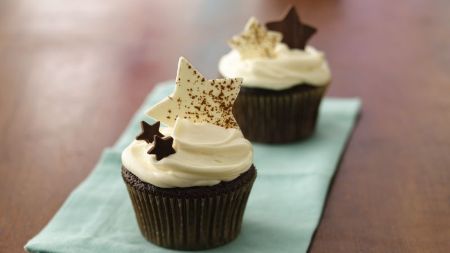 Betty Crocker nailed it again with these star-studded celebration cupcakes.
You'll enjoy every bite of this cupcake because of its chocolatey taste and rich-tasting frosting.
Brownie points for the star chocolate toppers.
15. New Year Cupcakes with Names and Wishes
Make everyone feel special with this awesome cupcake idea from shafiradili.
Adding the names of each family member will do wonders for your family.
Plus, listing down things that you wish for like happiness, love, and good health is a good way to manifest them in your lives.
16. Cupcakes with Gold Bling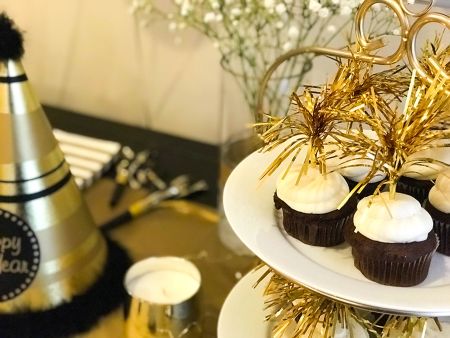 Adding gold to cupcakes makes them look more lavish and special as proven by this recipe from Top Flight Family.
There's no better occasion to be over the top than the first day of the new year and this is where these gold cupcakes take the spotlight.
Decorate your home with these lovely butterfly perler bead patterns.
17. Sugar Plum Fairy Cupcakes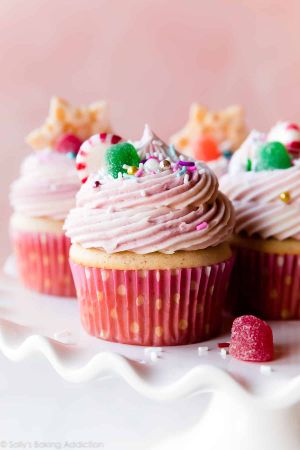 Entering a new year is magical… just like these sugar plum cupcakes.
Your kids will always remember the first chapter of the new year because of these super adorable cupcakes from Sallys Baking Addiction.
They'll look forward to baking more goodies with you throughout the year.
18. Color of the Year Cupcakes
Using the color of the year as the theme of the cupcakes is also a fantastic idea.
Top off the cupcakes with white frosting and the chosen color of the year to make them pop out more.
Get ideas on how you can do it from thesecretbakery1.
Timeless New Years Cupcake Ideas
Another year has passed and there's so much to be grateful for— a year filled with lessons, opportunities, and triumphs.
Teach the kids even at a young age to celebrate every achievement no matter how big or small they are through these festive cupcakes.
Making these New Years' cupcake ideas will be an excellent way to end and begin the year with a bang.
Let's make more crafts starting with the ones below: