Immerse your little ones in the enchanting world of maritime adventures with lighthouse crafts that are both engaging and enjoyable.
These crafts will ignite their curiosity about marine life and inspire endless creativity involving sailors, hidden treasures, and captivating seascapes. Let your children's artistic skills sail to new heights as they craft their very own lighthouses made from different materials and techniques.
Set up the sails because we're about to embark on an unforgettable voyage.
Head on to this list if you want to see some easy seashells drawings.
The Essentials for Your Crafts:
5 Simple Lighthouse Drawings
1. Cool Lighthouse Drawing
The red and white stripes of this lighthouse sketch from How to Draw for Kids make it undeniably a navigating tool.
This drawing stays true to actual lighthouses because most of them use bright colors to make them more visible to captains at sea.
Be captivated by these mermaid perler bead patterns.
2. Epic Lighthouse Drawing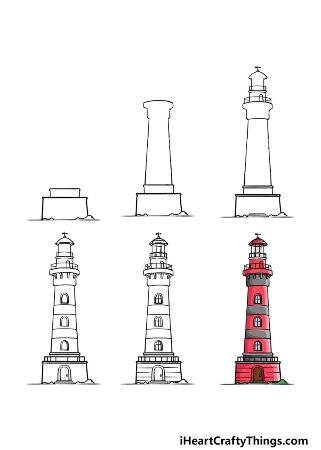 Check out this really cool and realistic sketch of a lighthouse courtesy of I Heart Crafty Things.
Drawing this can be a bit challenging at first but the feeling once it's completed will be priceless.
Guide the kids throughout the process and use this tutorial for extra help.
3. Cute Lighthouse Drawing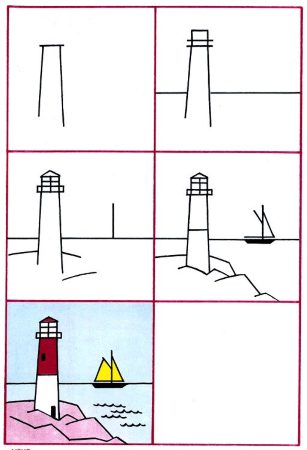 This lighthouse drawing from Pinterest even features a lone sailboat.
If you plan to draw other details such as rocks and sea to complete the lighthouse then this guide will be a nice choice.
Sports and art are mixed up in these basketball perler bead patterns.
4. Lighthouse at Night Drawing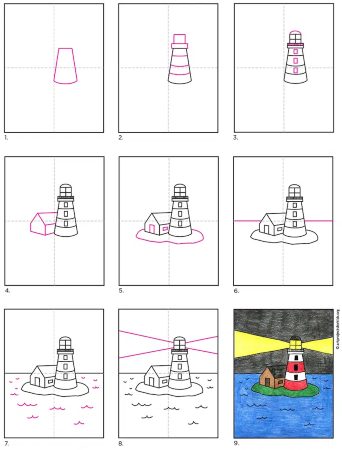 Lighthouses have the important job to keep sea travelers safe all throughout the day (and night).
See the glorious lighthouse at work during nighttime through this drawing guide from Art Projects for Kids.
The word lighthouse starts with the letter L. More letter L crafts are listed here.
5. Simple Lighthouse Sketch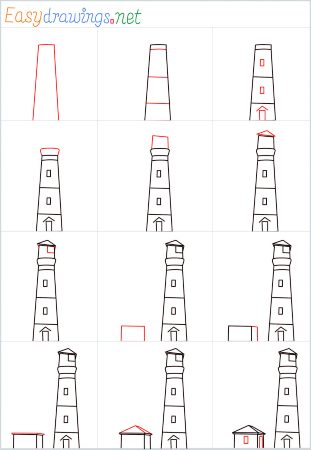 One of the most distinguishable characteristics of lighthouses is their height.
Easy Drawings Net perfectly captured that in this huge lighthouse sketch.
9 Lighthouse Crafts
6. Paper Cup Lighthouse Craft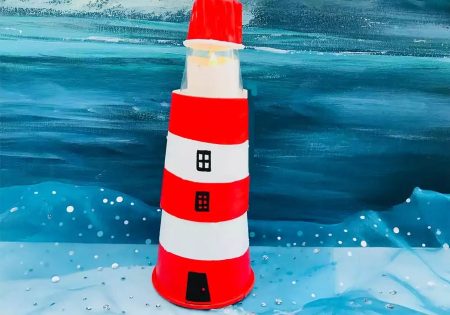 All you need for this craft is a single paper cup and a whole lot of creativity.
Mas & Pas will show you how it's done through the step-by-step tutorial on their website.
7. Pringles Lighthouse Craft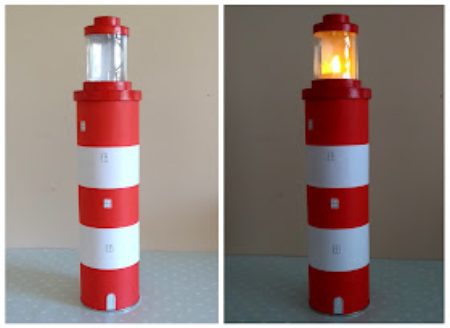 Here's another reason to love Pringles.
This craft from Esselle Crafts main material is an empty can of our favorite snack.
It will be a great way to create art and teach kids about upcycling.
8. Hershey's Lighthouse Craft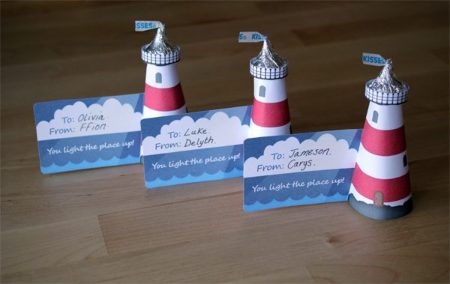 Make someone feel special by giving them this cute craft made by Alpha Mom.
Aside from the pretty lighthouse, they'll also receive chocolate.
It's a win-win for those who have a sweet tooth.
9. Paper Plate Lighthouse Project
This lighthouse activity from Our Kid Things will brighten up your child's day.
From the lighthouse, beach waves, and sun, this project has got it all.
These peaceful and relaxing sunset drawings will be the perfect activity to end the day.
10. Cool Lighthouse Craft
Drawing Art Crafts Creations is here to give us another epic project that will be a hit for the kids.
Watch the full video tutorial to make the activity easier and more fun for them.
Dance and sing along with the whole Madrigal family while doing these enchanting Encanto crafts.
11. Simple Lighthouse Craft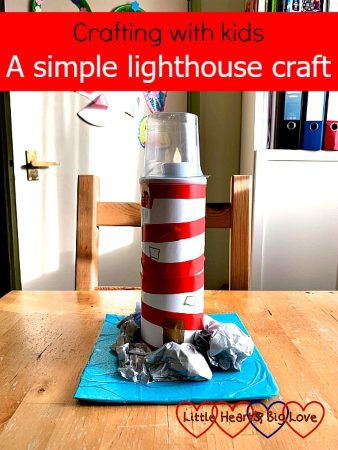 The kids will have a fantastic time recreating Little Hearts, Big Love's version of a lighthouse craft.
The working light at the top adds authenticity to the craft, too.
Cuteness overload is guaranteed with these sea turtle drawings.
12. Unique Lighthouse Craft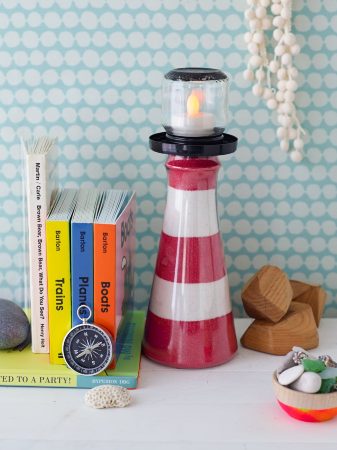 Wouldn't it be cool to have a cute DIY lighthouse display at home?
Lucky for us Project Kid made this guide to make that dream into a reality.
Head on to their website to get the full tutorial.
13. Paper Lighthouse Craft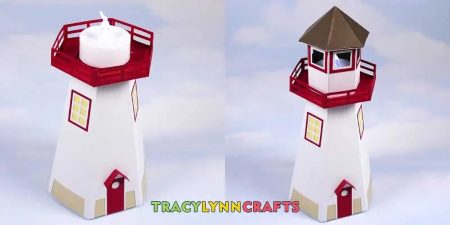 Tracy Lynn Crafts' lighthouse will be an incredible addition to the kid's artwork collection.
It's tall, beautiful, and captivating.
Beware: only light the candle with adult supervision or use a battery-operated candle instead.
14. Terra Cotta Lighthouse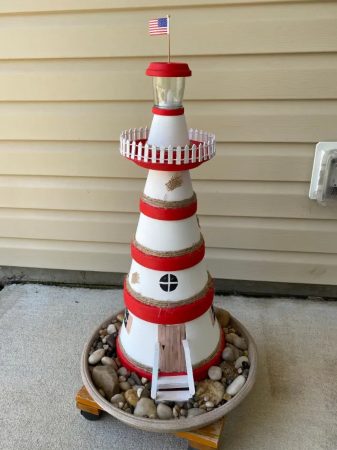 Have your very own lighthouse in the backyard with the help of Woli Creations.
Combining terra cotta plants will create this one-of-a-kind craft that the kids will love.
Enter a magical world by baking these Mickey Mouse cupcakes.
8 Nautical-themed Crafts
15. Anchor and Rope Drawing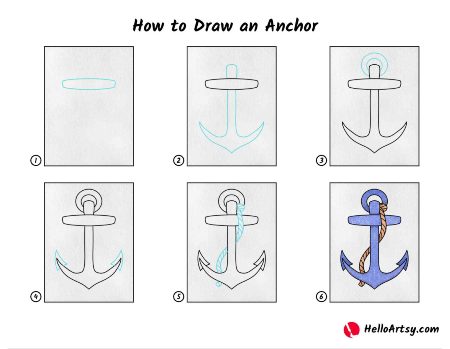 Hello Artsy will be your child's anchor in drawing this anchor.
They've provided an easy-to-follow tutorial made especially for kids to do and enjoy.
16. Massive Ship Drawing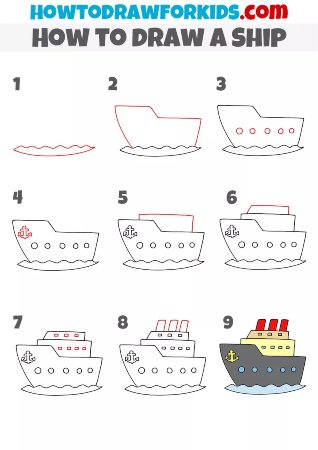 All aboard the ship!
Your child will feel like a captain navigating through the sea while doing this ship sketch from How to Draw for Kids.
Conquer the outer space with these rocket ship drawings.
17. Awesome Pirate Drawing
The oceans aren't just filled with water, marine animals, and ships.
Pirates can also be seen everywhere.
Take a look at this cool cartoon pirate drawing from Art for Kids Hub to add to the kid's nautical-themed sketches.
18. Flying Seagull Drawing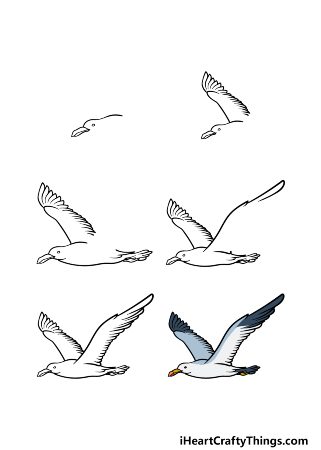 Fly high and feel the sea breeze while drawing this seagull from I Heart Crafty Things.
This is a fantastic tutorial because it shows the bird in motion, too.
Practice drawing more birds by learning how to draw a hummingbird.
19. Pirate Ship Drawing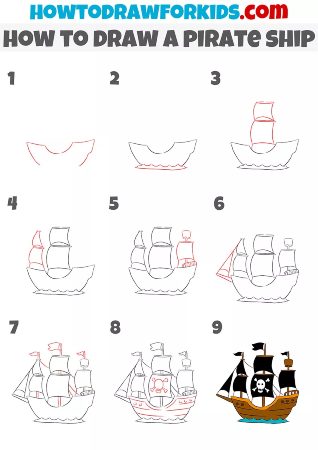 Get ideas on how to draw the most epic pirate ship ever with this tutorial from How to Draw for Kids.
Learn how to draw the skull flag, hulls, and chains in this guide.
20. Cute Flamingo Floatie
Floaties are important for safety in areas with deep waters.
Sketching this pretty flamingo from Art Land will be a fun and creative project for sea fanatics.
Challenge the kids with these hexagon perler bead patterns.
21. Popsicle Stick Pirate Flag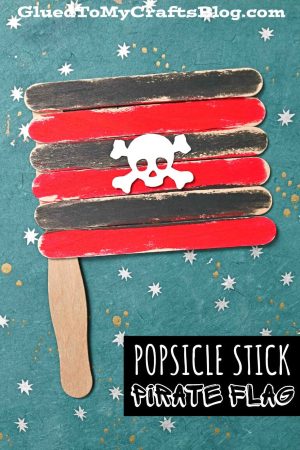 Scare the bad guys away with this black and red skull flag craft from Glued to My Crafts Blog.
Grab a couple of popsicle sticks, glue, and a skull cutout and you're child will be good to go.
Ready or not more popsicle stick crafts are coming your way.
22. Nautical Ship DIY Craft
If you have an aspiring captain at home then this project from Tina Did It will be perfect for them.
Practice their steering skills one turn at a time with this cool DIY craft.
Sail Away With These Awesome Lighthouse Crafts
These lighthouse crafts will offer an incredible opportunity for kids to unleash their creativity and dive into a world of nautical wonders.
Through these projects, the kids will be able to explore the beauty of coastal landscapes, learn about the importance of lighthouses, and develop valuable artistic skills.
Before you go, make sure to check out these fun crafts for kids as well.