Calling all the young and aspiring artists out there for this epic drawing tutorial. For our next activity, we'll be stepping into the enchanting world of sunset drawings.
Sunsets are one of the wonders of nature that we get to see every day. Capture the magic and beauty of this spectacle with these easy drawing tutorials.
From bright oranges to soft pinks and golden yellows, a sunset drawing can bring your child to a place of tranquility and wonder.
Color the skies with bright colors through these rainbow crafts for kids.
Gear Up with These Art Stuff
Make sure to have these art materials on hand before diving into the list to ensure an educational and enjoyable time for the kids.
6 Easy Sunset Drawings
1. Pretty Beach Sunset Drawing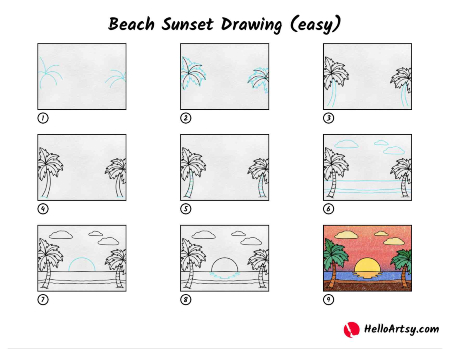 Feel the heat and see the beauty of the sunset with the beach as the background with this drawing tutorial from Hello Artsy.
Aside from the glorious sunset, your child will also learn how to draw some coconut trees, a pretty sky, and grainy sand.
2. Circle Sunset Drawing
Try looking at the sunset from a different perspective and see everything inside a circle just like this cool piece from QWE Art.
It will make the kid's drawing unique and stand out from the rest.
Learn how to draw a hummingbird in this list filled with sketch tutorials.
3. Hidden Sunset Drawing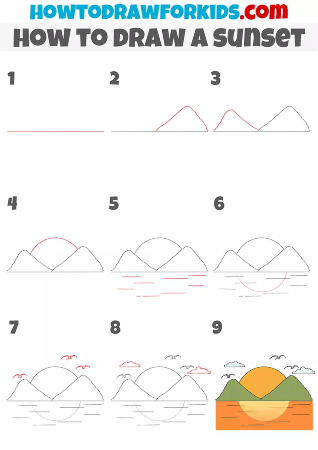 The two enormous hills only enhance the beauty of the sun dipping out of the sky.
How to Draw for Kids created this drawing guide that kids and adults alike will find easy to recreate.
4. Sunset with a Bridge Drawing
Take a look at this drawing by Drawing Book and be amazed by its charm.
It's complete with everything that makes an excellent piece including great scenery, an impeccable coloring scheme, and a nice subject.
5. Sunset with Road Drawing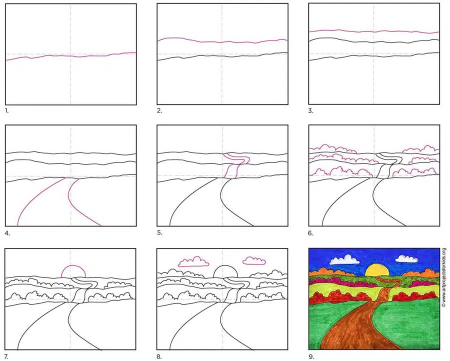 The end of the road will lead us to this pleasant sunset courtesy of Art Projects for Kids's drawing tutorial.
This guide will also teach the kids about drawing perspectives and how to make their artwork look 3D.
Check out these awesome 3D perler bead patterns.
6. Awesome Sunset Drawing
This drawing tutorial from Art by Bella with its burst of oranges, reds, and yellows makes this a must-try for the kids.
The kids will have a wonderful time blending the three colors into one masterpiece.
9 How to Draw a Sunset for Kids
7. Colorful Sunset Drawing
Highlight the beautiful rays of the sunset with the help of this guide from Lolly Arroco.
Whether your child chooses unconventional sunset colors such as blue, green, or brown, I'm sure that their drawing will still be a gem.
8. Big Sunset Drawing
Use up all the page in their sketchbook with this gigantic sunset drawing from Drawing Wars.
Head on to their website to get the full step-by-step tutorial for the kids.
You won't need to cast a magic spell to get the best Harry Potter perler bead patterns.
9. Sunset Scenery with House Drawing
Adding a lovely house up the hill will make the kid's sunset drawing look more homey and warm.
How to Draw Easy Scenery will teach them exactly how to capture this phenomenal scene through the video tutorial.
10. Sunset Dolphins Drawing
These adorable heart-shaped dolphins will turn their sunset drawings a hundred times better.
Thanks to this video tutorial from DK Drawings, the kids will have one of the most unique and prettiest sunset drawing.
If you liked this project then you'll also love this dolphin crafts.
11. Beautiful Sunset Drawing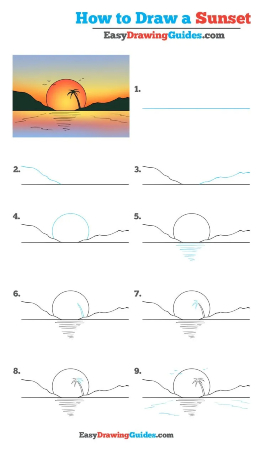 Picture a relaxing sunset scenery drawing and you'll conjure an image like this sketch from Easy Drawing Guides.
This easy yet very beautiful drawing will be one for the books.
12. Girl Appreciating the Sunset Drawing
Have a relaxing afternoon at the park drawing this sunset drawing from How to Draw Easy Scenery.
It features a girl enjoying the view which the kids can also do while perfecting their drawing skills.
Take it one step at a time and enjoy making these turtle perler beads.
13. Sunset with Sailboat Drawing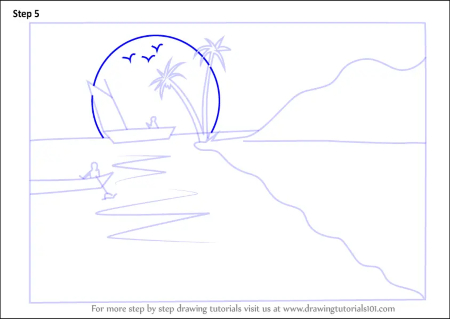 The sunset is always the prettiest when witnessed at the beach.
Drawing Tutorials 101 captured this breathtaking view through this drawing tutorial.
Get the full guide by visiting their website.
14. Sunset with a Fence Drawing
Your child can't miss out on this cool drawing of a sunset by How to Draw Easy Scenery.
It will teach them how to add depth to their drawings as well as the proper way of mixing the colors to make their artworks look more realistic.
15. Beautiful Sunset with a Boat Drawing
Level up their drawing skills by getting ideas from this epic drawing from Naim Drawing Academy.
Drawing this will be one of the highlights of their sunset sketches.
7 Nature Sketches
16. Peaceful Mountain Drawing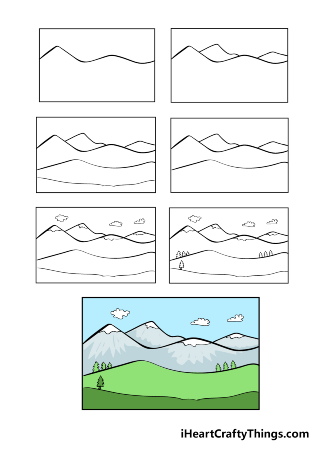 Appreciate the picturesque view of the mountains with this drawing tutorial from I Heart Crafty Things.
This will be the perfect activity for camping weekends or during road trips with the kids.
17. Fun Island Drawing
Have a splash recreating this sunny island drawing from Draw So Cute.
This will also give the kids a chance to practice their sunset drawing as well as the opportunity to learn how to draw different sceneries.
18. Pretty Valley Drawing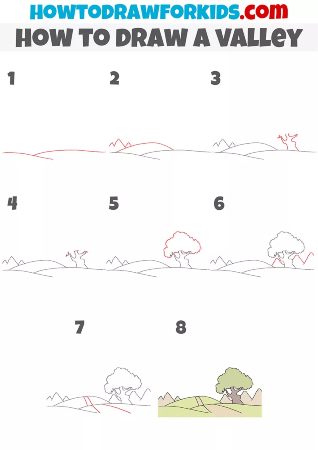 This valley sketch from How to Draw for Kids will come in handy for the kid's future projects, too.
It will be the perfect background for their car, people, or animal drawings.
19. Fiery Volcano Drawing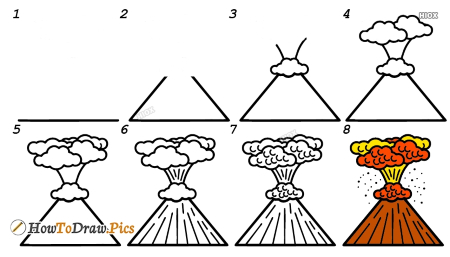 An angry and fierce volcano may be the only thing missing in the kid's sketchbook.
Good thing How to Draw Pics has this great tutorial that looks cool and is easy to do as well.
20. Epic Desert Drawing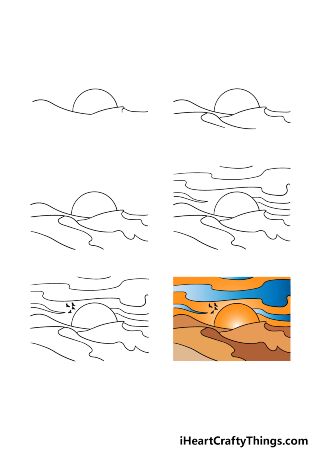 Teach the kids all about camels, deserts, and the heat with this drawing tutorial from I Heart Crafty Things.
This will be a fun and educational activity for kids.
21. Small Pond Drawing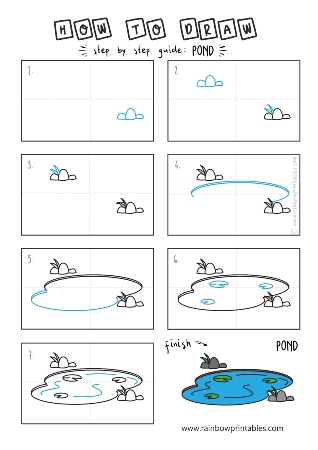 Get mystified by this pond drawing from Rainbow Printables.
The pond can house some snails, larvae, and frogs and the mystery of it will let the kid's imagination run wild.
Say hi to Piglet, the Owl, and Eeyore with these easy Winnie the Pooh drawings.
22. Cool Lake Drawing

Our last but definitely not the least project from Drawing How Tos will be a treat for the kids.
It features a nice pond surrounded by nature making it a great sketch to try out.
Sunset Drawings to Do and Appreciate
You have explored the vibrant colors and mesmerizing beauty of sunsets and turned them into your own unique artworks.
Whether you're drawing alone or sharing your creations with family and friends, your sunset drawings will continue to inspire and delight everyone.
Keep up the wonderful work and continue to let your child's creativity soar with these projects: