Perler bead letters are one of the easiest ways to reinforce the alphabet in your toddlers' and preschoolers' developing minds.
In addition to developing their alphabet skills, these Perler bead letters provide an opportunity to develop their hand-eye coordination, which is a foundational skill for A LOT of activities.
Help them to figure out what consonants and vowels are, and let them distinguish between upper-case letters and lower-case letters, with this compilation of 14 Perler bead letter patterns that ranges from plain designs to festivity-inspired ones.
You never know – your child might even spell out their first word!
6 Simple Perler Bead Alphabet Patterns for Kids
The first 7 Perler bead patterns are simple enough to be followed by toddlers and preschoolers.
You must be very familiar with Perler beads by now. If not, check out our post on easy Perler bead patterns where you'll find an introductory video tutorial for this activity.
1. Lower Case Alphabet Perler Beads Video Tutorial
Let's start with a simple video tutorial from Perler Party that showcases and patiently guides you on how to easily place lower-case letters on the pegboard.
Not only will your kids memorize the letters from watching this, but this video tutorial will also reinforce the sound of the letters through the nursery rhyme played.
2. Thick Upper-Case Alphabet Letters
Placing Perler beads on a pegboard is both a physical and mental activity that's perfect for growing toddlers.
It trains their hand-eye coordination and it also teaches them how to count when placing the beads.
HamaBeadPatterns123's channel has provided a tutorial for these chunky upper-case letters that will no doubt leave an impression on your child's learning.
3. Block Perler Bead Alphabet Letters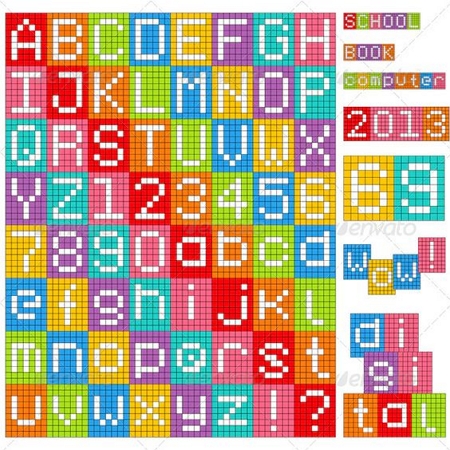 Alphabet block letters are popular toys for infants because they build the foundation for vocabulary skills. Plus, the colorful blocks in this pattern guarantee that you children's attention will be focused on creating these Perler bead letters.
These Perler bead block letters from Pinterest also expand their brains' ability to distinguish bright colors from dark ones.
Vibrant objects and crafts will never cease to appeal to children, so try making these rainbow crafts for kids, too!
4. Black & White Upper-Case Alphabet Letters
There's nothing wrong with keeping things simple, so go back to the basics of color with these black and white Perler bead alphabet patterns found on Pinterest.
It doesn't require a lot of beads to complete the whole alphabet, and it's a good activity when you're looking to strengthen your kids' alphabet skills.
This is also a perfect activity to teach preschoolers about the foundational ten numbers.
5. Upper-Case and Lower-Case Serif Font Letters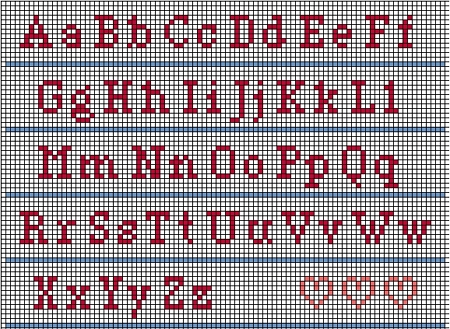 Kids need to build a firm foundation for their vocabulary, and one of the basic lessons they need to learn is distinguishing upper-case letters from lower-case ones.
I find that this serif alphabet pattern from Wonderful Stitches is a very good starting point. And while it's not necessarily a fuse bead pattern, the grid still lends itself pretty well to peg boards!
The pattern is made in a way that makes it intuitive for young children, placing upper-case letters beside their lower-case counterparts to make it easy for them to learn.
6. Alphabet with Picturesque Beach Pattern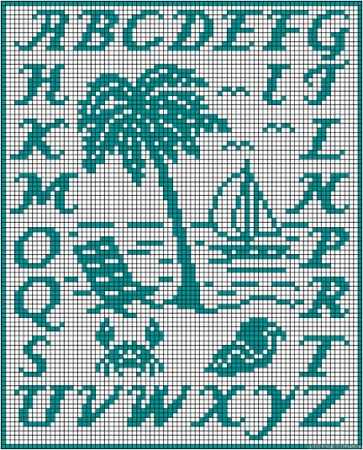 Children will grasp concepts better and will retrieve ideas faster when the lessons are funny, amusing, or both.
Not only will Friendship Bracelets's picturesque beach pattern keep your children engaged, with the crabs and seashell to stimulate their imaginations, but adults will also have a bonding moment with their kids by seeing such a relaxing image of the ocean.
Explore more of the ocean through crafts with these ocean crafts!
6 Creative Perler Bead Letter Patterns
The next 6 Perler bead letter patterns will feature attractive and creative ideas that will hook your children.
It includes designs that you would see from popular media and games, such as Disney and Mario-inspired letters.
7. Mickey Mouse Letter "M"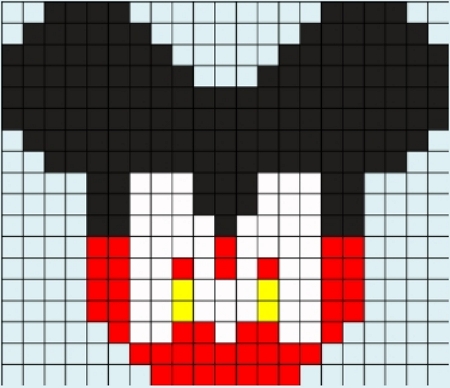 Make your own Mickey Mouse letter with this pattern brought to you by Kandi Patterns.
Though this pattern just contains the letter M, challenge your kids to spell their first names or the name of their favorite Disney character.
While the Mickey Mouse template is already provided, other letters might prove difficult for your kids, so support their letter-making process by providing them with other letter designs.
While this Mickey Mouse-inspired Perler bead letter is not specific to the letter M, we do share a post about letter M crafts.
8. Minnie Mouse Letters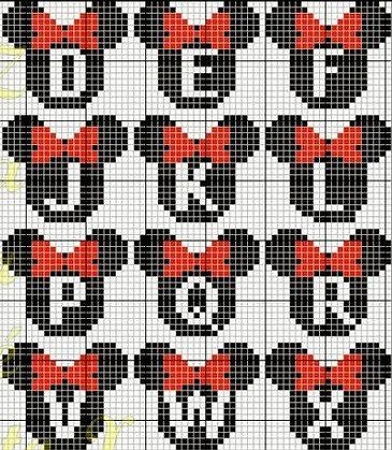 Here is another Disney alphabet letters pattern from Free Bead Pattern. They essentially provide a template for a Minnie-inspired design that contains different letters.
Challenge yourself and your kids to create the other letters through your imagination.
We realize that Disney-themed crafts are popular among kids, so learn how to make your very own DIY Mickey ears for your next Disney trip!
9. Strawberry Alphabet Patterns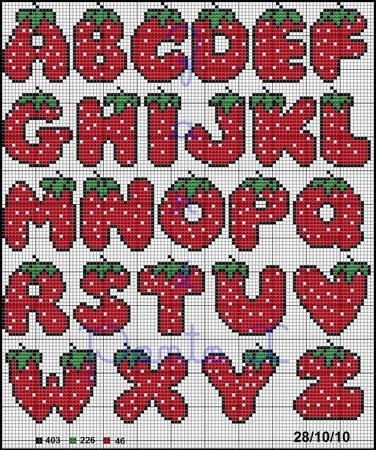 Here's another cross-stitch pattern that could be a fun challenge to try on a peg board. Prepare plenty of red beads for this one because you're going to need LOTS to recreate all these strawberry letters.
I love this design because each letter has its own style. I'm sure you won't be able to resist making these delicious-looking fruits.
Just pay attention that your children don't ingest these mouth-watering strawberry letters from Pinterest.
10. Retro Style Alphabet Patterns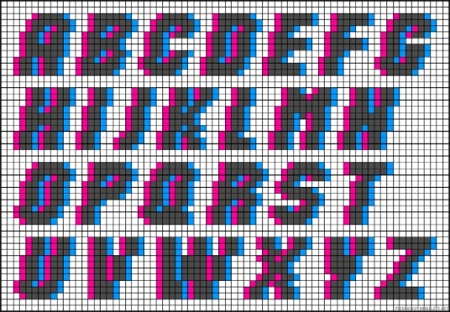 Feel a little cross-eyed? We shared the same experience if your eyes were fooled by these retro-style alphabet bead patterns.
This almost looks like an optical illusion with the letters appearing to be distorted yet clear at the same time.
These retro designs remind us fondly of the past. Drive down memory lane and create your unique memories with these scrapbook kits for kids!
11. Mario Hat Perler Letters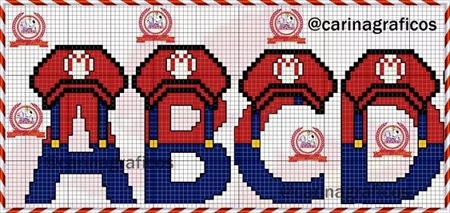 If your kids share the same love for our favorite Italian plumber from the Mushroom Kingdom as I do, then these creative patterns from Pinterest with a Mario hat are perfect to make.
These Perler bead letters are big enough to display on your children's desk or wall, making them proud of their achievement whenever they see it.
Each of the letters is wearing the iconic hat in combination with Mario's blue suspenders and overalls. The only thing missing from these designs is his magnificent mustache.
12. Letter "G" Gryffindor Crest Pattern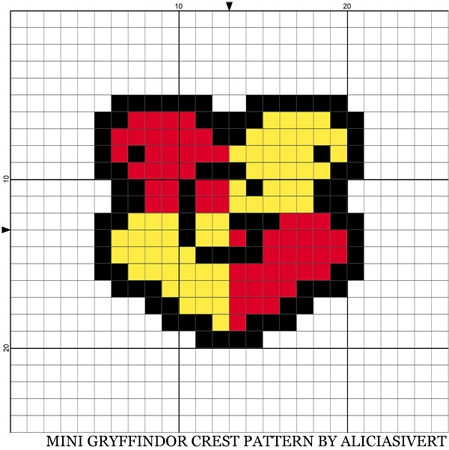 Alicia Sivert reminds us that it's never too early to influence your young children and introduce them to the Harry Potter saga, whether it's reading the novels or watching the movies.
Make this letter Gryffindor crest featuring a letter "G" after you've fully initiated them into the Potterverse.
Can't get enough of Harry Potter, can ya? Well, we've got you covered with these Harry Potter crafts.
2 Bonus Perler Bead Alphabet Patterns
The last 2 Perler bead patterns include Halloween-themed as well as Christmas-themed designs for you to enjoy during these seasonal festivities.
One of the most anticipated activities during Halloween is carving a pumpkin, so try these jack-o'-lantern crafts next Halloween.
If you want to experiment with a different kind of material, then try making one of these paper mache pumpkins as well!
13. Ooze-Covered Alphabet for Halloween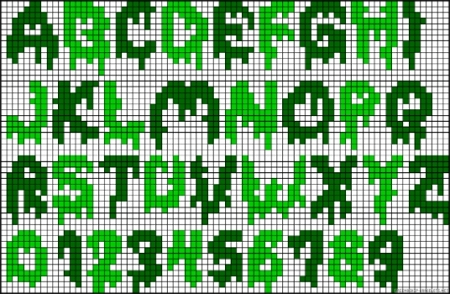 For Halloween-themed activities, you shouldn't miss out on making these ooze-covered alphabet letters from Friendship Bracelets that you can stick on your fridge with some self-adhesive magnets.
Kids will be amazed at the gooey effect that these Perler bead letters have.
Halloween calls for spooky ideas and crafts like these awesome Halloween painted rocks.
14. Christmas-Colored Perler Letters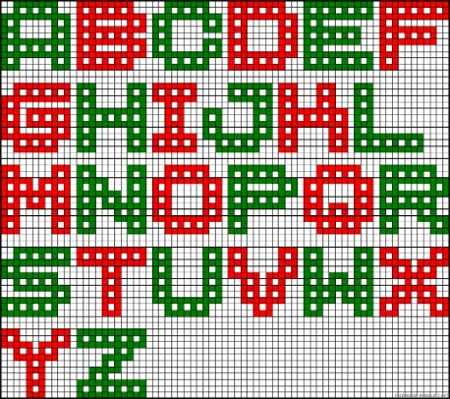 Let the Yuletide season begin early with these Christmas-inspired Perler bead letters that Friendship Bracelets shares.
Hang these small creations on your Christmas tree with a piece of string to start a new tradition!
Easy Perler Bead Letters for Young Kids
I hope your kids will have an easy understanding the letters of the alphabet after making these Perler bead letters.
Share in the comments below which of these Perler bead letters you and your children are planning to create!
If your kids can't get enough of Perler beads and are looking for more designs, then check out our other posts: