It is said that the presence of ghosts is first felt and then seen—you must've felt these ghost drawings coming.
Whether you're here to face your fear of ghosts or have a morbid curiosity about these supernatural beings, I'm sure these sketches will help you get to know more about ghosts. And drawing principles.
You might even befriend a couple of amiable ghosts!
Just to keep the adrenaline high, I've included some terrifying illustrations, followed by endearing ghosts with adorable traits to calm you down.
Materials for Ghost Drawings
5 Easy Ghosts
Let's not shock the little ones with complicated or spooky stuff.
Here are five ghost drawings to ease them in.
1. Cartoon Ghost for Kids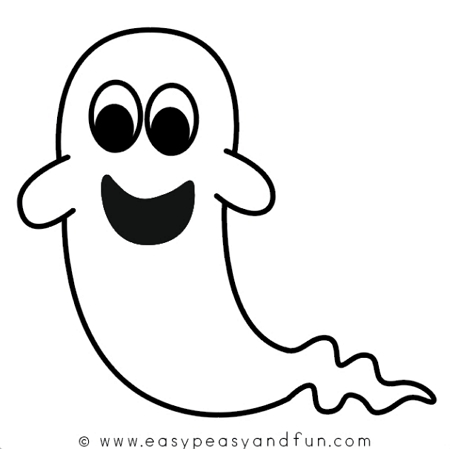 Introducing the kids to friendly ghosts such as this one by Easy, Peasy, and Fun can be a fun Halloween activity.
This version includes a couple of stubby arms to make the image more familar—and less scary—to children
Sent to fool around more than to spook people, the ghost emoji is one of a kind.
I haven't seen ghost emojis other than this one. I'm sure the number of ghosts will expand, but for now let's make the one presented here by Art for Kids Hub.
When words can't express our emotions, turn to Emoji Perler bead patterns.
3. Couple of Friendly Ghosts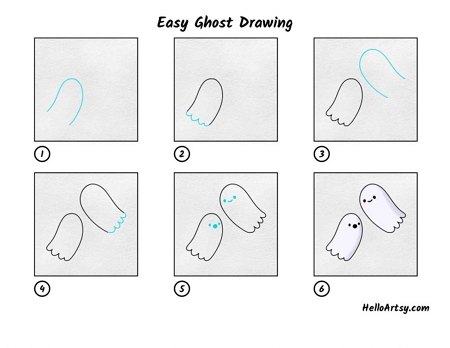 Ghosts have the reputation of being frightening, but it's rarer to think of them as lonely spirits.
I feel sorry for those ghosts who walk the earth alone.
So give your ghost drawings a friend, as Hello Artsy did in theirs.
Ghosts spook people. That doesn't mean they're immune to spooking themselves, though.
That's the exact scenario Let's draw LEGO has painted in their video tutorial.
This ghost sketch by Cartooning Club How To Draw looks like a person who longed to be a ghost and finally get to be one.
The artist completes the ghost drawing with a black marker, but starting with a pencil outline is highly recommended.
4 Spooky Ghost
It's going to get harder before it becomes better.
Not many people like that quote, but unfortunately that's what we'll go through first in this section of spooky ghosts.
6. Annoyed Ghost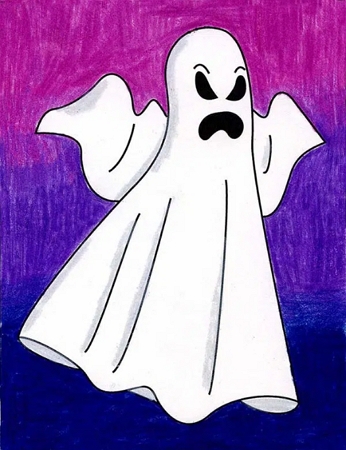 This apparition drawn by Art Projects For Kids is not that scary, right?
It's probably just some prankster or criminal waiting to be unveiled, like at the end of each Scooby Doo episode.
What I love most about this illustration is the purple background, evoking a sense of dread.
7. Sinister Cartoon Ghost
One look and instinctively you know there's something malevolent about this drawing.
For a cartoon drawing, this phantasm is imbued with such a hostile look—a drawing shared by Drawing123.
The fear of the unknown is sometimes more dreadful than uncovering a disfigured monster under the white blanket.
So anticipate and picture what lies beneath this cryptic shadow brought to life by Harriet Muller… if you dare.
We often worry about ghosts as floating spirits when the scariest ones are tangible and eerily familiar. Like this one by Art Easy For Beginners.
This ghost is not levitating or chanting spells—the mere sight of her is enough to overwhelm.
Proceed to draw at your own risk: I can't guarantee this vengeful spirit won't rip her way out of the paper and cling to the physical world.
6 Kawaii Ghost Drawings
Let's take a step back from all those horrific ghosts in the previous section and enjoy some kawaii ghost drawings.
It doesn't take much effort to turn a spooky ghost into a kawaii version.
Mister Brush shows us how it's done with their cute grey ghost with heart-melting features.
Create some kawaii Perler beads to prolong the activity streak.
11. Wholesome Flower Ghost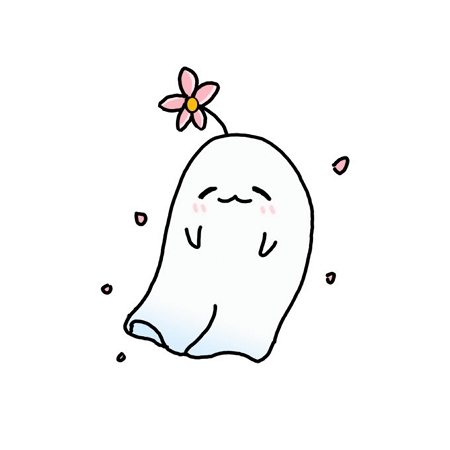 I wouldn't mind having this wee poltergeist as a companion. I won't have any trouble sleeping if this adorable thing by Drawing Howtos cuddles beside me during the night.
Here's a challenge for you: modify the flower on the ghost's head by looking up some easy-to-make flower doodles!
12. The Four Personality Types of Ghosts
It's going to take more than a scythe and fork for these phantoms by Home Ed Mag to scare me.
Look at these four ghosts as a template; let's see where your creativity will take your drawings.
What's rarer than a unicorn (or ghost)? A unicorn ghost, of course!
In Art for Kids Hub's imagination, unicorns don't go to heaven—they just turn into precious, colorful spirits for earthly beings like us to marvel at.
Expand your roster of Halloween creatures by adding this one to your list!
Create as many unicorn drawings as you can!
14. Ghost Dog…?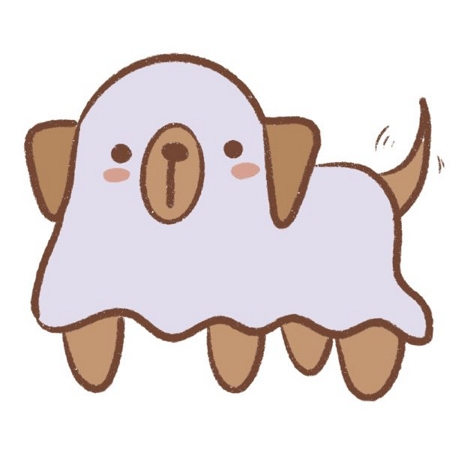 This ghost is looking suspicious. The way it wags its tail, I'm not sure it's a ghost at all.
Draw Cartoon Style gives me another creature to hug at night with their dog dressed as a ghost illustration.
Not everyone is a dog lover. I'm a cat lover myself, but unfortunately, I'm allergic to cats. That effectively turned me into a dog lover.
I hope I'm not allergic to ghost cats because I'm about to create this sketch by HalloweenDrawings.
6 Popular Ghosts
Ghosts fill the pages of many horror stories, but they've also permeated popular media.
Here are some ghosts that we've become familiar with over the years
16. Casper the Friendly Ghost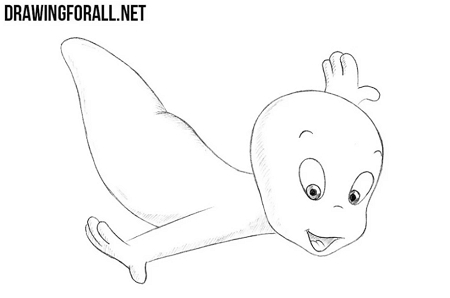 A ghost who skyrocketed into stardom is Casper, who originally appeared in a children's book in 1939.
Thanks to his friendly nature and angelic appearance, Casper has cemented his legacy with other greats from the same era like Superman and Batman.
Drawing For All shows Casper ready to meet and befriend another human.
Minions are far from being ghosts. But that won't stop us from drawing a ghost Minion on Halloween.
Enjoy drawinghowtodraw's tutorial of a Minion ghost!
Minions are a dime a dozen; don't leave this one all by his lonesome and create more Minion drawings!
18. Nightmare Before Christmas: Zero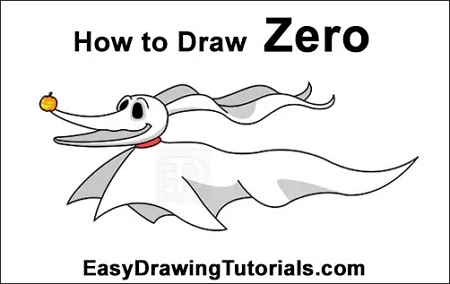 Even in ghost form, dogs continue to endear us with their friendship and loyalty. That's definitely the case with Zero, Jack Skellington's trusted companion in Nightmare Before Christmas.
Easy Drawing Tutorials does a great job of capturing Zero, down to its glowing nose.
Related: Nightmare Before Christmas Perler Beads!
We're all familiar with Boos—the despicable ghosts found in haunted castles in Mario games.
Rarely seen is King Boo, who's more sinister than the typical Boo. Despite his ominous appearance, King Boo has gained popularity among the players.
You're almost at the finish line—here are some Mario Character drawings to reach that flag!
Ghostface is not an actual ghost, but they are the one you should worry about the most. That's because they're a serial killer.
Different people have taken on the Ghostface persona, that's why I referred to them in plural.
While Draw So Cute injects their distinctive and charming style into characters, I'm not sure that has made this Ghostface any less threatening.
21. Marvel's Ghost Rider: Chibi Edition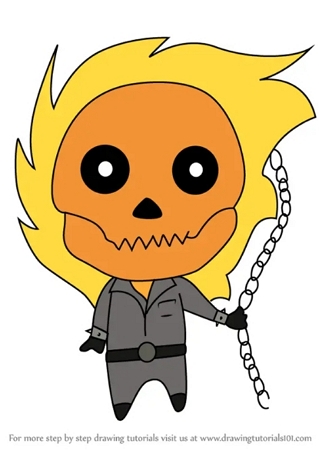 Ghost Rider is a sight for sore eyes after dealing with Ghostface.
While his methods aren't as virtuous as that of a superhero, he only punishes those who truly deserve it.
So behave not only for Santa, but also for the Ghost Rider because he'll see right through you. A chibi version is presented here by Drawing Tutorials 101.
Ghosts—Less Menacing than You Think!
We've seen some chilling ghosts in these drawings, but overall I think the ghosts we encountered are more amicable than initially thought.
I hope these ghost drawings have eased your feelings about these spirits.
Sure enough, you'll face just about anything after finishing these other activities: