Prepare for an epic underwater adventure because a lot of great whale drawings are in store for you right here. We know whales as the largest mammals to inhabit our planet, but in this post we'll dig a little deeper and learn more fun facts about this interesting mammal.
Whale, what are we waiting for? Let's get it on and start drawing these gentle giants.
For more fun and engaging activities, check out these easy animals to draw for kids.
Amazon Finds You Need for Art Drawings
I've compiled all the materials that we used and found useful in doing these projects:
7 Easy to Draw Whales
1. Kawaii Whale Drawing Guide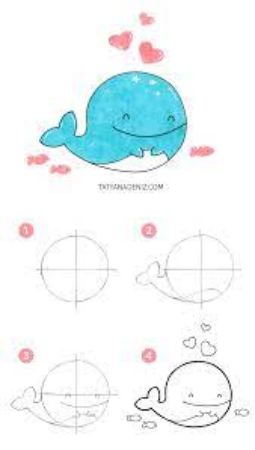 Here's a drawing of a cute whale from Deviant Art living its best life underwater.
Whales are naturally non-aggressive and friendly to humans. This lovely whale is here to spread love and giggles to you and the kids.
2. Cool Whale Drawing Tutorial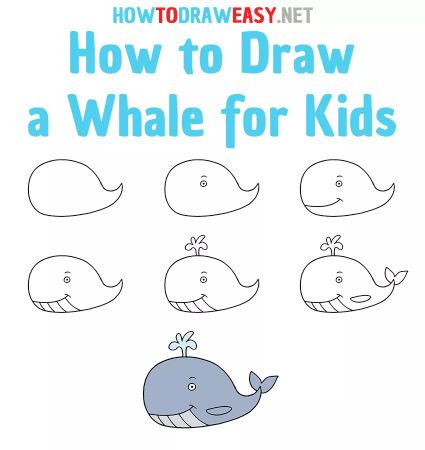 Blowholes are crucial to these gigantic mammals because they allow them to breathe in air.
Add that cool and useful feature to your next drawing by copying this illustration from How to Draw Easy.
3. How to Draw a Happy Whale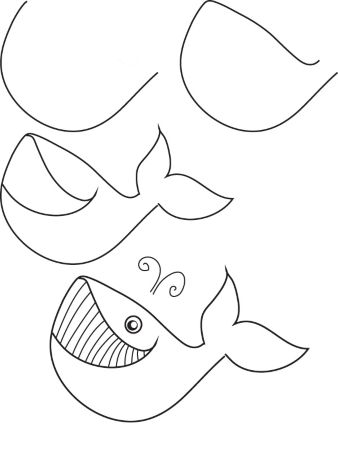 This whale drawing from The Draw Bot is all smiles and giddy because it's having a great time underwater.
You too can join in the fun by recreating this drawing in the comfort of your home.
Fun fact: Whales have big mouths and can have up to 24o teeth!
4. Easy Whale Drawing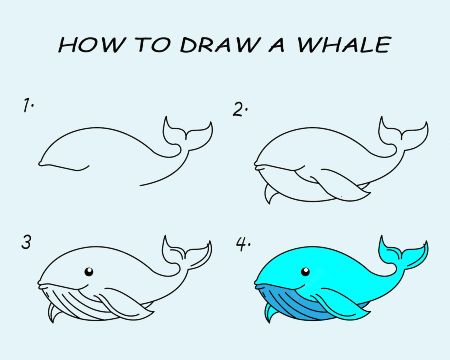 Whales are perplexing creatures but this drawing tutorial from Freepik simplifies it all.
Follow this guide to draw a magnificent whale in just four easy steps.
The force will be with you when you make these adorable baby Yoda perler beads patterns.
5. Baby Whale Drawing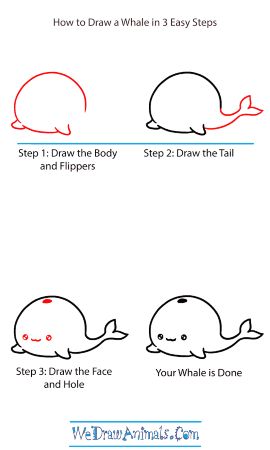 Baby whales, which are also called calves, are as fascinating (if not more) as adult whales.
Did you know that baby whales weigh almost 8,000 pounds at birth? That's almost as heavy as two cars!
Get ideas on how to modify their drawings to create little whales by checking out We Draw Animals's tutorial.
6. Curved Whale Drawing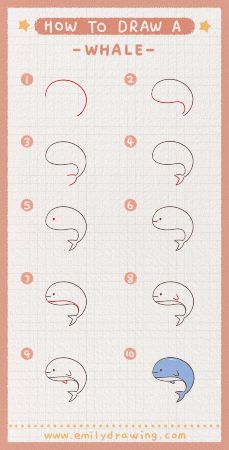 Even though whales are mammals like us humans, they're exceptional when it comes to swimming in the ocean.
Include motion in your drawing and make it look like it's swimming by using this guide from Emily Drawing.
7. How to Draw a Blue Whale
One of my personal favorite types of whale is the blue whale.
Not only because it's color blue which is my favorite color, but also because of its sheer size—its tongue weighs as much as an elephant! How cool is that?
Capture the enormity and splendor of the biggest animal that ever lived on Earth with this straightforward tutorial from Easy Drawings.
5 Simple Whale Drawings
8. Cute Whale Drawing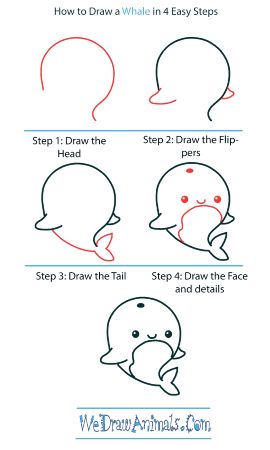 This illustration from We Draw Animals shows the gentle and cute side of the giant mammal.
Your kids will learn how to draw tantalizing and cartoon-like eyes through this drawing which they can also replicate in their future artworks.
9. Cute Whale Cartoon Drawing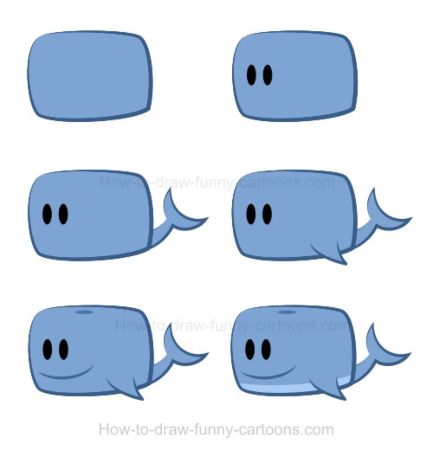 How to Draw Funny Cartoons offers a clear tutorial on how to draw a whale by starting with a box.
This makes it the perfect whale drawing for toddlers and younger kids.
Enjoy a fun day filled with giggles and colors by doing these toddler painting ideas.
10. Beautiful Realistic Whale Drawing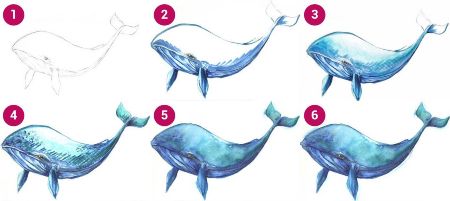 Check out this cool whale drawing of Eckersley's, What's unique about it is that it used watercolor to add depth and texture to the animal.
Using different art tools is good for kids because it enhances their artistic skills and widens their perspective so I highly recommend doing this project.
11. Tiny Whale Drawing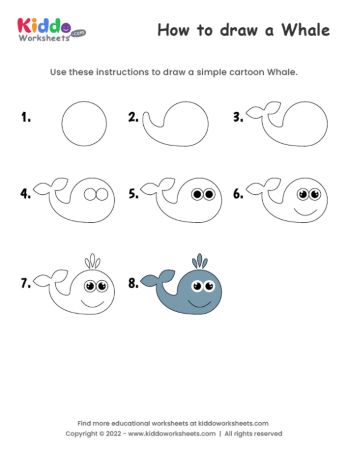 Even the smallest species of whale (Dwarf sperm whale) isn't that tiny at all because they can weigh up to 400 pounds!
Don't worry because you'll still be able to capture and draw a whale on your paper with this super helpful guide from Kiddo Worksheets.
12. Silly Whale Drawing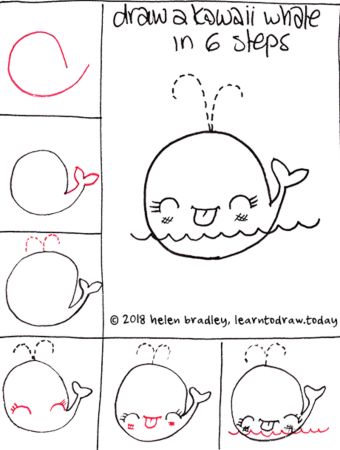 Look at how cute this drawing of a whale from Learn To Draw Today is!
It shows the playful and quirky side of whales with its tongue out. It even shows the blowhole in action.
This will be an enjoyable and seamless project for the kids.
8 More Whale Drawings
13. Big Whale Drawing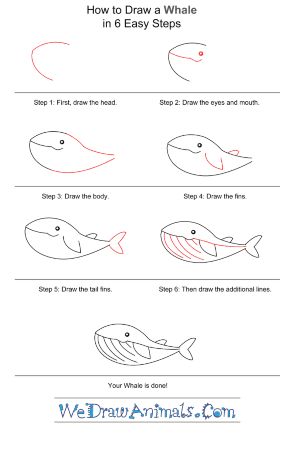 You can't miss out on this epic whale drawing by We Draw Animals.
The steps are easy to follow so the kids will feel like a pro once they've completed this drawing.
14. 5 Step Whale Drawing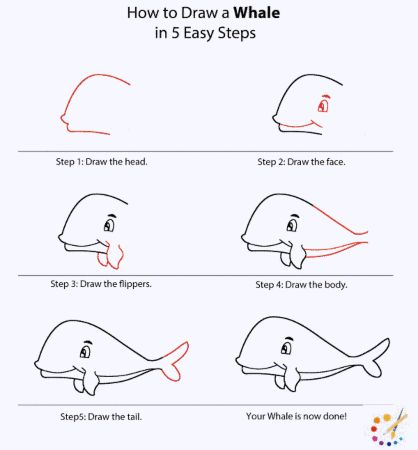 How to Draw is here to help us achieve a perfect whale drawing in five easy steps.
Kids will be amazed by the finished product that they did in just a short amount of time.
Get creative and make these clothespin crafts.
15. Fun Whale Drawing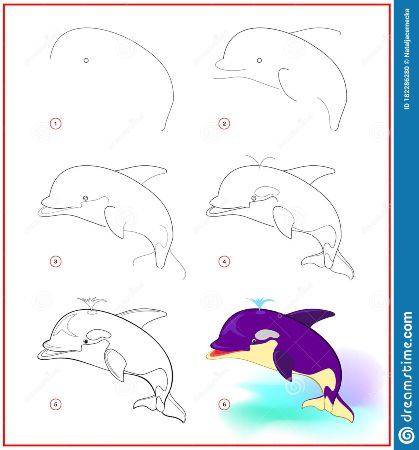 This fun 3D whale drawing from Dreams Time will be an excellent addition to your kid's sketchbook as well.
It's different from the other whale drawings because it's a bit more challenging but I guarantee that it will look super cool and priceless.
Brownie points for providing a great color scheme, too.
16. Draw a Whale with the Number Two
Teach the kids all about numbers in a new and non-traditional way by drawing a whale with the number two.
Doodle Art Time's creative take on drawing a whale will make this an exciting activity for the little ones.
17. Adult Whale Drawing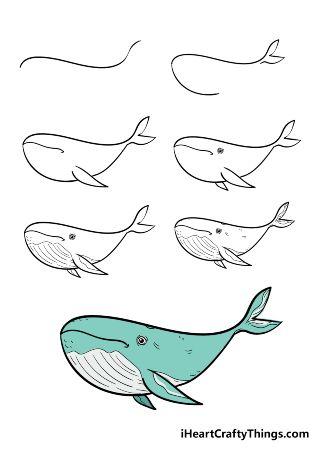 Since you've already mastered how to draw a baby whale, it's time to do this adult whale drawing from I Heart Crafty Things.
The kids will enjoy the variety of drawing whales in the different stages of their long life.
18. Narwhal Drawing Tutorial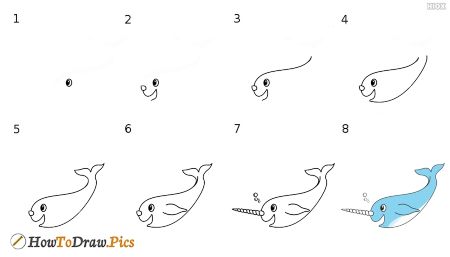 Our list of whale drawings won't be complete without a narwhal and luckily How to Draw Pics has got us covered.
Narwhals are interesting whales that look like a unicorn underwater because of its tusk.
Unicorn lovers unite because we've got these unicorn perler beads projects that you'll love.
19. Killer Whale Drawing Tutorial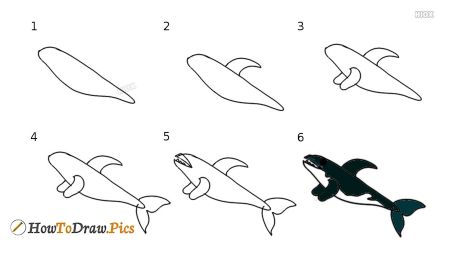 Expand the knowledge of your kids regarding the different species of whales as well as their artistic capabilities by including this tutorial from How to Draw Pics to your list.
The great thing about this drawing is that you won't have to buy a lot of art materials because you'll be able to do this with just a pencil and paper.
20. How To Draw A Humpback Whale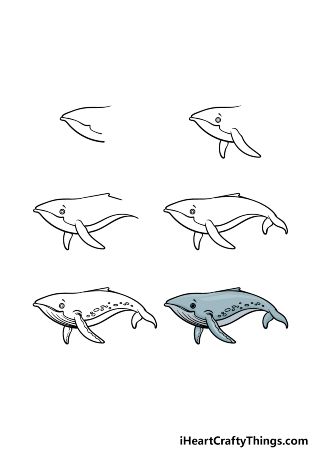 Another species of whale that's famous for its uniqueness is the humpback whale.
I Heart Crafty Things focused on them in this very simple and helpful drawing guide.
Decorate your home with these lovely perler bead flowers.
Whale-y Good Drawings of Whales
These whale drawings are compiled with kids in mind. They're fun, easy, and simple to do.
I'm sure that everyone from the youngest to the eldest child will find something that suits their skills and preference.
The fun never stops because we've got more projects for you below: