Hop along and enjoy creating these easy frog drawings with us. Frogs got the best of both worlds: because they're amphibians, they can survive on both land and water.
Did you know that there are more than 5,000 species of frogs (and more are being discovered by scientists every day)? There's the true toad, American bullfrog, and desert rain frog, to name a few. These frogs come in different sizes and colors and they live on all continents except Antarctica.
Join us as we discover more amazing facts about frogs through these activities.
Animal lovers rejoice! Here are other easy animals to draw for kids.
What You'll Be Needing
Before we proceed, make sure that you've got all the items your little artist will be needing to unleash their creative side. Below are some materials that I found useful in our drawings:
7 Easy Frog Drawings
1. Leaping Frog Sketch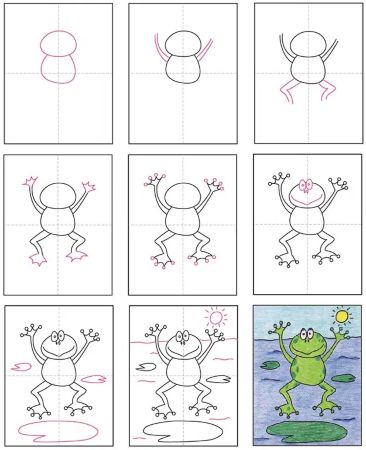 Frogs hop to go from one place to another. It's also a very effective and fast method because some frogs can jump up to 50 times their body length.
This drawing by Art Projects for Kids shows the perfect form and length of a typical frog that kids will have no problem copying.
Enjoy a fun afternoon jamming with your kids with these homemade instruments.
2. Frog with Clothes Drawing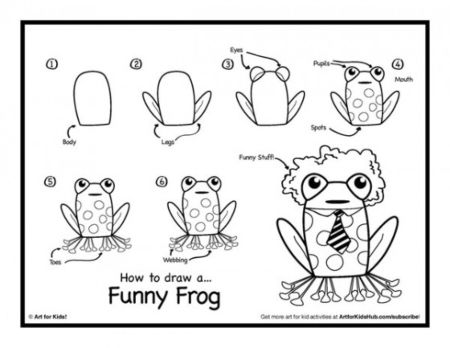 Mr. Fashionable Frog says hi!
This frog drawing from Art for Kids Hub features a frog with a fancy shirt on.
It's not every day you get to see a stylish frog like this one.
3. Tiny Frog Drawing
The life cycle of frogs is fascinating. It's amazing how a tadpole can transform into a magnificent frog.
Watch this video by Bottle of Arts as they show how to transform your drawings into this adorable little frog.
4. Friendly Frog Drawing
Thinking of getting a frog as a pet? This is your sign to get one.
This frog drawing by Filfel Drawings will not only show you how easy it is to draw frogs but also how much love and affection they can give to their friends.
5. Serious Frog Drawing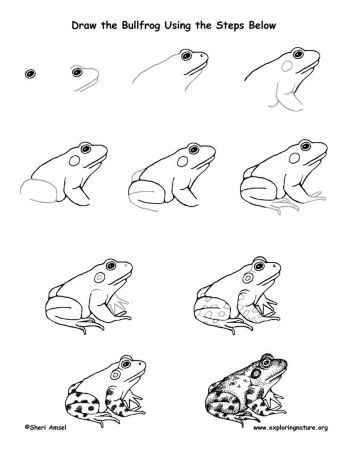 Exploring Nature shows the serious and realistic side of frogs in this tutorial.
Don't be intimidated by this drawing because it will teach the kids how to draw realistic animals one step at a time.
Go back in time through these dinosaur perler beads.
6. Pretty Frog Drawing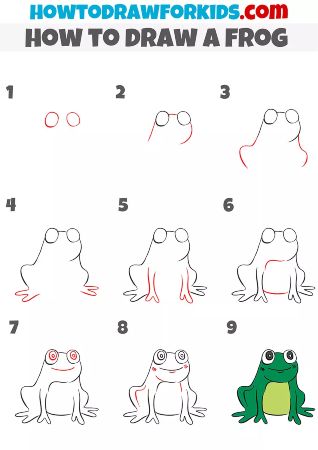 Look at this pretty and irresistibly cute frog drawing of How to Draw for Kids.
Drawing this will teach your kids how to make expressive eyes.
Preserve your most treasured moments by placing them in scrapbooks. Find the best scrapbook kits for kids here.
7. Frog with Spots Illustration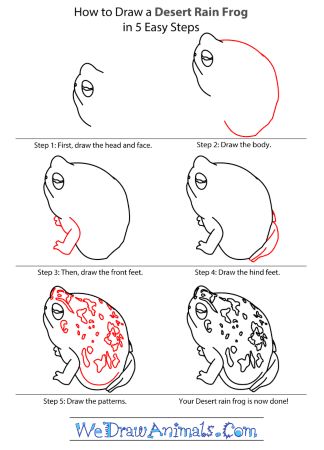 Frogs' skin differs in texture, color, and patterns.
This tutorial by We Draw Animals will be a great material for teaching kids how to add some spots and patterns to their frog drawings.
9 Step-by-Step Frog Drawing Guides
8. Simple Frog Drawing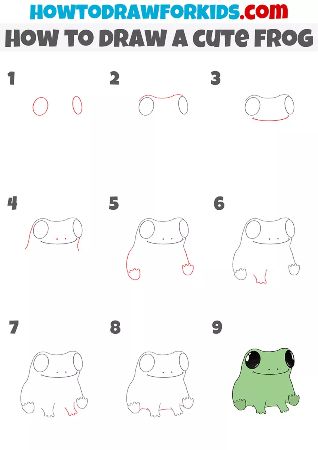 Aside from their skin and long limbs, the eyes are also one of the best features of a frog. I think it's really cool that they have 360-degree vision at all times.
This How to Draw for Kids tutorial highlights the powerful eyes of the frogs.
F is for frogs. More letter f crafts await you in this post.
9. Tongue Out Frog Illustration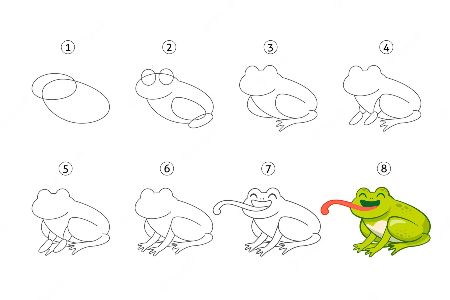 Frogs are excellent hunters.
With their piercing eyes, they're able to see their prey at the front, sides, and even backward.
Get ideas on how to draw a predator frog from this tutorial by Freepik.
10. Cute Frog in a Lily Pad
Many insects and animals such as dragonflies and frogs stay on lily pads to rest.
In the case of frogs, this plant also helps them escape vicious predators.
Watch this video by Winnicorn for a cute tutorial of a frog chilling on a lily pad.
11. Blushing Frog Illustration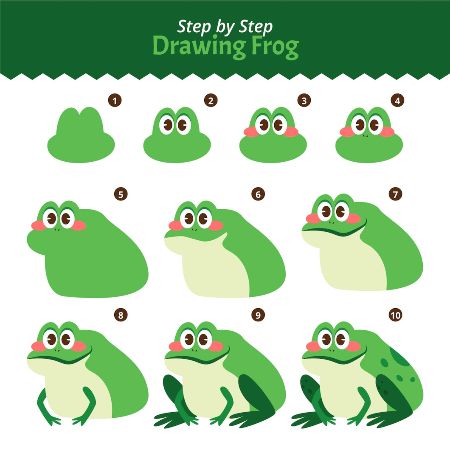 Make your frog look like it came straight out of a fairy tale with this cartoon frog drawing of Freepik.
The big eyes and blushing cheeks make it irresistibly cute.
Find irresistibly cute crafts in this list of kawaii perler bead patterns.
12. Friendly Frog Drawing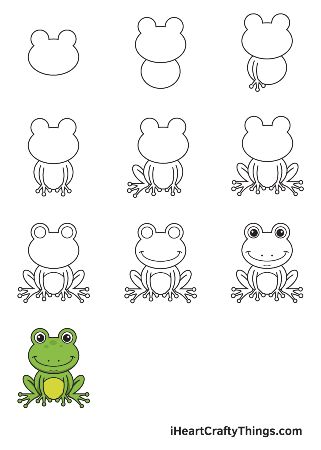 Frogs are cold-blooded creatures. They adapt to the temperature of the water and air that surrounds them.
This smiling frog drawing from I Heart Crafty Things shows how easy it is to draw a realistic-looking frog (just like how easy it is for frogs to adapt to their environments.)
13. Red-eyed Tree Frog Illustration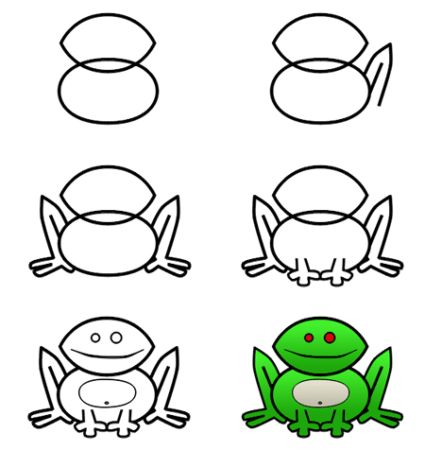 The red-eyed tree frog is unique and special in its own way. They're great at camouflaging and use their eyes to disorient their prey. Super cool, right?
Include this awesome frog drawing from How to Draw Funny Cartoons that showcases their hypnotizing red eyes.
Make a quick trip under the sea with these Spongebob perler beads projects.
14. Realistic Frog Sketch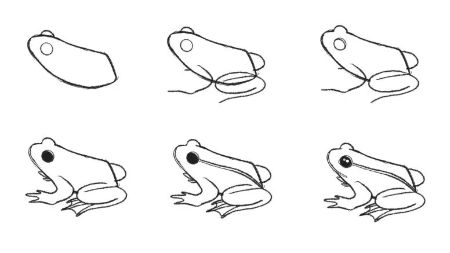 Train your kid's artistic skills by challenging them into making this realistic frog drawing.
Don't worry because this tutorial by Jae Johns will guide you through making the frog's body, eyes, and legs one step at a time.
15. Cute Prince Frog Drawing Tutorial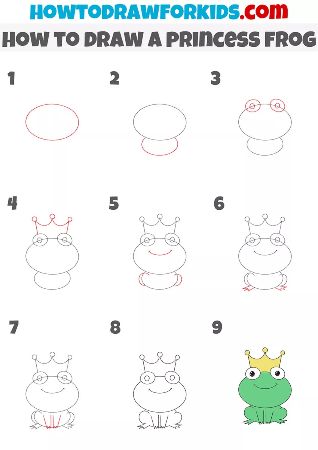 Add a crown to your frog drawing and voila. You'll have the Frog Prince from the Grimm's Fairy Tale.
Follow this easy-to-follow tutorial from How to Draw for Kids to know how you can recreate the character.
16. Frog Drawing Using the Word "Frog"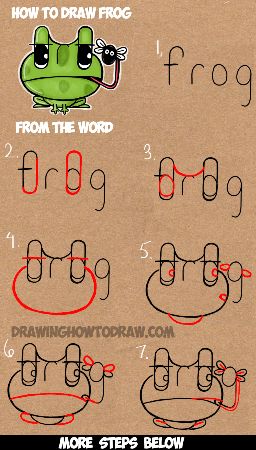 Your kids will be amazed at this clever tutorial from Drawing How to Draw.
Write the word "frog" and see it transform into an actual frog. It even shows the frog eating an insect.
Baby Yoda is cute and green, too. Here are Baby Yoda perler beads for you and your kids to enjoy.
5 Famous Frog Drawings
17. Kermit the Frog Illustration
"Hi-ho, Kermit the Frog here!"
Draw Kermit the nice and kindhearted frog with the help of this illustration from Moshley Drawing.
They'll guide you every step of the way from drawing his face down to his webbed feet.
18. Kero Kero Keroppi from Sanrio Drawing
Kero Kero Keroppi is a good role model for children. He's smart, hardworking, and studious.
Learn how to draw this model student by watching the tutorial of YuhoDraw – Easy Drawing Channel.
The tutorial even includes Kero Kero Keroppi's cute little friend.
19. Pepe the Frog (Meme Frog) Sketch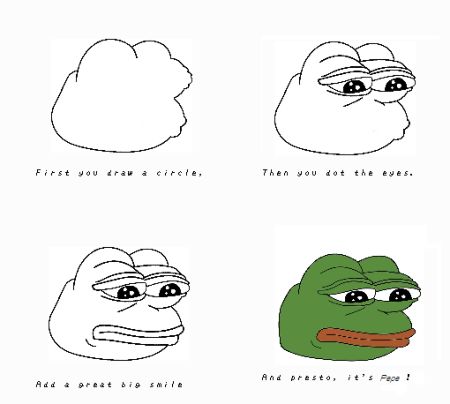 You've seen Pepe the Frog all over the web. His iconic face is all over Facebook, Twitter, and Instagram.
Now, you'll be able to draw him on your notebooks too with this guide.
Thanks to Know Your Meme, you'll learn how to draw Pepe's expression flawlessly.
20. Principal Pixiefrog From My Gym Partner's A Monkey Drawing
Principal Pixiefrog is strict when it comes to following rules because he has the best interest of the students at heart.
Go down memory lane and include this short but informative tutorial of Drawing Line by Line on your list.
Learn how to draw his iconic suit and bowtie in under three minutes.
21. The Toad from Flushed Away
You might be wondering why Mr. Toad is part of the list. Toads are part of a sub-classification of frogs. So that means that all toads are frogs but not all frogs are toads.
This video by Ana Čačija will serve as a great guide in drawing The Toad.
You'll even learn how to draw his menacing eyes and creepy smile.
Easy Frog Drawings for Everyone
Frogs have survived four mass extinctions but are slowly diminishing in numbers because of climate change, deforestation, and disease. Help preserve them by teaching the next generation about this wonderful animal by making these easy frog drawings.
Find more fun activities to do with your kids below: