The thought of creatures living in the ocean can be amusing to many children. That's true, especially when they learn that dolphins, which are mammals just like us, live and play underwater. "How can they breathe?", they might ask.
That's the reason ocean crafts and mermaid crafts are very popular among toddlers and preschoolers! The vastness of the ocean and the mysterious creatures that live in it can be quite intriguing to them.
Encourage them to follow that curiosity and expand their minds by doing interesting activities with these 19 dolphin crafts.
5 Dolphin Crafts for Kids
1. Dolphin Collage
Time to get those little hands sticky by gluing a lot of painted tissue paper to make this dolphin collage.
Activity Village shares the materials and instructions for this super easy craft!
Keep that paper roll that remains after you've emptied your toilet paper because you never know when you'll make one of these toilet paper roll crafts.
2. Step-By-Step Dolphin Drawing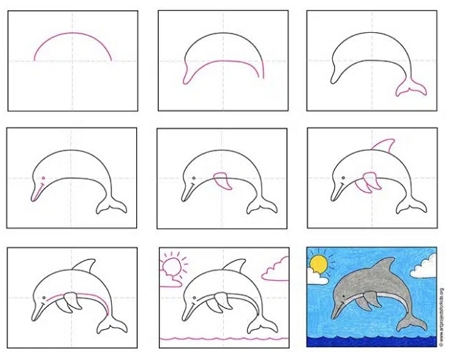 Drawing a dolphin has never been made easier until this written tutorial by Art Projects for Kids.
Stimulate your kids' creativity by allowing them to imagine the background of this dolphin drawing.
After your kids have made a rough sketch of the drawing, hand them some coloring materials and encourage them to experiment with different colors.
If you've inspired your kids to draw more, then check out our post on easy animals to draw for kids!
3. Watercolor Tie Dye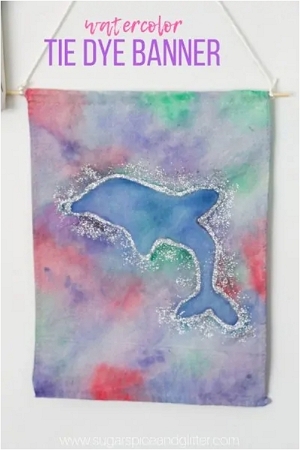 Try to make your day more colorful by doing this tie dye banner painting activity by Sugar, Spice, And Glitter.
This craft is similar to how to tie dye shirts, except here you'll be creating your favorite marine animal.
I love how the colors of tie dye spill over each other to create that mesmerizing effect!
4. Coffee Filter Dolphin Art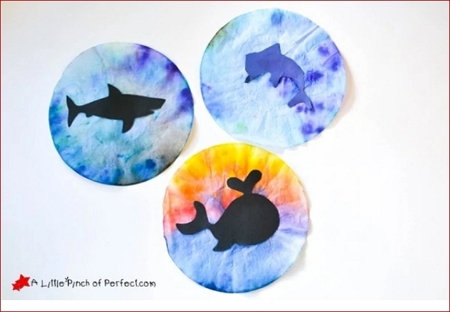 This is one of the coolest dolphin crafts on this list. A Little Pinch of Perfect uses a different canvas to create stunning art displays that are totally easy to make.
You would've never guessed what canvas they've used for this craft if I didn't spoil it with the item subtitle.
In case you didn't read it, though, they used coffee filters, which I truly find amazing!
5. Dolphin Footprint Art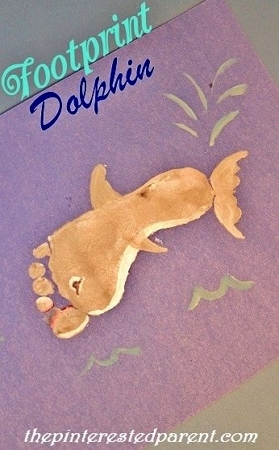 I love crafts that allow children to really be absorbed within the activity. Handprint and footprint crafts can really fire all of your kid's senses.
The Pinterested Parent shares a wonderful dolphin footprint art activity that immerses (pun intended) your children (and their feet).
Because handprints are so fascinating, we've compiled plenty of similar crafts in the form of snowman handprint ornaments and turkey handprint crafts.
8 Easy Dolphin Crafts
6. Paper Plate Dolphin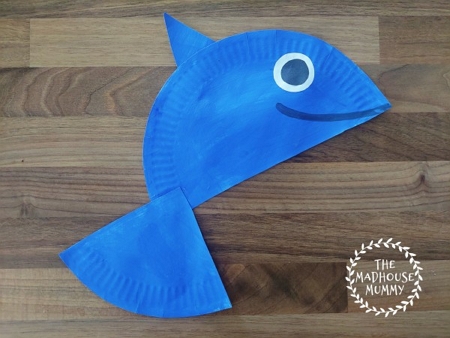 Paper plate crafts and children's activities are basically synonymous at this point since there are millions of things you can do with this everyday object.
So it's not surprising to see a dolphin craft made out of a paper plate. The Madhouse Mummy shares this easy dolphin craft for toddlers.
It's a simple yet effective activity for children to improve their fine motor skills by painting, cutting, and gluing.
7. Simple Popsicle Stick Dolphin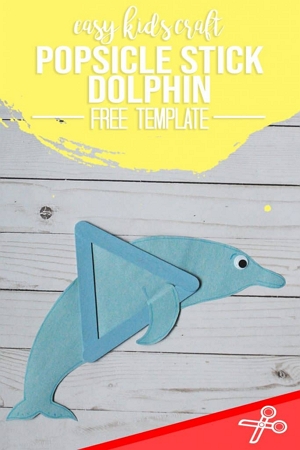 Introduce your children to some basic geometry and shapes by following this dolphin craft by In The Bags Kids' Crafts.
In this craft, they'll learn how to make the triangle and they also get to meet a very interesting marine mammal, so there's plenty of lessons to be learned by making this cute craft.
8. "D" Is for Dolphin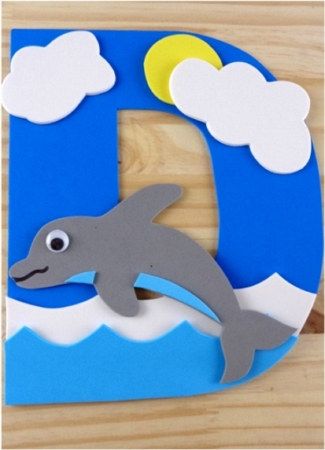 Perhaps geometry talk might be too complicated for some preschoolers. That Bald Chick helps us return to the basics of the alphabet by making this "D" is for dolphin craft.
And there's nothing wrong with going back to the essentials because these provide the foundation for your kids' verbal and vocabulary skills.
Crafts like these ensure that consonants and vowels get reinforced within your children's developing minds.
Both the lowercase and uppercase letter "D" can easily be confused with others by children, so here are more letter "D" crafts to help them distinguish it better.
9. DIY Dolphin Notepad
Send your kids off to school with this fun, homemade notepad.
It'll serve as a playful reminder of creating crafts at home each time they take it out to write something down.
10. Dolphin Paper Craft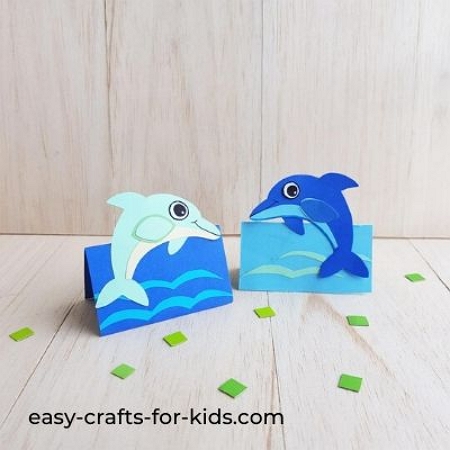 We associate dolphins with those water mammals that love to communicate with high-pitched sounds and that love to leap out of the water, just like this craft by Easy Crafts for Kids.
Encourage your children to create their dolphin buddies by selecting three shades of their preferred color and then following this detailed step-by-step guide.
It also doubles as a greeting card!
11. Dolphin Clothespin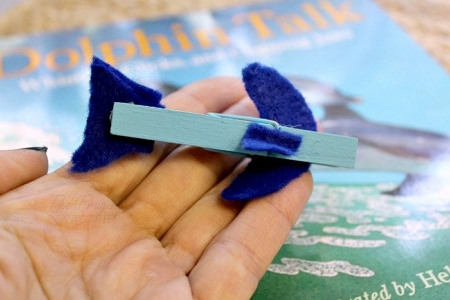 You never expected to create a dolphin from a clothespin, did ya? Well, The Frugal Navy Wife has surprised me with their creativity.
If you already have a blue clothespin, then great! If not, that's okay too, since you get the chance to take out the old paintbrush and allow your kids to paint it.
12. Dolphin Perler Bead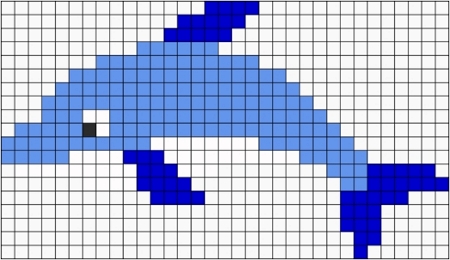 Our easy Perler bead patterns have shown that perler beads are perfect for little toddlers to help them develop their fine motor skills and color recognition by grabbing those tiny and colorful beads.
Kandi Patterns has made their dolphin blue just like the real one, but any dolphin color can live in your children's imagination, so encourage your children to get creative and make their dolphins pink, yellow, and everything in between!
13. Dolphin Bookmark
At some point, your kids will be ready to read short stories, and when they reach that you should allot some time to make a couple of bookmarks such as this dolphin one!
These magical bookmarks will help your children keep their place in the longer stories they read.
6 Unique Dolphin Crafts
14. Leaping Dolphins Craft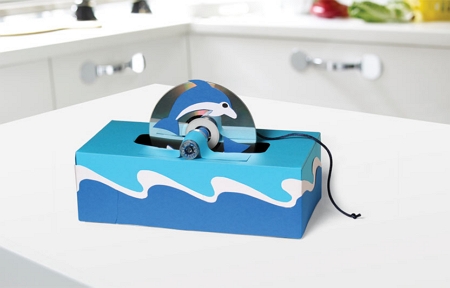 See dolphins in action by making this amazing tissue box dolphin craft. Highlights tests your resourcefulness by using upcycled materials such as an old CD, empty tissue paper box, and plastic bottle caps.
This is no ordinary craft and you can even make it with other animals as Highlights suggest, like leaping lions, frogs, or rabbits.
15. Dolphin Ocean Scene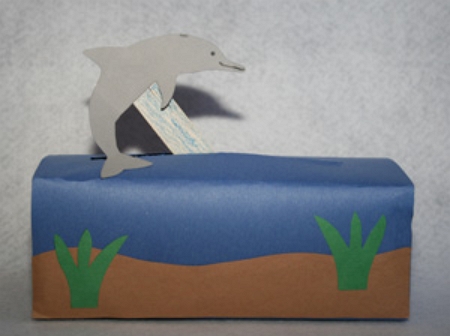 Here's another craft that's equally as fun and that allows your kids to interact with like the previous craft. All Kids Network uses different types of accessible materials, like a milk carton, popsicle sticks, and colored construction paper.
They also share a template of the dolphin and the seagrass.
Allow your dolphins to socialize with other marine creatures like these jellyfish crafts and octopus crafts!
16. Origami Dolphin
Here's a craft that will truly challenge your kids' fine motor skills. If your children are old enough to do such crafts, then introduce them to the world of origami, or the art of folding paper and making beautiful animals and objects.
Be warned, though, as origami activities are addicting and can be a bit challenging, especially for beginners. But this video tutorial by All About Craft Ideas ensures that you have an easy time with your first origami dolphin craft.
17. Paper Mache Dolphin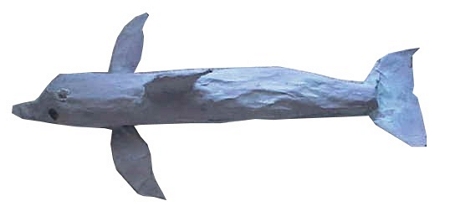 I feel like paper mache is an underrated material that more people should be using in crafts.
If the prospect of making paper mache from scratch sounds frightening, it shouldn't because DLTK's Sites for Kids demonstrates that it's super easy to make, as they bring your kid's next favorite craft through their paper mache dolphin guide.
If you haven't already, be sure to see our list of favorite paper mache pumpkins that don't expire like those real carved ones during Halloween!
18. Dolphin Popsicle Stick Craft
Aspiring little engineers will be delighted with this grand and rewarding project. The thumbnail may look daunting at first, but Firdaus Designer will guide you with each component of this dolphin popsicle stick art.
The benefit of making this dolphin art is that you only popsicle sticks. That's it, besides the glue gun.
These popsicle stick crafts will help you use up any extras you have leftover.
19. Banana Dolphin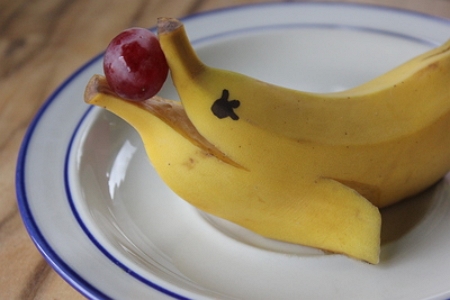 Okay, this one isn't really a craft, but I couldn't pass it up.
In an attempt to coax children into eating more fruits, My Kid Craft has creatively made this dolphin out of a banana.
If you're having a hard time getting your kids to eat healthy fruits, then this silly dolphin might persuade them. The grape is a funny addition, typical of playful dolphins.
Get Your Kids Their Own Flipper!
Dolphins are highly intelligent creatures and your toddlers should have no problem getting attached to these playful marine creature crafts.
Which of these crafts did you dive into? Let us know in the comment section below!
Here are other fun ocean-related crafts: