Take some time to appreciate the small things in life this coming Thanksgiving and decorate your home with these eye-catching Thanksgiving painted rocks.
The examples below are suitable for both beginners and experienced artists alike, so don't be afraid to pick the art you find most attractive!
5 Materials for Rock Painting
Before immersing ourselves in the engaging activity of rock painting, see to it that all the necessary materials are available at home.
Don't fret if they aren't readily available at home, for I've listed the basic materials here.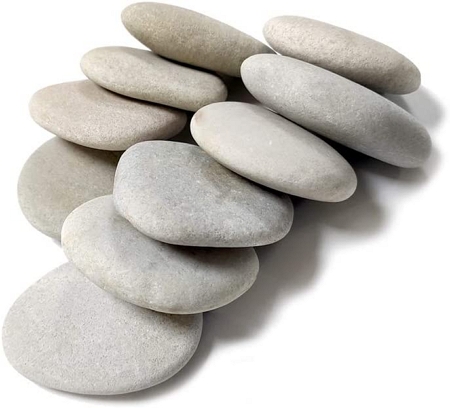 When making Thanksgiving rock paintings, having craft rocks is a no-brainer. Start with this set of ten smooth craft rocks, which measure approximately 2-3 inches in diameter.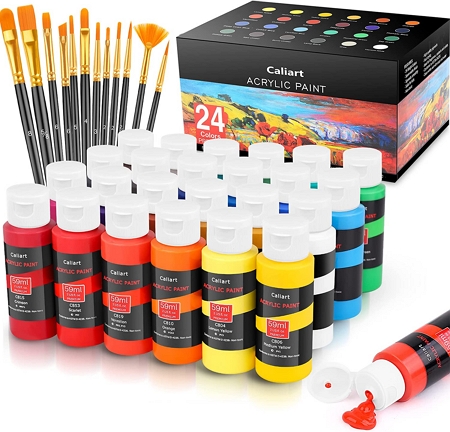 For rock paintings, acrylic paint is one of the best options out there. It has the right consistency that makes it effortless to paint on rocks, plus it's easy to mix and match the colors—assuming you know the basic knowledge of primary and secondary colors.

Gesso is used as a base coat on craft rocks to prepare them for the actual painting. While it's an optional step in rock painting, applying gesso on rocks makes the painting clearer to visualize and has a satisfying feel overall—which may boost the enthusiasm of very young painters.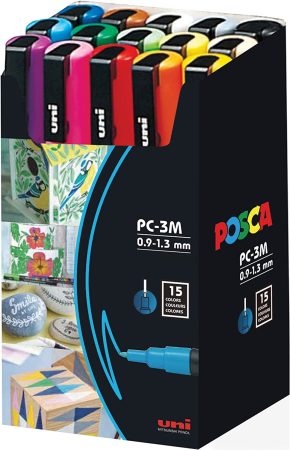 An alternative to the process of painting is coloring with fine-tip colored markers instead.
Markers are better for more precise lines and curves, especially when dealing with a non-flat surface like rocks. Having markers on hand is also useful when writing Thanksgiving greetings on your rocks.
The only downside with colored markers is that they can't be mixed to achieve the desired color. But that seldom happens when you're almost done with your rock art and only adding the final touches.
Any artist who has committed to rock painting diligently would want to preserve their art. One way to do that is by applying a gloss varnish, which increases the durability of the paint and gives it an almost professional finish.
8 Cornucopia Painted Rocks
It's the period of the harvest, so the cornucopia is one of the more ubiquitous images this season—while also being a prominent symbol during Thanksgiving. Here are eight rock paintings that will help complete your cornucopia decor.
Scary designs aren't exclusive to October you know, so don't overthink or hesitate to make these Halloween painted rocks.
Art By Karridi's channel shows an example of a cornucopia that's appealing and compact. While it can be challenging to paint small figures, the video tutorial is detailed and made in a way that's easy to follow.
Start painting the horn basket before filling it to the brim with the autumn's bounty.
Instead of painting a cornucopia design on a rock, Makeityourown's channel suggests making individual rock paintings of fruits and vegetables and heaping them in a paper bag representing the corn
Get more inspiration from these food Perler bead patterns you'll love.
While not specifically made for a cornucopia craft, this rock painting vegetable tutorial by Red Ted Art's channel can give some useful tips and tricks on how to paint these greens.
Challenge yourself with this near-realistic pumpkin rock painting created by Annamoon FineArt. Working with such a small medium can be tough, but I'm sure an experienced painter won't back down from this trial.
Want to try a different creative outlet? Check out these paper-mache pumpkin ideas.
10. Other Pumpkin Painted Rocks
Not all pumpkins are made equal. Some of them have spots, others have a pure color like this white pumpkin design found on Sustain My Craft Habit.
See what other variations you can find in this list of pumpkin Perler beads.
Let's get even more imaginative and aspire to make pumpkin painted rocks like these on Rachel's Rocks Canada's channel.
Fall is also the season for apple harvesting, so it's hard not to miss this fruit. ArtLessonsWithWendy guides us through the basics of how to make a very realistic rock.
Be careful not to confuse these with real apples—biting into one of these will not keep the doctor away!
More seasonal crafts are ready for you right here in this list of fall Perler bead patterns!
13. Thanksgiving Feast Rock Paintings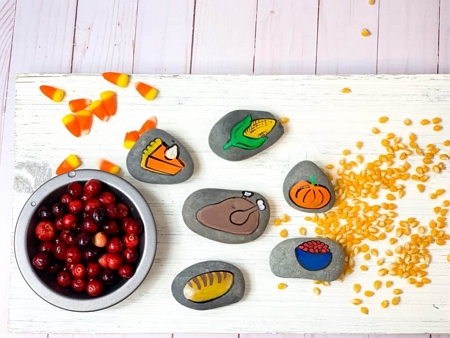 We can't forget paintings of the Thanksgiving feast that many of us are eager to chow down. Views From A Step Stool helps us to paint a roast turkey, bread, pumpkin pie, and cranberries, among other foods.
7 Turkey Painted Rocks
No other animal gets the most attention on Thanksgiving than the turkey. Here are some ideas on how to paint a turkey.
Looking for interesting ideas? Try these turkey handprint crafts!
14. Basic Turkey Painting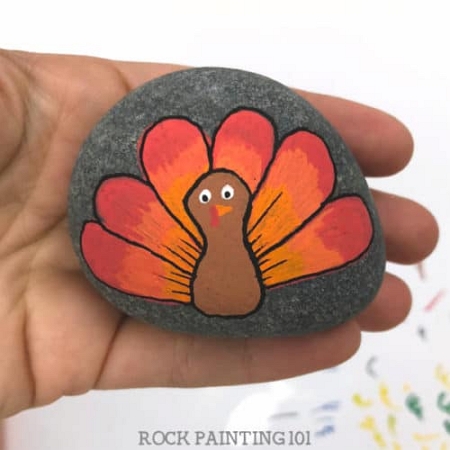 Rock Painting 101's turkey tutorial makes painting as painless as possible. A simple bowling pin-shaped turkey surrounded by larger, autumn-colored plumes.
15. Colorful Turkey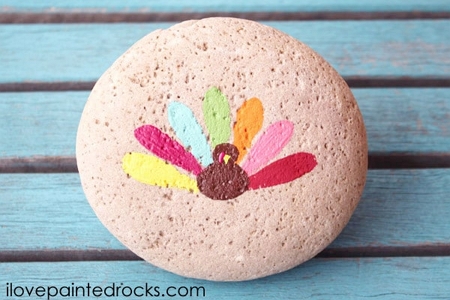 Make the bird as colorful as your mind can imagine by following I Love Painted Rocks's charming turkey tutorial.
Color your children's day with these wonderful rainbow crafts.
There's no limit on what colors you can put on a turkey painting. No rule is broken if you like to put your favorite colors onto the plumes of a turkey.
So stay bold, and follow this guide made by Roger Adventure's channel.
This design reminds me of a colorful bird that you can make crafts out of: peacock crafts!
If you want to make the feathers of your turkey look like an Easter egg, that's fine, too, as this video tutorial by Art By Karridi's channel suggests.
18. Turkey with Googly Eyes
There's more than one way to make a Thanksgiving turkey painted rock, and Hello Wonderful stimulates our creativity by making these various turkey ideas.
One turkey design is wearing a Pilgrim hat, while the other has fall leaves for its feathers. Test your creativity and see what surprising results you can craft.
Hit two birds with one "rock" by also making these nature collage crafts!
The Keeper of the Cheerios's channel keeps things simple by covering the rock in brown paint and attaching craft foam and feathers, and a pair of googly eyes onto the turkey.
The craft is simple yet effective, making it a perfect practice for the fine motor skills and creativity of preschoolers.
Extra Thanksgiving Rock Paintings
Sometimes all you need is a short but meaningful message written on your Thanksgiving rocks. Here is a couple to inspire you.
20. Happy Thanksgiving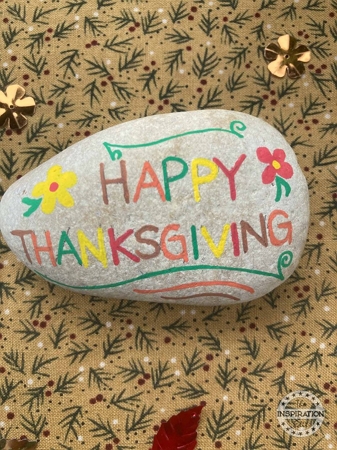 A few Thanksgiving quotes like this one from The Inspiration Edit around your home will go a long way in creating the motif you desire.
Vary your message by mixing the color here and there, adding a couple of autumnal produce, and drawing squiggles.
21. Give Thanks!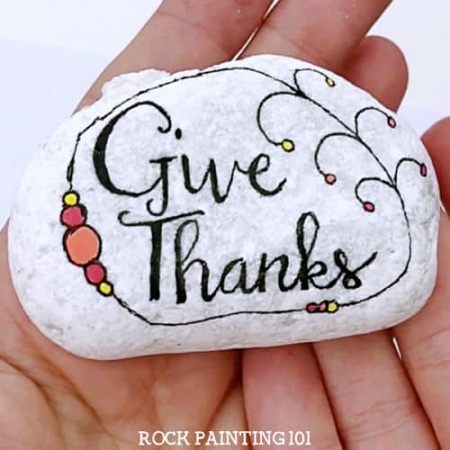 To make your rock quotes more appealing, I recommend applying a white or black primer depending on the color of your text. If using a dark font, like this one from Rock Painting 101, then you'd need a white primer.
For brighter font colors, like yellow or light blue text, then contrast it with a black background for a stunning visual effect.
Let's Be Thankful For the Little Things!
Whether you're a beginner or an intermediate crafter, rock painting is a great hobby that's easy to get into. These Thanksgiving painted rocks can certainly provide a good starting point.
For more, check out our other lists of painted rocks: