Dive in and discover these amazing octopus perler bead patterns with us.
Octopuses are clever, playful, and have three hearts. Learn more about this animal while creating these awesome perler beads patterns!
Explore more of the deep waters with these perler bead fish patterns.
Gather These Materials Before Getting Started
Set your kids up for success by providing them with all the things they'll be needing. I recommend starting with the materials below:
8 Easy Octopus Perler Beads Patterns
1. Baby Octopus Perler Bead Pattern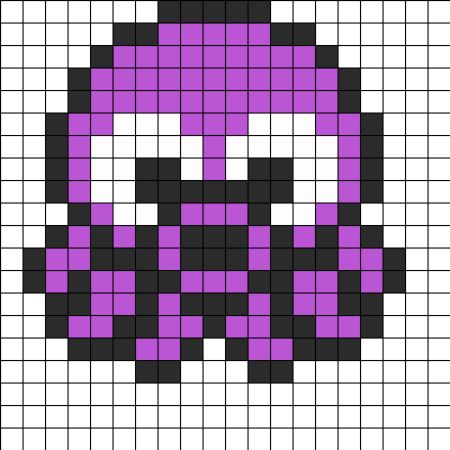 Zombieskayer on Kandi Patterns expertly made this baby octopus pattern.
The tentacles and mouth of the octopus make it look like it's about to squirt some ink on its predators.
In doing this pattern, I suggest doing the outline with black beads first before proceeding with the inner purple beads.
2. Colorful Octopus Perler Beads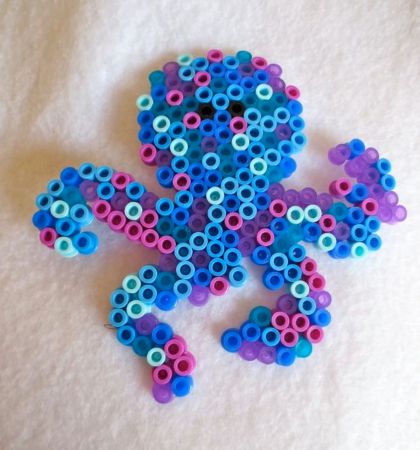 Octopuses have the cool ability to camouflage.
This pattern by Just Crafty Enough shows a colorful octopus covered in blue, pink, and purple spots that will make it easier to hide and sneak behind its prey.
3. Purple Octopus with Big Eyes Perler Beads
To all the purple lovers out there, this one is for you!
Get a purple octopus perler beads from Miss Lacriiz.
The video tutorial will show how to make the curves and twists that will make the tentacles of the octopus look more realistic.
4. Small Octopus Perler Bead Pattern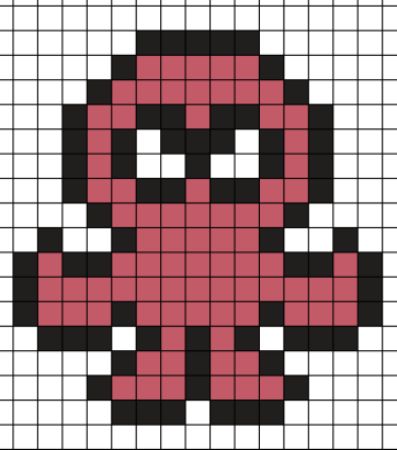 Get your kid's full attention by giving them this octopus pattern from Schrodingers_cat on Kandi Patterns.
It will be a quick and easy project that beginners will find enjoyable to do.
Here are epic Fortnite perler beads patterns you wouldn't want to miss.
5. Funny Octopus Perler Bead Pattern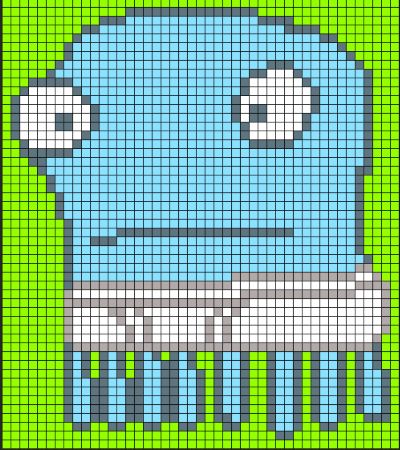 Show the funny and playful side of octopuses with this pattern from Bracelet Book.
The big eyes and clothes of this octopus will make it stand out from the other perler beads patterns.
6. Happy Octopus Perler Beads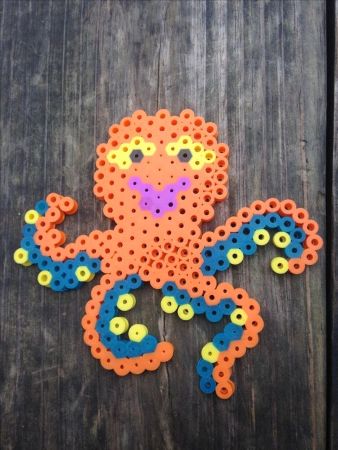 Your kid won't be the only one having a blast in making this pattern because this octopus looks like it's having a great time, too.
Give this orange octopus pattern from Marie Folcarelli on Pinterest a try and an unforgettable bonding experience between you and your child will ensue.
7. Mini Octopus Perler Beads
Add a little ribbon on your octopus perler beads to make a super kawaii character.
Get ideas on how to make the ribbon (and flushed cheeks) for your octopus from this video by Lovely♥bead.
We're not yet done creating cute crafts because this kawaii perler bead patterns is next on the list.
8. Octopus Tentacles Perler Bead Pattern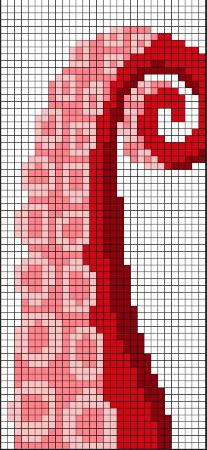 High five!
This pattern from Bracelet Book will give you a closer look at the octopus' tentacles.
It will give you a glimpse of an actual tentacle because of how accurate and detailed the design is.
7 Medium Octopus Perler Beads Patterns
9. Cute Octopus Perler Bead Pattern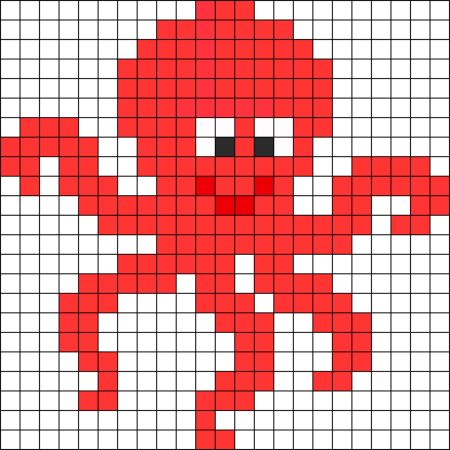 This octopus pattern only requires four colors of perler beads to get started: red, orange, black, and white.
StaleCheese on Kandi Patterns' brilliant idea of using less colored perler beads will be convenient for those who want to emphasize a specific color of octopus.
The best part is that you could easily modify it to your child's favorite color.
10. Cool Octopus Perler Beads
Having an octopus pegboard will make it easier for your child to make this pattern.
Although doing this cool octopus perler pattern is still possible without the unique peg board with the guide of PerlerBeadMaker36's video.
11. Purple and Pink Octopus Perler Bead Pattern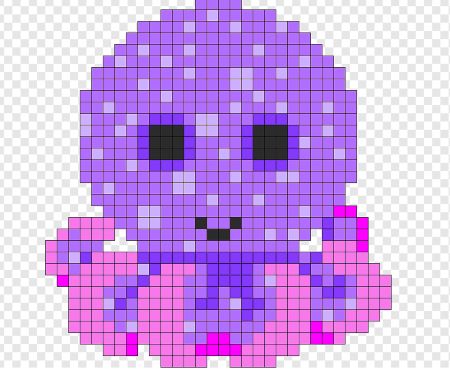 If purple and pink are your child's two favorite colors, then this octopus perler bead pattern will be a treat.
Aside from the vibrant colors, this pattern also features some distinct spots which the octopus uses for camouflage.
Let this pattern by PNG Egg guide you in making your next octopus project.
12. Nerdy Octopus Perler Bead Pattern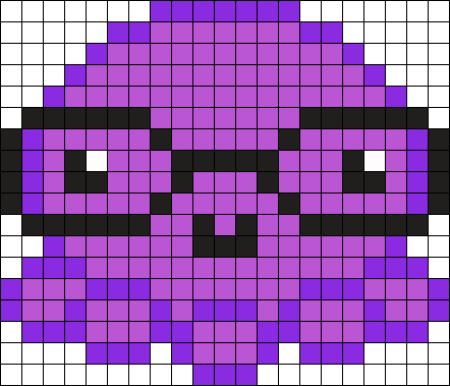 Did you know that octopuses are highly intelligent animals? They're considered to be one of the smartest creatures in the animal kingdom
Although octopuses don't need glasses, adding them to the pattern will make the octopus look smarter and cooler.
LadyRaveicorn on Kandi Patterns has got you covered because she made this simple pattern for you to follow.
13. Rainbow Octopus Perler Beads
Creating this rainbow-colored octopus perler bead pattern with the kids will be an afternoon well spent. It will be a fun project that will make a cute octopus in the end.
Destination Creativity's video tutorial will guide you every step of the way in making this colorful octopus.
14. Reversible Octopus-Inspired Perler Beads Pattern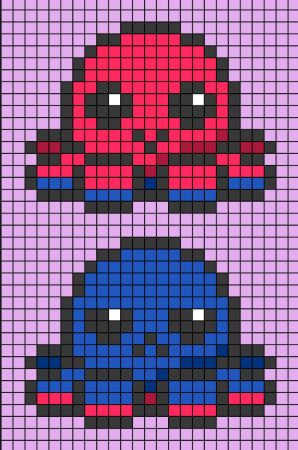 This next octopus perler bead pattern will turn your child's frown upside down!
Follow this pattern by Bracelet Book to create not one but two adorable octopuses.
Love is in the air because of these Valentine's Day crafts for toddlers.
15. Black Octopus Pattern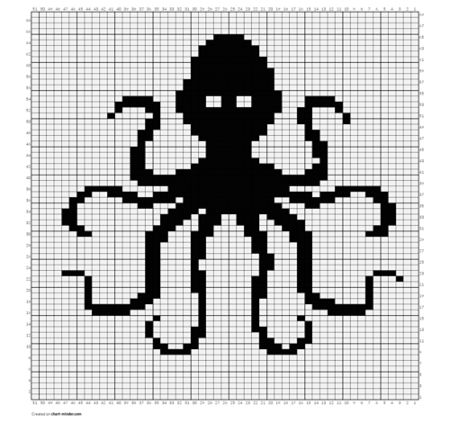 Try doing this pattern from Tea Bercek on Ravelry for a darker and creepier version of an octopus perler bead pattern.
This will be perfect for older kids, especially on Halloween.
Get ready for the spookiest day of the year by making these Halloween painted rocks decor.
6 Hard Octopus Perler Beads Patterns
16. Winking Octopus Perler Bead Pattern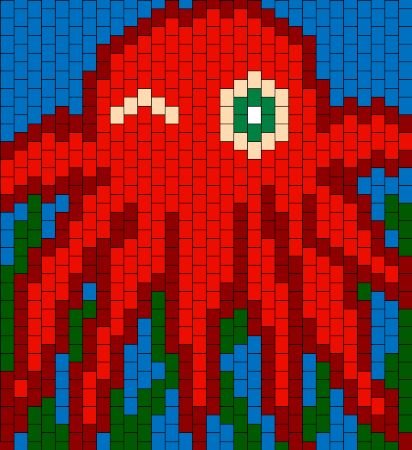 Did you know that octopuses are color-blind? They can only see the colors black and white.
This pattern from Exotic_Panda on Kandi Patterns will give the spotlight to the eyes of the octopus. It even includes an underwater background to complete the look.
17. Mario's Octopus Perler Beads
We can't help but add these octoombas despite them being the villains in Super Mario Galaxy.
This pattern by Giulia Cristiana makes them look irresistibly cute and harmless.
Watch the step-by-step tutorials for all the octopuses here.
18. Happy Octopus Couple Perler Bead Pattern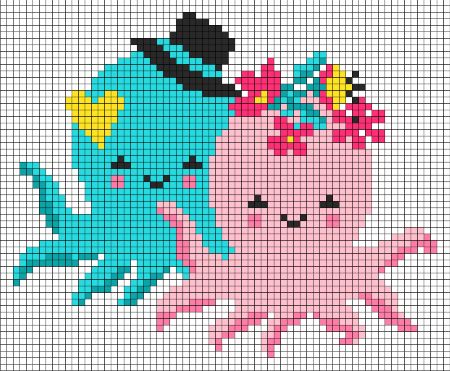 Spread joy and love with this happy octopus couple perler beads.
Find out how to make a lovely octopus couple with complementary head gears and smiles from Bracelet Book's example.
19. Multicolored Octopus Perler Beads
Everyone will be able to make octopus perler beads using their favorite color through this helpful tutorial from Destination Creativity.
Watch the video above to get brilliant ideas on how to make your very own octopus perler beads.
Find more colorful and creative rainbow crafts for kids here.
20. Blue Octopus Perler Beads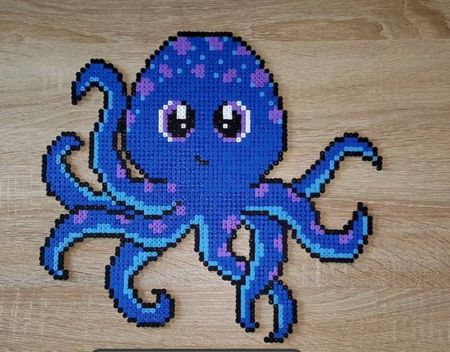 If you're looking for an octopus pattern that looks cartoon-like, then this one will be a fantastic choice.
Its expressive eyes and tentacle movements make this pattern from Ericka M on Pinterest look like it came straight out of an animation film.
21. Mighty Octopus Perler Bead Pattern

Challenge the kids to make this epic battle scene featuring a gigantic green octopus.
Bracelet Book knows how to make a thrilling and riveting scene which they turned into reality with this pattern.
Octopus Perler Beads for Kids and the Kids at Heart
These octopus perler beads patterns prove that perler beads are for everyone! You just have to look for the best pattern that will suit your skills and preferences.
I hope that categorizing the patterns into three levels made it more convenient for you to pick the most suitable project to do with the kids.
Here are more amazing projects that your kids will love: