Dive into the captivating world of narwhal drawings and explore the magic of these extraordinary sea creatures. Let's get to know the unicorns of the oceans and explore the wonders of the deep blue sea along the way, too.
Get ready to create an underwater masterpiece by letting your child's creativity swim wild.
Make sure to read until the end for an unexpected surprise.
Complete the underwater experience with these perler bead fish patterns.
What Your Child will be Needing
7 Easy Narwhal Drawings
1. Gray Narwhal Sketch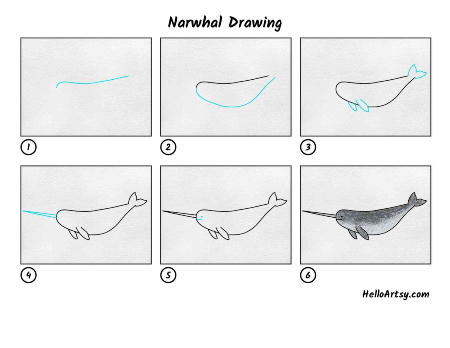 Grab your pencils because we'll be needing them for our first drawing courtesy of Hello Artsy.
It features a gray narwhal happily swimming under the sea.
Personalize the drawing by adding your child's favorite sea creatures like fishes, whales, and dolphins, too.
2. Baby Narwhal Drawing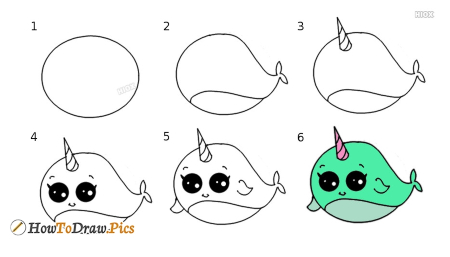 This adorable baby narwhal will swim into the hearts of your little ones.
With its bright eyes and pink horn, How to Draw Pics captured the beauty of this sea creature in this drawing guide.
3. Narwhal and Jelly Drawing
Have a look at this pretty narwhal drawing together with its good friend the jellyfish.
Art for Kids Hub did an amazing job in capturing the gentle soul of narwhals as well as the unlikely friendship of the two animals.
4. Smiling Narwhal Drawing
This narwhal sketch from How to Draw Pics is having a great time and is ready to share some joy, too.
The little bubbles are a nice touch to the drawing as well.
Check out these rainbow crafts for kids.
5. Simple Narwhal Drawing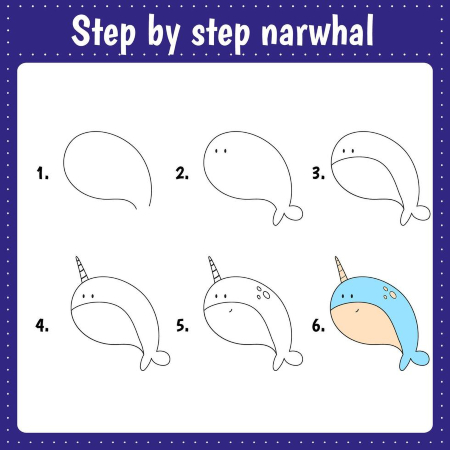 Vecteezy made this super simple guide for narwhal drawing so that even beginners will be able to join in the fun.
Follow the helpful drawing guide and you'll have this cute narwhal drawing in no time.
6. Kawaii Narwhal Drawing
They say that narwhals are just unicorns of the sea.
Growing Play proves this through their majestic drawing guide.
Let the kid's imagination run wild and recreate this awesome sketch.
7. Narwhal Drawing from the Letter S
If your child can write the letter S then they'll be able to follow along with this tutorial from Drawing With Steve Harpster.
More letter s crafts are coming your way through this list.
7 How to Draw a Narwhal for Kids
8. Diving Narwhal Drawing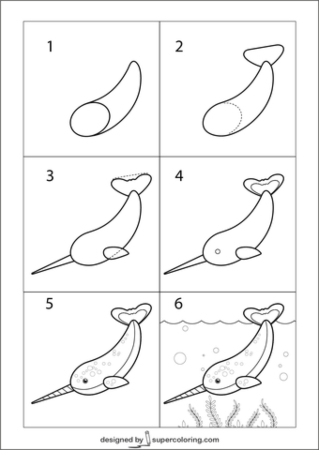 Let's dive in and be amazed by this wonderful creature under the sea.
Get ideas on how to add movement to their narwhal drawings through this drawing tutorial from Super Coloring.
9. Hugging Narwhals Drawing
A hugging narwhal drawing tutorial? Yes, please!
Your child will have lots of fun drawing these cute narwhals hugging from Drawing with Peanut.
These cat perler beads patterns will be purfect for the kids.
10. Narwhal with Spots Drawing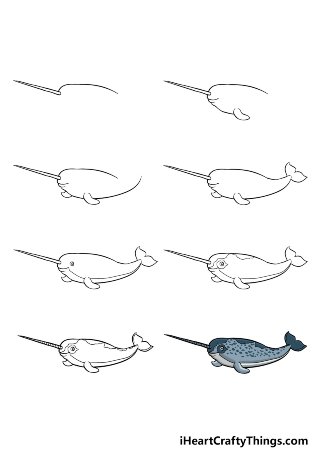 Make their narwhal drawing look more unique by adding distinguishable features like these spots.
I Heart Crafty Things will teach the kids where to add them to make their drawings look more awesome and realistic.
11. Swimming Narwhal Drawing
Say hello to this narwhal as well as the fishes under the sea through this drawing tutorial from Art for Kids Hub.
Adding other elements to their drawing will always be a good idea and will also enhance their artistic skills.
12. Awesome Narwhal Sketch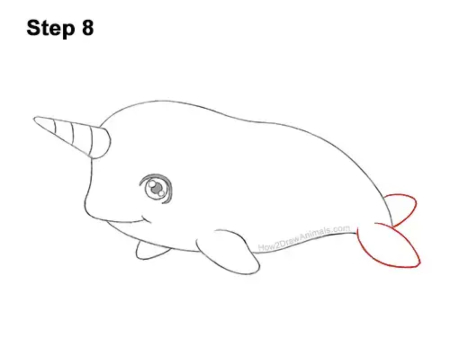 This narwhal drawing will be a piece of cake thanks to this comprehensive drawing guide.
Get the full tutorial of this drawing on How 2 Draw Animals.
Waddle around with these cool penguin perler beads.
13. Cute Narwhal Drawing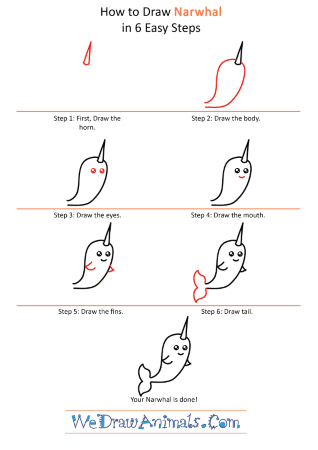 Looking for the perfect narwhal drawing for your little one? This one from We Draw Animals will be ideal.
It requires basic strokes and patterns so kids won't have a hard time following the guide.
14. Unique Narwhal Drawing
Add magic to the kid's narwhal drawings by splashing more colors on them.
ChuChuTV Police & Surprise Eggs perfected this technique so make sure to watch their video tutorial.
11 Sea Creatures Drawings
15. Easy Turtle Drawing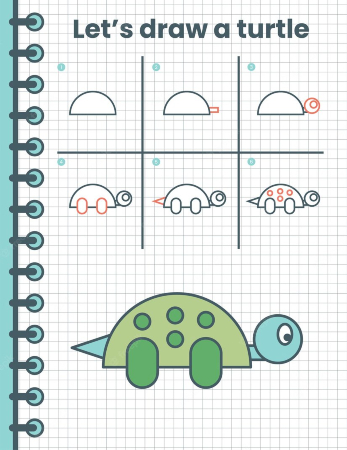 Take all the time in the world to recreate this turtle drawing from Freepik.
The tutorial will guide you every step of the way so anyone can make and enjoy drawing this.
Meet the most awesome turtles through these Teenage Mutant Ninja Turtles drawings.
16. Pretty Sea Lion Drawing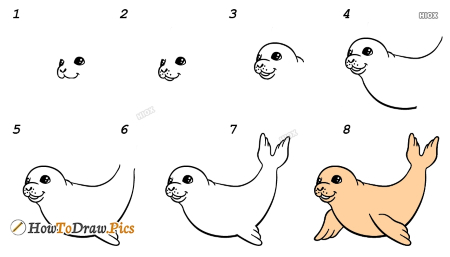 Narwhals are the unicorns of the ocean while sea lions are the dogs of the sea.
Complete their underwater creatures drawings by including this sketch from How to Draw Pics.
17. Simple Crab Drawing
Learning how to draw a crab will also be a valuable skill for the kids.
Let Mister Brush teach them how it's done through this video tutorial.
Capture the interest of the kids with these crab crafts.
18. Cute Starfish Drawing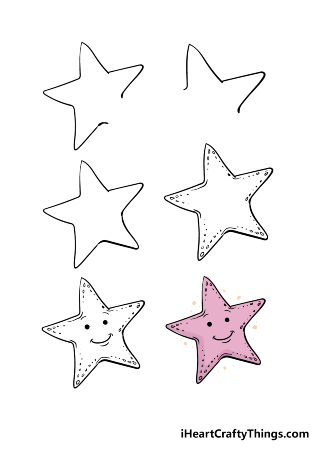 Give your child a star once they've completed this starfish drawing from I Heart Crafty Things.
It will be an enjoyable experience to draw this so make sure to add this to the list.
19. Colorful Fish Drawing
Don't forget to include this colorful and pretty fish drawing from Easy Art Painting in their sketchbook.
Not only will they like drawing this unique fish but will also love coloring its eyes, fins, and gills.
Immerse them in the underwater fun with these perler bead fishes.
20. Scary Shark Drawing

Heads up because we're about to draw one of the most terrifying sea creatures ever.
Easy Peasy and Fun made drawing sharks less intimidating with their step-by-step tutorial.
21. Awesome Stingray Drawing
Are your kids fascinated with stingrays? They'll love this drawing guide from Art for Kids Hub.
From drawing the tail to the spiracle, this video will guide them every step of the way.
22. Funny Octopus Drawing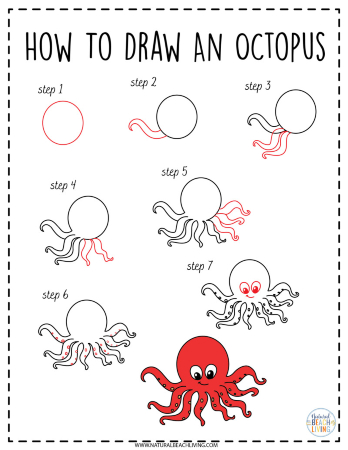 We may not have eight arms like this octopus but drawing this will still be effortless thanks to this guide from Natural Beach Living.
The best part is that it only takes eight steps to complete the octopus.
23. Smiling Jellyfish Sketch
Take a look at the beautiful smile of this jellyfish and I'm sure that it will convince you to give it a try.
Watch Articco Drawing's video to learn the best techniques of how to draw it.
24. Cool Hammerhead Drawing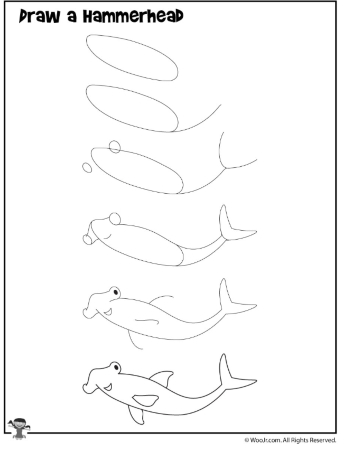 Make way for this cool hammerhead drawing from Woo Jr..
This will be a great addition to the kid's ocean-themed drawings.
25. Beautiful Underwater Scenery Drawing
Save the best for last.
Showcase everything they've learned throughout the list with this epic underwater scene drawing from Vivan's Art and Crafts.
Captivating Narwhal Drawings for the Sea Lovers
You've now unlocked the secret of narwhal drawings.
With the help of this list, drawing these beautiful creatures will be a piece of cake. Keep practicing and drawing and let these narwhals inspire you to dive deeper into the art of drawing.
Don't miss out on these epic projects for the kids as well.