Can you guess what we're going to draw today? This type of bird is black and white and an excellent swimmer, but it can't fly. Today we'll do some easy penguin drawings for kids.
Penguins are magnificent and interesting creatures. They mostly live in the southern part of the world where the climate is colder. The fastest type of penguin can swim at a speed of 36km/h.
Continue reading to learn how to draw a penguin while learning some fun facts along the way!
Learn other easy animals to draw for kids, too!
Art Supplies You'll Need
Your kids will find these materials useful in drawing the perfect penguin. These materials are proven and tested because they are the same materials that my kids and I use for all our drawing projects.
12 "How To" Penguin Drawing Step-by-Step Guides
1. Baby Penguin Drawing Tutorial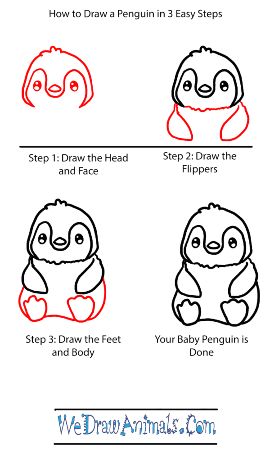 Did you know that a baby penguin is called a chick or nestling? A cute name fit for a cute animal.
Learn how to draw a chick from head to toe in this drawing tutorial.
2. Easy Blue Penguin Drawing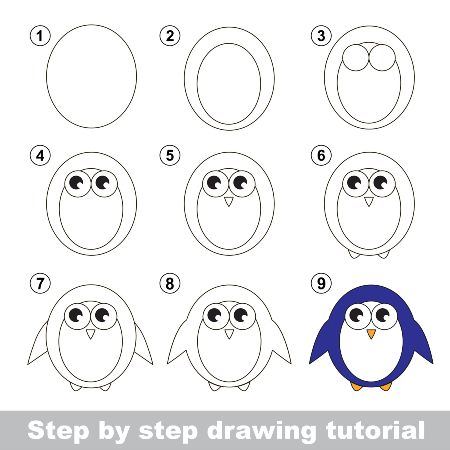 Penguins have a binocular vision which means that their eyes can adapt to both air and water. However, penguins are near-sighted whenever they're on the surface and have much clearer eyesight when they swim in the water.
3. Penguin with Earmuffs and Scarf
Ever wondered if penguins get cold? Even though they live in some of the coldest parts of the planet (like Antarctica), their bodies are built to withstand the harsh weather. These little penguins look tougher than they look!
4. Chubby Penguin Sketch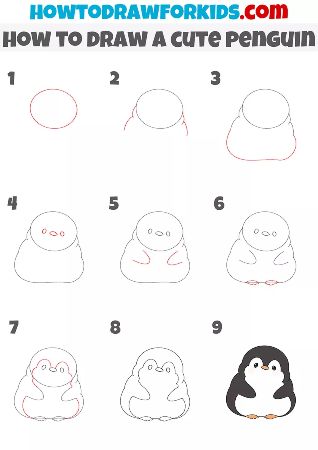 When a penguin is born, both of its parents play a role in taking care of it. The mom and dad take turns in incubating the egg and eventually feeding the small chick.
Chicks are showered with love and affection just like this cute penguin drawing.
5. Adorable Penguin Drawing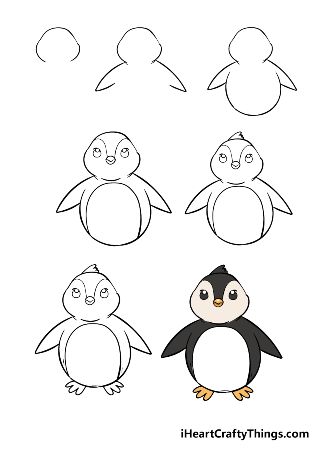 There are 20 different types of penguins and they all come in different shapes and sizes. We have the African penguins, King penguins, and Fairy penguins to name a few. One thing they have in common is their sheer adorableness.
6. Easy Drawing Sketch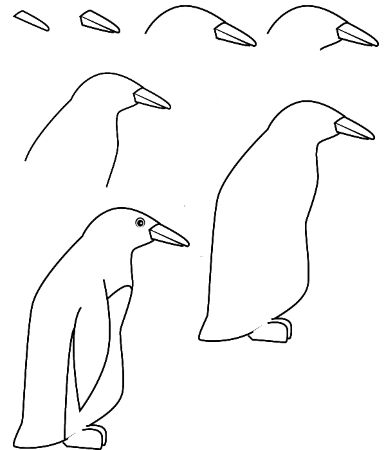 What's cool about this bird is that it can survive both on land and water. Penguins walk on land with their hind legs while they use their flippers when they swim and dive in the water.
Experience the underwater world with these ocean crafts.
7. Big-Eyed Penguin Sketch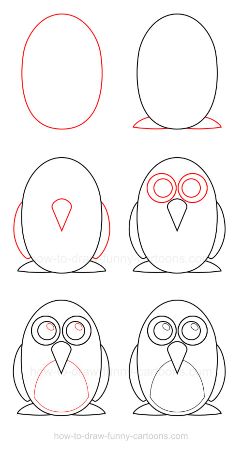 Let this cute penguin waddle on your sketch pad. Its big eyes and tiny beak will convince you to include it in your penguin sketches. This step-by-step tutorial will make it easier to achieve the perfect penguin drawing.
8. Tiny Penguin Drawing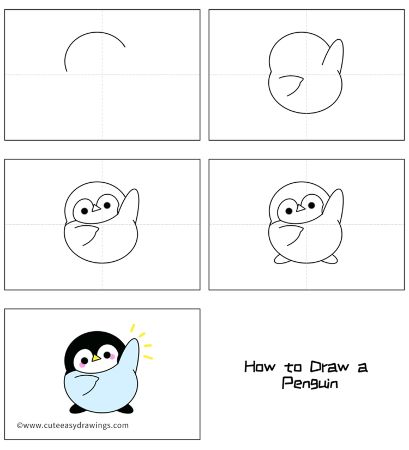 Who's the cutest penguin of them all? This little guy!
You'll be missing out if you don't include this easy penguin drawing on your list because it includes everything you'll want in a penguin drawing—it's cute, cuddly, and charming.
9. Smiling Penguin Sketch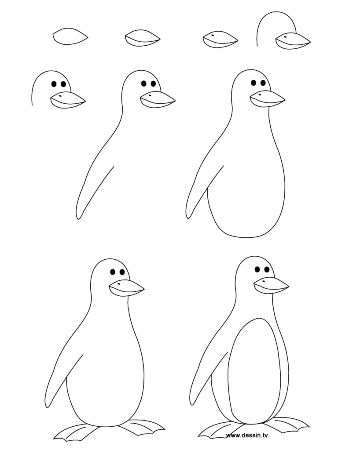 This smiling penguin is ready to become your friend. Penguins are generally friendly toward people. Most of their predators like seals, sharks, and whales reside in water so they're more at ease whenever they're on land.
10. Side View Penguin Illustration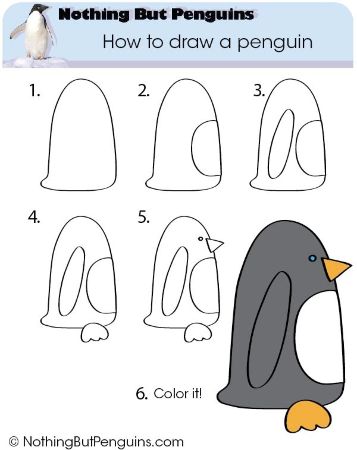 Familiarize yourself with all the angles of a penguin. It will make you a better artist if you understand your subject well. This side-view penguin drawing tutorial will be helpful.
11. Realistic Penguin Drawing Tutorial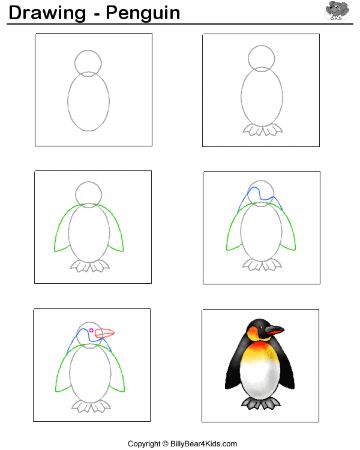 Some penguins have a yellow and orange shade of feathers. This includes the Emperor, King, and Northern Rockhopper penguins. This drawing will enhance your kid's coloring skills.
12. Happy Penguin Family Drawing
Making crafts is for the whole family to enjoy. I'm sure that drawing this penguin family will be a fun activity not just for your kid but for the other family members as well.
Ohana means family. Make some Stitch perler beads with your family through this post.
5 Easy Penguin Drawings
13. Penguin with a Bow Drawing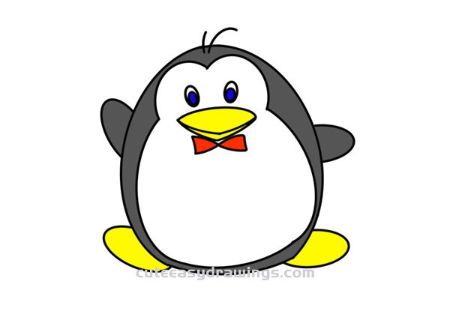 This penguin is looking dapper with his red bowtie. It proves that penguins will always look cute whatever they do or wear.
Be fashionable and learn how to tie dye a shirt in as easy as 1-2-3.
14. Huggable Penguin Drawing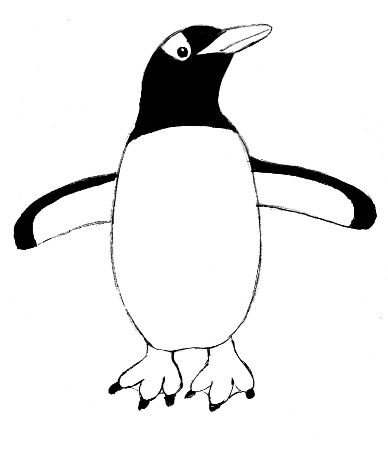 Penguins may not be able to fly but they're definitely incredible swimmers. Some penguins even spend 75% of their life enjoying the underwater.
15. Baby and Mom Penguin Sketch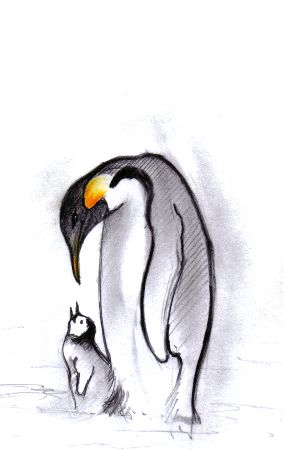 Penguins and their chick have a special bond. They're there from the moment they hatch until the time when the chick is ready to face the world one waddle step at a time.
16. Dancing Penguin Sketch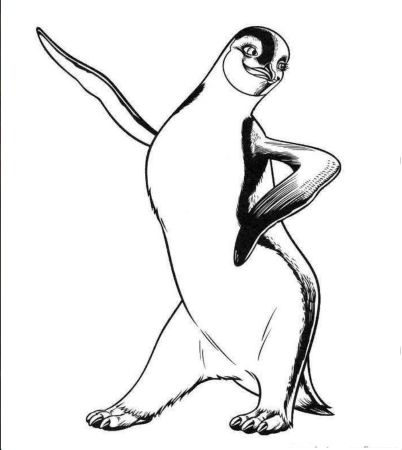 Happy Feet is an iconic movie. Learn how to sketch Gloria! If you haven't watched this fun film, I highly recommend that you watch it NOW.
17. Christmas Penguin Illustration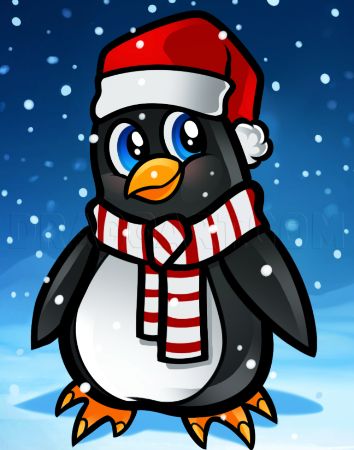 This penguin is ready to celebrate the holidays with you. It's even wearing its best hat and scarf for the occasion.
Celebrate the holidays with your loved ones by doing these Nightmare Before Christmas perler beads patterns.
5 Penguins of Madagascar Drawings
18. Penguins of Madagascar Sketch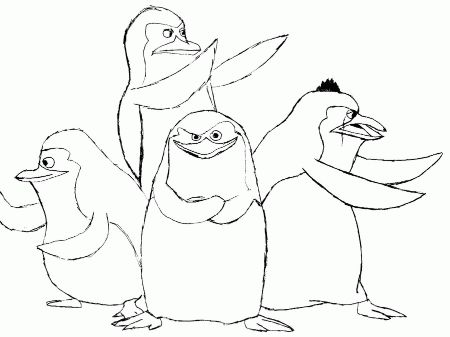 Just smile and wave boys…smile and wave.
These four penguins are really sneaky but you'll know that you're in for an exciting adventure whenever the Penguins of Madagascar is on.
19. Cool Skipper Drawing
Skipper is a born leader. He's courageous, clever, and best of all has the best intentions at heart when it comes to his brother penguins.
Facedrawer – How to Draw will teach you how to draw the fearless leader.
20. Rico with a Hammer Sketch
Kaboom!
Rico may not speak a lot in the series but that doesn't make us love him any less. He's charming and an important character. The penguins' exploits won't be complete without him.
21. Waving Private Drawing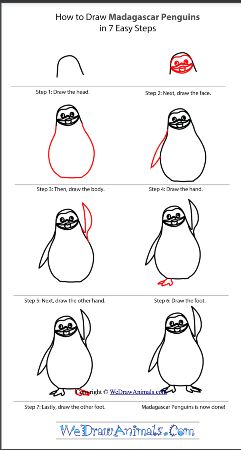 When in doubt, the best thing to do is to smile and wave like in this Private drawing tutorial.
22. Kowalski Drawing Tutorial
We all need a friend like Kowalski. He's the brain and inventor in the group. Brownie points for being a loyal pal, too.
Azz Easy Drawing's video tutorial will show you how to draw Kowalski.
Let's Draw Some Penguins!
Your kids will love doing these easy penguin drawings. Drawing these cute creatures will be a fun and productive bonding activity for you and your kid.
In need of more art projects for your kids? Check out the posts below: