We are nearing Halloween, and one of the most popular figures you will encounter during this spooky season is the skeleton.
Whether it's Halloween, Christmas, or Easter, bonding with your kids should always be enjoyable and educational. Below are 23 easy DIY skeleton crafts that you can have fun making with your children any time of the year.
6 Simple Paper DIY Skeleton Crafts
Below are 7 skeleton crafts that you can conveniently make with construction paper, paper plates, or paper cups.
You'll be able to make most of the crafts below with just basic materials, such as paper plates, scissors, glue, paint, and construction paper. Naturally, anything that involves cutting should always be done under adult supervision.
1. Paper Plate Skull Craft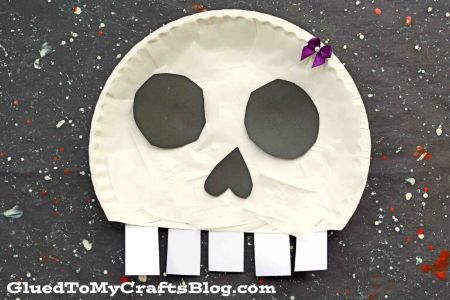 Here is a simple paper plate skeleton craft from Glued To My Crafts that can be done in under 30 minutes.
You just need a paper plate, cardstock paper (black & white), a pair of children's scissors (if your kid is old enough to handle them), glue, and a stapler.
2. Skeleton Fridge Magnet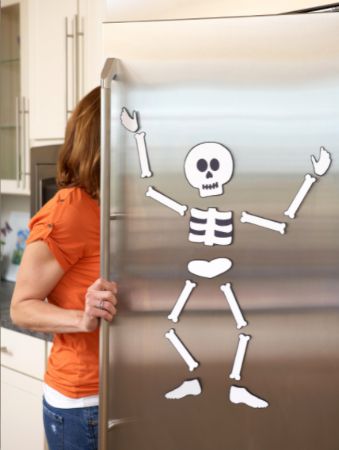 If you want to decorate your kitchen this coming Halloween, then check out this skeleton fridge magnet craft shared by Better Homes & Gardens.
It's hassle-free because Better Homes & Gardens provides a free printable template of the skeleton, so you don't have to draw the entire skeleton yourself.
This skeleton craft is so simple: it just requires white cardstock paper, a pair of scissors, and adhesive magnets.
3. Gingerbread Skeleton Craft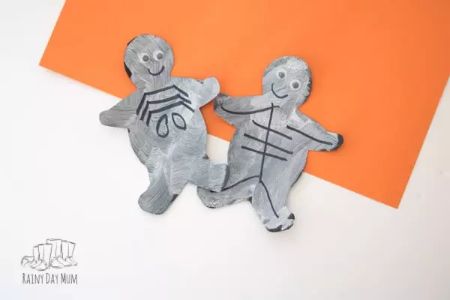 Rainy Day Mum gives the traditional gingerbread cookie a twist with this gingerbread skeleton craft! This activity will improve preschoolers' and toddlers' fine motor skills through the tracing and cutting of the gingerbread man.
Get yourself a gingerbread man cookie cutter (if you don't already have one), black cardstock paper, white paint, some scissors, and markers.
When all is said and done, make actual gingerbread cookies your kids can enjoy (aka, that haven't been covered in paint) as a treat for all their efforts!
4. Easy Sugar Skull Craft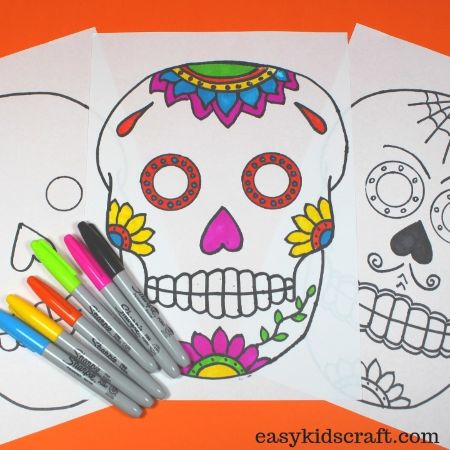 This is one Halloween skeleton drawing you don't have to do yourself.
Celebrate Dia de Los Muertos (The Day of the Dead) and unleash your children's imaginations by coloring a sugar skull mask! The combinations of different colors are endless with this craft, inspiring your children to think outside-the-box.
Easy Kids Craft prepared four different free sugar skull templates for preschoolers and toddlers to enjoy. Just prepare your coloring materials and you and your kids are all set!
5. Toilet Paper Roll Skeleton Craft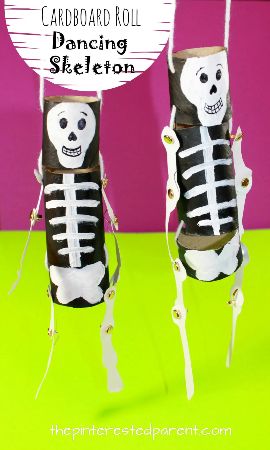 Don't immediately throw out those toilet paper rolls when they're empty. They're very handy to repurpose into a kids' craft, as shown with this toilet paper dancing skeleton.
For this design, gather some toilet paper rolls, white cardstock paper, acrylic paint (black & white), a hole puncher, and some split pins.
The Pinterested Parent has a detailed guide on their website, along with a printable template of the skeleton's arms and legs.
Check out our other post on toilet paper roll crafts for more ideas and inspiration!
6. Life-Size Skeleton Paper Plate Craft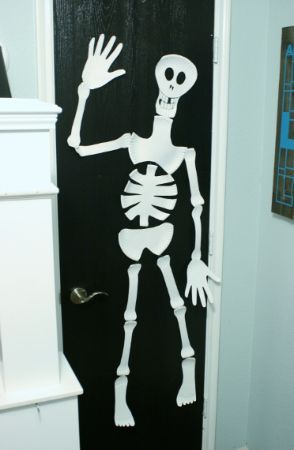 If you want to make a skeleton craft on a bigger scale, then you definitely want to try this one by Remodelaholic. This life-sized skeleton will definitely keep yours and your children's hands busy for a while!
The main materials for this activity are paper plates. Other than that, you just need some markers to draw the outlines and some scissors to cut the paper plates.
Adult supervision is necessary for this one, which means bonding time for you and your kids!
10 Skeleton Project Ideas
These 11 skeleton crafts are perfect for those who want to take their Halloween craft game to the next level. Here you'll find an assortment of crafts made with materials ranging from pasta to modelling clay.
7. Straw Skeleton Craft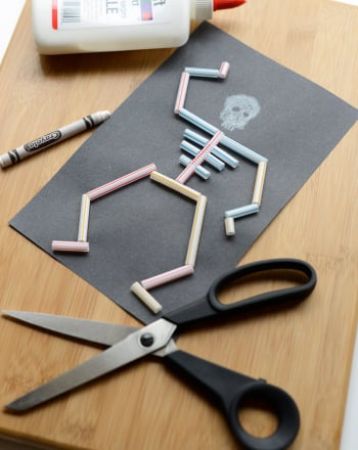 Have fun making this straw skeleton shared by Education.com with your toddlers. It's not too resource-intensive as it only calls for colored straws, glue,and a piece of construction paper to stick your skeleton to.
Just cut the straws into the appropriate lengths and stick them onto your paper. Then, draw the skull – that's it!
8. Skeleton Playdough Dinosaur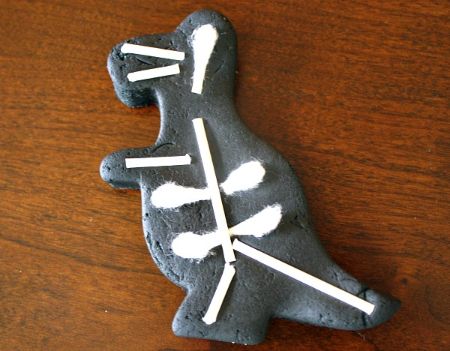 While skeleton bones are typically sturdy and inflexible, this craft from Fantastic Fun And Learning involving playdough allows your toddler to manipulate their creations with ease.
Items for this craft only include playdough and some q-tips. Toddlers and preschoolers will definitely have fun molding their critters!
If your kids love playing with playdough as much as mine do, then check out my post on how to make your very own homemade playdough.
9. Popsicle Stick Skeleton Craft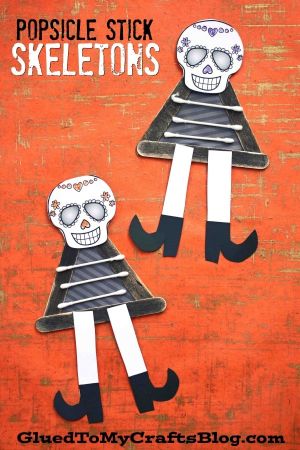 Popsicle sticks are very popular because they're inexpensive, accessible, and an all-around material to make crafts with.
This popsicle stick skeleton craft is as easy as it is decorative and only involves popsicle sticks, glue, q-tips, and cardboard paper. Glued To My Crafts has even got you covered with a free printable template of the skull!
Interested in more popsicle stick crafts? Try these 15 incredibly easy popsicle crafts for kids.
10. Painted Pasta Skeleton Craft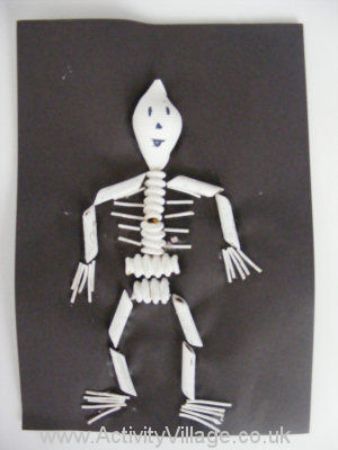 Here's an interesting material to create a skeleton with: pasta! It's an apparently popular ingredient to make skeleton crafts with (who knew?) because it's sturdy enough to serve as bones and come in all different shapes and sizes.
This skeleton craft by Activity Village calls for dried pasta (penne and spaghetti are ideal for limbs), white paint, cardstock paper (black), and glue.
Provide your kids with the outline for the skeleton and let them paste the dried pasta onto the sheet of paper.
11. Rice Skeleton Halloween Decoration Craft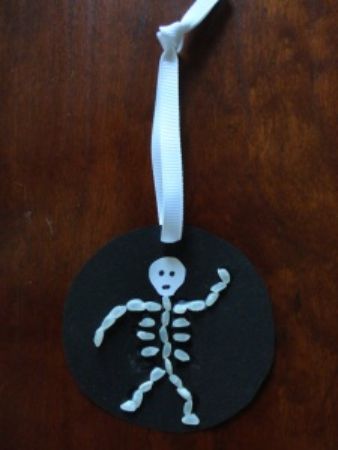 Here's a skeleton craft by All Kids Network made with rice. What I love about this Halloween project is that it helps you teach your toddlers and preschoolers how to count.
The materials you'll need are rice, cardstock paper, glue, and a ribbon.
12. Dinosaur Skeleton Pasta Craft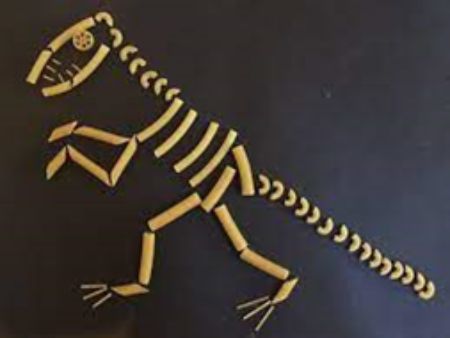 Travel through time with your kid by recreating this dinosaur skeleton pasta craft, shared by Art Projects For Kids, that will help them understand that skeletons aren't just found inside humans.
13. Sugar Skull Painted Rocks Craft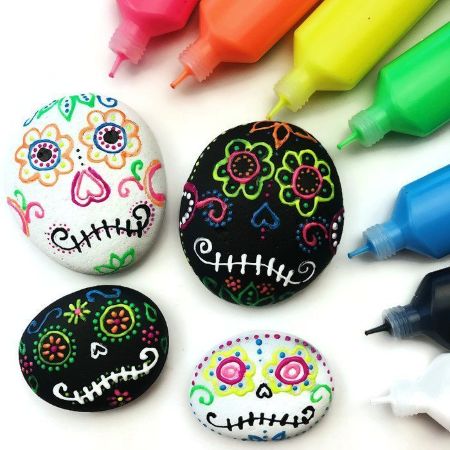 While skeletons are popular during Halloween, these beautiful sugar skulls are popular in places where Dia De Los Muertos, or Day of the Dead, is celebrated.
Have fun creating these colorful sugar skull painted rocks with your kids. Color Made Happy suggests that you use puffy paint to color your rocks.
If you're feeling inspired to do more rock painting, then check out our post on awesome rock painting ideas for kids.
14. Pasta Skeleton Craft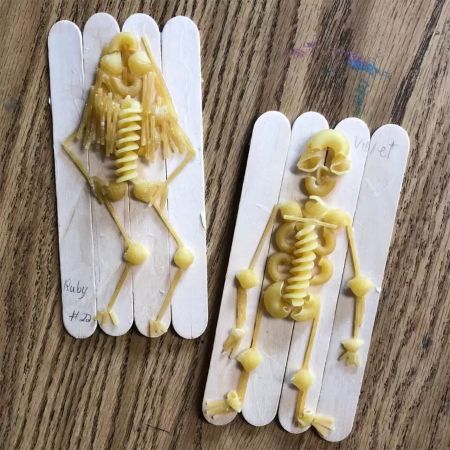 Do your children play-pretend to be doctors? Well, now they master their surgery skills even more with this pasta skeleton craft that's not too hard to create.
Using pasta as the main material, this craft will introduce your children to human anatomy. Your children can enjoy poking its silly little arms and legs!
You'll need pasta (use what you have available), some popsicle sticks, white paint, and glue. Art Projects For Kids shares tips on how to easily make this craft and a printable guide.
15. Day of the Dead Skeleton Felt Craft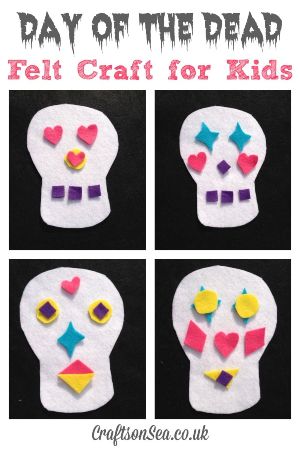 Improve your kids' fine motor skills by creating this vibrant Day of the Dead felt craft. It's important to develop your kid's dexterity and hand-eye coordination early because they become foundations for other motor skills.
They'll surely get some cutting and glueing practice with this skeleton craft from Crafts On Sea. For this one, you only need 3 materials: colored felt, some glue, and a pair of scissors.
This activity requires adult supervision because there's a lot of cutting involved.
16. Q-Tip Skeleton Craft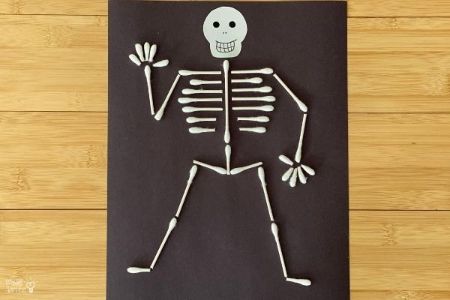 Try to make this classic Q-tip skeleton craft with toddlers or preschoolers. This craft is very accessible and requires less than 30 minutes to make!
Q-tips, glue, and cardstock paper (black & white) are all you need for this Halloween craft, and helpful step-by-step instructions are provided by Mom Brite.
Q-tips are such a great craft material for young kids, just like cotton balls. Check out this compilation of super easy, super simple cotton ball crafts that are safe for kids of all ages.
7 Highly Interactive Skeleton Crafts for Preschool
17. Easy Q-Tip Handprint Skeleton Craft
We're diving straight into the fun with this handprint skeleton craft from Crafty Morning! Handprints are messy, but they are very popular and super engaging.
After your toddler has printed their hands onto a piece of black paper, instruct them to put q-tips onto the hand to serve as little finger bones.
18. Thumbprint Skeleton Craft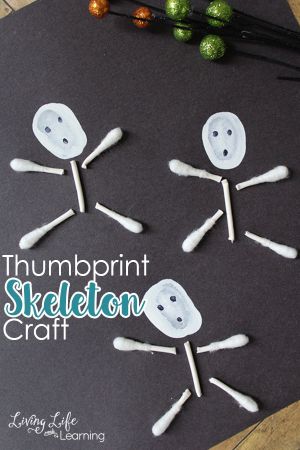 If you and your toddler want to tone it down a little and not make a mess, then a thumbprint skeleton craft should do the trick.
This thumbprint skeleton shared by Living Life And Learning involves a thumbprint and glueing q-tips to provide structure for the skeleton – that's it! Incredibly simple and very easy.
19. Skeleton Handprint Craft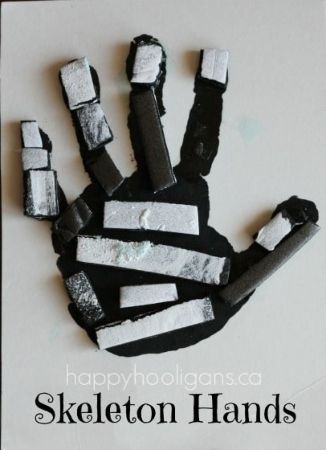 If you're not afraid to get messy, then try this variation of the skeleton handprint by Happy Hooligans that uses black styrofoam that's been painted white for the phalanges (the bones in your hands and feet).
Not only will your kids have fun putting this handprint skeleton together, they'll also learn about the different parts of the body!
20. Skeleton Arm Paper Craft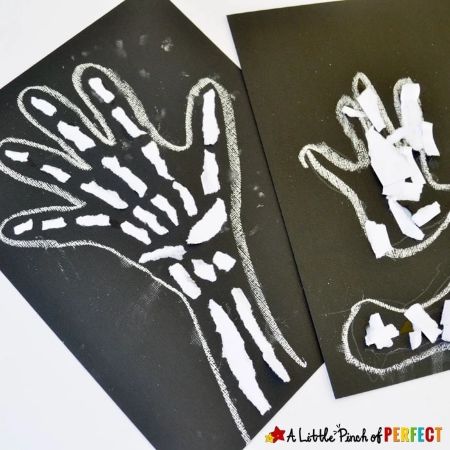 Teach your kids all about the letter X with this x-ray craft by A Little Pinch of Perfect. With chalk, have your child trace their hand and forearm onto a piece of black paper. Then, allow them to glue different paper scraps within the outline of their arm to create the little bones!
And for even more x-ray themed crafts, check out these other letter X crafts that my toddler loved making!
21. Halloween Skeleton Craft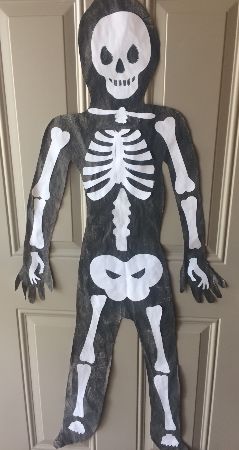 Make a skeleton craft that is identical to your toddler or preschoolers size with this skeleton craft by Busy Bugs that's really easy to make.
The first step is to have your kid lie down on easel paper and trace their outline. Next, you'll want to paint the outline black and cut along the outline.
Finally, draw, cut out, and glue bone shapes onto the outline – easy peasy! Busy Bugs even suggests some free templates that you can use for the skeleton bones.
Hang this life-size skeleton in your house to spook guests this Halloween!
22. Veggie Skeleton Craft
Inspire your kids to eat their vegetables by collaborating on this yummy veggie skeleton craft from Plate In 28.
Include cucumber, carrots, celery, broccoli, or any fresh vegetable that's in season. Consider also making a dip for the veggies to encourage your kids to eat more vegetables.
23. Stick and Stones Skeleton Craft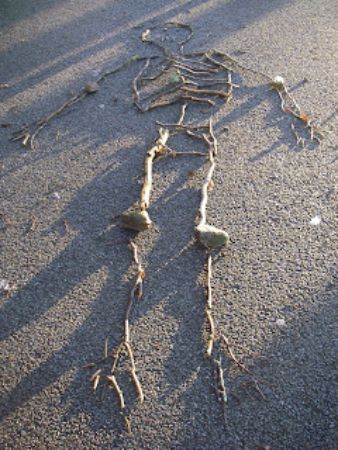 It's important for toddlers and preschoolers to get vitamin D (otherwise known as "the sunshine vitamin") because it helps to make bones sturdier.
If you're headed to the beach this weekend, try making this skeleton craft to help your little one get a dose of sun and fun!
Creative Star Learning has found a creative way to make a skeleton craft using sticks and stones that makes it look like real bones!
Skeleton Crafts Aren't All Spooky
Looking back at these 23 skeleton crafts, we now know that not all skeletons are scary! Indeed, they are a fun way to teach your kids about human anatomy and develop their motor skills.
Can't get enough of the fall holiday season? Check out these other fall-inspired craft compilations: