Snowflakes are fascinating. In the US alone, one septillion (that's one followed by 24 zeroes) snowflakes are created every winter.
Each snowflake that you see that has fallen from the sky is unique. No two snowflakes are made the same, just like you and me! Here are some easy snowflake drawings to appreciate this wondrous work of nature.
Read on to learn some fun facts about snowflakes while drawing with your kids.
Got some free time on your hands? Make the most out of it by learning how to draw a hummingbird.
Gear Up with These Art Supplies
Surprise your little artist with these amazing art materials:
16 Easy Snowflake Drawings
1. Simple Snowflake Drawing Tutorial

Anyone can draw the perfect snowflake.
All you need are a piece of paper, a marker, and a little guide. This snowflake drawing will teach you how simple lines when added together makes the most beautiful snowflake.
2. Snowflake Marker Drawing
Drawing snowflakes with different art materials achieves different results. Try it out with pencils, crayons, or even using a tablet.
EasyPicturesToDraw will show you how's it done with a marker.
3. Beautiful Snowflake Illustration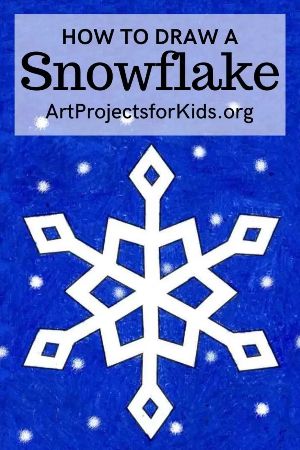 We know that no two snowflakes are the same. But one thing they do have in common is that all snowflakes have six points.
It's due to the composition of the water molecules.
4. Realistic Snowflake Drawing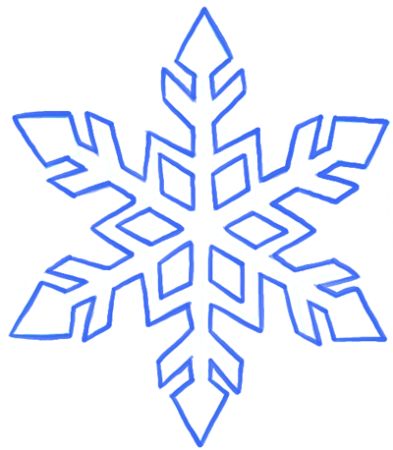 Snowflakes come in different shapes and sizes.
The smallest snowflakes are called diamond dust crystals which are the same size as human hair. While the biggest snowflake ever recorded was found in Montana which was 15 inches wide.
5. Snowflake with Circles Drawing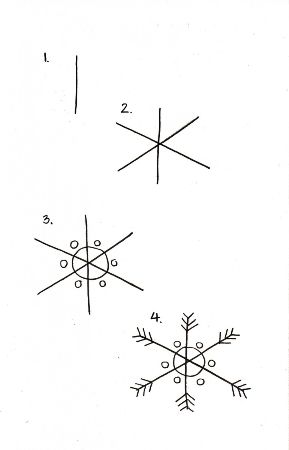 Snowflakes come with additional shapes that make them unique and more fun.
Others have diamonds, triangles, and rectangles. This features a snowflake surrounded by circles.
6. 3D Snowflake Drawing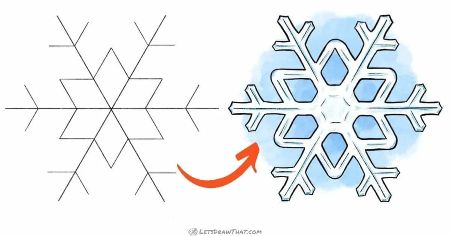 Now that you've mastered drawing snowflakes, it's time to level up your game.
Make your drawings cooler and more realistic by making them 3D like this drawing.
7. Colorful Snowflake Drawing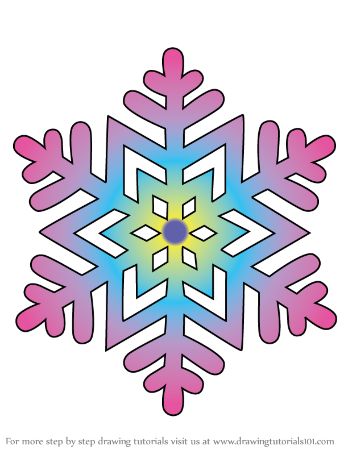 Snowflakes aren't white, yellow, or blue. They're translucent which makes them colorless.
However, splashing some colors on your snowflake drawings won't hurt anyone and will be so much fun to do.
8. Christmas Tree and Snowflakes Drawing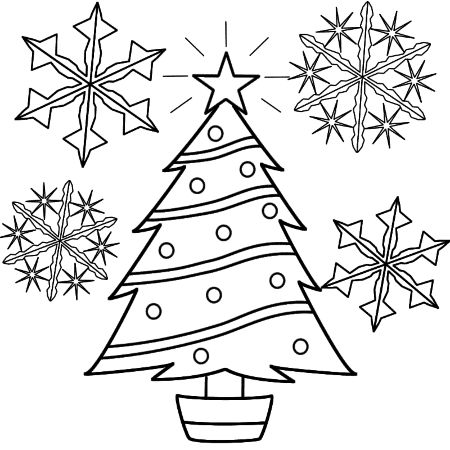 You'll know that the holidays are just a few days away once you see snowflakes falling from the sky.
Prepare for the holidays by gathering fun projects for your kids like this Christmas tree and snowflakes drawing.
9. Snowflakes with Santa Hats Drawing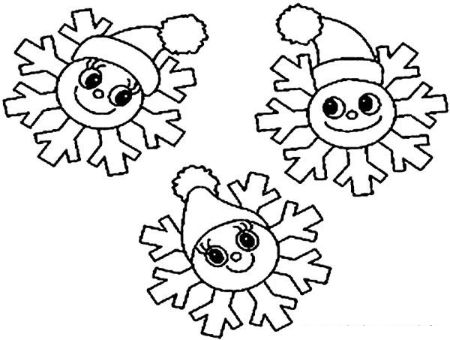 Draw these cute snowflakes friends with your friends. They even got matching hats to prove their closeness.
Give your friends the best present from the heart. Learn how to make friendship bracelets here. 
10. Adorable Snowflake Drawing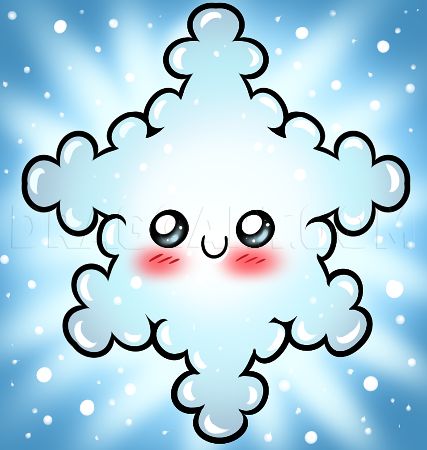 One septillion snowflakes out there and no two are alike! It's incredible. Celebrate the wonders of nature by drawing this one-of-a-kind snowflake.
Do these relaxing nature collages to get more in touch with the world.
11. Snowflakes with Arrows Sketch

This snowflake drawing starts with a simple cross. Add some spikes and arrows and you've got yourself a magnificent snowflake.
You'll have a great time making these pompom crafts with your little ones.
12. Heart Snowflake Drawing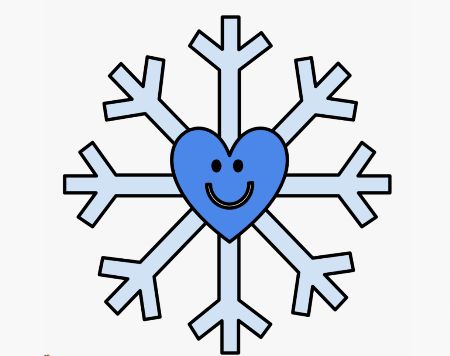 How about a snowflake with a heart in the middle? I'm sure that this rare snowflake will be a lot of fun to create.
We loved making these heart perler beads projects and I'm sure that you will, too. 
13. Santa with a Snowflake Illustration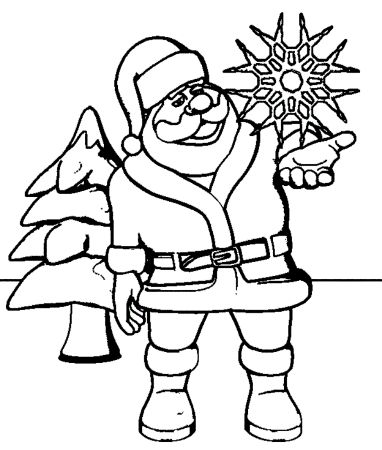 Ho ho ho! Merry Christmas! Here's Santa presenting a beautiful snowflake to you because you've been good this year.
Make the season of giving more special by spending time with your kid drawing this and by making these Nightmare before Christmas perler beads patterns with them.
14. Spiky Snowflake Drawing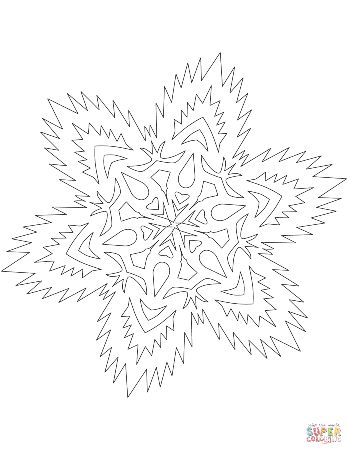 Try something different with this drawing of a spiky snowflake. It will be a fun variation from the soft and delicate snowflakes that we're used to.
Create more spiky projects with your kids. This Sonic perler beads list will be a great place to start.
15. Butterfly Snowflake Drawing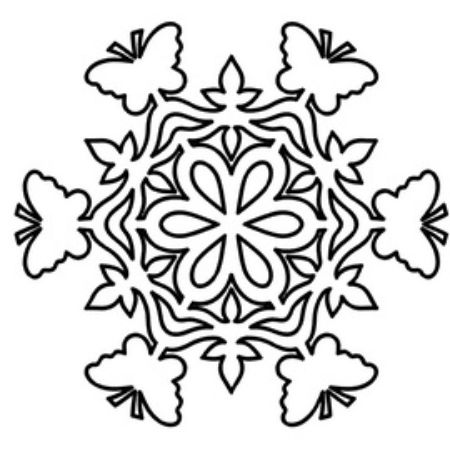 Snowflakes don't have wings like butterflies but they're as magical as them. Here's a pattern combining the two that will create a splendid drawing.
Fly like a butterfly with these butterfly perler bead patterns.
16. Belle with Snowflakes Illustration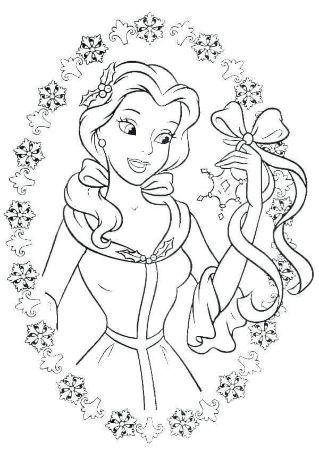 Even princesses are amazed by the beauty of snowflakes. Here's an illustration of Belle admiring a snowflake.
These Dr. Seuss preschool crafts will hone the creativity and imagination of children.
How to Draw a Snowflake: A Step-by-Step Guide
17. Cool Snowflake Drawing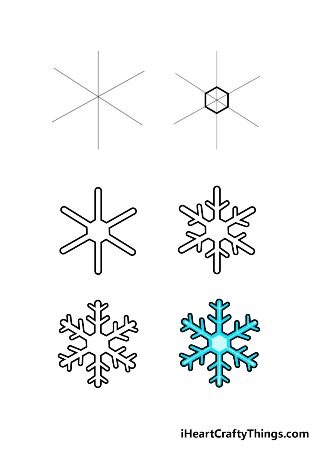 Snowflakes are cool in two different ways. They're cool because of their structure and also because of their temperature. They're formed in clouds with freezing temperatures (below 32ºF).
18. Cute Snowflake Drawing
Drawing these snowflakes will be a fun bonding activity for the whole family. Watch this video by Art for Kids Hub together while spending the afternoon with them.
19. Unique Snowflake Drawing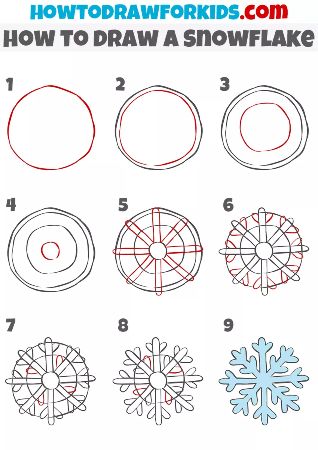 For this snowflake drawing, we'll start off with a circle. It will be a nice way to practice different techniques in drawing to hone your young artist's skills.
20. Glowing Snowflake Drawing Tutorial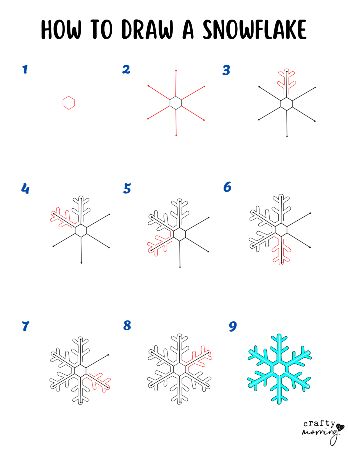 Your kids will master the craft of drawing snowflakes once they're able to do this difficult pattern. It's more complicated than the others but finishing it will be a great reward.
21. Pretty Snowflake Drawing Tutorial
Make your snowflake more charming and alive by adding a face to it. This video tutorial of a kawaii snowflake will be a great inspiration for your next drawing.
This lovely pattern is brought to you by LAVORETTI CON LA CARTE // DIY Best paper crafts.
22. Easy Snowflake Drawing Tutorial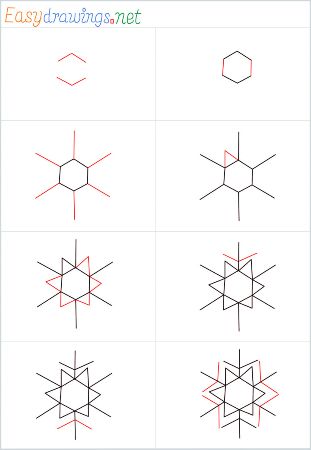 There are seven main patterns of snowflakes: plates, stellar crystals, columns, needles, spatial dendrites, capped columns, and irregular. Can you guess which one this is?
23. Snowflake with Letter K Tutorial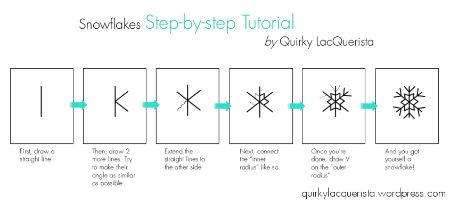 Does your kid's name start with the letter K? Then they'll love the idea of making a snowflake using the first letter of their name. because it's fun and creative!
More letter K crafts can be found here.
24. Snowflake in Frozen Drawing Tutorial
Do you wanna build a snowflake? 
Join in the Frozen fever by drawing the snowflake featured in the film. Let this video by Drawinghowtodraw guide you in drawing the pattern.
Enter the world of Arendelle with these cool Frozen perler beads.
Snowflake Drawings for You and Me
You've seen them in the sky, on the ground, and now on your paper. These easy snowflake drawings will make your kids feel like an artist in no time.
Find more exciting projects to do with your kids below: