Spend your weekend creating your children's favorite pet through this list of bunny Perler beads!
Bunnies make great pets since they're inexpensive to keep (most of their diet consists of hay or grass) and are commonly known for having a calm disposition.
Don't be hasty in categorizing bunnies as timid, though, as they're much more expressive than most people give them credit for.
If you're unsure whether to get one as a pet for you and your little ones, these 23 bunny Perler bead patterns are the perfect activity to mull it over.
But first, let's look over the materials you may need.
Materials for Perler Bead Activities
Perler Beads: Here are your activity's building blocks. Each bead has its role in creating your ultimate Perler bead design, so I highly suggest to not skimp on this!
Pegboards: Just as painters have a canvas, so do Perler bead enthusiasts in the form of pegboards.
Ironing paper: Don't forget to place this before you iron your Perler beads; you don't want to make a mess, trust me.
Tweezers (optional): Make your Perler bead activities more fun with a pair of this handy tool.
8 Simple Bunnies Pattern
Suitable for preschoolers (and even toddlers), these first eight simple bunny Perler beads will provide you with inspiration and variety as you select the color you want.
1. Mini Bunny Perler Bead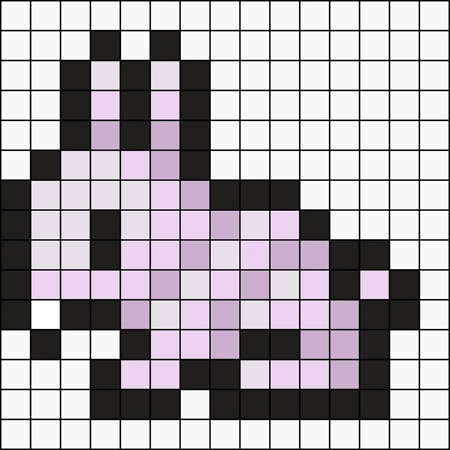 First, we have a mini purple bunny pattern shared by jiska.
I know purple bunnies aren't real—with the gray ones coming resembling it very slightly.
But the power and exciting part of Perler beads is that you're able to create any craft according to your image!
2. Small Bunny Face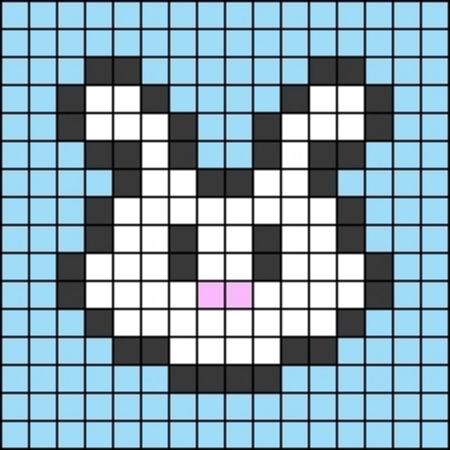 Let's reinforce the face of the bunnies by following E_m_i_l_y's bunny pattern.
It's through these patterns that children develop their visual and recognition skills, so don't be disheartened if it's just a simple bunny profile.
3. Pink Bunny Eating Carrot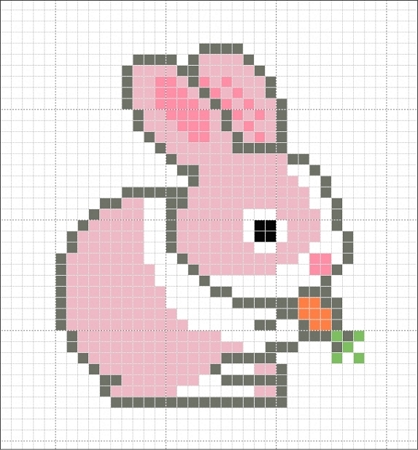 Here we have a cute pink bunny enjoying a baby carrot, courtesy of Doces Pontos.
If you prefer a teal bunny, that's fine, too! Encourage your children to experiment with different colors to stimulate their creativity.
4. Black and White Bunny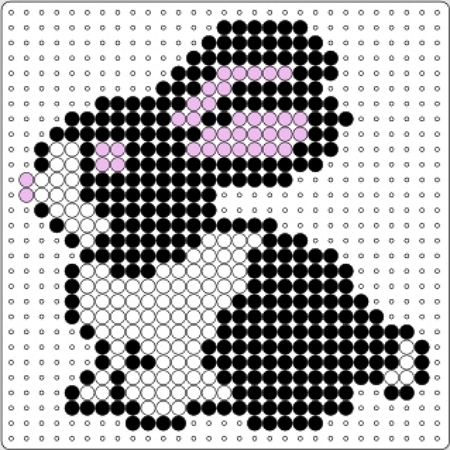 Does this black-and-white bunny remind you of the tuxedo-colored dog you own? There's no need to think twice about making this pattern by Perler Bead Patterns, then!
Dog lovers, gather around these trusty and loyal dog Perler beads.
5. White and Orange Bunny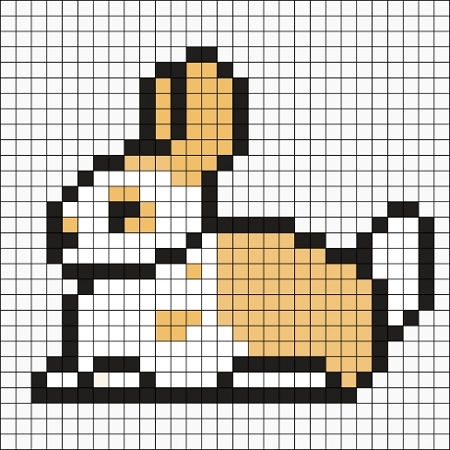 Bunnies come in ginger color, too, such as this one created by glowinthedarksoap.
I appreciate the irregularity in the bunny's fur, which highlights the diversity of life.
I wouldn't blame you if you mistook this bunny for a cat. After all, it looks like some of the patterns in this list of cat Perler beads.
6. Simple Bunny for Kids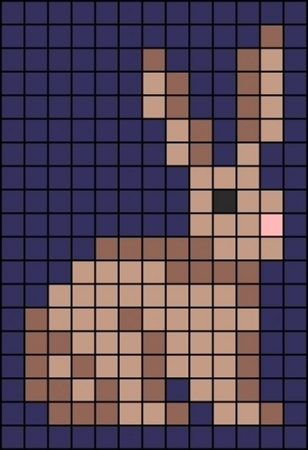 For another minimalist type of design, look no further than gingergaze's brown bunny pattern.
If you like simple aesthetics, you might enjoy these mini Perler Bead patterns.
Bunnies with cotton tails are super adorable! They're so satisfying to look at, just like the bunny pattern that Laceys Crafts has created.
Prepare yourself for fluffy crafts in these pom Pom crafts!
Few pets surpass lop-eared bunnies in terms of cuteness.
Just looking at Destination Creativity's design makes me want to take care of one!
6 Kawaii Bunny Perler Beads
Can bunnies get any cuter? According to these next six patterns, they can! It's subject to personal preference, of course.
Don't forget to head on to our list of kawaii Perler bead patterns.
9. Small Bunny Plush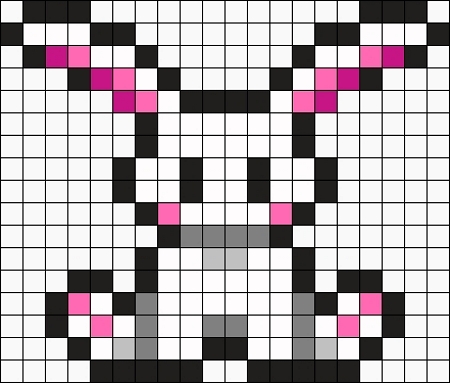 Children might've not had the chance to own a pet bunny, but it's probable that they've had a plush version.
Stuffed toys share an unforgettable bond with many children, so here's KandiKat7 for those little ones who want to commemorate their woolly buddies.
10. Kawaii Bunny Face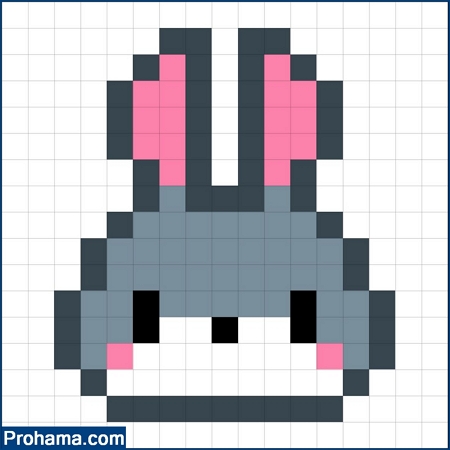 If you're following our patterns for a while, then you have an idea of what kawaii refers to. If not, here's a refresher!
Most figures termed "kawaii" have an added characteristic that makes them even more adorable—blushes on the cheeks or bigger eyes, for example.
Like this bunny from Prohama.
11. Cute Bunny Family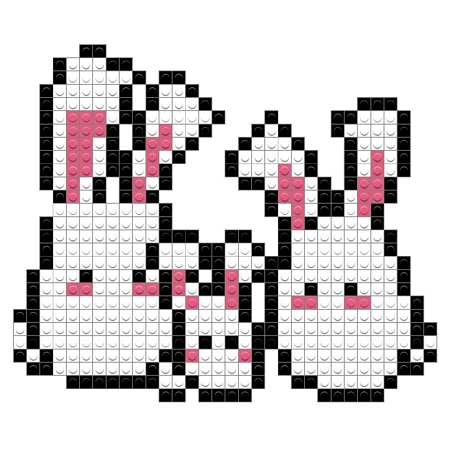 Is your Perler bead activity turning into a family activity?
This pattern notedbeetle should be perfect for you, then!
12. Chubby Bunny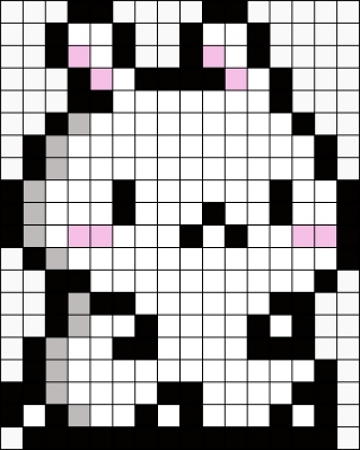 Chubby bunny was an Internet trend around 2015 that involved a person stuffing their mouth with marshmallows and saying a phonetically challenging word.
This pattern by PNGFind reminds me of that then-viral trend.
13. Egg-Shaped Bunny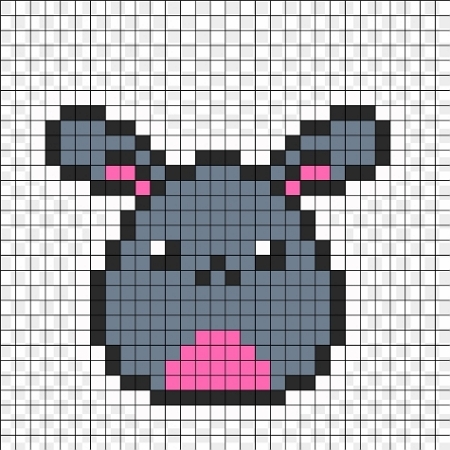 Easter is just around the corner, and we know that the bunny is the most ubiquitous symbol of festivity.
PNGFind is here with an egg-shaped bunny that's perfect to do during Easter
For more, head on to our list of Easter Perler bead patterns.
14. A Couple of Fluffy Bunnies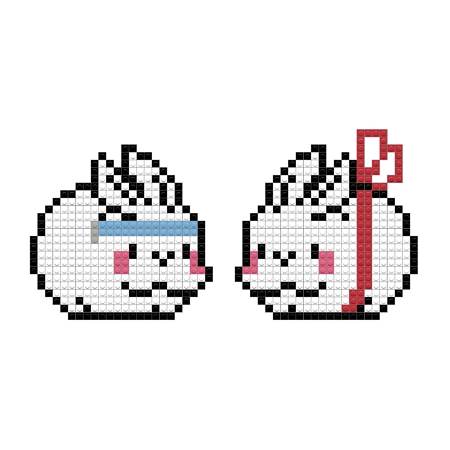 I present to you a couple of fluffy bunnies. This one shared by Brik can act as a template—change the color of the bunnies' headbands and ribbons.
9 Cartoon Bunny Perler Beads
These next nine Perler bead bunnies feature beloved characters that have been on movies and TV shows.
Whether they're classic characters that have been making us laugh for decades or newcomers that have captured our hearts, you'll find the right bunny for you.
15. Molang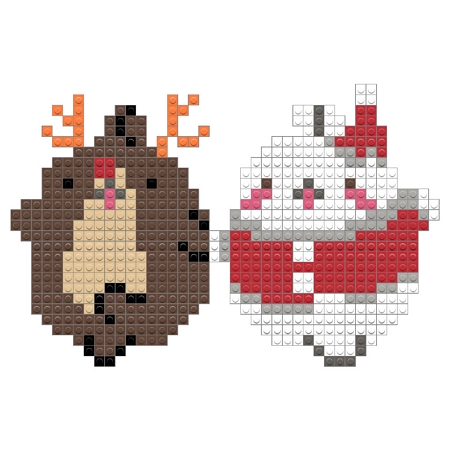 My niece loves Molang—I mean, who doesn't? With over 300 episodes, Molang and company never fail to cheer up its viewers.
I'm sure unchinfavourites's pattern will prove satisfactory to any fan, as well.
16. Thumper and Bambi

One of the more notable bunnies on screen is Thumper from Bambi. Since the movie came out decades ago, Bambi has been collecting dust on our shelves (physical or virtual).
That doesn't stop us from reminiscing about the memorable characters in it. Here's Irisss sharing a pattern of the deer and bunny.
17. Iconic Bugs Bunny Pattern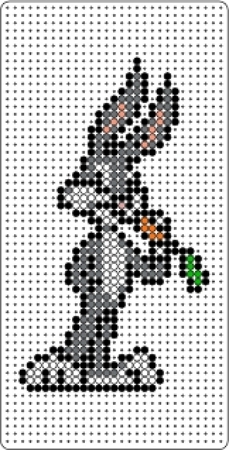 No bunny's more famous than Bugs—Bugs Bunny, an intergenerational icon that has captivated millions with his charismatic and comedic appeal.
Here's a typical pattern of him, courtesy of Perler Bead Patterns.
18. Chill Bugs Bunny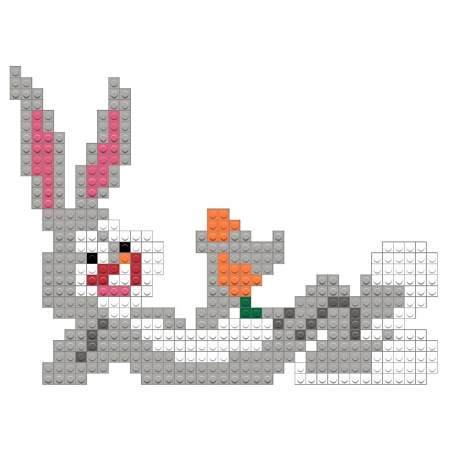 Bugs Bunny is so famous that I decided to include two patterns of him in this list—this one being shared by mimassand6.
I wouldn't be surprised if a future Bugs Bunny comeback will attract a new generation of fans.
19. Judy from Zootopia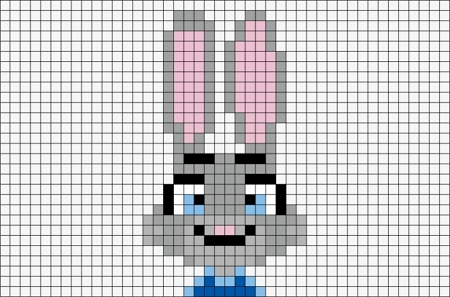 On the younger side of bunnies, we have Judy from the 2016 Disney hit, Zootopia. PNGKit shares an easy Judy pattern comprising her face.
20. Easter Bunny Mario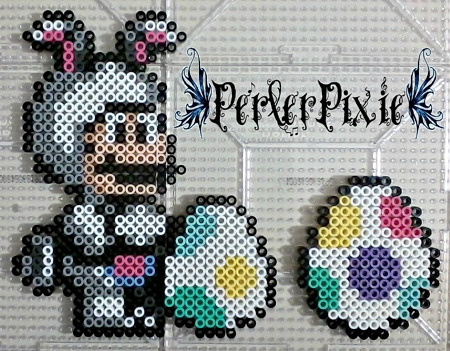 Although not a bunny, Mario does some incredible cosplaying, as shown by PerlerPixie.
Don't forget to get your power-up in these Super Mario Perler bead patterns!
Returning to classic bunnies is Miffy, a bunny who first appeared during the 1950s. KandiPerlerFairy shows us how to make Miffy in 3D, which is no mean feat.
For more 3D Perler bead ideas, head on to our 3D Perler bead patterns.
Remember, Some Bunny Loves You!
I hope you've enjoyed making these bunny Perler beads. By then, having a bunny as a pet is a must because they're so fluffy and harmless.
Look at these other lists for more animal-related activities: