Mushrooms are fascinating organisms that can be found all around us. They come in all shapes, sizes, and colors. Continue reading to find the best mushroom drawings below.
Whether you are a budding artist or find mushrooms fascinating, these drawings will inspire you to pick up a pencil and start sketching. These drawing compilations are easy to follow and will make you feel like a pro in no time.
Scroll down and let's start drawing mushrooms.
Get your pencils ready and let your creative juices flow with these cute food drawings.
Support Your Little Artist by Providing Them with These Drawing Essentials
7 Cute Mushroom Drawings
1. Little Mushroom Drawing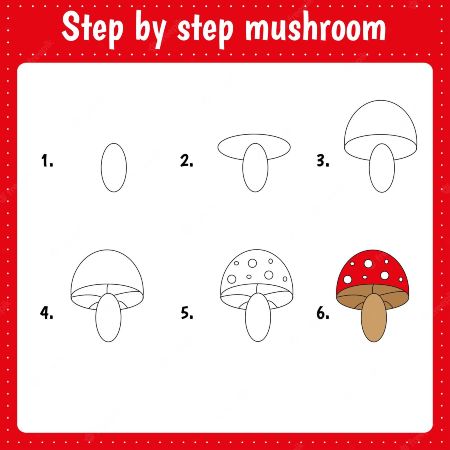 Drawing this little mushroom from Freepik will be a fun and easy way to get started with mushroom art.
It starts with an oval and in just six easy steps, you'll have an adorable little mushroom on paper.
Have a lot of fun at home playing with this homemade playdough.
2. Family of Mushroom Drawing
I wasn't able to resist adding this adorable group of mushrooms and I know that this will be on top of your to-draw list as well.
The video tutorial from Draw So Cute will give you step-by-step instructions on how to draw these colorful and adorable mushrooms.
3. Adorable Mushroom Drawing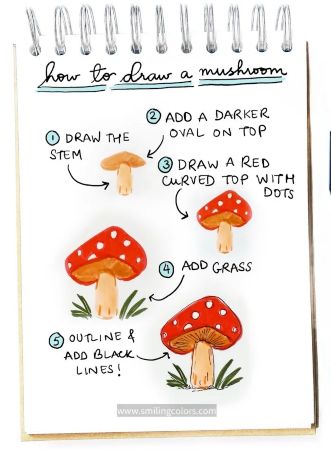 All you need to do is follow this informative drawing tutorial from Smiling Colors to have a fantastic mushroom sketch.
The kids are going to love this mushroom drawing tutorial so they should totally try it out.
4. Mushroom Drawing Using the Number 57
How cool would it be to draw a mushroom with just the numbers five and seven put together?
Learn this cool magic trick from this video guide from Doodle Art Time.
These dragon crafts for kids include projects that will enhance their creativity and imagination.
5. Mighty Mushroom Drawing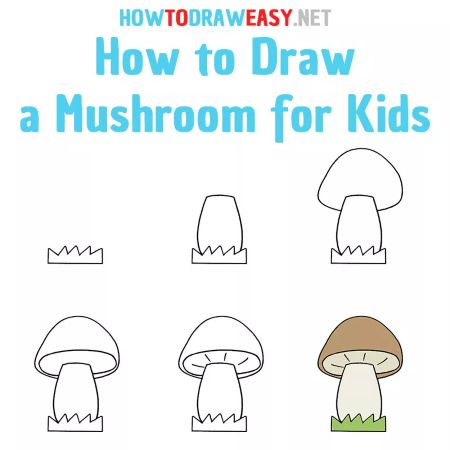 How to Draw Easy Net will teach you how to draw a brown mushroom for kids instantly with this helpful guide.
Start by drawing the grass underneath followed by the stem and cap. Draw in some details and you'll have this awesome drawing.
6. Winking Mushroom Drawing
An adorable mushroom drawing might be the only missing piece to your sketchbook.
This sketch from Winnicorn will be a wonderful addition. With its winking eye and accompanying two little mushrooms, this drawing will be a hit.
7. Mushrooms with Snail Drawing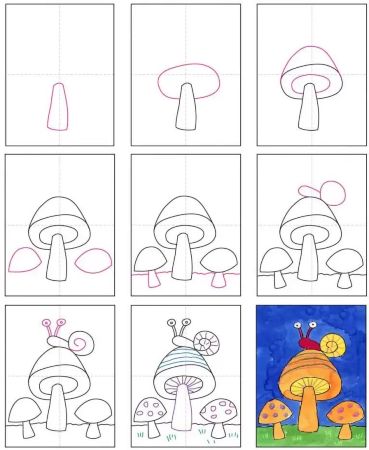 Want to make your mushroom drawings even more phenomenal? Draw some cute creatures with it such as a snail.
Get ideas and inspiration from Art Projects for Kids' simple but helpful guide.
Be creative and do these egg carton crafts with the children.
7 Simple Mushroom Drawings
8. Straightforward Mushroom Drawing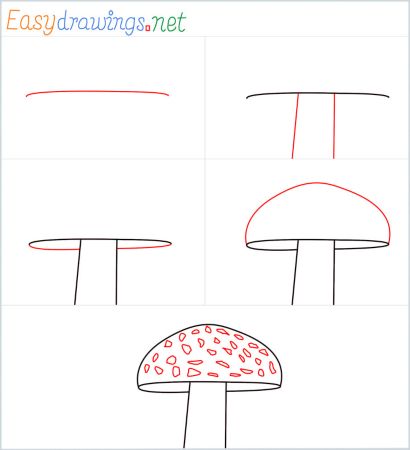 Your child won't feel intimidated and on the contrary will be really excited to try recreating this simple mushroom drawing from Easy Drawings Net.
These steps are simple enough that even those who are just starting to draw will be able to follow them easily.
9. Mushroom with Stones Drawing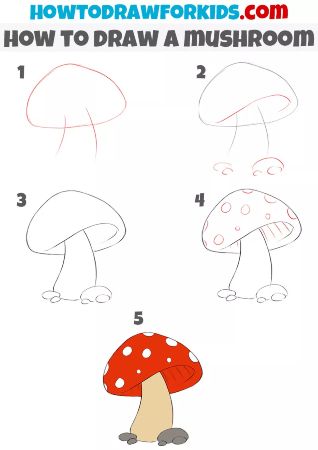 Begin by sketching the stem and cap of the mushroom as seen in this tutorial from How to Draw for Kids.
Add some stones on the side and their mushroom drawing will stand out.
Check out the guide to get started.
10. Cold Mushroom Drawing
Accessorizing the mushroom drawings is always a great idea. Not only does it make them look more unique but they'll look cuter as well.
Take it from Draw So Cute and watch their tutorial video to see just how adorable your mushroom drawing will be.
11. Two Mushrooms Drawing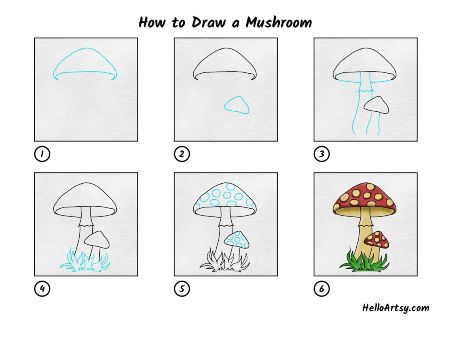 Why draw a single mushroom when you can draw two?
Hello Artsy has the perfect mushroom duo sketch for kids.
Make sure to include this on your list because I'm sure that creating this will be very enjoyable for the children.
12. Mushroom with Grass Drawing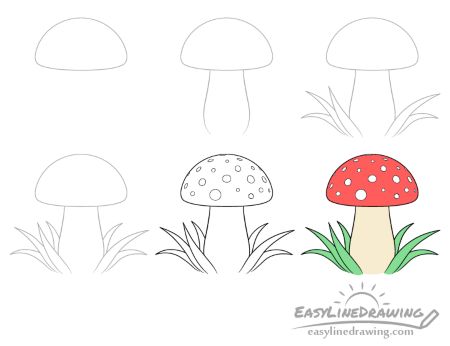 Here's a beautiful red mushroom sprouting from the ground.
It will be an awesome activity for the kids because it will give you the chance to talk about mushrooms, too.
Practice drawing mushrooms with this guide from Easy Line Drawing.
13. Mushroom Drawing Using the Letter M
Another cool trick you can teach the kids is how to draw mushrooms by simply writing the letter "m".
It's easy enough that even preschoolers and kindergartners will find the instructions as easy as ABC.
Don't forget to watch this video by Draw with AKA for extra help.
14. Easy Mushroom House Drawing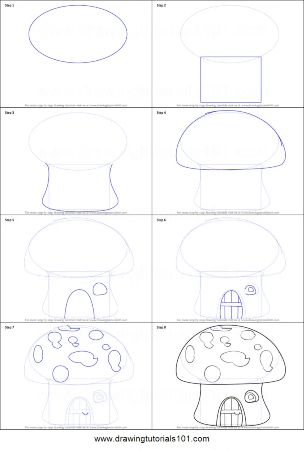 This mushroom house from Drawing Tutorials 101 makes me think of all the fairies in the woods because this will be the perfect tiny home for them.
Let your child's imagination and creativity run wild by trying out this fun drawing tutorial.
7 How to Draw a Mushroom (Step-by-step Guide)
15. Happy Mushroom Drawing
All these mushroom drawings will make your child happy.
Make them happier by introducing yet another drawing tutorial and this time from Dope Drawings.
Get the squishiest and yummiest marshmallow crafts here.
16. Cool Mushroom Drawing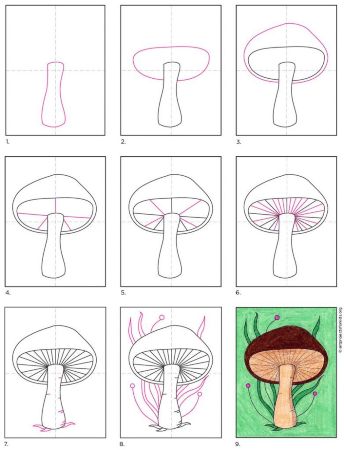 Mushrooms have a mystical and magical air that surrounds them.
This drawing from Theme Lower captures that feeling.
The mysterious swirls and colors on the background make this tutorial a must-try.
17. Brown Mushroom Drawing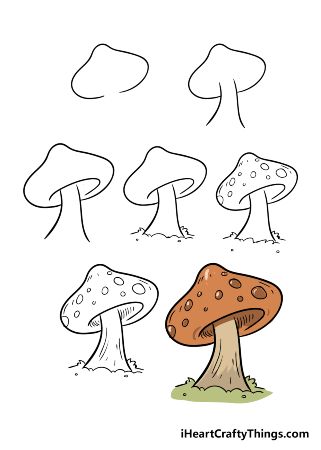 Mushrooms come in all different colors and one of the most common ones are those that are color brown.
I Heart Crafty Things offers a wonderful tutorial on how to draw one through the guide above.
Teach them to express their love with these Valentine's Day crafts for toddlers.
18. Mushroom Trio Drawing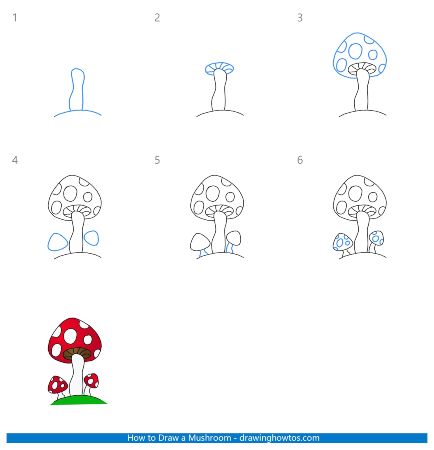 Did you know that a group of mushrooms is called a cluster?
Draw a red mushroom cluster with the help of this guide from Drawing How Tos.
19. Nice Mushroom Drawing
What's great about this mushroom video tutorial from Smart Kids Art is that it includes how to make the colors of your drawing more vibrant.
Watch the video to learn how to draw and color your drawings for the best mushrooms ever.
Enter the magical land of Equestria through these My Little Pony perler beads.
20. Realistic Mushroom Drawings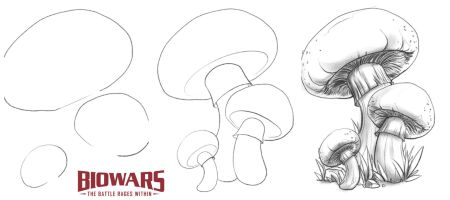 Up for a drawing challenge?
Biowars' sketch will challenge the kid's drawing abilities so make sure you include it on your list.
It will be best to draw this one last to culminate the activity on a great note.
Mushroom Drawings for Everyone!
These mushroom drawings are a fantastic way to explore the beauty of nature and practice your child's artistic skills.
Whether you're drawing for fun or hoping to learn more about these fascinating organisms, this post will fit your needs.
Wait a. minute we're not yet done creating art. Check out these amazing projects below that will be perfect for the kids: