Bird watching is an amazing hobby enjoyed by millions of people around the world. The thrill of spotting different species of birds and observing their behavior in their natural habitat is a great experience that brings us closer to nature. Level up the activity in the comfort of your own home with these bird drawings.
Capture the beauty of the birds in different locations and positions with these guides.
Teach the kids all about other creatures with these easy animals to draw for kids.
Be Prepared Before We Begin Our Projects:
9 Easy Bird Drawings
1. Little Yellow Bird Drawing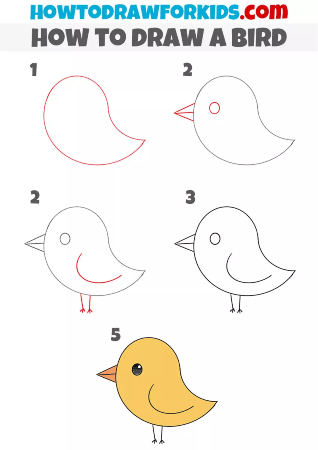 Let's start the list with something simple and cute courtesy of How to Draw for Kids.
Kids of all ages will find this drawing easy and will perfect their bird sketches in no time.
2. Pretty Bird Drawing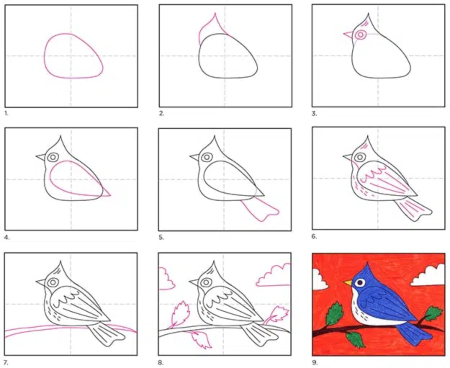 Take a step back and have a relaxing day with the kids drawing this bird perched on a branch.
Art Projects for Kids tutorial shows how to draw the bird, sky, and branch from start to finish.
Feel the breeze and hear the waves with these ocean crafts.
3. Brown Bird Drawing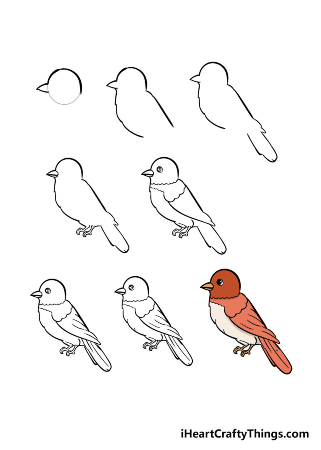 A little birdie told me that kids will absolutely love drawing this one from I Heart Crafty Things.
It isn't too easy or too hard to follow which makes it perfect for kids who are just starting out honing their artistic skills.
4. Simple Blue Bird Drawing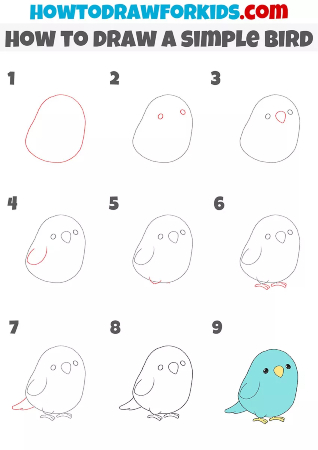 This blue bird reminds me of the logo of Twitter. What comes to your mind when you saw this?
Have a great time sketching with the children using How to Draw for Kids' guide.
Unleash your child's creativity with these fun Bluey crafts.
5. Cool Bird Drawing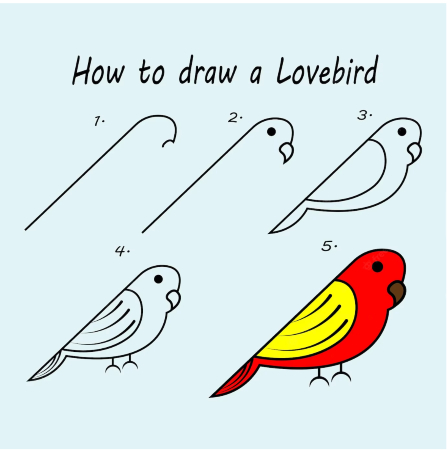 Here's another bird drawing from Freepik that will further enhance the kid's drawing skills.
In just five steps, your kids will see how a single line could be transformed into this beautiful bird.
6. Flamingo Drawing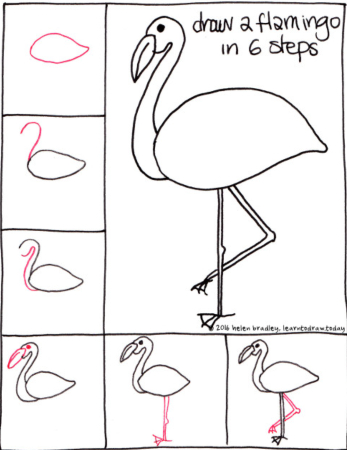 Flamingos are unique and captivating birds.
With this drawing guide from Learn to Draw Today, the kids will be able to appreciate their beauty even more.
Follow the steps provided above to add a drawing of a flamingo to their sketchbook.
7. Cheeky Bird Drawing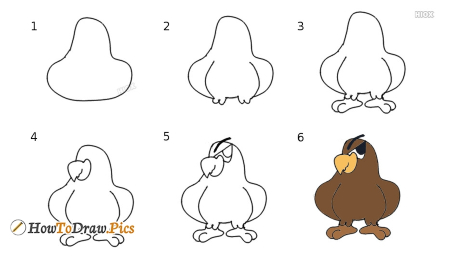 This tutorial from How to Draw Pics hits two birds with one stone.
Not only will the children learn how to draw an interesting bird but will also get ideas on how to capture emotions through the eyes of their subject.
8. Two Birds Forming a Heart Drawing
I'm sure that you too will love drawing this bird couple as much as we liked doing it.
It will be cool to teach the kids how to draw two birds shaped like a heart in one drawing.
Check out How to Draw for Kids' guide to know how.
9. Angry Bird Drawing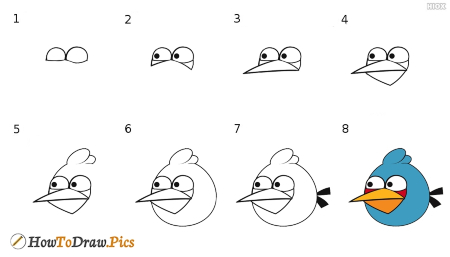 Drawing this one from How to Draw Pics will bring a lot of memories and will make you feel nostalgic.
Even if the kids aren't familiar with the game, I'm sure that you can create new fun memories with them sketching this blue bird from the game and movie.
6 Flying Bird Drawings
10. Flying Dove Drawing
Start drawing this dove by writing the letter v (yes, it's that simple!)
Watch Kids Topic's video and be amazed at how they transformed the letter into a lively dove drawing.
Don't forget to check out these letter V crafts that will keep the kids entertained for hours.
11. Flying Blue Bird Drawing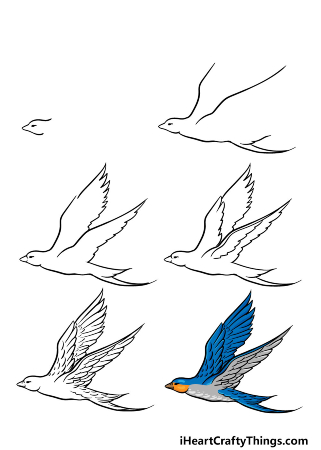 This bird drawing from I Heart Crafty Things will be something similar to what you'd likely see when you look up at the sky.
It features a realistic-looking and colorful bird soaring above.
It will be a fun and great addition to the kids' bird drawing collection.
12. Parrot Flying Drawing
Parrots are one of the most loved species of birds.
There's a lot to love about them like their colorful feathers and ability to talk.
UCH SIKHO's video will help you draw your favorite bird with this easy-to-follow guide.
13. Bird Drawing from Letter L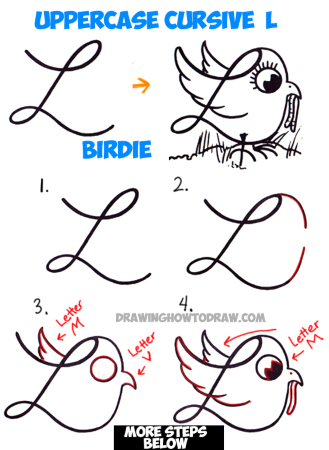 Make learning cursive more exciting through this awesome guide.
Start with the letter L and slowly see a bird form on your paper.
Head on to Drawing How to Draw to see the full tutorial.
14. Flying Owl Drawing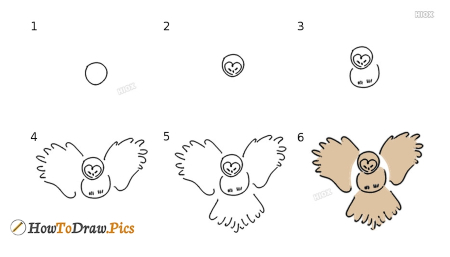 This owl drawing from How to Draw Pics will not be a hoot.
Doing this will be a fun and engaging activity for the kids.
You'll also love these owl rock painting ideas for kids.
15. Birds Free from Cage Drawing
This lovely drawing from QWE Art will stand out from all of their other drawings.
It's not only a peaceful sketch of birds being freed from a cage but it also holds a deeper meaning.
6 Simple Bird Sketches
16. Cute Bird Sketch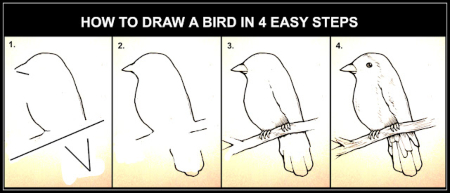 Whether you're in a restaurant, airport, or bus stop, this drawing from Daryl Hobson Artwork will be a quick fix to the kid's bird drawing needs.
It's a pretty bird sketch that will take them no longer than five minutes to make.
Learn how to draw Paw Patrol characters in this list.
17. Singing Bird Sketch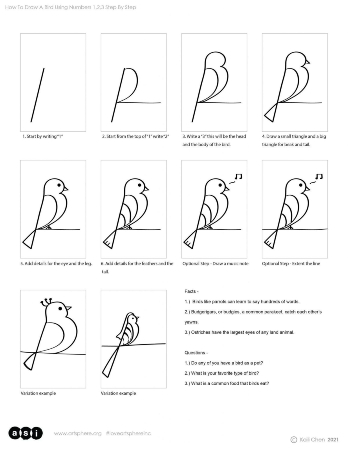 Hearing a bird singing will always instantly brighten up someone's day.
Your child will have a great day and a smile on their face while doing this awesome drawing guide from Art Sphere.
18. Bird Drawing from the Number Three
If your child is three years old then this drawing from Kids Topic will be a hit.
This drawing will serve two purposes: they'll be able to practice writing the number and drawing this adorable bird in one go.
19. Bird on a Branch Sketch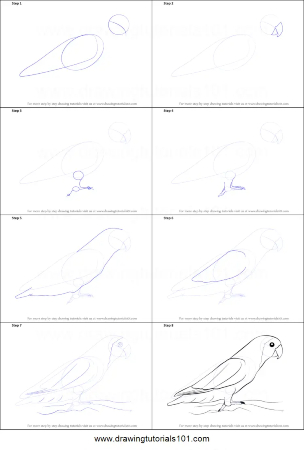 There's no such thing as too many bird drawings for bird enthusiasts.
This makes this cool bird sketch from Drawing Tutorials 101 a must-try for the kids.
20. Awesome Bird Sketch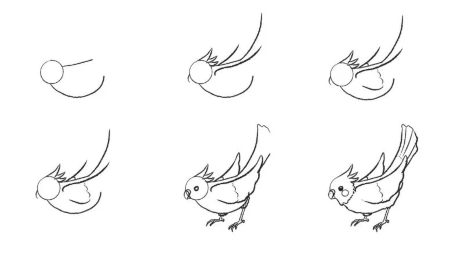 This bird sketch from Jae Johns looks like something straight out of a fairytale because of its cuteness and playfulness.
Learning how to draw this will come in handy when the kids explore different settings and genres of their drawings.
21. 4-Step Bird Sketch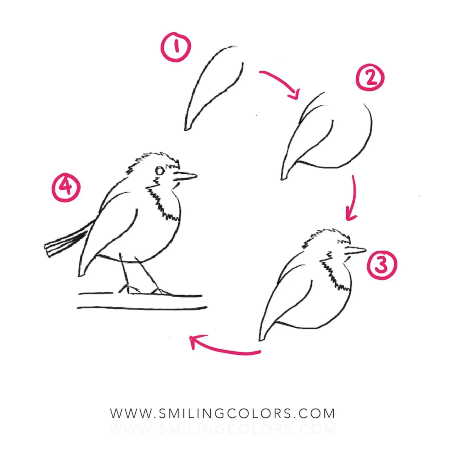 Draw a little fuzzy bird with the help of this guide from Smiling Colors.
See how each pencil stroke forms the wings, beak, and tail of the bird in just four easy steps.
Explore the magical and sparkly world of Equestria through these My Little Pony perler beads patterns.
Phenomenal Bird Drawing
Bird drawing will be a fun and engaging way to deepen the kids' appreciation for the natural world. From robins, doves, and owls, this list has a wide variety of bird species for the kids to try out.
So what are you waiting for? Block out the whole afternoon and let's start drawing birds.
More projects about animals await you on these lists: