This isn't a confectionery shop, but you'll certainly find something that will satisfy that sweet tooth with these easy candy drawings!
Chocolates, lollipops, sour patches, marshmallows—all of these, and more, fall under the category of sweets and candies.
But not everyone has the same preference for candy. One person might like the tropical burst of fruit gushers, while another will opt for a licorice, favoring its cool and herbal flavor.
I've curated some popular candy choices, all of which have a very low chance of giving you a toothache and have an extremely high chance of developing your creativity and expanding your candy shop—by which I mean your artistic skills.
Ingredients for Easy Candy Drawings
Sugar, spice, and everything nice is often the ingredient of a good candy. Make sure you're well stocked before heading in these candy drawings.
3 Generic Candy
The first thing that pops into my mind when thinking about candy is those with a twisted wrapper.
Articco Drawing illustrates those generic candies that we're all familiar with.
When there's nothing else labeled other than "CANDY" on a wrapper, it's probably not a good idea to unwrap it and risk eating a flavor you don't want.
But a candy junkie would take that leap, even if it means eating a jelly bean with a moldy cheese flavor.
DrawinGeek will keep you on the edge of your seat with this mysterious candy.
3. It's Raining Candy!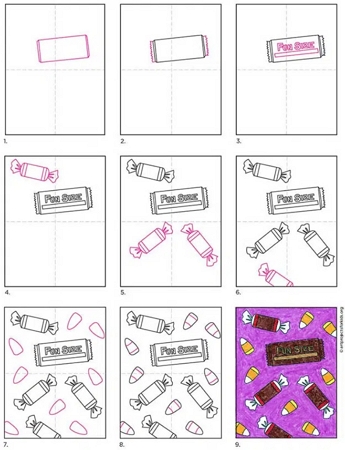 It's raining candy out there! Well, probably not on a regular day, but definitely on Halloween.
To make it rain, simply look at Art Projects For Kids's raining candy template, which you can diversify depending on your sweet tooth. (I'd go for mint-flavored chocolate, personally!).
3 Decadent Chocolate Bars
4. Bar of Milk Chocolate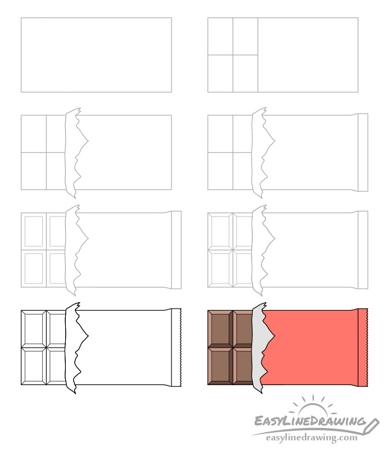 It's rare to find someone who doesn't like the taste of chocolate. Even just ripping the chocolate wrapper provides so much joy for a chocolate enjoyer.
Some like the creamier texture of white chocolate, while others love the intense aroma of dark chocolate.
Wherever you may find yourself on that white-dark chocolate spectrum, drawing this bar by Easy Line Drawing will surely give you a serotonin boost.
5. A Kawaii Bar of Chocolate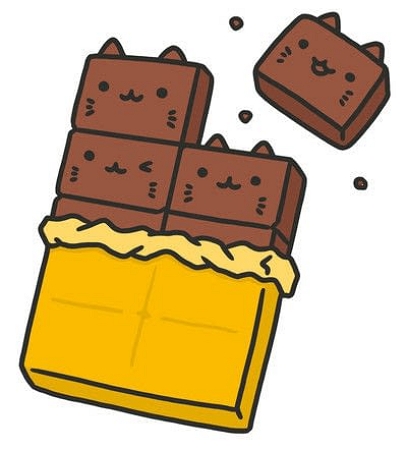 You won't find a Golden Ticket here, but these cat-shaped chocolates will surely make your day.
Adding elements of the kawaii style, Cut Out and Keep ensures this chocolate is as kid-friendly as possible, something that Willy Wonka forgot when constructing his Chocolate Factory.
6. Chocolate Cubes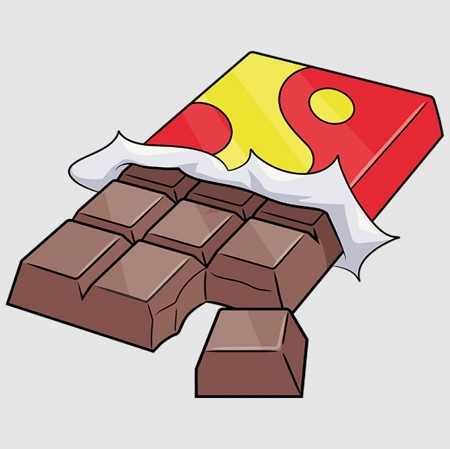 The crisp sound of breaking chocolate, the luscious sensations we feel, and the irresistible smell when we put it in our mouths—all of these meld together into an enjoyable experience when we eat chocolate!
Easy Drawing Guides shows how it's made, now it's time for you to complete the process.
3 Colorful Lollipops
Classic lollipops have fruity flavors, like cherry, strawberry, or grape. A twist on the classics includes more interesting combinations, like bubblegum, soda, or cotton candy.
Since lollies are hardened sugar, there's bound to be some sheen on them, as illustrated in this lollipop drawing by HAPPY ART.
Blending creamy and fruity flavors, Mister Brush makes a lollipop that's anything but vanilla.
9. Swirl Lollipop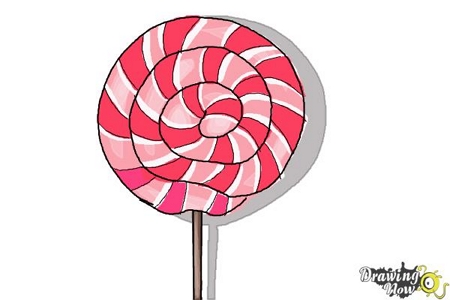 There are plenty of possibilities when making these types of candies.
Lollipops can be molded with a chewy or gooey center; they can be shaped as animals; or they can take the form of a mesmerizing spiral, just like Drawing Now has shaped it.
3 Tasty Bubble Gums
Bubble gums, which are typically not allowed on school grounds, are so popular among grade schoolers that it's almost considered contraband.
Some may play pranks, though, leading the victims to think they're getting a piece of gum when the only thing they're getting is a heart attack from a cockroach prank.
But there are no tricks in this bubble gum drawing by Azz Easy Drawings.
Imagine the pocket universes contained in these colorful gumballs, waiting for a juicy Big Bang in your mouth!
To have your very own gum ball machine drawing, HiGASFY Productions will give you a steady supply of gum balls and machines in their video tutorial.
Displaying your skills of blowing bubble gum is certainly impressive… until you get sent to the principal's office for eating gum in class.
But no rules are contravened, except artistic ones, in making this highly imaginative sketch by Art For Kids Hub.
3 Stretchy Gummy Candy
If all gummy bears were as adorable as the one in Winnicorn's drawing, as a kid I would've kept them in my toybox to mingle with Woody and Buzz.
Surely, you wouldn't eat this cuddly bear, would you?
Highly imaginative kids will appreciate these Toy Story crafts!
Eating gummy worms wasn't as bad as the thought of eating an orange seed, which I thought would grow inside my body and turn me into a tree.
A gummy worm is distinguishable from a real worm, but these drawings from Art Land could easily trick a preschooler.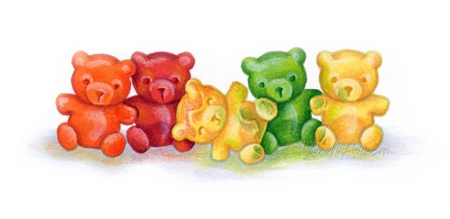 At first glance, this family of gummy bears created by Amy Shulke looks simple to recreate.
But I believe it's quite challenging, especially when you consider making them all uniform.
Candy factories aren't perfect, but their precision and quality control in creating gummy bears should be top-notch!
3 Fruity Jelly Beans
16. Assorted Jelly Beans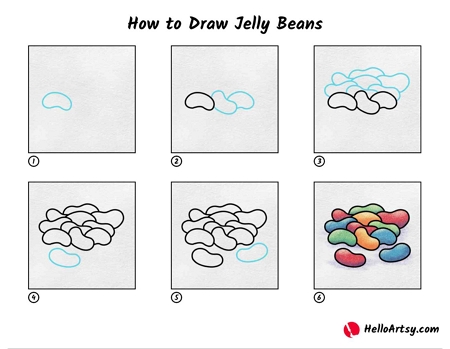 There's no secret to drawing these assorted candies—Hello Artsy has already spilled the beans.
The colors that went into these spilled beans are basic, which is perfect for kindergartners. But may I suggest refreshing flavors, like mango or tutti frutti; or even caramelized ones, like toasted marshmallow or cappuccino?
17. Suspicious Jelly Bean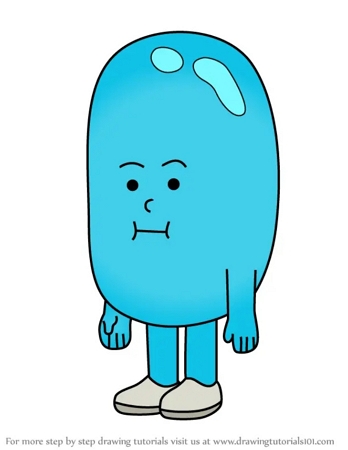 If this jelly bean dude was a playable character in Among Us, there wouldn't be a round where he isn't blamed or called "sus."
Thanks to Drawing Tutorials 101's creativity, there's a lot more to fear than just flavors such as "Skunk Spray" or "Earwax."
Trust no one when creating these Among Us Perler Beads—anyone can be a suspect.
Not all jelly beans are made equal. Some have a chewy texture, while others may have a syrupy center.
Whatever your preference is, this kawaii jar by Draw So Cute has it all.
These Candies Are So Good!
Drawing DNA unleashed takes a candy from their pocket and slaps it into this piece of paper like magic.
I don't know what tricks my eyes are playing on my brain, but the light reflects so realistically on the glossy candy wrapper in this art.
The Hubba Bubba brand has been around for many decades, and has been a mainstay for bubblegum enthusiasts.
Many swear by this fruity candy because of its ability to blow enormous and durable bubbles.
"Snickers satisfies," goes their slogan. How could it not?
With nuts, caramel, and chocolate, this potent chocolate bar is packed with sugar and protein.
The Virtual Instructor ensures their Snickers bar are on par with the real thing because the drawing is just as packed as this energy bar.
Sweet, Sweet Candy Drawings
I hope you didn't eat as much candy as you've drawn, because the next trip to the candy store will instead be diverted to the dentist.
But if you still need to satisfy your artistic cravings, I won't hold you back: