What animal is tall, yellow, and magnificent? Yep, you've got it right. I'm talking about the mighty giraffe. They'll take center stage for our new project today as we learn these easy drawings of giraffes.
You'll discover the easy techniques of how to draw their face, neck, and legs in each of these tutorials. So read on to find cool giraffe drawings that are perfect for kids and also adults.
Draw other creatures of the animal kingdom with these easy animals to draw for kids.
Useful Art Materials
Check out the art supplies below for a fun and seamless drawing experience:
9 Easy Drawings of Giraffes
1. Cute Giraffe Drawing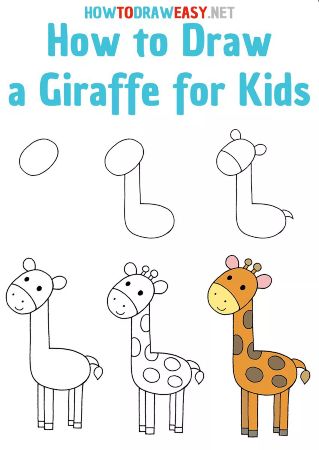 Stand tall and be proud of your giraffe drawing courtesy of this guide from How to Draw Easy.
See how an oval can be transformed into the tallest animal in the world with these easy steps.
2. Smiling Giraffe Drawing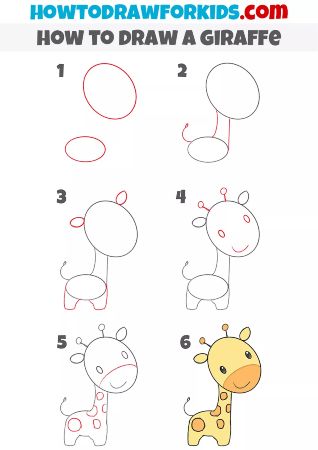 Giraffes are naturally friendly and social creatures.
So it's no surprise that we have a drawing guide from How to Draw for Kids featuring a smiling giraffe.
This Dr. Suess preschool crafts will be a nice activity for your kids, too. 
3. Easy Giraffe Drawing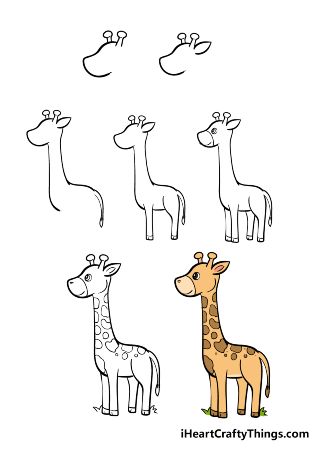 Include this giraffe from I Heart Crafty Things in your safari drawing.
Having a safari artwork won't be complete without a giraffe so this drawing will be crucial.
4. Giraffe Drawing from the Number One
Learn a cool way how to draw a giraffe from number one with this video tutorial from Cute Easy Drawings.
Your kids will be amazed by how creative this technique is.
Hear them roar with these cool dragon crafts for kids.
5. Adorable Giraffe Face Tutorial
Master drawing the face of a giraffe with this tutorial from How to Draw for Kids.
In just four easy steps, the kids will be able to create this adorable and fantastic illustration.
6. Simple Giraffe Drawing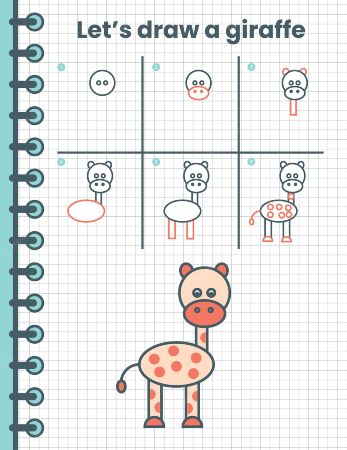 Drawings of giraffes don't have to be complicated. Take it from Freepik with this simple and cute illustration.
They'll guide your little one on how to sketch the giraffe from top to bottom starting from its eyes, spots, and tail.
7. Cute Giraffe Drawing Tutorial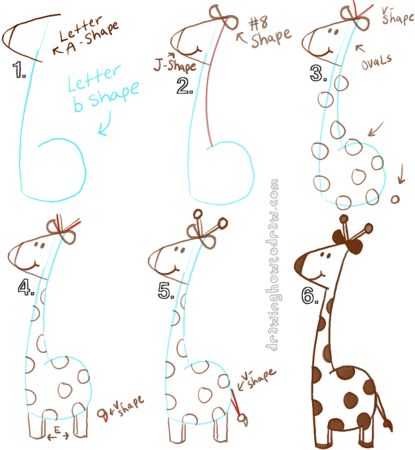 Drawing How to Draw is here to give us a super helpful guide on how to draw a giraffe that requires a letter "a" and "b" to start.
You'll have an adorable sketch of a giraffe once you follow and finish the guidelines provided by this tutorial.
8. Giraffe with Pigtails Drawing
Add some pigtails to your giraffe drawing to make it look cuter and one-of-a-kind.
Watch this video from HN Kids Art to learn how you can copy this stylish look.
Discover other fascinating animals starting with this turtle perler beads crafts.
9. Adorable Baby Giraffe Drawing
If you're looking for the perfect giraffe drawing for kids that's fast and also easy to do then this tutorial from Freepik is the way to go.
It has all the elements that will make this sketch incredible such as its gentle strokes and nice color coordination.
12 Giraffe Drawings
10. Giraffe Cartoon Drawing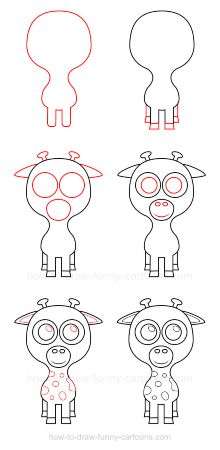 Giraffes can see anything and everything from up there. Not just because of their height but because of their big eyes as well.
This giraffe drawing from How to Draw Funny Cartoons shows the dazzling eyes of giraffes that your kids can copy.
11. 4-Step Giraffe Drawing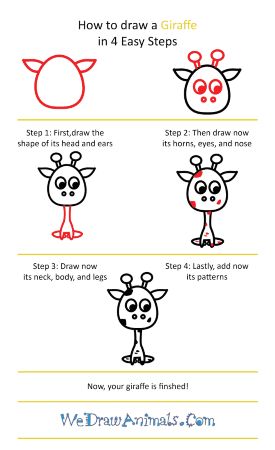 Here's an easy giraffe drawing from We Draw Animals that you can make in just four easy steps.
It will be different from all the other giraffe drawings they have because this one is in a sitting position. It will add variety and level up their drawing skills.
12. Realistic Giraffe Drawing
Challenge the children with this impressive and realistic drawing of a giraffe from Super Easy Drawings.
Watch the video above to get the full techniques and helpful tips on how to achieve this glorious illustration.
13. Giraffe Face Drawing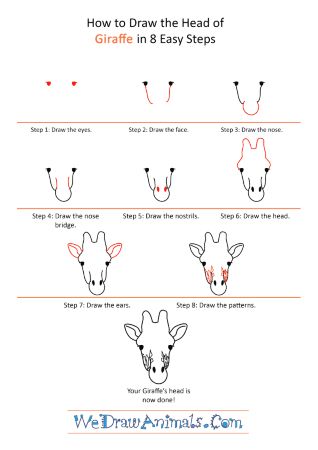 Learning the different ways how to draw the face of a giraffe is recommended so that the kids can mix and match the parts to create a unique drawing.
Here's another tutorial on how to draw their face courtesy of We Draw Animals.
14. Letter "H" Giraffe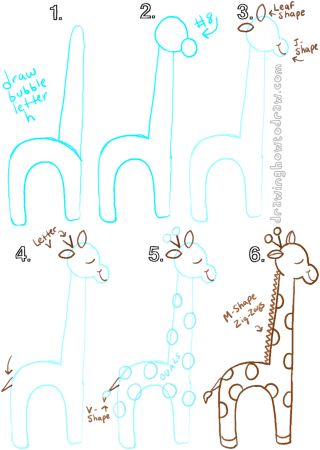 Does your child love giraffes and has a name starting with the letter "h"? Then this tutorial from Drawing How to Draw is the best option!
It will be cool to see how a single reversed "h" can transform into the tallest animal in the world.
Get more letter H crafts here.
15. Beautiful Giraffe Drawing
You won't be able to resist this beautiful and majestic giraffe drawing from Draw So Cute.
Its sparkling eyes alone can convince you to draw it in your sketchbook.
Hungry for more art crafts? Check out this perler bead food project.
16. Straight Line Giraffe Drawing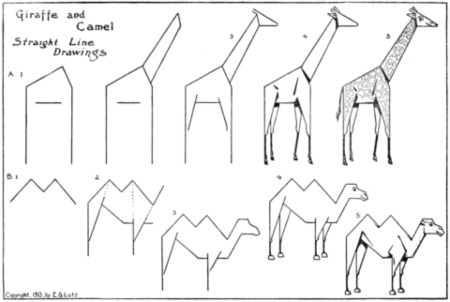 Try out something new by experimenting with straight lines to create this giraffe drawing from Super Coloring.
Plus, they also provided a straight-line drawing of a camel to accompany your giraffe.
17. Happy Giraffe Drawing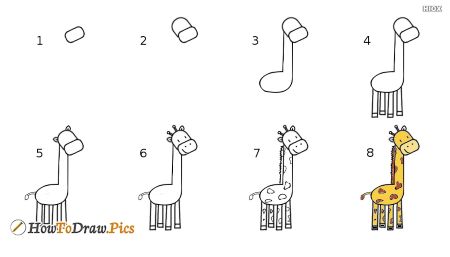 There's no wonder why a lot of kids like giraffes: they're friendly, sociable, and pretty creatures.
This drawing from How to Draw shows this side of the docile animal. The drawing even has a nice smile on it.
Your kids will be delighted to make these Teenage Mutant Turtles drawings.
18. Outdoor Giraffe Drawing
This video tutorial from saroj kumari drawing classes will not only show how to draw the mighty giraffe but will also give inspiration on how to draw its surroundings.
From its favorite food, blue skies, and clear pond, this drawing has got it all!
19. Strong Giraffe Drawing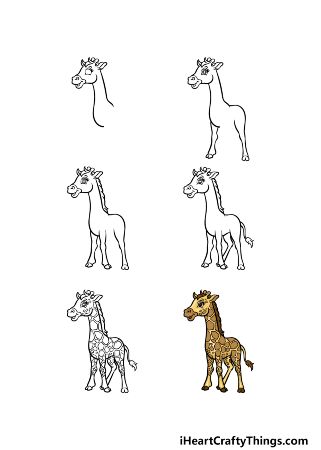 Add dimension to your giraffe drawing by following this guide from I Heart Crafty Things.
The coloring scheme of this tutorial is also great so I'm sure your kids can learn a thing or two about it in this tutorial.
20. Authentic Giraffe Drawing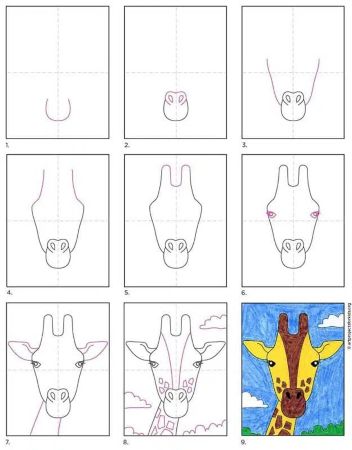 The facial structure and accuracy of this drawing from Art Projects for Kids are impressive.
Follow this tutorial to get your very own authentic giraffe drawing from scratch.
Feel the thrill in these Hocus Pocus perler bead patterns.
21. Cool Giraffe Drawing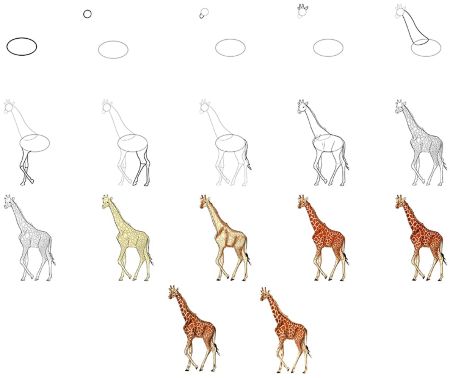 For our last (but definitely not the least) giraffe drawing, we've got this cool sketch from Art in Context.
This sketch is perfect once you've mastered all the drawings above and are ready to take on the next challenge.
Easy Drawings of Giraffes for Your Next Project
Kids are fascinated by giraffes. Their height alone is amazing but add in their long neck, cute snout, and strong legs then you'll have a magnificent creature. These easy drawings of giraffes will give you a closer and more in-depth understanding of these animals.
Get more amazing ideas for your next project here: