You asked for it, so we delivered. Beecause of popular demand, here are the best bumble bee painted rocks that kids and adults will enjoy making.
We can learn a thing or two from bees. They're one of the most hardworking creatures on Earth. Bees are diligent and serious when it comes to work because they start to serve their colony at the young age of 12 days up until their death.
Learning about bees by doing these painted rocks will inspire kids that no matter the age or size, we can all contribute to the welfare of our community. Plus, bees also play a huge part in the preservation of our planet.
Let's give these tiny heroes the recognition they deserve and start doing these easy bumble bee painted rocks with the kids.
Your kids will be grateful for these fun Thanksgiving sensory bin ideas.
Materials Your Little Artist Will Need:
8 Bumble Bee Painted Rocks
1. Happy Bee Rock Painting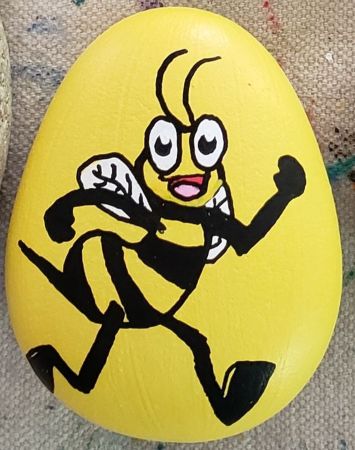 This happy little bee from Mandi A on Pinterest is excited to get started with the rock painting project.
The kids will be thrilled too to create this black and yellow rock art.
2. Small Bumble Bee Painted Rocks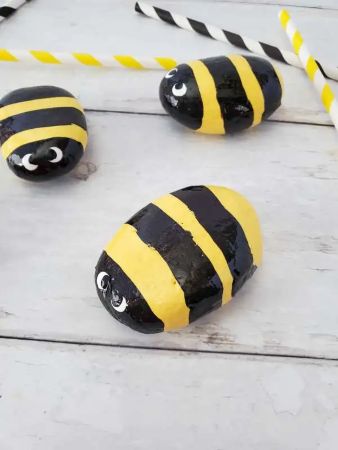 Bzzz Bzzz – Are you looking for bee painted rocks for preschoolers? This one from Recycled Crafts will be perfect.
This project is suitable for that age group and will give the child a sense of independence because minimal supervision is required in making this.
3. Honey Bee Stone Painting
Try out this sweet-like honey bee rock painting idea from Poornima Hegde.
Everything you need to know is part of this video tutorial from the materials you'll be needing to the step-by-step instructions on how to do this artwork.
4. Bumble Bee Painted Rocks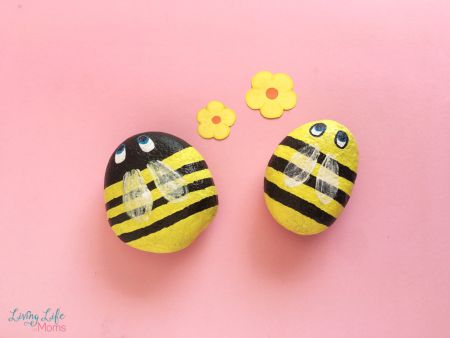 Won't it bee amazing to have a loyal friend by your side all the time?
Your little bee will always have company because in this guide from Living Life as Moms you won't be just making one, but two buzzing bees.
This will be a nice activity to do with a group of kids.
5. Grumpy Bee Rock Painting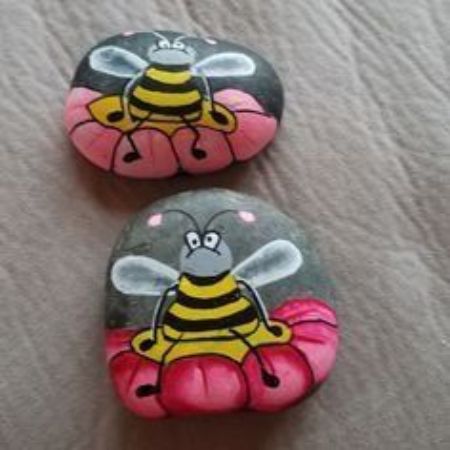 Teach your kids to express their emotions as seen in this painted rock by  Deborah Bento on Pinterest.
This will remind them that even the jolly bees experience having a bad day once in a while.
Get more emotion-inspired projects with this list of emoji perler bead patterns.
6. Colorful Flowers and Bee Rock Painting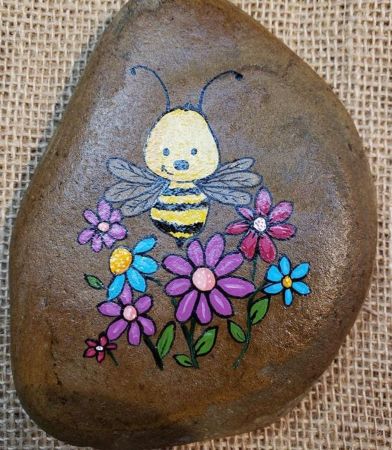 Show your appreciation for the beauty of the outdoors by making this bee rock painting from Sandra Whiteis on Pinterest.
Aside from the bee painting, this guide will also teach your little artist how to paint colorful flowers.
7. Bumble Bee Couple Rock Painting
Love is in the air!
These two love birds (or should it be love bees) are ready to steal your heart.
Watch this easy-to-follow video by Jessica Rocks to get started on your next project.
8. Bee Kind Gnomes Rock Art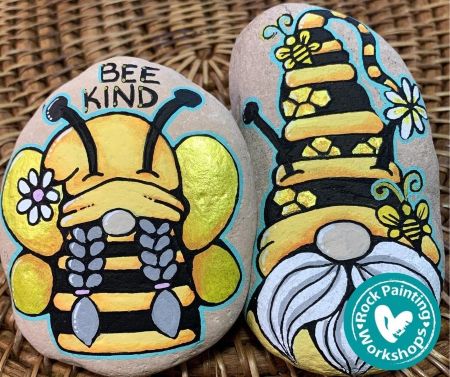 Add some variation to your bee rock paintings by doing this unique artwork by Rock Painting Workshops.
It's a creative piece that will encourage the kids to think outside the box.
6 Adorable Bee Painted Rocks
9. Bee Smelling a Flower Rock Painting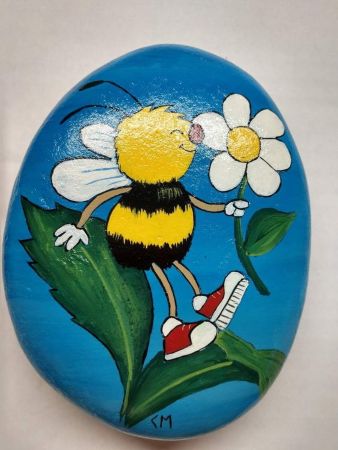 When was the last time you stopped to smell the flowers in your garden?
This adorable bee rock painting from Debbie Arduini Clark on Pinterest reminds us to appreciate the small things in life.
Bees love flowers and you can make one yourself by following this 3D paper flowers guide.
10. Pretty Bee Rock Painting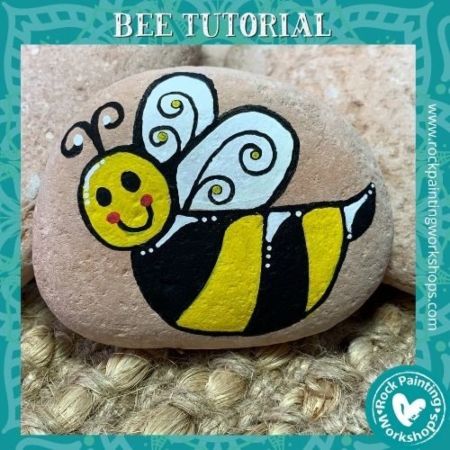 Bee stingers are made for their protection. Just like how bunnies use their claws or how a butterfly uses its colorful wings to defend itself from predators.
This painting from Rock Painting Workshops shows us that powerful part of the bee and shows us that it's nothing to be scared of.
11. Bumble Bee and Lady Bug Rock Painting
The more the merrier! Create another insect-inspired painted rock by watching the video of Kristyona.
In this video, you'll learn how to transform a rock into a bee and a ladybug.
Your rock collection will be more diverse and beautiful with these two pieces.
12. Cute Bumble Bee Rock Project

Making bumble bee painted rocks are fun and exciting to do especially if you have a comprehensive and helpful guide to make your artwork.
This tutorial from Easy Peasy and Fun will make the project more enjoyable with its step-by-step instructions.
13. Bee Friends Rock Painting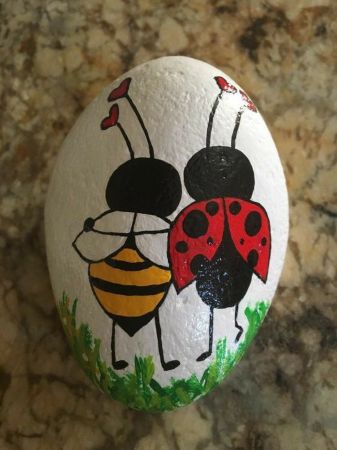 Call your BFF because this project from Juli_Collection on Pinterest is meant to be done by two friends.
Creating this will be a great bonding activity for the both of you and you'll also create a new core memory with them.
Make them a thoughtful gift as well with these friendship bracelet strings.
14. Flower and Bee Rock Painting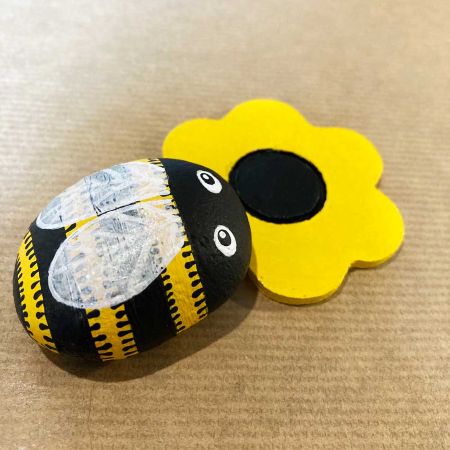 Bees love flowers so it makes sense to make a flower piece to go with your bumble bee rock painting.
Head on to Rock Paint because they'll show you how to paint the adorable duo.
5 Cool Bee Rock Painting
15. Working Bees Rock Painting

Why paint one bumble bee when you can have a multitude of this cute black and yellow critter?
Wanderstones created this beautiful rock painting that you can do in winter, spring, summer, and fall.
A lot of cool spring crafts for kids can be found in this list.
16. Realistic Bumble Bee Rock Painting
Are you up for a more challenging bee painted rock project?
Watch this painting tutorial by Annamoon FineArt to get ideas and tips on how to make your creations more realistic.
17. Bee Yourself Rock Art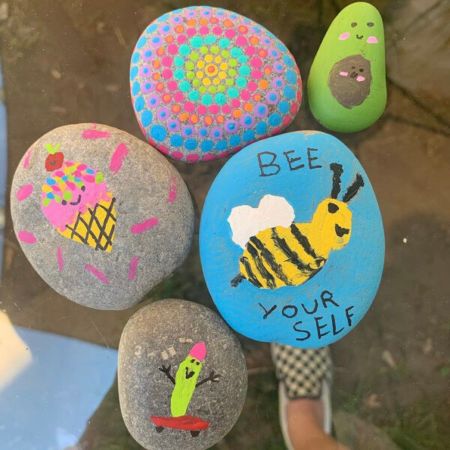 Bee rock paintings are cuter when you add witty motivational quotes like this one from @luke_anthonydoucet on East End Arts.
We've compiled the most kawaii perler bead patterns in this list.
18. Bee Rock Painting with Pipe Cleaners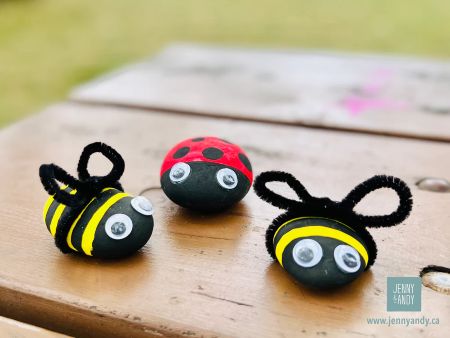 Complete the look of your bee rock painting by adding some googly eyes and pipe cleaners to serve as their wings.
Jenny & Andy will show you how it's done in their quick and easy guide.
19. Multi-sized Lady Bug and Bumble Bee Rock Painting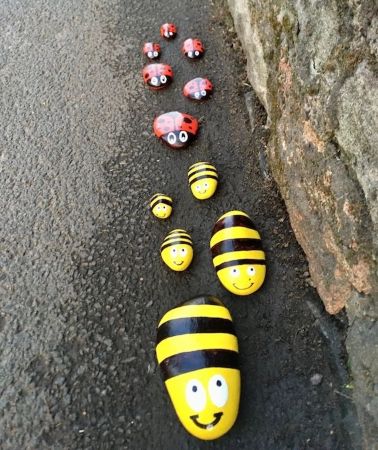 In Your Area will give you tips on how to do bumble bee rock paintings if you have small, medium, or large rocks.
They provide the complete package because a tutorial for ladybug rock paintings can be found there as well.
Bee Kind to Bees
Bees may be small but their impact on our lives is big. They make bee's wax, spread pollen to grow flowers, and many more.
Kids will not only have a great time making these bumble bee painted rocks but will also learn more about these unspoken heroes.
Check out these lists for more project ideas: