Kids, gather around because it's time for another amazing Disney character drawing! You'll find the easiest and coolest Donald Duck drawings below.
Donald Duck, one of Disney's oldest and most successful creations, has been part of popular culture since the 1930s. His quaking voice, short temper, and funny antics made him a crowd's favorite for almost 90 years.
These Donald Duck drawings are perfect for fans of this adorable character. Whether you consider yourself to be a beginner or an expert when it comes to drawing, I'm sure that you'll find a guide that will be the right fit for you.
Learn how to draw a chicken in this guide.
What You'll Be Needing
11 Donald Duck Drawings
1. Step-by-Step Donald Duck Drawing Tutorial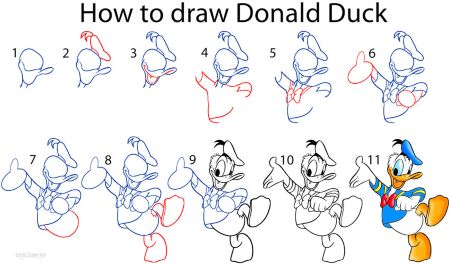 Learn how to draw the most beloved duck in Disney through this easy-to-follow step-by-step tutorial of Cool 2 B Kids.
They'll show how to draw Donald starting with his face and beak down to his iconic sailor costume.
This drawing guide is perfect for beginners and intermediate levels.
2. Adventurous Donald Duck Sketch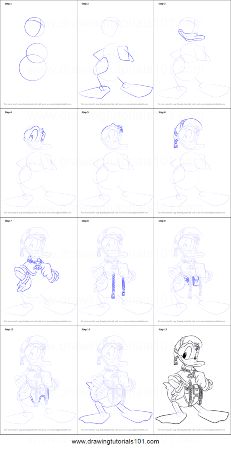 You know you'll have a good time when Donald Duck is on screen because he loves adventure.
He likes to try new things, explore different places, and meet new people or animals.
Drawing Tutorials 101 depicts Donald in this sketch as a fearless adventurer.
3. Sporty Donald Duck Drawing
Donald Duck has his game face on in this tutorial from Drawing Extra.
It shows a different side of Donald. In this drawing, he's fierce, driven, and athletic.
Including this drawing will be a nice change from the usual sailor outfit of Donald Duck.
4. Singing Donald Duck Drawing
Watch Cartoon Hub's video and learn how to draw this adorable sketch of Donald Duck.
In this tutorial, Donald Duck is singing his heart out as seen by his raised arm, twinkling eyes, and open mouth.
5. Cute Donald Duck Drawing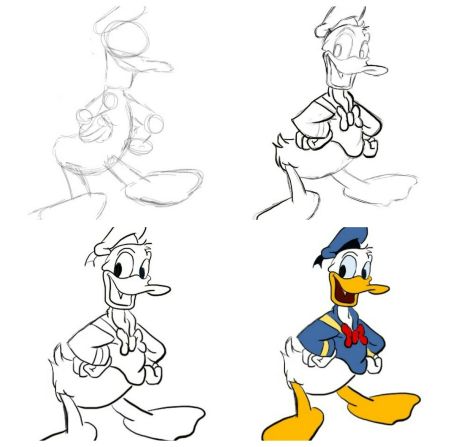 This drawing from Art Station shows Donald Duck in his classic form and pose.
You won't have a hard time following this guide because it will show you how to draw each part of him in the steps.
6. Daisy and Donald Duck Drawing
If Mickey has Minnie, then Donald has Daisy.
Zara Arts hub will teach you how to draw the sweet love birds in this video.
Unleash your creative side with these fun clothespin crafts.
7. Arms Raised Donald Duck Drawing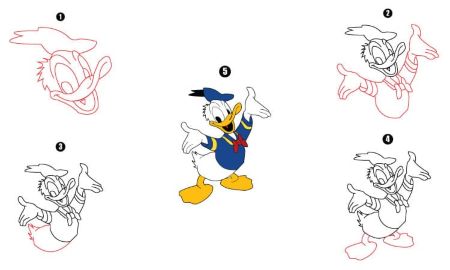 Donald Duck may be known for his short temper but he can be jolly and welcoming, too as seen in this drawing by Cool Drawing Idea.
This drawing shows a cheerful and upbeat Donald Duck.
8. How to Draw Donald Duck Tutorial
Donald Duck's sailor clothes have been his trademark outfit for almost a century.
In this video by my-how-to-draw.com, you'll get tips on how to draw it more accurately.
9. Grumpy Donald Duck Drawing
This list won't be complete without a grumpy Donald Duck drawing.
Thanks to this tutorial from my-how-to-draw.com, we'll learn how to draw Donald's famous scowl step-by-step.
Kids will find this video tutorial helpful and easy.
10. Stomping Donald Duck Drawing

Now that you've mastered Donald's angry face, it's time to know how to draw his stomping feet to accompany it.
Drawing Tutorials 101 will help you complete the drawing with this simple tutorial.
11. Angry Donald Duck Sketch Tutorial
Heads up an angry Donald Duck drawing is coming our way!
Show Donald's anger effectively through a drawing with the help of this video by Magical Swag.
Does your kid love video games? They'll be thrilled to do these epic Animal Crossing perler beads patterns.
5 Donald Duck Face Drawings
12. Comprehensive Donald Duck Drawing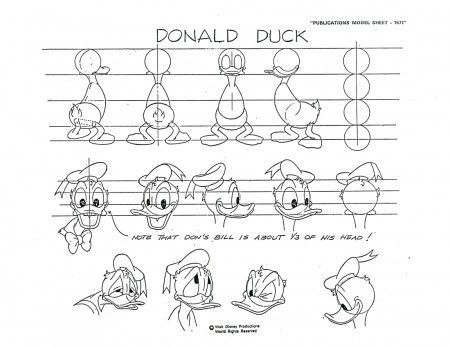 Not sure how to go about drawing Donald Duck? Michael Sporn Animation Inc. has got you covered!
This tutorial will show Donald Duck drawings from different angles and with different emotions.
13. Classic Donald Duck Face Drawing
Kids can focus on this tutorial from How to Draw Pics to start their journey in drawing iconic Disney characters.
This Donald Duck drawing is simple and adorable so they'll have a lot of fun making it.
14. Curious Donald Duck Drawing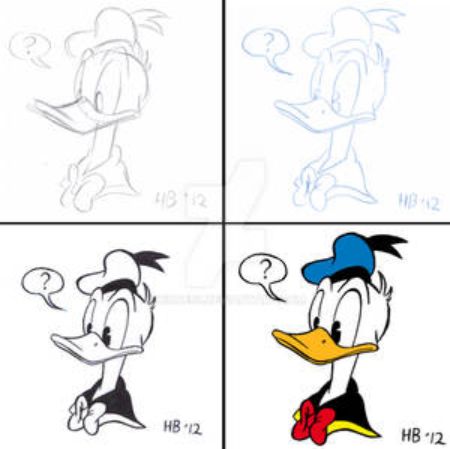 Donald is one curious duck in this sketch by Hidde99 on Deviant Art.
This will be a great drawing to learn especially if the kids are making comic strips or stories featuring Donald.
15. Christmas Donald Duck Drawing
Feel the holiday spirit even if it's months away because of this Donald Duck Christmas drawing.
Zoey Drawings' video is perfect for a Christmas-themed project because it features a joyful Donald wearing a Santa hat.
Feel the holiday spirit even more with these Christmas perler bead patterns.
16. Happy Donald Duck Face Sketch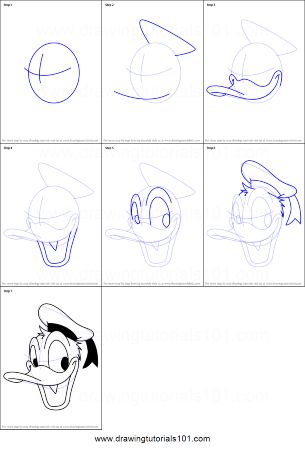 Donald Duck's sailor's hat makes him easily recognizable anywhere. It's an essential part of his character.
It takes center stage in this guide from Drawing Tutorials 101.
6 The Mickey Mouse Clubhouse Characters Drawings
17. Daisy Duck Drawing Tutorial
Daisy Duck has captured the heart of Donald Duck with her large eyes, cute bow, and cool shoes.
World Of Drawing's video tutorial gives us a glimpse and idea of other ways of how to draw this beautiful character.
18. Pretty Daisy Duck Drawing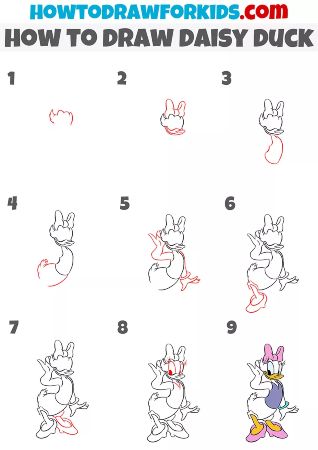 Here's another Daisy Duck drawing that I know your kids will like.
How to Draw for Kids made their tutorial easy to follow so that even kids will have no problem in doing it on their own.
Disney fans will also love these easy Lion King drawings.
19. Goofy Drawing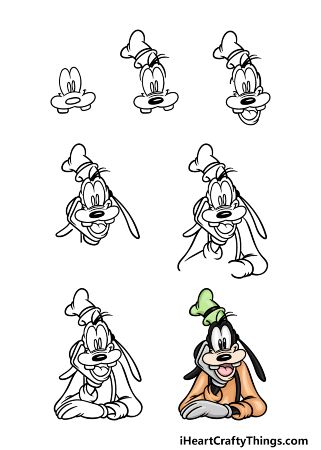 Donald Duck's good friend Goofy is also here to join in the fun.
This tutorial from I Heart Crafty Things will teach you how to draw one of Disney's beloved characters.
20. How to Draw Mickey Mouse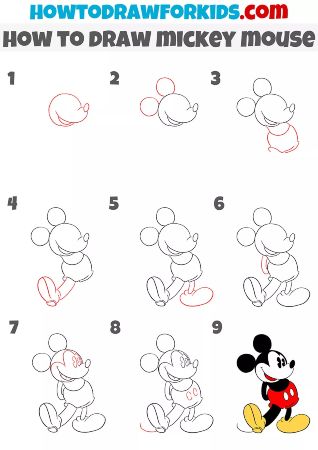 Aside from being the star of Disney, Mickey Mouse is also part of the iconic friend trio which includes Donald Duck and Goofy.
This guide from How to Draw for Kids will teach your child how to draw one of the most iconic characters of all time.
21. Minnie Mouse Drawing
You'll be amazed by how easy it is to draw Minnie Mouse when you follow the instructions provided by Art for Kids Hub's video.
The best part is that watching the video could also serve as a bonding activity for the both of you because even adults can learn a lot from this video.
22. Pluto Drawing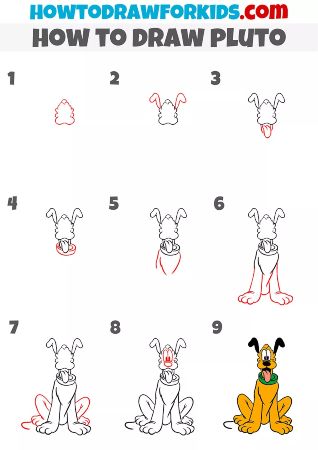 Make it a fun clubhouse party and include this adorable Pluto drawing from How to Draw for Kids on your list.
Donald Duck's closest friends won't be complete without this fun-loving character.
BONUS: Scrooge Mcduck Drawing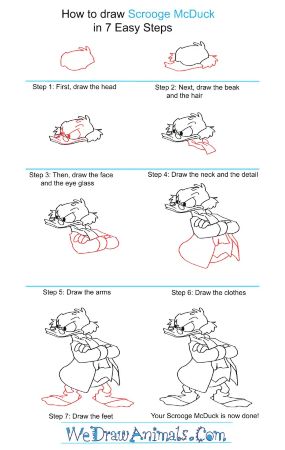 Scrooge Mcduck is another duck that has made a name in the industry because of his unique characteristics.
Learn how to draw this iconic duck character from the tutorial of We Draw Animals.
Aw, Phooey!
There you have it. The best Donald Duck drawings for your child.
Donald Duck is a phenomenal and iconic character and I'm sure that kids of the next generation will love him as much as the older generations have.
Check out these other cool projects for you: