The letter "V" is the 22nd letter of the alphabet and probably one of the easiest ones to learn. While that might be true, especially since uppercase "V" and lowercase "v" aren't that much different, it doesn't mean kids can't have fun learning about this exciting letter!
I've compiled a list of 15 letter "V" crafts that will not only teach kids all about the letter's shape, they'll also teach kids about the different words associated with it.
Note: As most of these crafts require scissors and paint, I recommend the use of safety scissors and Tempera paint. If you don't have safety scissors at home, a grown up should handle cutting out templates.
8 Letter "V" Crafts for Toddlers and Preschoolers
Below are 8 alphabet letter "V" crafts for toddlers and preschoolers that will develop their word association skills.
1. "V for Vulture" Activity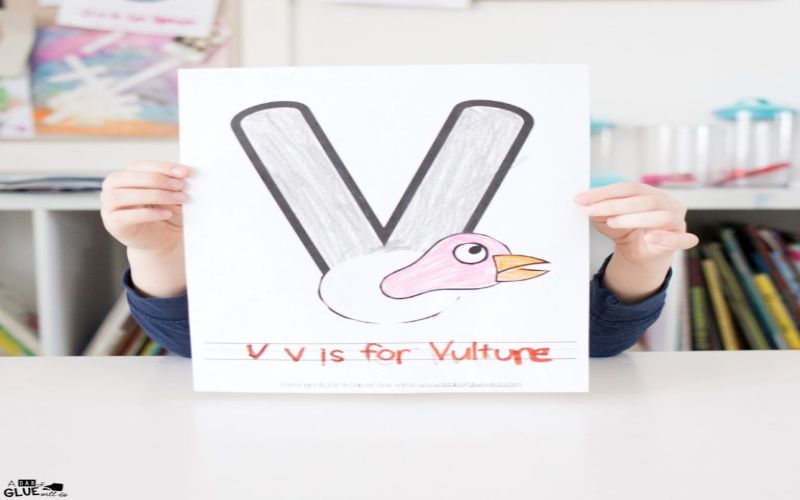 Photo credit: A Dab of Glue Will Do
Did you know a group of vultures is sometimes called a volt or a venue? That's some letter V-ception for ya! A Dab of Glue Will Do shows how to make this fun and educational vulture activity with their template, crayons, scissors, and glue.
They include a link for printable templates at the bottom of their tutorial that requires submitting your name and email to access.
2. "V is for Vampire" Craft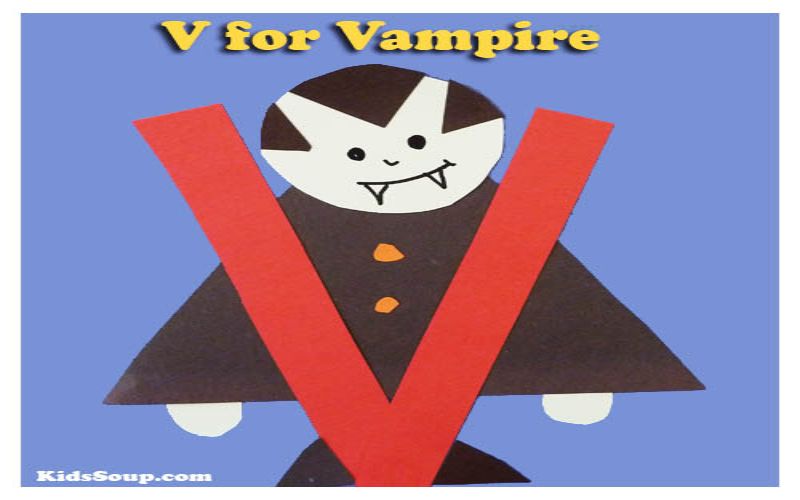 Photo credit: Kids Soup
Need an activity for Halloween? Vampires are a staple during the Halloween season, so try your hand at this vampire craft from Kids Soup.
All that's required to make this friendly-looking vampire is colored construction paper or cardstock, scissors, glue, and a marker.
3. "V for Valentines" Craft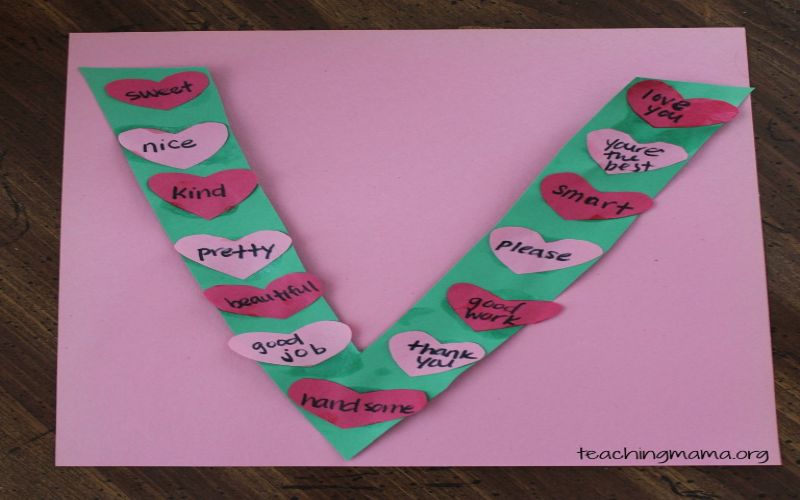 Photo credit: Teaching Mama
Here's a lovely Valentine's craft from Teaching Mama that makes for a great Valentine's Day gift for parents or guardians. All kids need is red and pink paper, markers, a letter "V" cutout, scissors, and glue.
4. "V is for Vegetables" Craft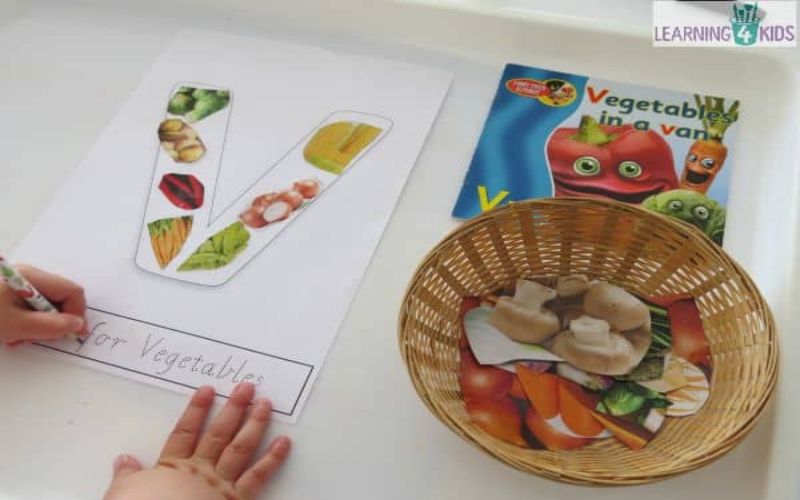 Photo credit: Learning 4 Kids
Eat your vegetables, kids! For a simple letter "V" preschool craft, here's an activity about the letter V and vegetables from Learning 4 Kids.
They show kids how they can make a vegetable collage using a catalogue or magazine with pictures of vegetables, a pencil, glue, and a lower or uppercase printable letter "V."
5. "V is for Vine" Craft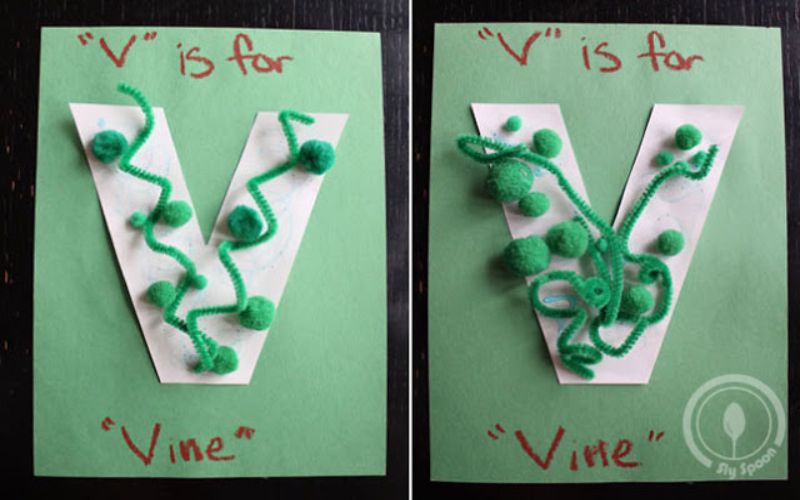 Photo credit: Sly Spoon
With green pom poms and pipe cleaners, scissors, colored cardstock, glue, and a letter "V" cutout, Sly Spoon teaches kids how to make this fun vine craft.
6. "V is for Vase" Craft
"F" may be for flowers, but "V" is for the vase that holds them. This video tutorial from All Kids Network shows kids how to create a vase with flowers using the letter "V" with construction paper, scissors, crayons or colored markers, and glue.
They even include templates for the letter "V" and the flowers. Very convenient indeed!
7. "V is for Volcano" Craft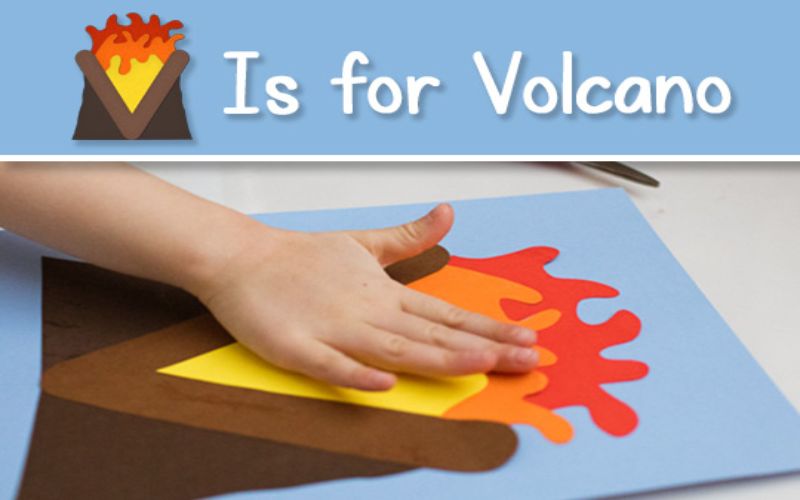 Photo credit: All About Learning Press
It's hot, it's erupting, and it can be made with the letter "V." All About Learning Press teaches kids how to make an erupting volcano with colored cardstock, printer paper, glue, a pencil, scissors, and their free printable volcano templates.
8. Origami Letter "V"
Origami Humpy's video tutorial teaches kids how folding any piece of paper will result in a 3D letter "V" craft. Of course, a grown-up should help with the folds if younger children find it to be too difficult.
7 More Letter "V" Craft Activities
These next 7 letter "V" craft activities are more suitable for preschool aged children or older. However, that doesn't mean a toddler can't join in on the fun by helping out!
9. Toilet Paper Roll Vulture Craft
With an empty toilet paper roll, paint, a paintbrush, a pencil, cardstock, scissors, glue, and a googly eye, Easy Kids Craft shows kids how to make this easy-to-do vulture craft.
10. Popsicle Stick Vampire Craft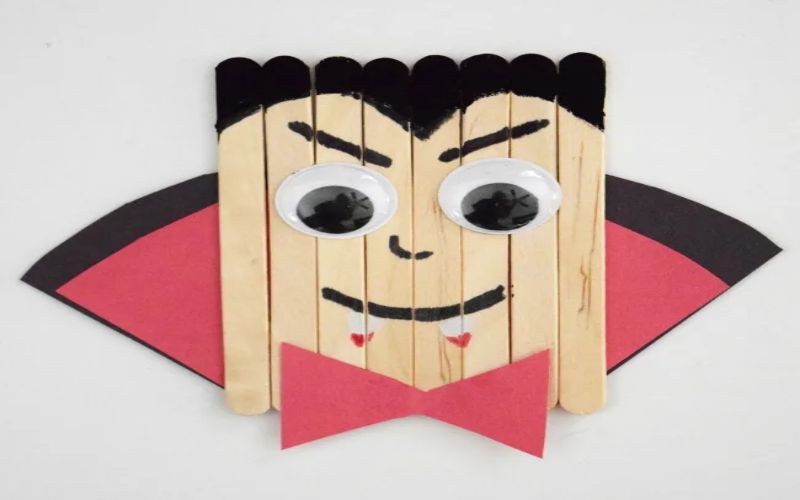 Photo credit: Today's Creative Ideas
Here's a not so spooky vampire head made from popsicle sticks from Today's Creative Ideas your kids can make for Halloween. Kids will need paint or markers, construction paper, googly eyes, and glue.
11. 3D Vegetable Craft
Kids can enjoy learning about vegetables (and their benefits) by creating these 3D vegetables! In their video, Happy Bee Art and Craft teaches kids how to make cute 3D vegetables from various colored paper, glue, scissors, markers, and a pencil.
12. Crepe Paper Jungle Vines
Photo credit: Clearwater Cottage
Want a letter "V" craft for your kids that doesn't require glue or paint? Let kids turn their rooms into a jungle with these crepe paper vines from Clearwater Cottage. Aside from green crepe paper, kids will also need scissors and brown mailing paper.
A grown-up would need to help with cutting leaves since there are quite a lot, but the result is a wild jungle of a room!
13. Paper Plate Vase Craft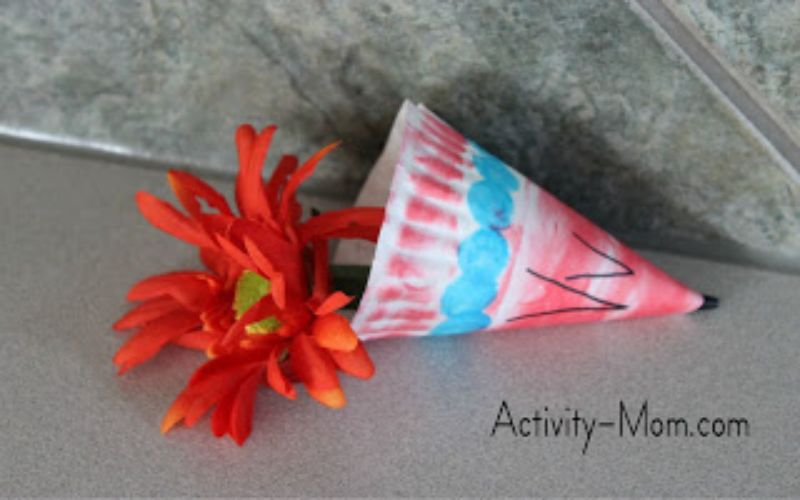 Photo credit: The Activity Mom
There are tons of crafts kids can make with paper plates, and The Activity Mom uses one along with crayons, scissors, glue or a stapler, and a flower to show kids how to make this cone shaped vase that resembles a letter "V."
14. Venus Fly Trap Craft
Krokotak's video tutorial shows kids how to easily make a Venus fly trap with cardstock, glue, a black marker, and scissors.
15. Erupting Volcano Craft
Red Ted Art shares a video tutorial for an erupting volcano preschoolers can do! The materials they'll need for this paper mache volcano are:
Cardboard
A plastic bottle
Newspaper
Masking tape
Paint
Paintbrushes
Sponge brushes for the paste (optional)
Additionally, baking soda, vinegar, food coloring, and warm water are needed for the eruption! While kids will need a lot of help from a grown-up for this craft, the result is a majestic erupting volcano that can double as a science fair project.
Letter "V" Crafts for the Victorious!
Kids will definitely feel victorious after making any of these crafts. Learning an easy to remember letter while having fun is always great, and they're sure to love and enjoy these 15 letter "V" crafts.
How do you teach kids to write and remember the letter "V"? Which of these letter "V" crafts did they enjoy the most? Share in the comments section below.
For more crafts like these, check out my article on elephant crafts!