Assemble your suit of armor and get ready to take flight with these Iron Man Perler beads!
When it comes to Marvel superhero icons, Iron Man ranks top among other fan favorites, such as Spider-Man, the Hulk, and Wolverine.
And it's not difficult to see why: he's a billionaire who tinkers with bleeding-edge technology.
With all the gadgets and toys at his disposal, a child needs very little persuading that Iron Man is their favorite superhero.
Raw Materials For Assembly
While Iron Man is not the richest man in the Marvel Universe (kings like Black Panther and Namor beat him in that aspect), he certainly doesn't skimp on his tech. You shouldn't too when it comes to Perler beads!
Iron Man: 7 Prototypes
Tony Stark had to improvise with scrap metals when he was held captive by terrorists.
As a result, he produced only a basic armor; a prototype. Here are some basic Iron Man Perler bead patterns for beginners.
1. Iron Man, Model I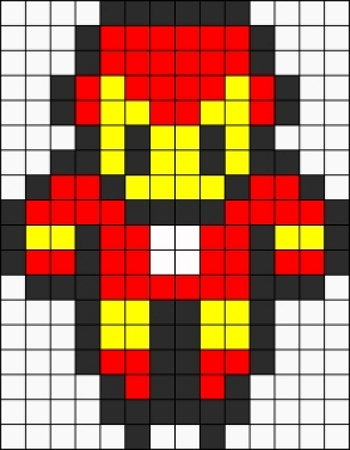 Pixelated characters from the '80s and '90s can be nostalgic.
Those who grew up in that era will appreciate this Iron Man pattern by blackxdiamond14, who creates a design that looked like it came out of an arcade.
Mini Perler bead patterns, such as this shared by Jolenebydesign's channel, are perfect to put a self-adhesive magnet and stick on the fridge.
It's satisfying, for the children, to see their work on display every time they get a snack.
For fast and easy patterns, look no further than these mini Perler bead patterns.
3. Basic Iron Man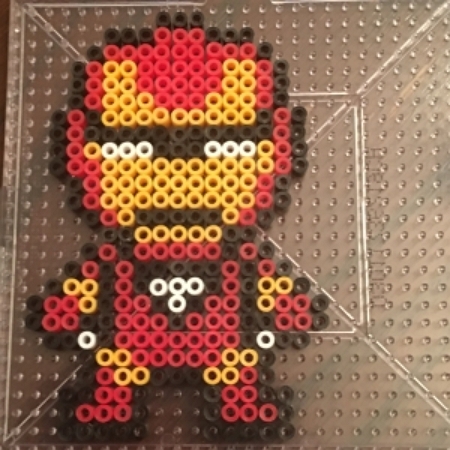 This Iron Man pattern by Teacher Scout Mom will not yield to anyone, especially not to malicious individuals.
4. Minimal Iron Man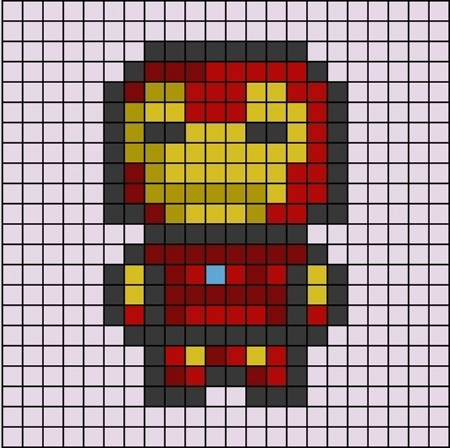 Running low on Perler beads? Why not try the pattern of Thrasher_4, who creates an excellent job of creating an Iron Man pattern with an economical amount of materials?
5. Iron Man Pose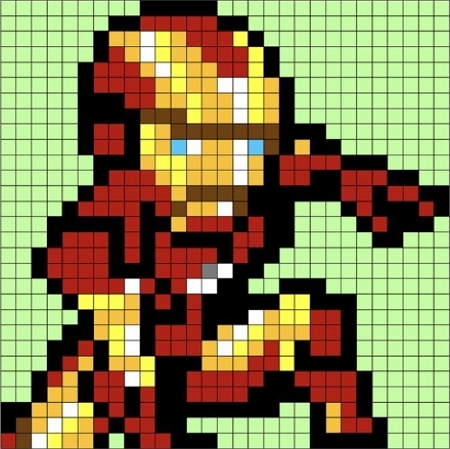 Superhero landings are epic! (But bad for the knees according to Deadpool).
Iron Man can have as many landings as he'd want since his suit of armor will absorb such a minor landing shock.
Darcys Hama Bead Patterns shows us how Iron Man does it in this pattern.
6. Iron Man in 3D
Iron Man's red- and gold-plated armor already shines in 2D. A Perler bead made in 3D makes it even more astonishing to look at.
That's what Wolleplanet creates in their video tutorial, which shows the process of creating a 3D Iron Man for display.
Check out more 3D Perler bead patterns!
7. The HulkBuster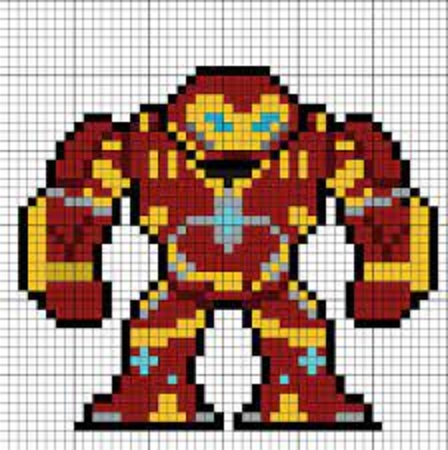 Iron Man is one of the smartest people in the Marvel Universe, so he's prepared for any contingency.
An example of a disastrous contingency would be Hulk getting out of control. Iron Man has exactly the right armor for that: the HulkBuster.
PeteBits25 displays the extent of Tony Stark's mastery over technology with this Hulkbuster pattern.
Iron Man: 3 Helmets
Iron Man is so popular that his helmet is unmistakable to both adults and children alike.
8. Simple Iron Man Mask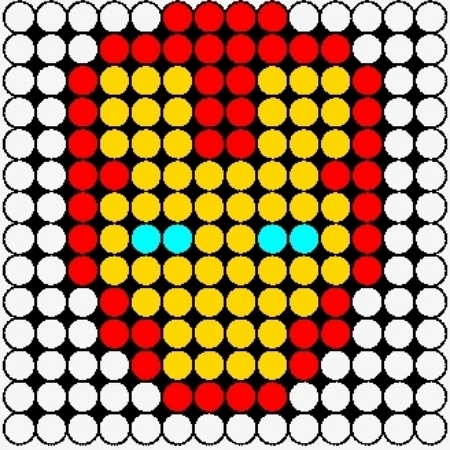 The helmet is an important feature of Iron Man's armor; it's also often the most iconic piece, shown as a symbol of the Iron Man.
PNGKit shares a basic icon, which is extremely simple even for little ones.
9. Half Iron Man Helmet

Even if it's a mere piece of expensive metal, Iron Man's mask conveys a serious mood. This pattern by Mindamira is exactly what I'm referring to.
I'm sure extending the other half of the mask would complete it because of its symmetry.
10. Detailed Iron Man Mask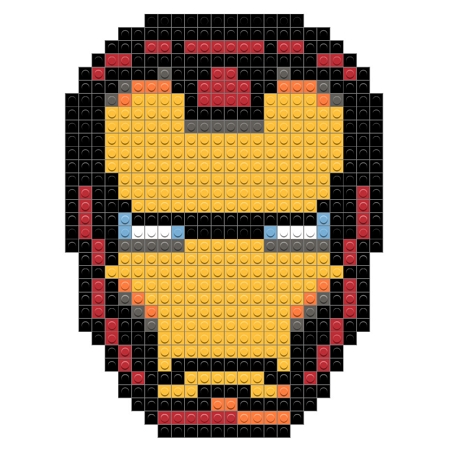 Here's a fuller version of Iron Mask's helmet, excellently done by kehlani with amazing detail.
To see how much dedication was put into this craft, look only at the blue dots on the helmet's eyes—a detail that tells us this helmet is active.
Iron Man: Flight Mode
It's undeniable that the coolest feature of Iron Man's tech is its ability to fly.
If I got my hands on such a suit, I wouldn't pass up the chance to take it for a spin. Even around the globe.
Here are six Iron Man patterns in flight mode.
11. Cartoon Iron Man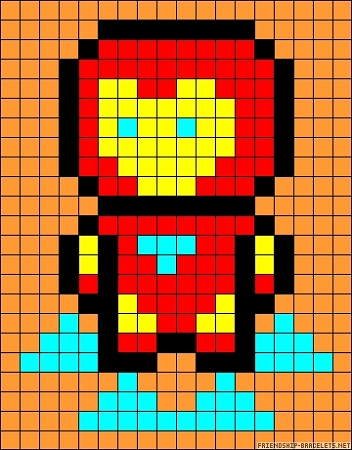 Even when done with such a basic design, this Iron Man made by DovaKhajiit still manages to give us the impression of flight.
That's because of the air blowing out from its thrusters. Remove that and Iron Man would look like he's standing still.
12. Flying Iron Man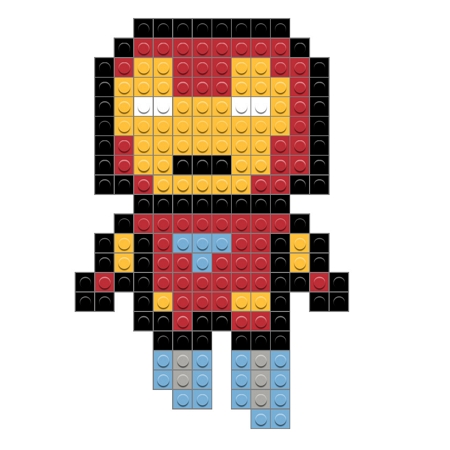 Iron Man's arc reactor is powerful enough to supply a small city. So lifting Tony Stark in the air—even space—is no big deal.
LeegoEggo illustrates Tony Stark effortlessly lifting himself.
13. Running Out of Fuel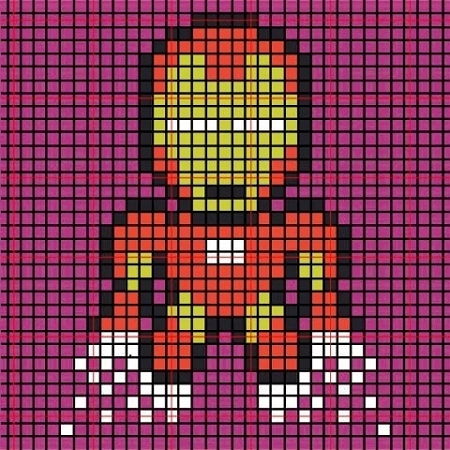 Tony Stark has an arrogant and dogged personality. That's evident in the movie Iron Man when he tested his refined armor beyond its capabilities.
Dream A Little Bigger shows depicts a scene where his thrusters are failing because of the extremely high elevation (and Tony's stubbornness).
14. Levitating Iron Man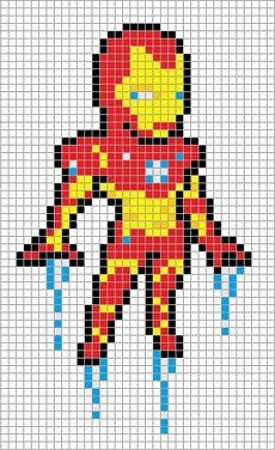 Persistence can be mistaken for stubbornness. Tony Stark will not stop until he's mastered his suit of armor.
The same way applies to most things, so keep practicing!
Nana Uchiha shows us the result of Tony Stark's persistence: complete command over his tech.
15. Prepare For Lift Off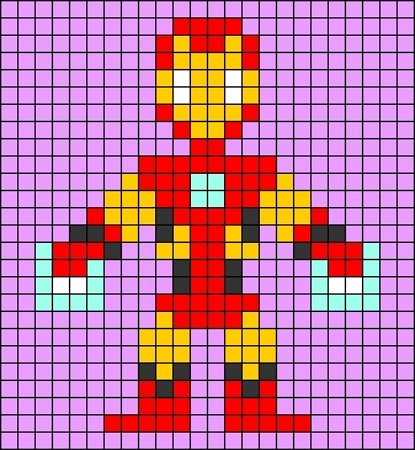 Here's another pattern by katie_cat for those who are running low on Perler beads.
The design is bare but it provides us with all the essential parts.
The arc reactor on his chest, for example, is a simple light blue square—and that's enough for us to know what it means.
16. Iron Man in Flight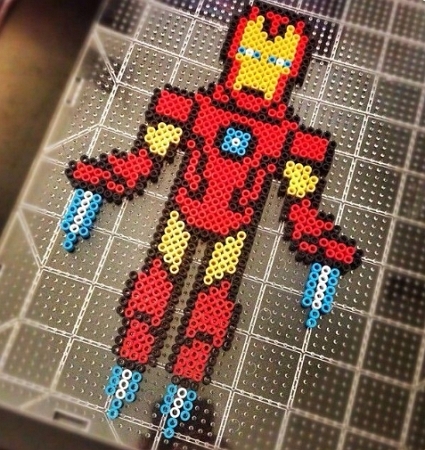 Look at the finesse shown by Iron Man on this pattern created by Marina Glushkova.
Iron Man: Arc Reactors
Many believe Tony Stark doesn't have a heart. But these arc reactors below are proof that he does.
For a heart that we're more familiar with, proceed to these heart Perler bead patterns.
17. Prototype Arc Reactor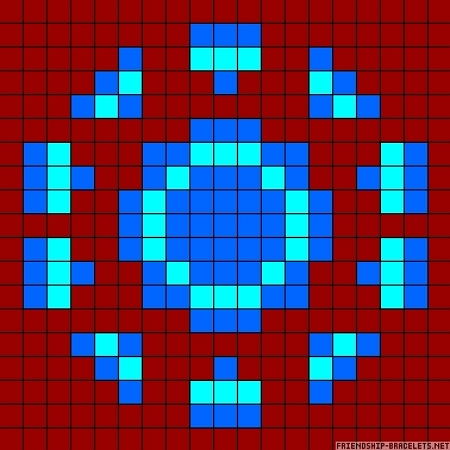 Iron Man's arc reactor is very powerful. It can churn out 3 megawatts of energy in under a minute. To get a sense of how much power that means, 1 megawatt is enough to supply 150 houses; triple that number, and you get an idea of what's placed in Tony Stark's chest.
As you can tell, an arc reactor is incredibly complex; this arc reactor by 2Quiet6 is all but.
18. High-Power Arc Reactor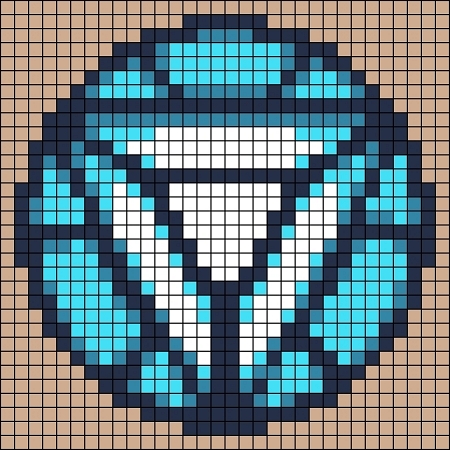 Take on a challenge with Gamcho's design, which looks as enigmatic as the fictional thing.
Iron Man: The Model
We can't deny the good looks of Tony Stark (played by the very charismatic Robert Downey Jr. in the films).
Here are some Iron Man posters you fanboys and fangirls can display in your room.
19. Black & White Suit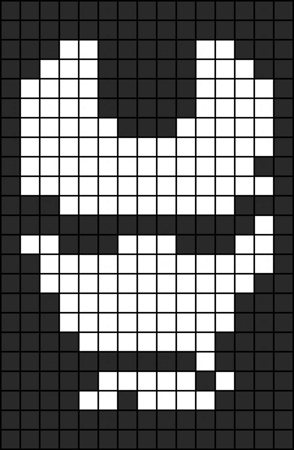 The red and yellow aesthetics of Iron Man's suit just doesn't look good for some.
But don't worry, Iron Man is wealthy enough to paint his other countless suits in every possible color combination.
Rainbow608 is sticking with the black and white aesthetics.
20. Artwork To Blast You Away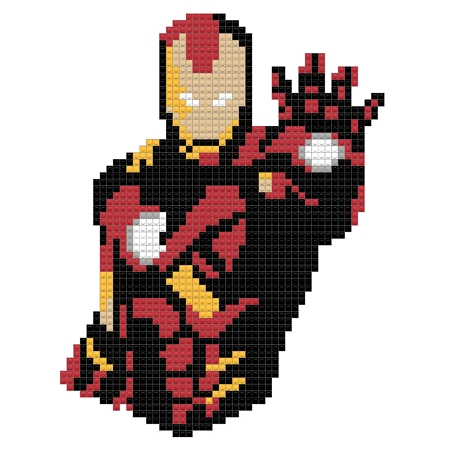 For a really special decoration, turn your attention towards abusebackward's very cool Iron Man pattern.
Any guest at home will be blasted away by this stunning piece of craft.
21. Iron Man Artwork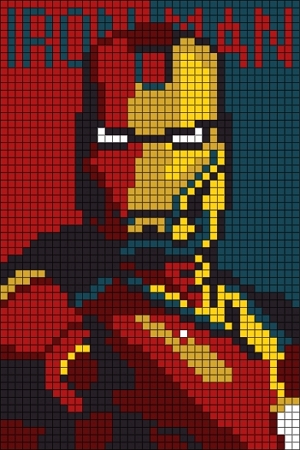 To see what Perler beads have to offer, simply look at this pattern by boredaf.
This obviously needs bigger, interlocked pegboards, but the effort is worth it in the end.
Not only have you created a piece of art, but you've also expanded your imagination of what's possible.
Iron Man…?
Iron Man as a character is so popular that other popular names have spurred parodies or imitations of him.
22. Iron Man: Minion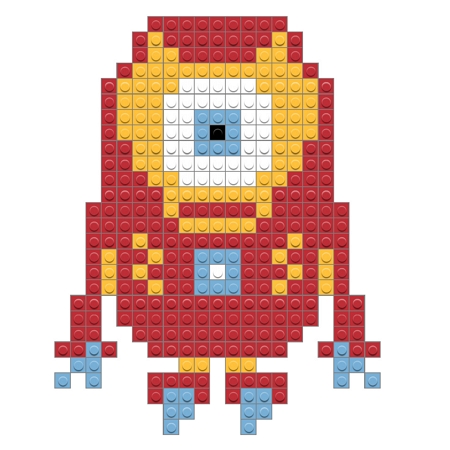 First on the list is a Minion wearing Iron Man's suit, Gru's loyal but silly henchman.
While Gru is highly intelligent, the common minion might have a hard time completing a task, let alone create an Iron Man armor.
So this pattern by rubyknight1 has most likely been stolen.
There's more where this yellow figure came from: Minion Perler beads.
23. Iron Man: Hello Kitty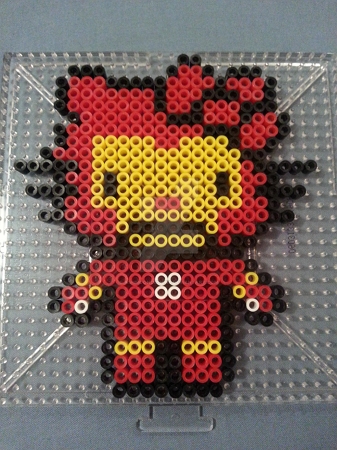 As we've noted on our list of Hello Kitty Perler beads, Hello Kitty is so wholesome that she could cosplay as anyone.
Even dressing up as Iron Man looks legit. AshMoonDesigns shows it to us with their pattern.
The sky is the limit when it comes to construction in Minecraft. The same goes for creating skins.
Iron Man, being the popular superhero that he is, will obviously have a Minecraft skin out there.
And voila, here's DK Drawings laying down the beads for an Iron Man Minecraft skin.
Possibilities are endless in these Minecraft Perler Bead patterns.
25. Iron Man + Megaman = Mega Iron Man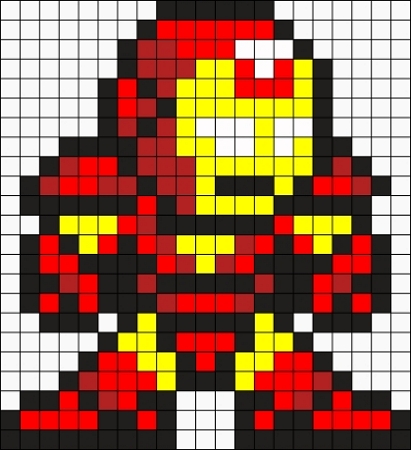 Here's Arcanjulio showing us a Perler bead pattern of a crossover we didn't expect but needed.
Genius, Billionaire, Playboy, Philanthropist
Iron Man seems like he has it all. And that's what makes his sacrifices very noble and heroic. And that's why kids and adults love this superhero.
Craving more superhero stuff? Fret not, for I have assembled the Avengers (and more) in the lists below: