Today we'll learn how to make pipe cleaner animals! Everyone is familiar with pipe cleaners. These cleaning brushes, originally created to reach the inside of small holes, are really great to craft with. Some have squeezed out their creative juices to also create awesome things with this highly versatile material.
This crafting material will bend to the power of your creativity. What better way to prove it to you than by presenting a selection of the most wonderful pipe cleaner animals?
Materials for Pipe Cleaner Animals
Black pearls (For the eyes of these pipe cleaner animal crafts.)
Googly eyes (An alternative to black beads, googly eyes will make your animals livelier—if not sillier.)
11 Land Animal Pipe Cleaner Creations
I've divided these animal crafts into land and aquatic. This first part includes animals like cats and dogs and farm animals like cows, pigs, chickens, and more!
It's time to make a litter of cats with this made guide by Crafters4Christ's channel, who shows a very simple guide that anyone can easily replicate.
Anyone with a feline companion at home won't be able to resist the charm of these easy pipe cleaner crafts.
You won't find a more loyal creation than this one. Try mixing and matching the typical dog colors: brown, gray, black, white, and shades thereof.
MyFroggyStuff does a great job of creating man's best friend.
The bunny is another pet that many have grown to love. Here, simple Art and crafts's channel creates pink and blue bunnies—showing that nothing will stop you from creating the most colorful bunny you want.
In addition, they add a small pom pom nose that makes the bunny look like Rudolf, and create a carrot for the bunnies to munch on.
The Easter spirit lives on with these Easter bunny crafts for kids.
Let's move on to farm animals starting with this chicken pipe cleaner craft.
If play pretend is what you're seeking for your little ones, a chicken craft—such as this one made by Paraligo's channel—will complement bunnies excellently in Easter, as these will lay the symbolic eggs during the festivity.
For a novel activity, try out these chicken Perler beads.
5. The Cutest Pipe Cleaner Pig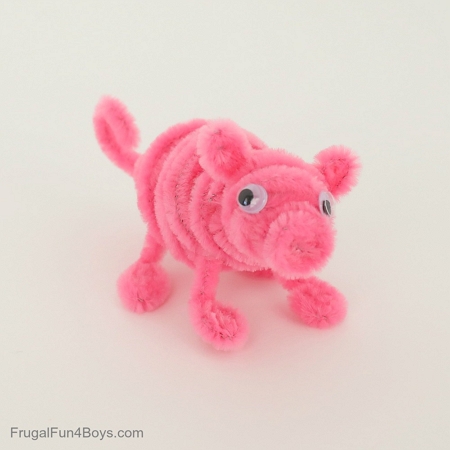 The pig is perhaps my favorite craft on the list—it's my spirit animal.
The craft made by Frugal Fun 4 Boys is exceptional and requires just one color.
The humble cow works to plow fields and provide nourishment to humans every day.
Let's commemorate the animal with HelloKids-us's cow chenille stem tutorial.
This essential animal can be drawn too; follow this list of easy drawings of cows.
So far, the tutorials we've seen use pipe cleaners as the entire body of the animal. It didn't even occur to me that you can add more stuff on top of these chenille stems.
Angi Vale's channel, for example, geniusly adds wool to their pipe cleaner sheep craft.
Animals seem to be the perfect subject for pipe cleaner crafts. The animal fur is built in the chenille stem itself—each fiber on this craft material makes up the coat of the animal.
You can certainly see that in a bear pipe cleaner craft, like this one made by MomsMinivan's channel.
With the proper twist and turn and cutting, one or two normal-looking pipe cleaners can turn into a monkey.
As Learn & Climb's video tutorial will demonstrate, there's no magic trick or monkey business going on—just a simple application of skill and technique.
A pipe cleaner bent into an "S" shape could be called a snake by even the least creative among us.
Thankfully, Eager Crafts shows us how to improve our snake craft, making it not only thicker but also more colorful—traits that could frighten (or fascinate) even the bravest among us.
Here's a magic trick for your kids: tell them that you're holding an invisible chameleon in your hand, and with a sleight of hand, pull out this chameleon that you've created following Miss Tricks Mix Crafts and DIY's video tutorial.
8 Aquatic Pipe Cleaner Animal Crafts
We come to the second part of our pipe cleaner animals: aquatic animals. I'm including animals that solely live in water, as well as animals that occasionally come to the land, like turtles and alligators.
Explore the vastness of the oceans with Eager Crafts's pipe cleaner fish tutorial.
It's up to you and your little ones to transform this basic form into something that your creativity reaches.
No other craft on the list makes use of the vast option of colors than Pipe Cleaner Crafts B's channel.
The diversity in this turtle craft is simply stunning. It would be a crime to skip such a colorful design.
Slowly but surely is the turtle's motto—even when making these turtle Perler beads!
14. Crab with Sharp Pincers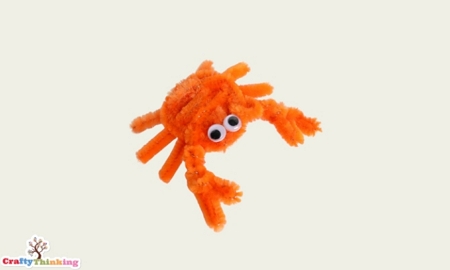 Anyone who lives by the sea has plenty of experience with marine creatures. But for the rest of us living in urban or landlocked areas, these are a rare sight.
Fortunately, there are those who dedicate time and effort to bring us crafts, such as Crafty Thinking's crab pipe cleaner craft.
After making these crab crafts, it would be difficult not to walk like one.
Just like the life cycle of a frog, there's a lot of twisting and turning and development before several pipe cleaners can reach their final form.
And like how metamorphosis is a beautiful process, this guide by MANUALIDADES DIVI's channel is a transformation to behold.
Have you ever seen an alligator or a crocodile just being still with their mouths open? It's probably one of the most unsettling images I have in my brain (although a highly active and fast alligator is just as terrifying).
Now, you can create a bunch of them by following Crafting with Laura Torres's video tutorial.
Don't worry—we will wash those uneasy images by adding some ridiculous-looking googly eyes.
Pipe cleaner activities can relieve stress for both adults and children. Especially when the craft is as adorable as this octopus made by Skymagenta Craft's channel.
There are other relaxing activities waiting for you: octopus Perler bead patterns.
How do you make a starfish out of pipe cleaners? It's actually quite simple: just watch the impressive video tutorial by Totto Crafts.
When you witness the dedication and skill that's poured into the activity, it will come as no surprise that anything is possible.
Exploring the Fun in Pipe Cleaner Animals!
With all the twisting and turning involved with pipe cleaners, children have the chance to develop their fine motor skills—in addition to stimulating their creativity and imagination.
Let's get to know more about other animals through these other lists: