Teach your kids all about the letter "U" with these 20 unique letter "U" crafts.
Associating the alphabet with simple crafts helps kids retain everything about the letters much better!
8 Uppercase Letter "U" Crafts
Now, a lot of these sites provide their own letter "U" template, but here are upper and lower case letter "U" templates your kids can use if none are provided.
Do you want your kids to use scissors by themselves without worry? Then get them these safety scissors!
1. "U is for Umbrella" Craft
Kids Activities creatively uses the letter "U" as the handle for this simple umbrella craft for kids. All you need is a pipe cleaner, a pom pom, and just some staple arts and crafts materials you can find right at home.
2. Foam "U is for Umbrella" Craft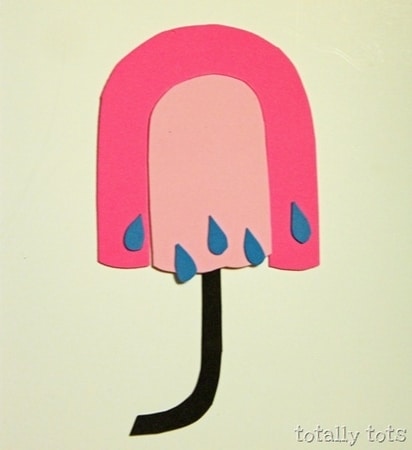 Here's another way kids can incorporate the letter "U" in an umbrella craft courtesy of Totally Tots. Instead of using the letter "U" as the handle, it's used as the umbrella panel.
Kids have a choice of using craft foam or construction paper to make this simple umbrella craft.
3. Cocktail Umbrellas Uppercase "U is for Umbrella" Craft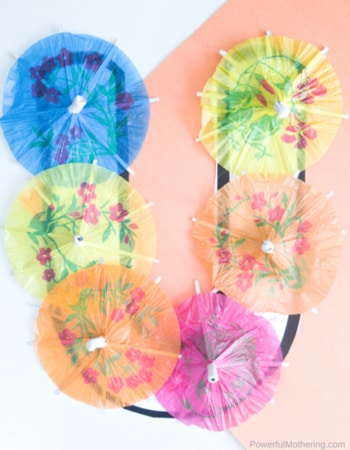 Powerful Mothering shares a letter "U" umbrella craft that uses cocktail umbrellas to form the shape of the letter. Download the letter "U" template at the bottom of their webpage to make this craft easier for your kids.
Did your littles ones have fun with the cocktail umbrellas? Try these other tissue paper crafts to continue exploring this fun paper texture.
4. "U is for Unicorn" Craft
Time to bring the magic with this colorful unicorn craft by Julie Brasington. For this letter "U" preschool craft, kids will need to gather common crafting materials and different colored construction paper to put this one together.
5. "U is for Umbrellabird" Craft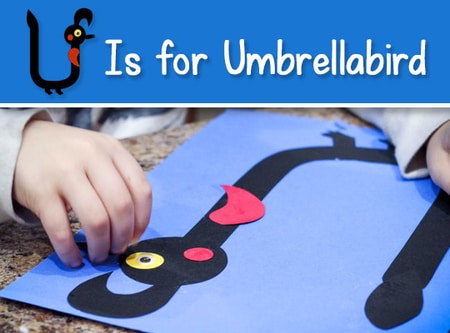 Now here's a bird you don't hear about everyday. An umbrellabird is called such because of the crest on its head that vaguely resembles an umbrella.
Using their "u for umbrellabird" template and basic craft tools, All About Learning Press make this unique bird craft.
Teach your kids all about another unique and cute animal with these hedgehog crafts they won't get enough of!
6. "U is for Underwater" Craft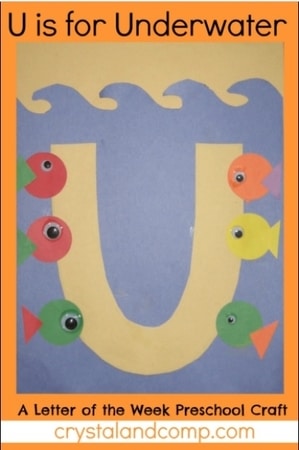 No need to dive into the depths of the ocean for this underwater craft from Crystal and Co.
For this letter "U" craft you'll need the letter "U" pattern and other craft materials you probably already have.
Dive into even more underwater themed activities with these ocean crafts and mermaid crafts!
7. "U is for Unicycle" Craft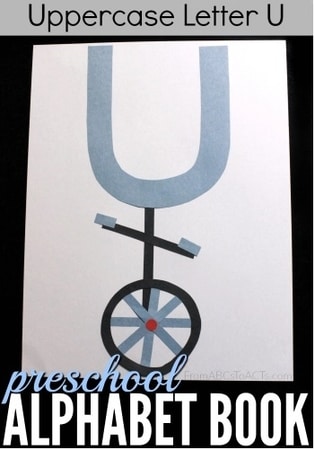 Bicycles are great, but have you tried riding a unicycle? This mono-wheeled vehicle is fun, albeit a bit hard to master.
Craft a really easy unicycle with a letter "U" with this tutorial shared by From ABCs to ACTs.
8. Letter "U" Origami
For a cheap but challenging letter "U" craft, try this easy-to-follow origami tutorial shared by Origami Humpy.
Origami is inexpensive and can help hone fine motor skills, however, I recommend a grown-up do most of the work here.
3 Lowercase Letter "U" Craft Ideas
9. "u is for Umbrella" Craft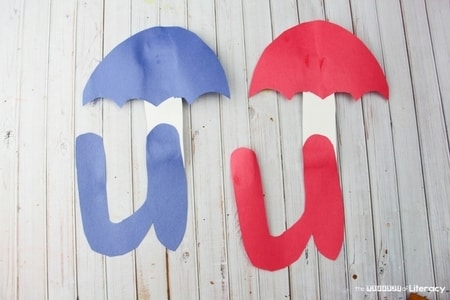 Alex from The Kindergarten Connection shows kids how to turn a lowercase letter "u" into an umbrella in this really easy-to-do letter craft.
10. "u is for Underground" Craft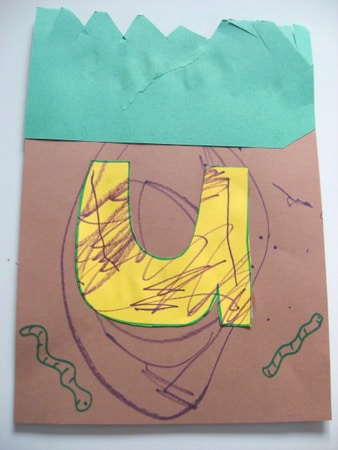 The ground beneath our feet is home to all sorts of critters, like worms. These are some of the most common creatures your little one probably finds underground.
Explore this fascinating animal with this lowercase letter "u" craft from No Time for Flash Cards.
11. "u is for Unicycle" Craft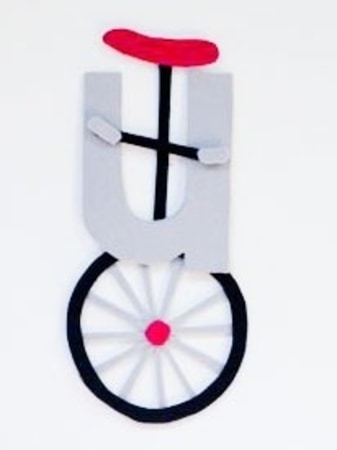 Craft foam is a really nice craft material because it gives more texture and has a slight three dimensional effect, so it's no surprise that it's used for this "u is for unicycle" craft by Totally Tots.
9 Other Letter "U" Crafts
12. Handprint Umbrella Art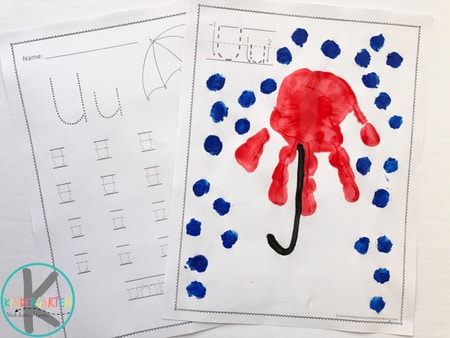 Kids can use their hands and fingers to do this umbrella handprint activity courtesy of Kindergarten Worksheets and Games. They even provide some free printable templates on their site!
13. Paper Unicycle Craft
Kids won't be able to actually ride this unicycle, but this paper craft by Joel doubles as a simple toy they can play with.
The supplies needed to put this cute craft together are just a few common household items and office supplies.
14. Paper Plate Ukulele Craft
Kids can make and play with this DIY paper plate ukulele thanks to Teachers Mag. Just grab a paper plate, rubber bands, and simple crafting tools and materials and get started.
For even more musical crafts, check our compilation of homemade instruments your kids will have fun making and playing with.
15. Paper Plate UFO Craft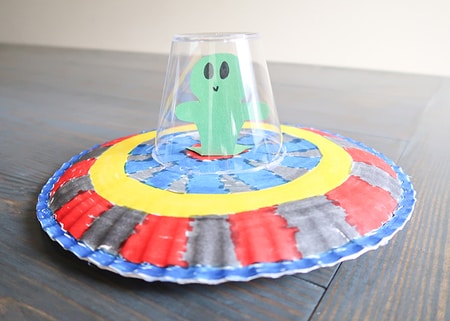 Woo! Jr. shows kids how to make this cute UFO with an alien with paper plates and a clear plastic cup. While some of the steps may be challenging for toddlers and preschoolers, they can still decorate the spaceship!
16. Finger Puppet Unicorn Craft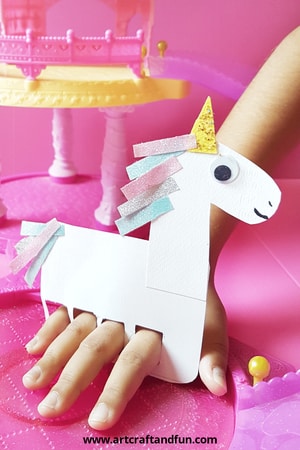 Bring the magic and majesty of a unicorn home with Art, Craft, and Fun's finger puppet unicorn craft.
Bring this simple puppet to life with glitter, ribbons, an X-ACTO knife, and some other simple and easy-to-find craft supplies.
17. Clay Sea Urchin Craft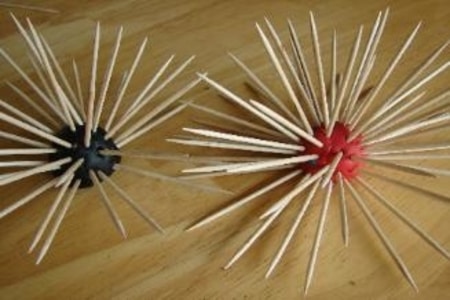 Sea urchins are fascinating sea creatures. The Crafty Classroom gives a quick and easy tutorial for this really simple letter "U" craft that helps your kids learn about word association.
This craft is great for preschoolers because it requires two simple materials: clay and toothpicks.
Take this fun activity one step further by making your own clay using our guide for homemade play dough.
18. Popsicle Stick Uncle Sam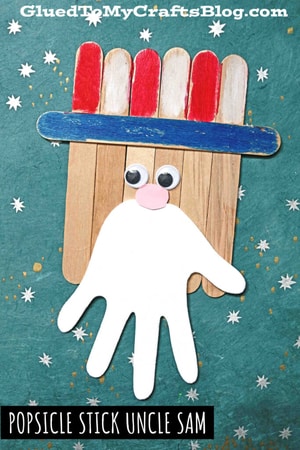 Hit multiple birds with one stone with this Uncle Sam popsicle stick craft shared by Glued to My Crafts! Kids will learn about the word "uncle" and associate the letter "U" with the U.S.A. as well.
On top of that, this also makes for a splendid 4th of July, Memorial Day, and Veteran's Day activity!
Do more projects with popsicle sticks by checking out this compilation of fun and easy popsicle stick crafts.
19. Disney's Up Craft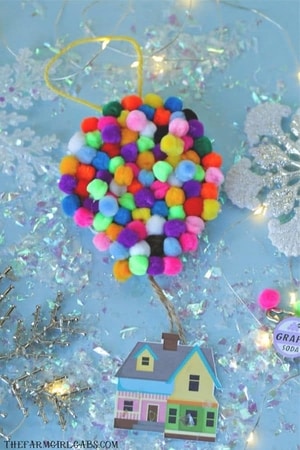 "Adventure is out there," and Melissa from The Farm Girls Gabs shows you how to make Carl's iconic house from the movie Up so your kids, too, can use their imaginations to travel the world.
Let your kids decide where it hangs in your home, whether it be in the family room or above their bed.
Pay for the Up house clipart or draw your own house to really make this letter "U" craft special.
Keep the balloon theme going with these cool balloon crafts!
Fun Letter "U" Crafts for Kids
Make it both easy and fun for kids to learn about the letter "U" with these 20 letter "U" crafts that will help them retain the appearance and sound of the letter, as well as associate different words with it.
And when you're done with the letter "U" move on to these next few letters of the alphabet: