Ready your kids to learn all about the letter "C" in a fun way with these 20 cute letter "C" crafts. These crafts will help your little ones easily retain the letter's appearance, sound, and the words associated with it!
14 Letter "C" Crafts (w/ Letter Templates)
Not every site provides their own letter "C" template, but I've got you covered with some upper and lowercase letter "C" templates. Also, use a pair of safety scissors to help your kids practice cutting all by themselves.
1. "C is for Cat" Craft
Get kids started with learning all about the letter "C" with a really easy-to-make cat craft. Crafty Kida uses colored paper and basic materials found at home to show kids how easy it is to make this inexpensive cat craft.
For even more "purrfect" fun, check out these other cat craft for kids.
2. "C is for Caterpillar" Craft
Before becoming beautiful butterflies, they start off as cute and colorful caterpillars.
With just pom poms, pipe cleaners, googly eyes, and a few tools and materials you probably already have at home, Kids Activities shows kids how to make a caterpillar.
Want to make more cute little creatures? Check out this compilation of ladybug crafts, too!
3. "C is for Car" Craft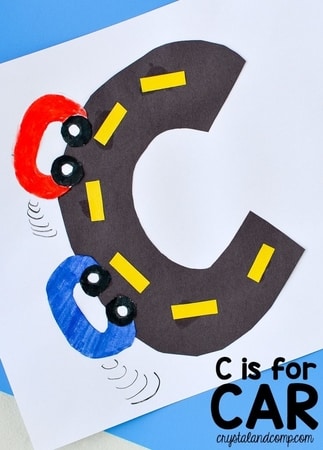 Teach kids all about the most common vehicle out there with this car craft by Crystal & Co.
Other than hole reinforcement stickers and colored paper, the other materials for this letter "C" craft can easily be found at home.
4. "C is for Cookie" Craft
Chocolate chip cookies are my favorite dessert, and I'm sure they're your kids, too!
Punk Rock School shares this letter "C" cookie craft that only requires colored construction paper and some other things you probably have handy.
Use this activity as a fun introduction to baking cookies together!
5. "C is for Crab" Craft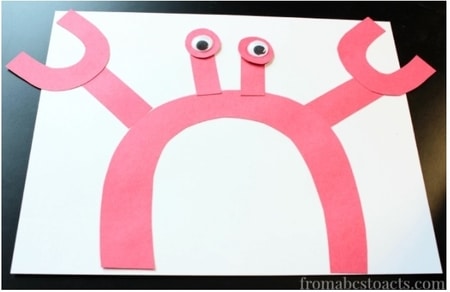 Crabs are funny sea animals, but be careful not to get pinched by their claws! From ABCs to ACTs has kids make a crab craft that won't pinch them with basic supplies found at home.
Explore more underwater creatures with these ocean crafts your kids won't get enough of.
6. "C is for Carrot" Craft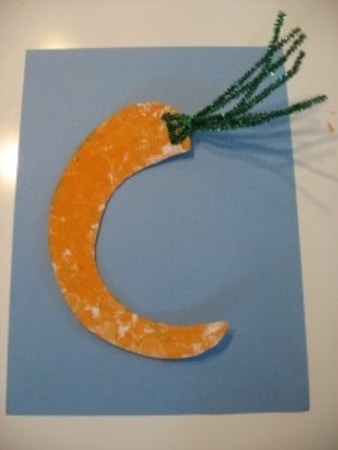 Teach kids all about the benefits of carrots with this healthy letter "C" craft from No Time For Flash Cards. The best part is that you might already have most of the materials, like pipe cleaners, readily available.
7. "C is for Cow" Craft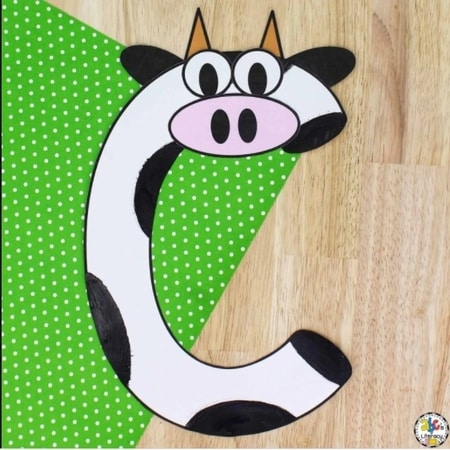 ABC's of Literacy shares a tutorial for a cute cow craft kids make from the letter C. The supplies needed are easy to get, so all you need to do is print the template available at the bottom of their webpage.
Give this cute cow some friends by trying these other farm animal crafts with your toddlers and preschoolers.
8. "C is for Corn" Craft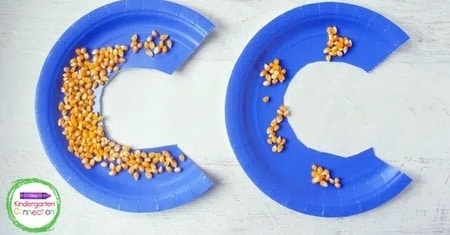 Don't pop those corn kernels into popcorn just yet! Use them to make a simple corn craft courtesy of The Kindergarten Connection with paper plates, glue, and scissors.
This is a great sensory activity to do with toddlers who are still learning how to refine their fine motor skills.
Sensory activities are great for young children, so try these Thanksgiving sensory bins with your little ones for even more sensory experiences.
9. "C is for Candy Cane" Craft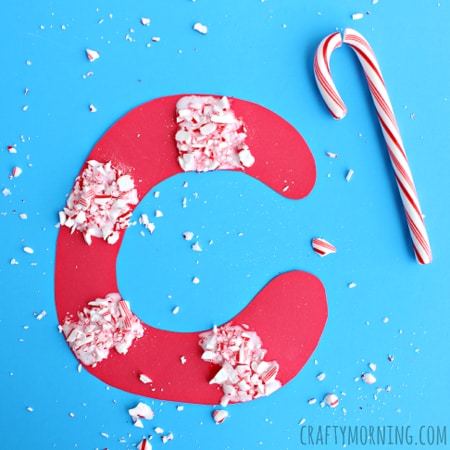 Here's a letter c craft for preschoolers that's a lot of fun! Crafty Morning lets kids crushing candy in this tutorial.
All you need is a Ziploc bag, candy canes, something to smash the candy canes with, and other basic craft materials.
10. "C is for Compass" Craft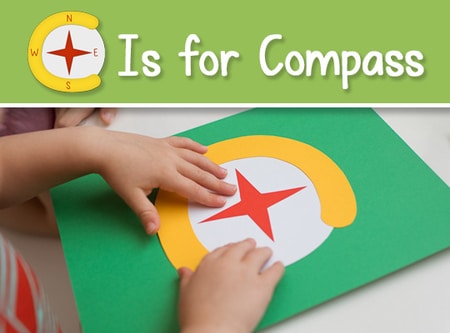 Compasses are handy tools that help figure out where we need to go. Teach your kids all about the importance of a compass with this letter "C" craft from All About Learning Press.
Make sure to download and print their  letter "C" is for compass template.
11. "C is for Cloud" Craft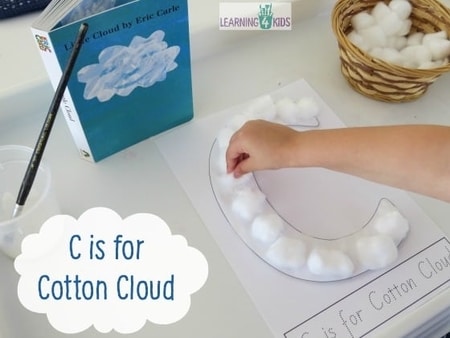 This is one of the easiest letter "C" crafts you can do with toddlers. Learning 4 Kids uses Cotton balls and their "C is for cotton cloud" printable do make this easy-to-do letter "C" cloud.
Make more crafts with cotton balls from this selection of cotton ball crafts that are toddler and preschooler friendly.
12. "C is for Construction" Craft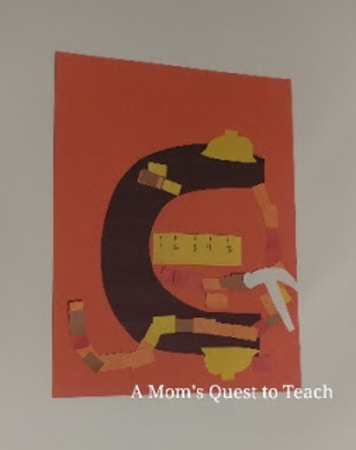 Word association activities don't always have to focus on a single object. They can also focus on verbs, such as this construction craft by A Mom's Quest to Teach.
The great thing about this tutorial is that you'll definitely have all the needed materials to make this letter "C" craft right at home.
13. "C is for Cupcake" Craft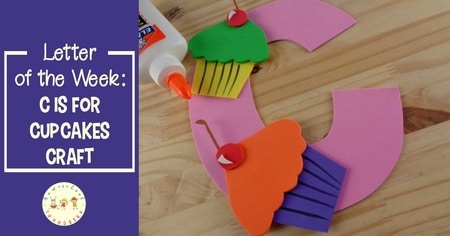 Cupcakes are delicious, and Homeschool Preschool shares a tutorial kids can craft easily.
Grab some craft foam and print out their downloadable template (found at the bottom of their webpage) to make this delicious letter "C" craft.
14. Origami Letter "C"
Here's a letter "C" craft for older kids or for kids who want a challenge. Crafts Guru shares a letter "C" origami activity that can be made with just one piece of paper.
Origami can be too difficult for toddlers, so check out this compilation of tissue paper crafts that are perfect for growing littles.
6 Other Letter "C" Crafts (Without Letter Templates)
15. Pipe Cleaner Cactus Craft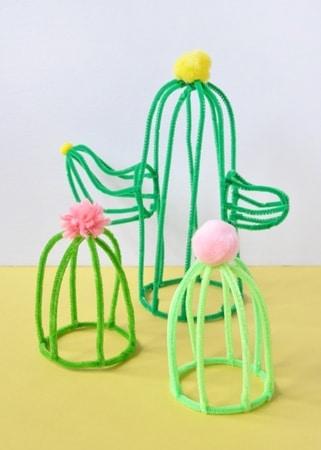 Handmade Charlotte shares a cactus craft made from mostly pipe cleaners. Additional materials include pom poms, scissors, and a glue gun.
This craft is most suitable for older kids, but can be fun for a toddler or preschooler to help with.
16. 3D Paper Clouds
Bunza Creative has a large cloud craft kids can make that can also double as decorations to hang in their rooms once they're all finished.
With butcher paper, glue, and string, you'll have an army of clouds floating in your home in no time.
17. Bubble Wrap Crocodile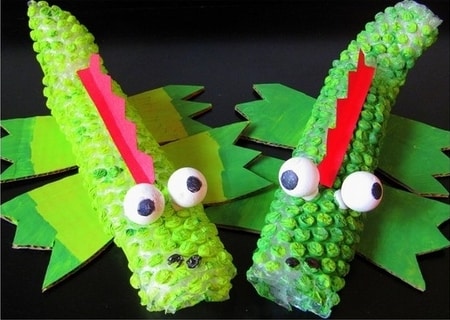 Bubble wrap isn't only great for protecting fragile things, it's also a cool textured crafting material.
Make this crocodile craft from Positively Splendid to teach your preschoolers about word association and this misunderstood animal.
This craft uses some uncommon craft materials like floral wire, cardboard, foam dots, and styrofoam or wooden balls.
18. Cucumber Race Car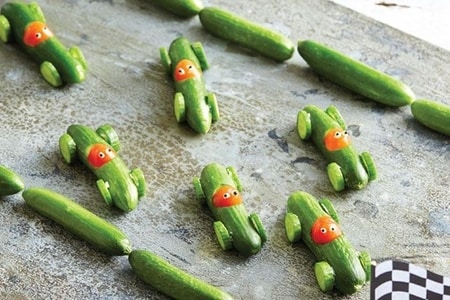 While you shouldn't play with your food, crafting something out of them is a different story.
Head over to your kitchen to see if you've got some baby cucumbers, cherry tomatoes, cream cheese, black writing icing, and toothpicks (to attach the wheels) to make this easy cucumber race car by Kid Spot.
19. Paper Plate Cheese With Mouse Craft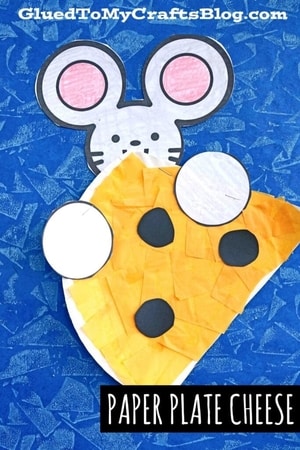 Here's a paper plate letter "C" arts and craft activity for kids shared by Glued to My Crafts that features a mouse nibbling on a piece of cheese.
They also provide a free printable template for the mouse parts to make this activity even easier for kids.
20. Toilet Paper Roll Clown Craft
Empty toilet paper rolls are some of the most common crafting materials out there, and Ria shares a tutorial for a simple finger puppet clown craft made with an empty toilet paper roll.
Check out our post on toilet paper roll crafts to make more neat crafts with this handy material we all have at home!
The Letter "C" is for Crafts
These are just a few of our favorite letter "C" crafts for preschoolers and toddlers.
When you're done with these, try these other letter crafts to teach your kids about the alphabet: