Welcome to the world of elephant drawings!
You've come to the right place if you're looking for a creative and productive project for the kids to do today. Drawing elephants is not only a fun and entertaining activity but is also also a fantastic way to hone their artistic skills.
With their majestic presence and unique features, elephants are excellent models for any art enthusiast.
So what are we waiting for? Grab your pencils, crayons, and paper, and let's explore the wonderful world of elephant drawings together!
Create magic with these Dr. Seuss preschool crafts.
What Your Little Artist Needs:
5 Easy Elephant Drawings
1. Plump Elephant Drawing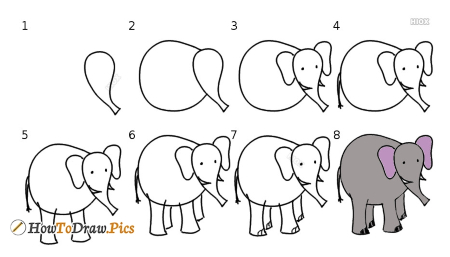 Wondering how to keep the kids engaged throughout the project?
This elephant drawing from How to Draw Pics will be a great choice.
It only takes eight easy steps to create this beautiful drawing.
2. Cute Elephant Drawing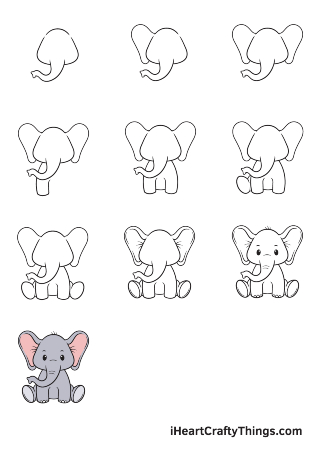 This adorable baby elephant drawing from I Heart Crafty Things reminds us of Dumbo.
Its big ears and overall cuteness will make it difficult to say no to this drawing.
Have a lot of fun molding different animals using this homemade playdough.
3. Adorable Elephant Face Drawing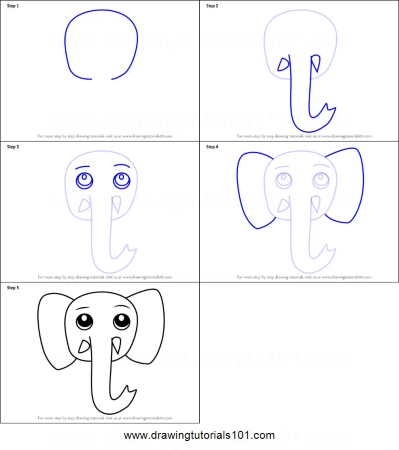 Get a close-up look at how to draw an elephant's face for our next project.
Learn how to draw the trunk, tusks, and ears of the elephant with the help of Drawing Tutorials 101.
4. Elephant Drawing from 9 Dots
Make drawing elephants even more fun and entertaining by letting the kids watch this video from KUCH SIKHO.
They will be amazed by how nine dots could turn into this magnificent creature.
5. Squiggly Elephant Drawing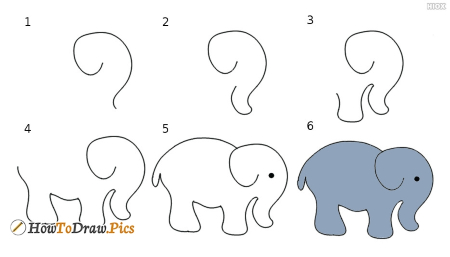 This sketch from How to Draw Pics proves that anything could turn into an artwork with some imagination.
Following the squiggly lines from steps one through three may not make sense at first but once you reach step four, you'll see the outline of the elephant.
6 Cartoon Elephant Drawings
6. Blue Elephant Drawing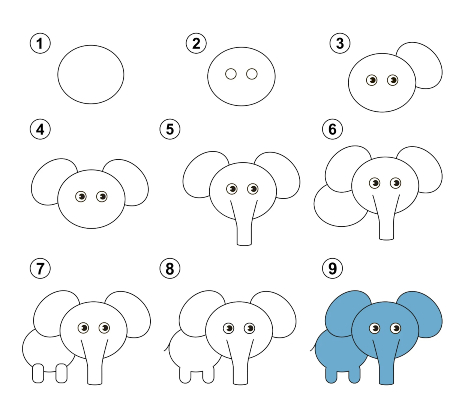 Are you ready for another memorable activity for the kids?
This blue elephant drawing from Family Realms will be a fantastic choice.
Drawing this will give them a sense of creativity and independence because of how easy it is to follow the steps on their own.
Check out these awesome farm animal crafts, too.
7. Baby Elephant Drawing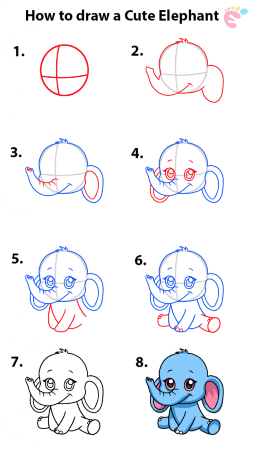 Another adorable elephant drawing is coming our way.
This drawing guide is courtesy of Easy Draw Everything.
After all, having too many baby elephant drawings will never be a bad idea.
8. Curious Elephant Drawing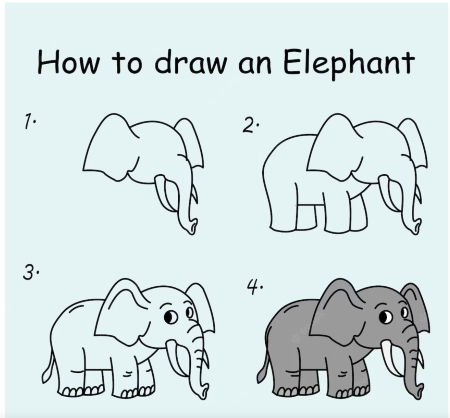 Aren't we all curious about these gentle giants?
Although we already know a lot about them, there's still so much to discover.
Learn a thing or two about elephants by following this guide from Freepik.
9. Elephant with Tusks Drawing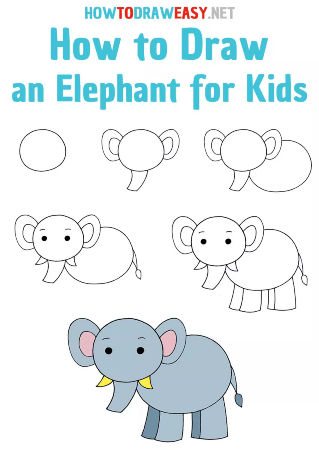 Follow the steps provided by How to Draw Easy to know how to draw a beautiful elephant in just six steps.
This drawing shows the entirety of the creature—it shows its face, body, and even its tusks.
10. Mighty Elephant Drawing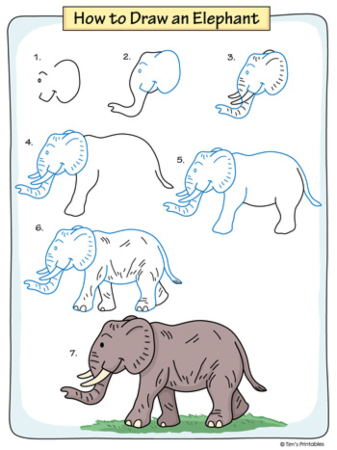 This may be a bit challenging for the little ones but with an adult's help as well as this guide from Tim's Printables this project will be a success.
It's a 3D drawing of an elephant so it will be a wonderful addition to their sketchbook because it will show how much they have progressed as an artist.
11. Sitting Elephant with Flower Drawing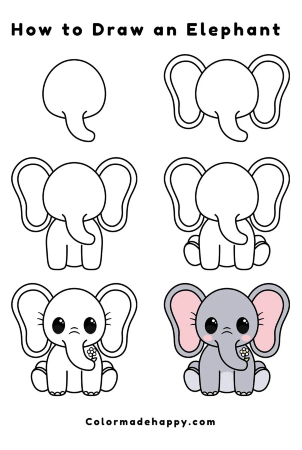 Elephants are gentle giants.
This characteristic is greatly captured by Color Made Me Happy's elephant drawing holding a small flower.
Give these 3D paper flowers a try as well.
7 Elephant Sketches
12. Cool Elephant Drawing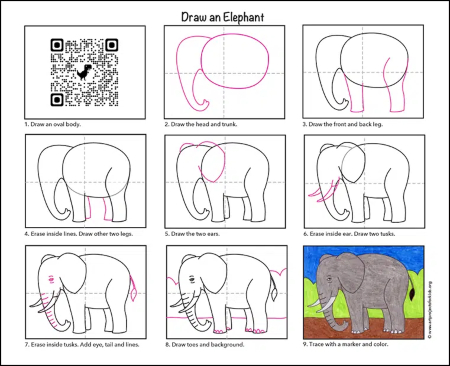 Capture the majestic spirit of elephants by following this drawing guide from Art Projects for Kids.
This drawing shows the mightiness of the elephants with their big build and strong expression.
13. Magnificent Elephant Sketch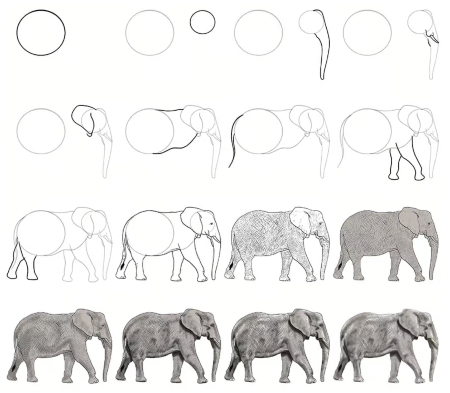 Who would've thought that this awesome elephant drawing started with a simple circle?
This sketch from Art in Context may look a bit intimidating but as long as you follow the steps and take it one pencil stroke at a time then you'll be amazed by how easy it is to draw an elephant.
14. Elephant Drawing from the Word Elephant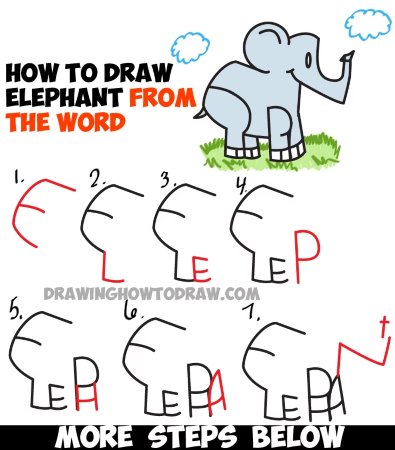 This tutorial from Drawing How to Draw hits two birds with one stone.
The kids will learn how to draw an elephant as well as spell the word elephant.
They can also show off to their friends how they can magically draw this elephant using the technique.
15. Elephant Drawing from the Number 311
Turn the number 311 into an elephant with this cool video from M P Drawing Tutorial.
The kids will be able to draw an elephant adorning pretty clothes by following this complete guide.
Learn how to draw a chicken on this list.
16. Tall Elephant Sketch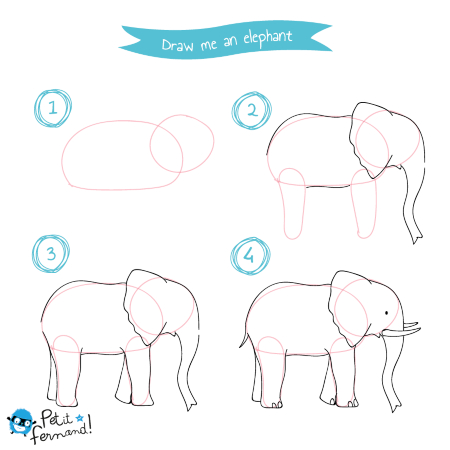 Do the kids want to try out these elephant drawings but only have limited time to do them?
Don't worry because Petit Fernand has got your back with this tutorial.
It will only take a couple of minutes for the kids to perfect this fantastic sketch.
17. Elephant Drawing from the number 5
This drawing from KUCH SIKHO will be a hit for kids who are five years old and are obsessed with elephants.
Watch as they slowly transform the number into a work of art.
Your kids will be captivated by the transformation from the start to the end of the video.
18. Huge Elephant Drawing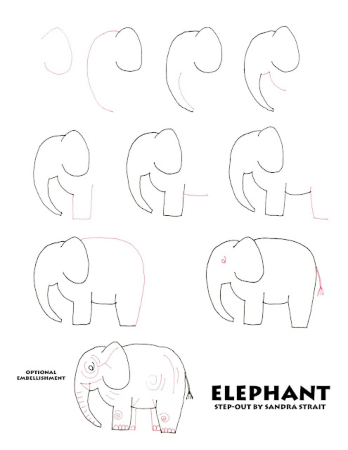 You know the kids will have a ton of fun just looking at this glorious elephant drawing from Life Imitates Doodles.
It will be a fun activity that will unleash their creative skills.
Bonus: Elephant Drawing by Suda
What better way to learn how to draw an elephant than by watching an actual elephant draw itself?
Watch FSchleyhahn's video and be amazed by how Suda the elephant expertly drew itself.
Surround yourself with magic by doing these Harry Potter crafts.
Massive Elephant Drawings for a Ton of Fun
There is something magical about capturing the majesty and grace of these gentle giants on paper. These elephant drawings will give your kids an incredible experience.
It will be an awesome activity that's not only entertaining but will also raise awareness about this endangered specie.
Let's keep the ball rolling and do these crafts as well: