A boring day isn't gonna rescue itself—thankfully, there are easy Batman drawings for children to follow.
Bruce Wayne vowed to get rid of Gotham's crime and corruption ever since the tragedy of his parents.
Since then he has taken on the mantle of Batman, and is known under many aliases: Caped Crusader, Dark Knight, World's Greatest Detective, among others.
Batman possesses many admirable qualities that many boys and girls look up to. If your children are one of them, then these sketch tutorials below are made just for them.
Materials for Batman Drawings
5 Batman Head Drawings
There's nothing to be ashamed of starting with just head drawings. Begin your Batman drawings by starting with his head, then work your way down.
Related article: 31 Batman Perler Beads We Deserve and Need
The easiest aspect of drawing and coloring Batman—and also the reason he's so effective in the dark—is the color of his costume.
At advanced levels, this rather becomes a challenge, but beginners shouldn't have a hard time painting his mask and armor black.
Simple Easy Art's Batman face drawing is an example of this.
2. How to Draw Batman's Face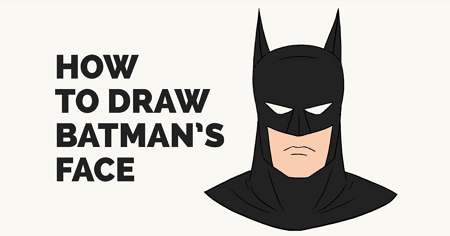 Batman's seriousness is captured in Easy Drawing Guides's drawing.
Prepare for '90s nostalgia as you follow Mister Brush's video tutorial on how to draw the detective inspired by Batman: The Animated Series.
4. Another Batman Face Sketch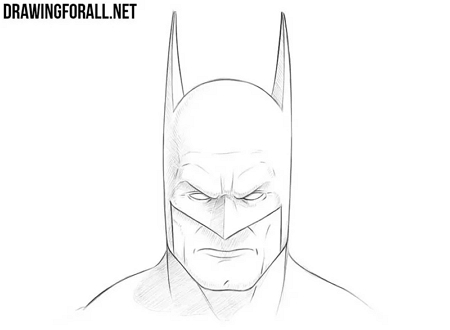 Batman knows over 120 martial arts; achieved peak human strength; has impressive detective skills; there's nothing this man can't do. Despite all those impressive feats, he is still human, still vulnerable to the effects of aging.
Drawing For All shows an older version of Batman with their drawing.
5. Sophisticated Batman Sketch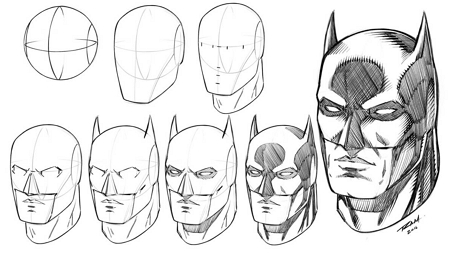 More experienced artists will naturally crave sketches of a higher level. That's exactly what they'll get with this sophisticated Batman drawing shared by robertmarzullo.
4 Mini Batman Drawings
Because of his widespread popularity, Batman has become the subject of different styles of drawings. That includes small and cute versions of him, which you'll encounter in this section.
See also: Spider-Man Crafts
6. Stubby Batman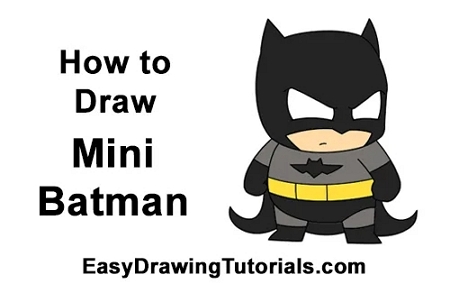 Batman strikes us as a shredded man with a Greek-god physique. Well, not with this drawing by Easy Drawing Tutorials.
Children will have an easier time relating to this stubby Batman version.
Modifying a character's features—namely giving them a disproportionate head and body size and big round eyes—are generally referred to as kawaii versions of that character.
They're different from caricatures in that you won't be disgusted by their appearance, but find them quite adorable. Mofukawa's video tutorial illustrates a kawaii Batman.
Related article: Kawaii Perler Bead Patterns
Batman has experienced many transformations over the years. A notable version is Batman Beyond, who dons an eye-catching black and red costume.
Cartooning Club How To Draw presents a kawaii version of Batman Beyond.
9. Lego Batman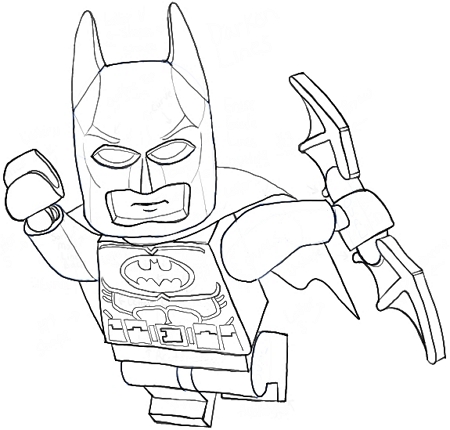 The Lego Batman film is an attempt to create a livelier and more humorous version of Batman. Its refreshing take on the Dark Knight has been a commercial success.
The lighter tone of the film is also a great introduction for younger children who find other Batman films too dark. Here's Drawing How To Draw's guide on how to draw Lego Batman.
6 Full Body Batman Drawings
Be ready to take on bigger challenges with these six full-body Batman drawings. The difficulty of these drawings progressively increases as you go through each item.
You might be interested in: 21 Superhero Crafts to Save The Day!
10. Batman Drawing in Nine Steps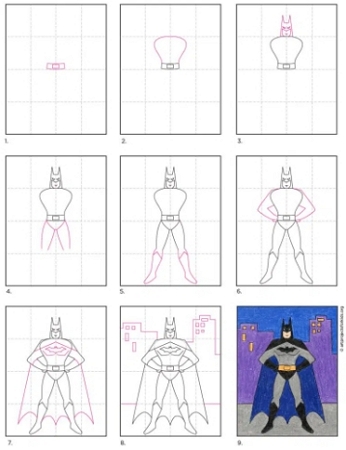 Be very afraid when you encounter the Dark Knight in a dark alleyway. That's only if you're a criminal, of course! Otherwise, maybe try to get his autograph?
Art Projects For Kids shares a drawing of Batman guarding the streets of Gotham.
11. Batman with Hands on His Waist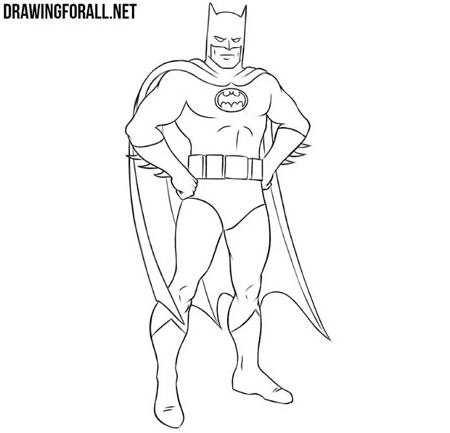 Thank goodness for Batman's costume transformation over the years—I don't have to endure seeing outdated outfits.
But if you're nostalgic about that kind of thing, I'm not gonna judge you for it. I'll even recommend this drawing by Drawing For All.
12. Cartoon Batman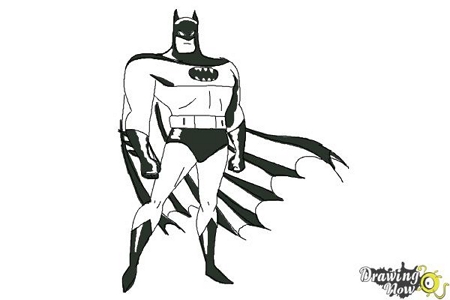 Here's another cartoon Batman drawing inspired by Batman: The Animated Series. Drawing Now nails everything in their design, from the shading details to the wavy black cape.
13. Straightforward Batman Drawing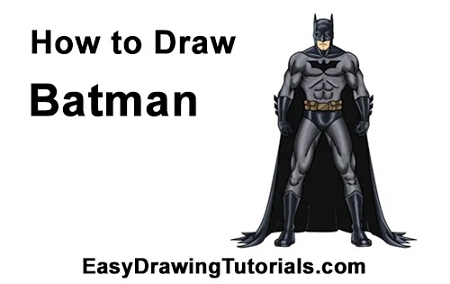 If you want a comprehensive drawing tutorial, look no further than Easy Drawing Tutorials. Through their impressive guide, you'll be equipped with the right art techniques, from the bare outline of Batman's body to the tiny details like toning his muscles.
14. Detailed Batman Drawing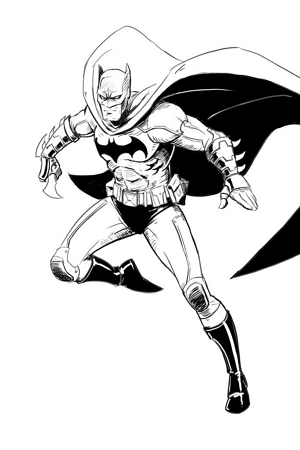 The guide by Improve Your Drawings is another Batman tutorial that's focused on polishing the skills of an intermediate-advanced artist.
The tutorial aims at genuinely improving the skills of any artist, suggesting tips and tricks that promote creativity.
Batman Beyond, as the name suggests, is a younger protégé that Bruce Wayne trains after he retires. Batman Beyond is also a direct sequel to Batman: The Animated Series.
Drawing Batman figures, like this one by How I Draw's channel, is a great opportunity to introduce your little ones to the epic series.
3 Batman Symbol & Gadgets
Symbols and gadgetry are very important, especially for Batman who would benefit from striking fear into crooks. Here are just a few of them.
16. Batman Symbol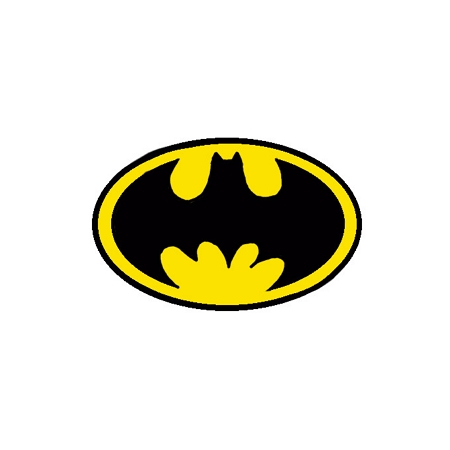 It's difficult to find someone who doesn't recognize the Bat symbol. The symbol is simple but effective, and Drawing Howtos is here to show how easy it is to replicate.
Because of his morals, Batman chooses a non-lethal approach that incapacitates criminals instead of killing them.
In their video tutorial, Cool Kids Art shows a couple of his weapon choice.
18. How to Draw the Batmobile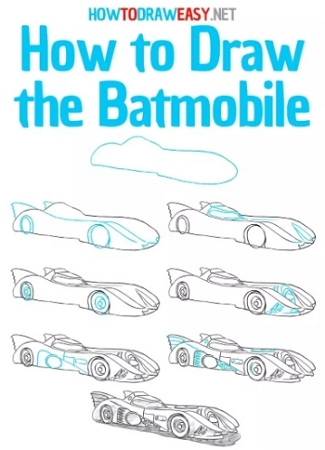 If I were a billionaire like Bruce Wayne, I too wouldn't hesitate to create the vehicle of my dreams. There have been many versions of the Batmobile; How To Draw Easy shows one of them.
2 Batman Allies Drawing
Batman can't fight Gotham City's corruption and crime alone. There are only several people he deems trustworthy.
Robin is the son Batman never had. This channel shows us how to draw Batman's most trusted sidekick.
Batgirl is often depicted as the counterpart of Batman. Under the mask, she is Barbara Gordon, the daughter of Jim Gordon, Batman's closest associate in the Gotham PD.
In their video tutorial, Art for Kids Hub shows little girls how to create Batgirl in an adorable way.
2 Joker Drawings
Joker is Batman's other half. You can observe this dichotomy in the vigilante's disciplined and stern demeanor versus the clown's reckless and happy-go-lucky attitude.
As the Joker says in the film The Dark Knight: "You complete me!"
If the usual image of the Joker seems too scary for your little ones, perhaps a Lego version would be less terrifying. Facedrawer's channel teaches us how to draw Lego Joker from scratch.
Never Give Up!
"I have one power: I never give up." An important lesson we can learn from the Caped Crusader is that we should try to persevere to achieve our dreams.
That's applicable to little projects, too, like finishing these Batman drawings!
So don't stop now and try to improve your drawing skills through these: