Deck the halls with some of the most attractive Christmas Perler bead patterns you can make!
Kids are impatient to open their presents on Christmas morning. But before they tear apart the carefully wrapped gifts under the Christmas tree, hand them these Perler bead activities so the gifts feel extra rewarding.
Let's get on with it, shall we?
4 Christmas Perler Bead Kits
6 Christmas Tree Perler Bead Patterns
1. Christmas Tree Pattern for Kids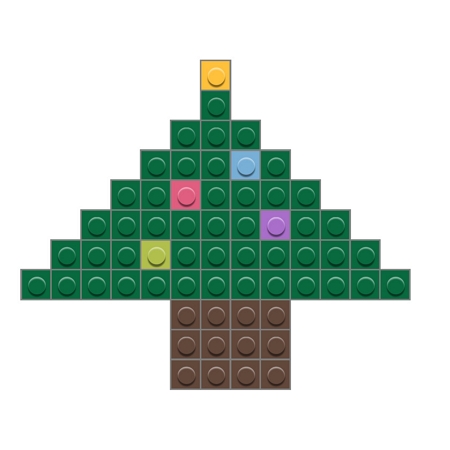 It's exciting and heartwarming to see our little ones assemble Perler beads for the first time. For an easy Christmas tree design for kids, check out this basic pattern seen on Brik.
2. Tall Christmas Tree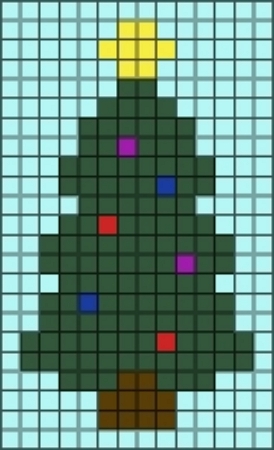 As those tiny tots gain better control over their fine motor skills, the complexity of patterns should be increased to match their skill level. But a pattern that's too difficult might soon become overwhelming.
Luckily, hihi8 on Bracelet Book provides a pattern that's not too easy nor too hard; similar to Goldilock's preference, the difficulty is just right.
3. 3D Christmas Tree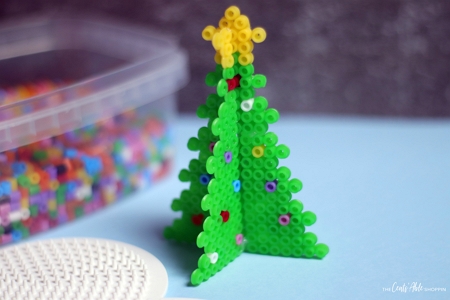 Certain designs, like the Christmas tree, look flat in 2D. We do not want to see the Christmas tree simply laying down, but standing majestically upright. But 3D designs seem so difficult to produce.
Worry not, because that's what The Cents'Able Shoppin shares in their guide—a 3D Christmas tree easy enough for kids to replicate.
To convince you that 3D designs aren't too difficult, here are 3D Perler bead patterns you should check out.
4. Colorful Christmas Tree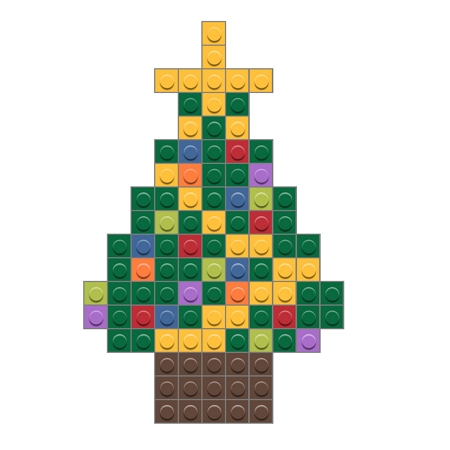 Just as a tree changes its colors when the fall arrives, so too will your Christmas tree lose its evergreen after dressing it with colorful lights!
Videogames shows how it looks like when done properly.
5. Decorated Christmas Tree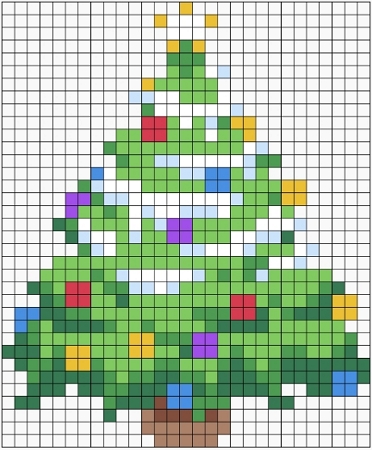 Most of the time, it's the 2D patterns that are more intricate and tough to create. It's the subtle changes in color that make a design like this one by bbbytes challenging.
Formidable as they might seem, these complex designs reward whoever undertakes and finishes them.
6. Kawaii Super Mario Christmas Tree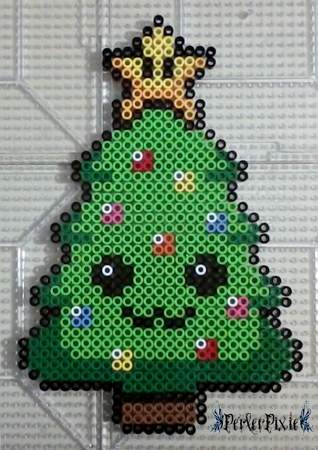 Christmas is also celebrated in other imagined worlds, like that of the Mario brothers. Create one of the most adorable Perler bead Christmas tree by following PerlerPixie's pattern.
Longtime fans will appreciate these Mario Perler bead patterns. For other adorable patterns, I also suggest our list of kawaii Perler bead patterns.
9 Christmas Symbols Perler Bead Patterns
7. Christmas Wreath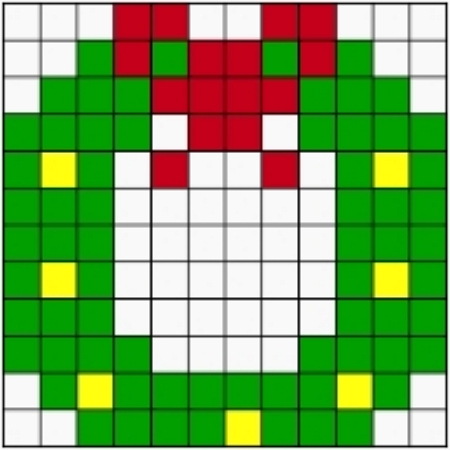 The Yuletide season is a great introduction to different symbols. For example, the Christmas wreath represents eternal life, symbolized by the circular shape and evergreen plant.
Teach them about Christmas symbols while making this pattern by Crumpet.
8. Christmas Candle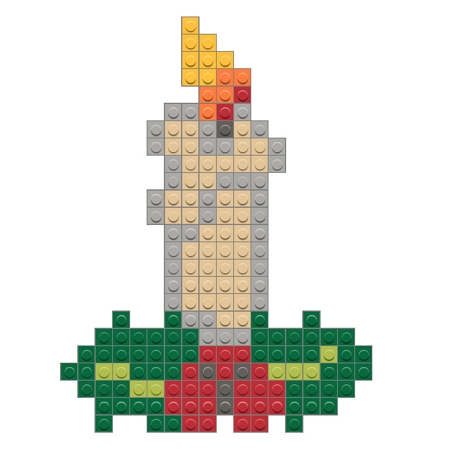 A symbol of hope, this Christmas candle by marmaladeportal5 will guide its devotees through the dark winter.
The Christmas wreath as shown here in Meg's video tutorial has a depth aspect provided by the white and red flowers.
The method for attaching the flower to the wreath is quite interesting, and should only be done by adults. Check out the tutorial to learn more.
10. Ornament Cards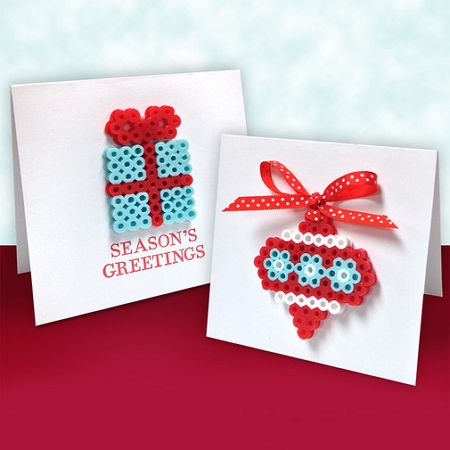 Christmas is also a time of giving presents and showing appreciation for loved ones. Perler has the perfect greeting card that children can give to their grandparents, or any cherished family member.
11. Penguin Playing in the Snow Sweatshirt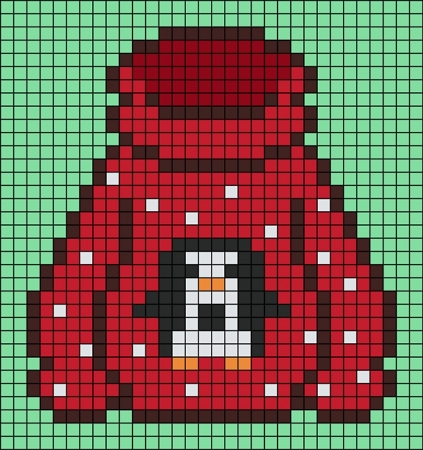 It may not be on the list of traditional Christmas symbols, but seeing a snowy scene on a red sweatshirt is a signal that the holidays are around the corner.
12. Christmas Gift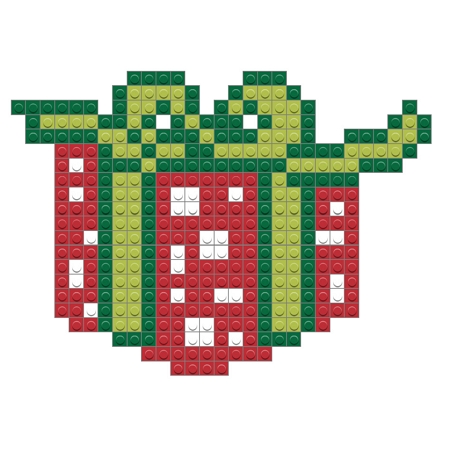 Christmas eve—it's the point at which children are at their excitement limit. That's because they get to open the Christmas presents the next morning.
Before that, though, share this pattern by amusedpumpkin with your children and do something productive before the big release on Christmas day.
13. An Assortment of Christmas Symbols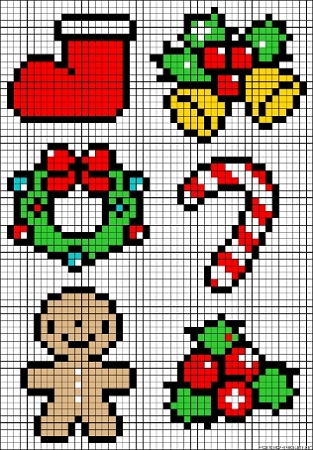 For a comprehensive pattern involving anything Christmas-related, look no further than the designs shared by XcUiDi.
14. Golden Christmas Bell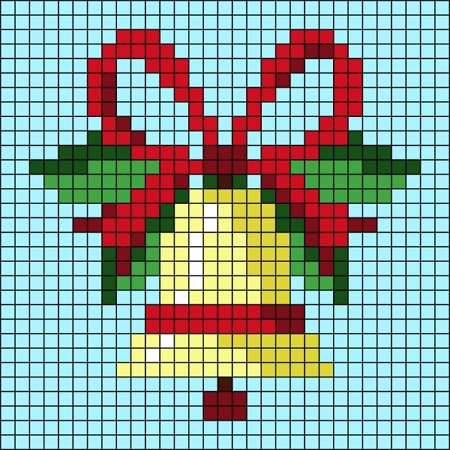 The magic of Christmas is felt through the ringing of these golden bells, decorated with a red ribbon by DeimaPotat.
15. 12 Days of Christmas Perler Bead Cards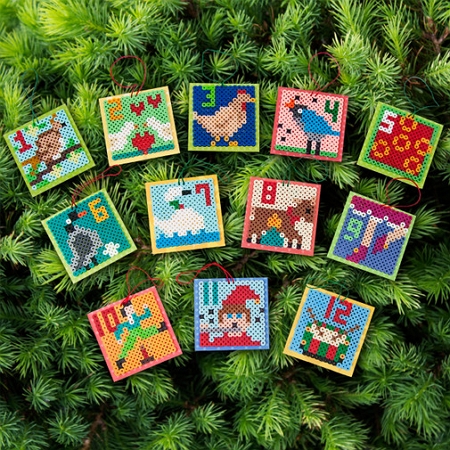 If you're looking to fill your Christmas tree with DIY decorations, I recommend this 12 Days of Christmas Perler bead card by Perler.
It's also a great opportunity to listen and sing along to the tunes of the namesake song.
5 Santa and Rudolph Perler Beads
17. Small Santa Perler Beads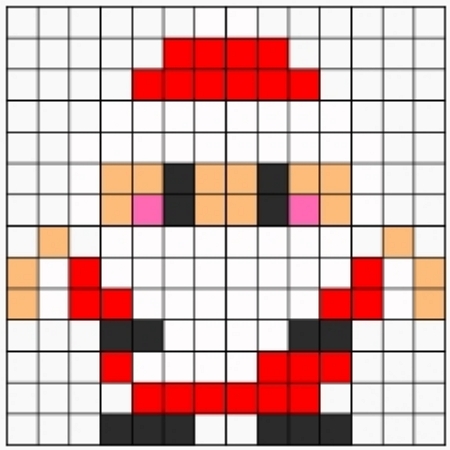 Let's not forget the big man who never fails to give presents to nice children. For an easy pattern to commemorate him, simply follow Ashley302's pattern.
18. Santa's Face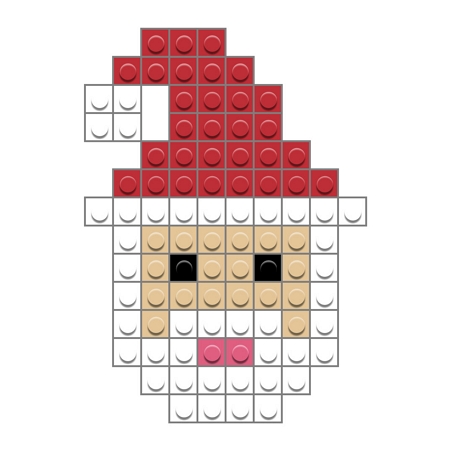 It's not necessary to create the whole body of Santa—a pattern of his face (like this one by mindofmiller) is enough for him to consider putting the naughty children into the nice list.
19. Santa and His Sleigh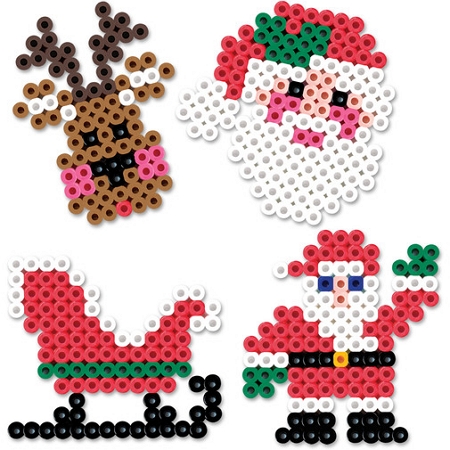 Santa is ready to travel hundreds, even thousands, of miles to see the smile on children's faces. Perler brings to you a Perler bead Santa with his sleigh and Rudolph.
20. Simple Rudolph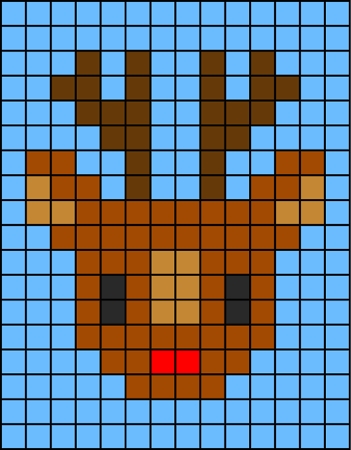 The face of Rudolph is not complete without his adorable red nose. Despite its size, this pattern by aceofseas still manages to include that iconic, snotty nose.
21. Playful Rudolph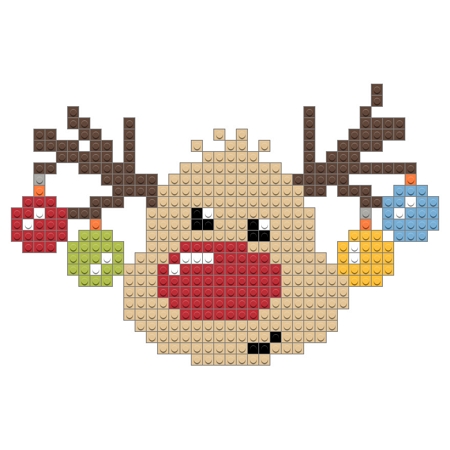 Rudolph tries to conceal his big nose by hiding it in plain sight—among Christmas ball ornaments. Not even my three-year-old nephew will be fooled by this tactic, implemented by roguishgive.
4 Gingerbread Man Patterns
22. Cute Gingerbread Man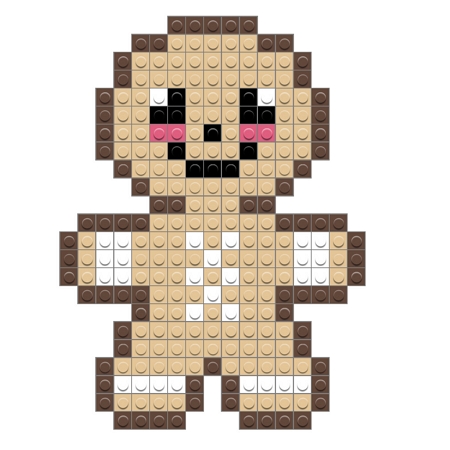 Who can forget the most adorable cookie during the Christmas season? This gingerbread man by SusanGuinto is sure to bring joy in your seasonal activities.
23. Gingerbread Man Wearing a Santa Hat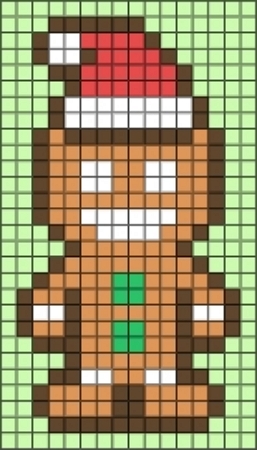 Nothing speaks festive louder than this pattern of a gingerbread man wearing Santa's hat. Shared by ChocoLoco, this is a strong way to begin the Yuletide season.
24. Gingerbread Man House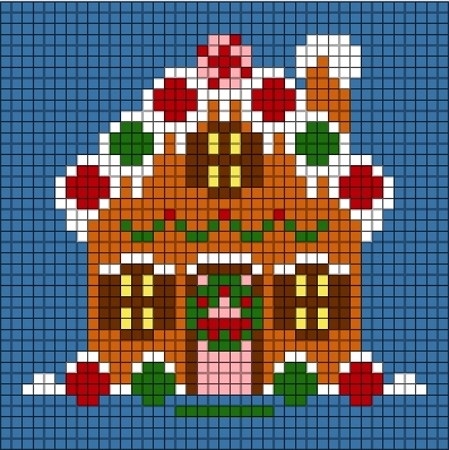 Where does the gingerbread man live? In his gingerbread house, of course! The house is as sweet as his personality, and this pattern shared by Hassey shows it.
Take a step further and make a 3D gingerbread house. Kids who are ready to take on a challenging task are in for a treat with this guide by draw pixel art's channel.
The Grinch Patterns
26. Can Our Christmas Be Stolen?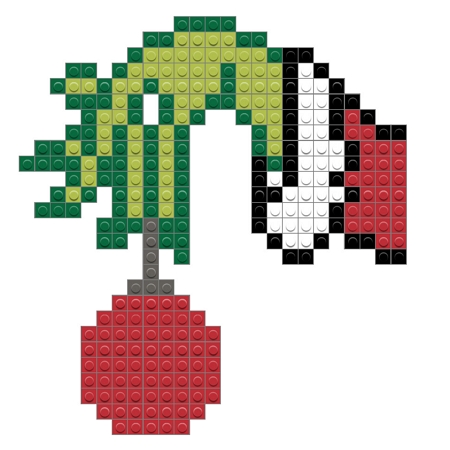 His face isn't featured in accuratelava8's pattern, but we know who exactly this hand belongs to.
The Grinch may be able to steal our Christmas ornaments, but we'll keep creating more.
27. The Grinch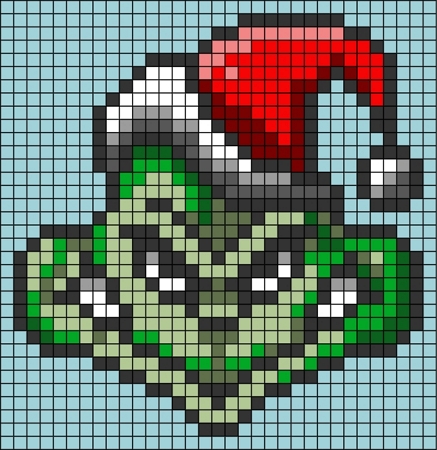 Don't let the Grinch's face sour your Christmas mood. Accept the Grinch and embrace him with open arms with brienna's Grinch wearing a Santa hat pattern.
'Tis The Season to Be Jolly!
I hope that you and your little ones have enjoyed these Christmas Perler bead patterns. Don't forget to sing along to some favorite Christmas tracks to really set the merry mood!
Other seasonal activities are waiting for you in these lists: