Are you ready to embark on another exciting drawing adventure today? We're diving into the mesmerizing world of the crustaceans in this list filled with the best crab drawings for kids.
Crabs are fascinating creatures that roam around the sandy shores and we're going to bring them to life on our sketch pads today. With their pinchers, beady eyes, and unique shape, drawing crabs will be a fantastic way to hone the artistic skills of your youngsters.
Let's get started and dive into the world of crab art.
Plunge in and create these ocean crafts.
Art Materials for Your Drawings
8 Easy Crab Drawings
1. Awesome Crab Drawing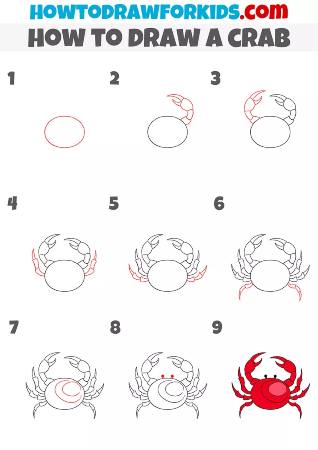 Raise your hands (or pincers) if you're excited to start drawings crabs, too.
How to Draw for Kids' drawing tutorial will be a wonderful way to start this artistic adventure.
2. Crab with Pincers Drawing
Say hello to this super adorable crab drawing from Learn step by step.
The video tutorial will show the kids how to properly draw the pincers, eyes, and feet of the crab.
Surprise your child with these Kid's Valentine's box ideas.
3. Happy Crab Drawing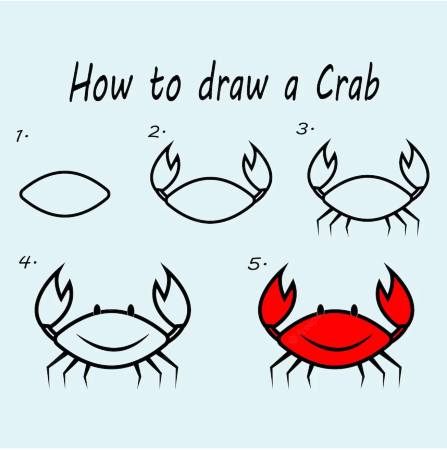 For kids who are just starting to learn how to draw, this guide from Freepik will be perfect for you.
They've created an easy-to-follow tutorial that will allow the children to draw a crab in just five steps.
4. Smiling Cartoon Crab Drawing
This lovely crab drawing from DrawingRocket is delighted to have you on this list.
With their arms wide open it even looks like they'd love to give you a big hug.
Make sure to watch the whole video tutorial to learn how to draw this cute crab.
5. Adorable Crab Drawing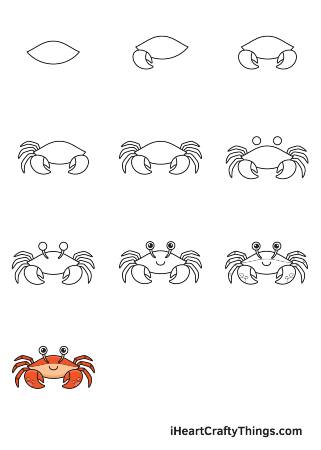 Here's another adorable crab drawing courtesy of I Heart Crafty Things.
His charming smile is reason enough to include this tutorial on your kid's to-draw list.
These marshmallow crafts are sweet and cool.
6. Big Eyed Crab Drawing
Add character to the children's drawing by incorporating other sea features as well.
That's exactly what How To Art Club did in this drawing tutorial when they added a couple of cute bubbles into the picture.
7. Cute Crab Drawing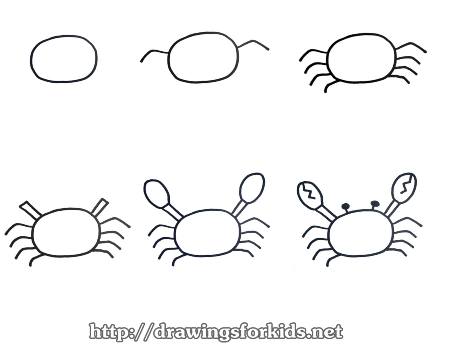 Drawings for Kids made this simple tutorial so that kids of any age can effortlessly draw their favorite sea animal.
As long as they can draw a circle and a couple of lines then they're good to go.
8. Simple Crab Drawing
Check out this video tutorial from Art for Kids Hub for a different version of a crab.
Instead of the usual circle for the body, they used half a circle which will be a nice way to teach the kids that art doesn't only use a single technique for every subject of the piece.
11 Realistic Crab Drawings
9. Fantastic Crab Sketch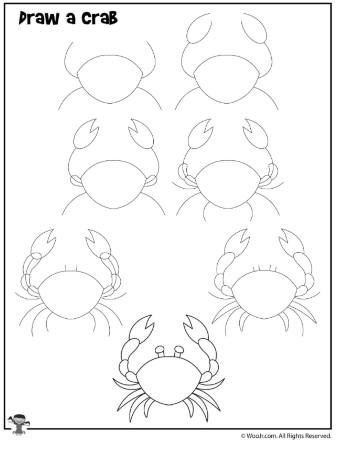 Wondering how to draw a realistic but easy crab drawing made especially for children?
Let Woo Jr. show the kids how it's done through this drawing guide.
Get ready to be spooked by these ghost perler bead patterns.
10. Crab Drawing from the Word Crab
Learn a new cool trick where the kids can transform the word crab into an actual drawing of a crab.
Watch the video of PIN KORO to get tips and tricks on how to do it.
11. Snappy Crab Sketch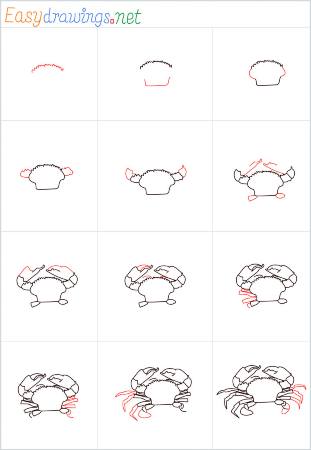 This crab drawing of Easy Drawings Net is more detailed making it look more authentic.
It will be a great activity for kids who already know the basics of how to draw the crustacean animal.
12. Fantastic Crab Drawing
Challenge the kids with this hyper-realistic drawing of a crab from Drawing & Painting – The Virtual Instructor.
Doing all of these crab drawings from the list will prepare them for this challenging artwork.
13. Crab Drawing from the Number 92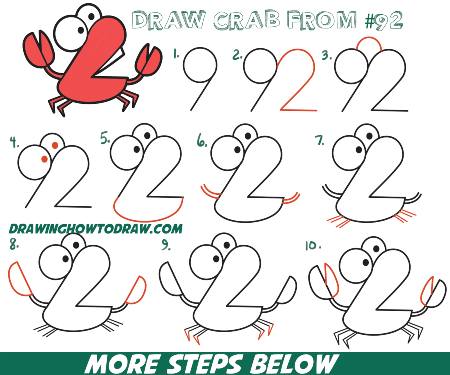 Turn the number 92 into an incredible sketch of a crab with the help of Drawing How to Draw's tutorial.
The kids will be amazed by how creative and unique this crab drawing tutorial is.
Hop along with us and join us as we create these easy kangaroo drawings.
14. Authentic Crab Sketch
Get tips on how to draw the top part of the crab with this informative video tutorial from Articco Drawing.
It will give the kids ideas on how to draw crabs from every angle and perspective.
15. Cool Crab Drawing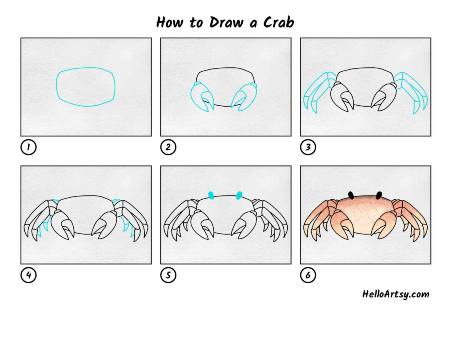 Level up the kid's drawing skills by trying out this guide from Hello Artsy.
Follow the six easy steps to replicate this adorable crab drawing.
16. Epic Crab Sketch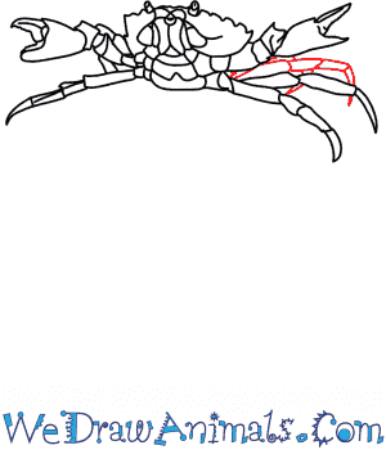 Showcase how the kids have mastered drawing the pincers of crabs with this guide from We Draw Animals.
It will be an incredible way to display how the kids' drawing skills have grown after sketching all of these crabs.
17. Charming Crab Drawing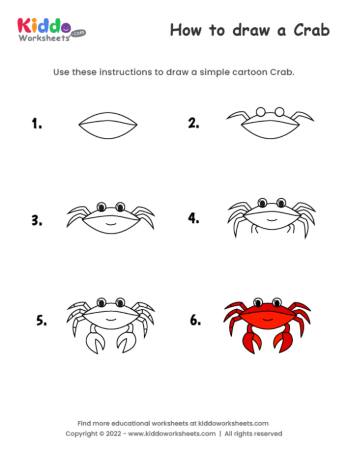 Got more time on your hands?
Kiddo Worksheets' tutorial on how to draw a crab will be a fantastic activity for your little artists.
18. Sebastian from The Little Mermaid Drawing
We've also included one of the most famous crab cartoons, Sebastian on the list.
Aside from his cuteness, his great voice also makes him stand out.
Let the kids' Sebastian drawing stand out from the rest with the help of this video from Draw So Cute.
19. Mr. Krabs from Spongebob Drawing
Another famous crab who's known for loving money is Mr. Krabs from Spongebob.
Check out BitoArte How to Draw's video to recreate the iconic cartoon character on paper.
5 Sea Creatures Drawings
20. Yellow Fish Drawing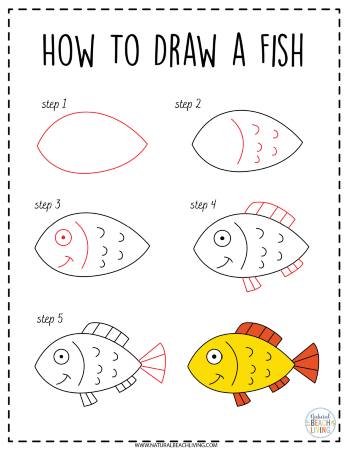 Draw this charming yellow fish from Natural Beach Living.
Follow the guidelines and see how precise the details are such as the fins, gills, and face of the fish making it stand out from the other aquatic creatures your child's sketchbook houses.
21. Cool Starfish Sketch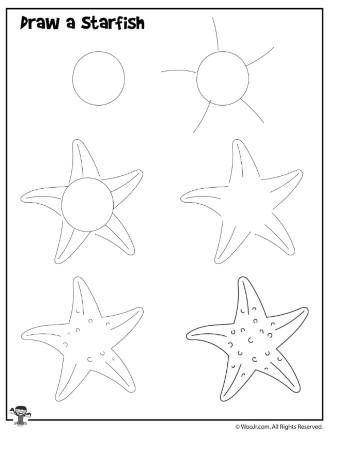 Feel like a star while drawing this cool starfish drawing from Woo Jr.
The best thing about this is that anyone can effortlessly do it, too no matter what your drawing mastery is.
22. Dolphin with a Heart Drawing
Look how adorable this dolphin drawing from GuuhMult is!
It's even made cuter by the little heart drawn at the top of the mammal.
23. Green Seahorse Drawing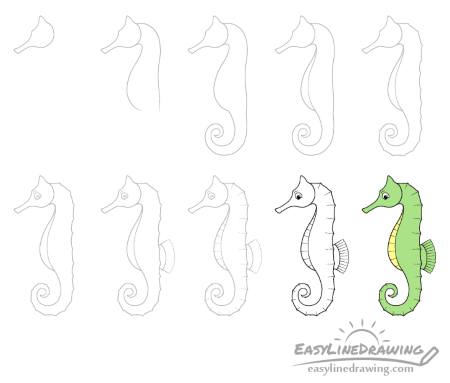 Seahorses are fascinating creatures so we've also included this drawing guide from Easy Line Drawing on the list.
You can also share some fun facts about the animal with the kids while drawing it one pencil stroke at a time.
24. Happy Octopus Sketch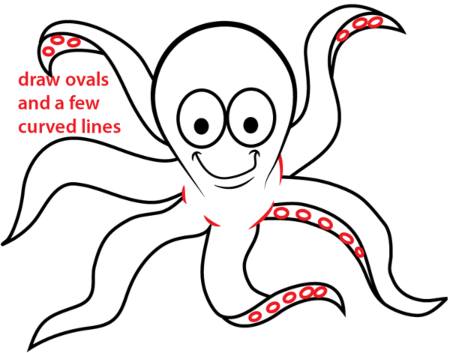 Drawing How to Draw has this awesome tutorial on how to sketch a big octopus for kids that you shouldn't miss out.
Get the full drawing guide by heading to their website.
Fun Crab Drawings for Your Little Sea Explorer
And that's a wrap! You've successfully finished these crab drawings for kids.
Remember to keep on practicing to further enhance your artistic skills. Soon enough you'll be able to draw all the other sea creatures effortlessly.
Prepare for more unforgettable artistic adventures starting with the lists below: