Mice get a bad rap, but hopefully after making these easy mouse drawings you can judge whether these critters really are the bane of elephants.
The mouse's reputation has been stained by the nasty deeds of its bigger and more vicious cousin, the rat. Like any other animal, it's just trying to survive a cruel world.
Scroll through and discover how beloved the mouse is in popular media with figures like Mickey Mouse and Jerry from Tom and Jerry amassing a wide fanbase.
A compassionate animal lover wouldn't miss out on making these mouse drawings; these might even convince you to take one in as a pet!
7 Basic Mouse Drawings
Everyone knows that a mouse is small and basic. In that regard, these first seven drawings won't disappoint.
Any preschooler (who for some reason loves mice) will appreciate these guides.
1. Very Round Mouse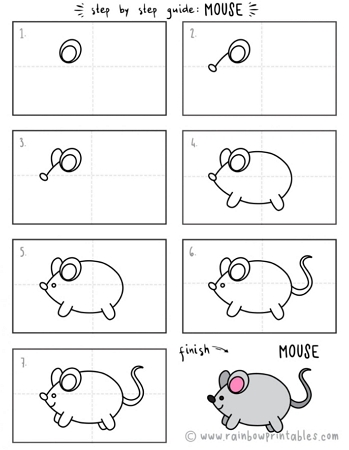 While it might be simple to draw a mouse, not all guides highlight the importance of starting with basic shapes, especially when the artist is young and inexperienced.
Thanks to Rainbow Printables, you have a step-by-step guide that begins with the mouse's ear and finishes with the tail.
2. Mouse Drawing for Preschoolers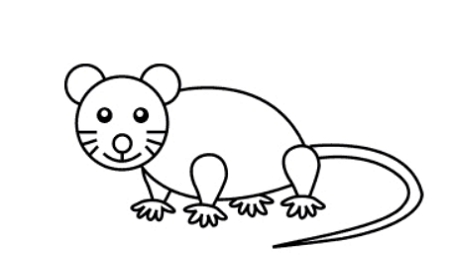 Mickey Mouse is so ubiquitous that many guides have taken inspiration from its three-circle pattern—two for the ears and one for the head. Or, were mice drawn like this even before the advent of Mickey Mouse?
You can have a "chicken or egg" debate ad infinitum, but there's no arguing the simplicity of such a design, which has been featured in We Draw Animals's mouse drawing.
3. Basic Mouse Drawn with Letters and Symbols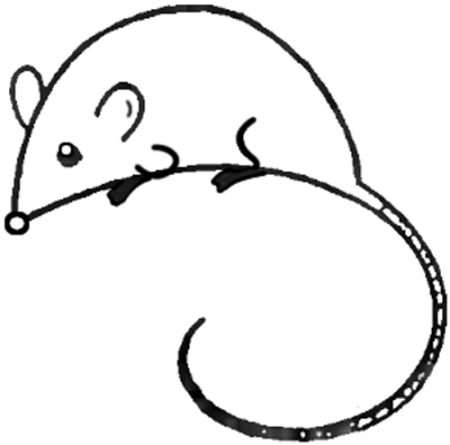 Recalling animal designs is easier if you have a memorable starting point, such as a symbol or a letter.
Drawing How to Draw encourages us to take such an approach with their mouse drawing guide.
This method widens the perspective of the artist—the body of the mouse is seen as a sideways capital letter "D", the ears as an inverted letter "U", and so on.
We don't have to conform to rigorous art techniques or follow golden rules to be excellent artists.
Sometimes, all it takes is a sprinkle of self-confidence and inspiration from guides like this one from Articco Drawing's channel.
5. Mouse Drawing in 9 Steps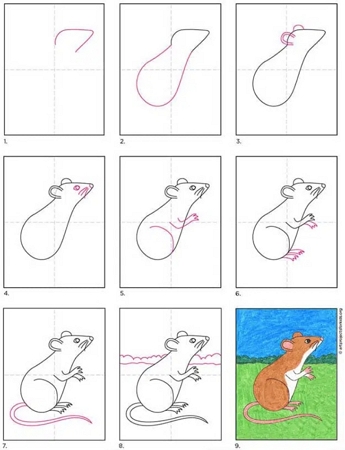 There's also nothing wrong with following a set of rules and guidelines.
For disciplined and determined drawers, Art Projects For Kids has a nine-step mouse drawing that conveniently divides the sketch into quadrants.
At the end of it all, you have a choice to fill the background with simple scenery.
6. Gray Mouse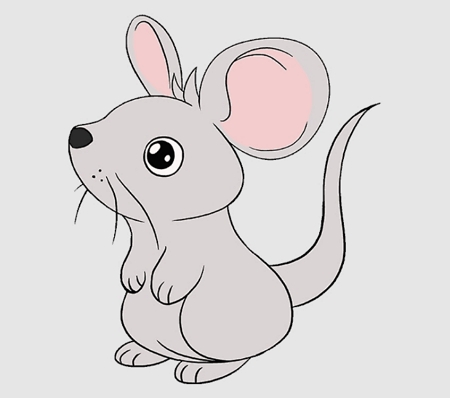 Not-so-surprising fact: supported by their tail, mice can stand up on their hind legs.
Such sightings are not uncommon, typically when they're trying to climb hard-to-reach spaces, which they often do since they're more curious than rats.
When you do catch a glimpse of a mouse standing up, though, your heart might explode from the super adorable stance. Or from the fear of seeing such a creature reaching the leftover cake on your countertop.
Here's an example of a standing mouse, shared by Easy Drawing Guides.
For inexperienced and advanced artists alike, sketches are often started with a pencil, so they might erase any awkward lines.
It all depends on what your style is and the purpose of the drawing. Experiment with both so you might learn your preference.
Here's DrawinGeek's channel designing their mouse without any hesitation with a permanent marker.
5 Kawaii Mouse Drawings
Mice are considered cute, partly because of their appearance; mostly because of their size.
There are times when the appearance outweighs size heavily, such as in these next five kawaii mouse drawings.
Discover more kawaii things in our list of kawaii Perler bead patterns.
Drawing with Peanut super adorable drawing can convince even the most nervous elephant of the mouse's innocuous nature.
The star near its gigantic ears is the icing on the cake.
Allow the elephant and mouse to interact by making these elephant Perler beads.
Regular visitors of our site have an idea of what kawaii means. To visualize it, simply look at SimpleArtX – Cute Simple Art's mouse design, to which cute features, such as a bigger head and eye, have been added.
Everyone would ask a mouse for a pet if they were as cute in real life as Caroline's Cuties has drawn it in their video tutorial.
They wrapped Christmas lights around this furry critter to show how squishy and adorable this mouse is.
Here's an adorable mouse design by zooshii's channel—an artist who outlines their sketches with a pencil and then follows up with a marker once they're decided on the proportions.
Mice prefer grains, veggies, and other sweet snacks over dairy. But cheese has been associated with mice since forever, so we can't exclude a drawing of a couple of mice enjoying their "favorite" food.
You can always count on Art for Kids Hub's channel to deliver an excellent drawing video tutorial.
4 Famous Mouse Drawing
Dogs, cats, and zoo animals aren't the only animals that we see on TV. Mice, as we'll see, have stolen the spotlight many times.
Draw your favorite public pet servant in these PAW Patrol character drawings.
13. Mickey Mouse Drawing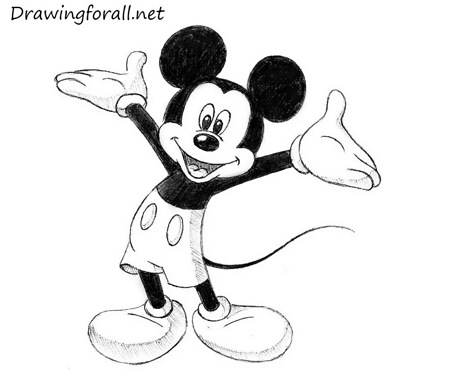 To understand how influential the mouse is, you only have to look at the mascot of the most famous—at least among kids—entertainment conglomerate in the world, Disney.
When we're speaking of "The Mouse", we're usually referring to only one: Mickey Mouse—who has countless renditions over the years.
Drawing For All shows the modern Mickey that the current generation is too familiar with.
For more Mickey Mouse crafts, head on to our list of Mickey Mouse Perler beads or Mickey Mouse crafts.
The next most famous mouse is none other than Jerry from the cartoon Tom and Jerry.
The franchise is beloved even after multiple generations since its 1940 debut, with Warner Bros. hitting us with a nostalgic 2021 movie.
Learn step by step's channel teaches us how to draw Jerry holding cheese.
Remy from Ratatouille, while not a mouse himself, clears the name of many rats, showing that rats aren't that terrible.
Most importantly, Remy teaches us to strive and achieve our goals, just like how he dreamt of becoming a professional chef.
It comes as a shock that Pikachu is revealed to be "neither a mouse nor a rabbit".
But the Pokedex, the digital encyclopedia that stores information about Pokemons, says that Pikachu is an "electric mouse," so he's included in this list for that reason.
What better channel to take inspiration from than Draw So Cute's?
Here are some easy Pokemon drawings to draw them all!
3 Complex Mouse
Can you make a simple mouse look intricate? According to these next items, you can!
Challenge yourself to enhance your drawing skills by following these guides.
17. Furry Mouse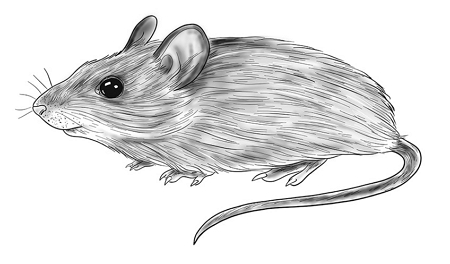 If there's a detail that the previous designs lacked, it's the mouse's fur.
Art In Context painstakingly traces out each strand of fur in their mouse design.
The result is worth it, though.
For a realistic, but not too rigorous, drawing guide, I suggest watching How2DrawAnimals's video tutorial.
What I love about How2DrawAnimals's illustrations is their commitment to including a timestamp for each component of the animal, making following their drawing guides super convenient.
19. Mouse Drawing: Advanced Level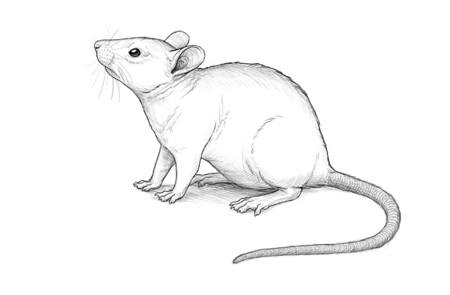 For a thorough sketch of a mouse, there's no better guide than Envato Tuts+ in terms of method and style.
The guide provides the artist with the outline and the details. Don't be daunted by the impressive sketch, because you'll be guided each step of the way.
Have a Mice Day!
I hope you've enjoyed making these easy mouse drawings as much as they've entertained your little ones.
For more drawings, head on to our other lists: