Bats are often depicted as scary and wicked, but that's not true at all! Indeed, there are species of friendly bats that are crucial for growing fruits like bananas and avocados.
Just like how the fictional character Bruce Wayne overcame his fear of bats, preschoolers and kindergartners alike will also come to appreciate these cute and furry mammals after making these easy 20 bat crafts.
9 Easy Bat Crafts for Kids
The following bat crafts don't require many resources to make. They are easy and fun, and will develop your toddlers' fine motor skills along the way.
1. Simple Accordion-Fold Bat Craft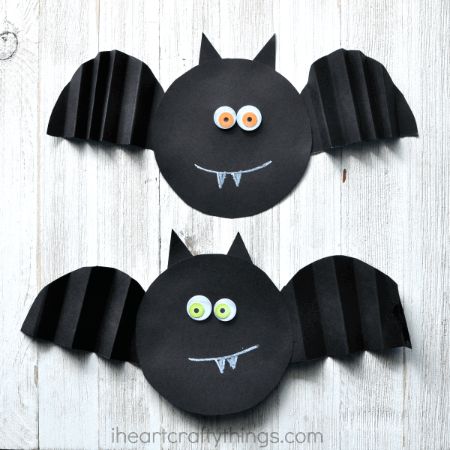 The first bat "craftivity" (see what I did there?) in this list of bat crafts is this simple paper bat.
You mostly need black construction paper, googly eyes, a pair of scissors, a pencil or a marker, and glue. I Heart Crafty Things wrote detailed step-by-step instructions to make this paper bat.
2. Hanging Bat Craft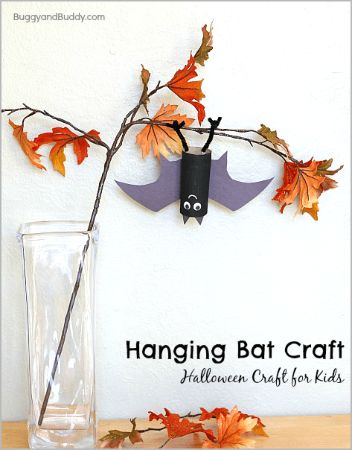 You should start collecting those empty toilet paper rolls because they are an awesome craft supply. They're super accessible and repurposing them into kids' craft is loads of fun, as shown through this Halloween bat craft by Buggy and Buddy.
Choose between brown or black acrylic paint (or tempera paint) to color your toilet paper roll. You also need construction paper (black or brown) for the bat's wings.
The rest are materials that you probably already have at home like scissors, glue, and markers. Buggy and Buddy even shares a free bat wing template if you don't want to draw the wings from scratch.
3. Bat Paper Bag Puppet Craft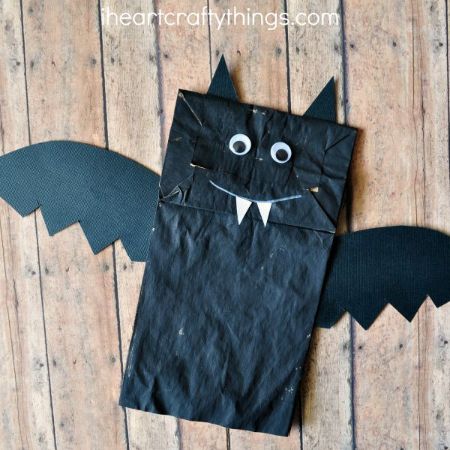 If your children want to channel their inner bat this Halloween, then this paper bag bat puppet from Heart Crafty Things was made for them. Gather a paper bag, black paint, black construction paper, and some googly eyes to put together this simple bat craft.
Since paper bag puppets are popular all year round, check out these other paper bag puppets any kid can make!
4. Rainbow Toilet Paper Roll Bats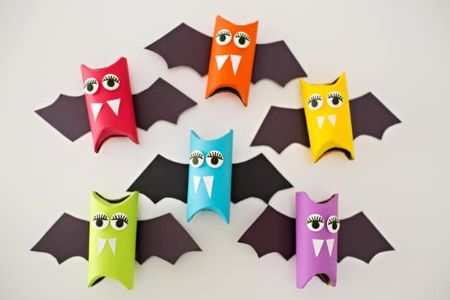 Not all bat crafts should have to be made in gloomy colors. Inspire your toddlers' imaginations with this tutorial for colorful toilet paper roll bats from Hello Wonderful.
Prepare a bundle of colored construction paper because you're going to need it. Bond with your kids by asking them their favorite color while making this fun bat craft.
Toilet paper rolls are so versatile. That's why I love to use them for rainy-day activities. Check out these other simple and fun toilet paper roll crafts for kids!
5. Paper Strips Bat Craft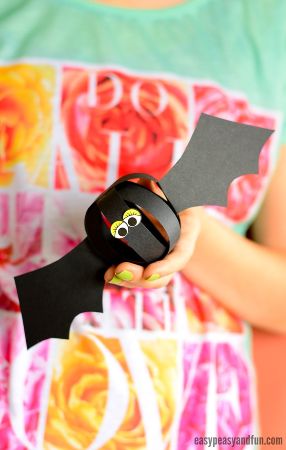 Keep yourself and your children occupied by making this paper strip bat craft. This is perfect for those who want their bats to have a cuter appearance.
Only two materials are required for this craft: black (or colored) construction paper and googly eyes. This is a very straightforward bat craft for toddlers that can be hung throughout your home!
6. Bat Headband Craft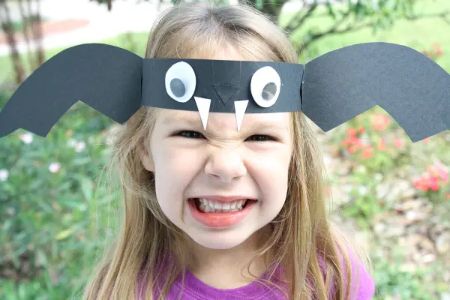 Have your kid make something wearable with this bat headband craft! This is an adorable activity that will develop their motor skills and give them a sense of accomplishment.
You'll need black construction paper, a pair of scissors, and glue. Googly eyes make this activity more fun, so it's definitely recommended.
Fantastic Fun and Learning provides full instructions for you and your kids.
Want more simple craft ideas for your toddler? Try making some of these letter B crafts for young children.
7. DIY Bat Corner Bookmark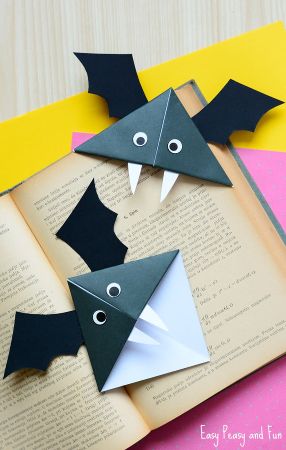 Introduce your kids to origami with this activity that's perfect for kindergartners who are starting to learn how to read. This bat craft will also help increase dexterity because it requires a lot of folding.
Origami paper shouldn't be too hard to find. You'll also need construction paper, googly eyes, a pair of scissors, and glue. The folding guide for this project is available on Easy, Peasy and Fun's website.
8. Paper Cup Bat Basket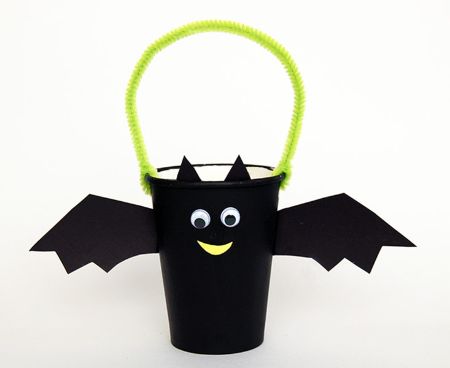 Here's the perfect craft to make for trick-or-treating this Halloween. This cute bat craft from First Palette has multiple uses. Your children can use it as a mini-basket to hold candies, or you can hang several throughout your home as Halloween decoration.
Either way, it's a simple activity that your children will enjoy with materials that are very accessible.
9. Paper Plate Bat Craft for Toddlers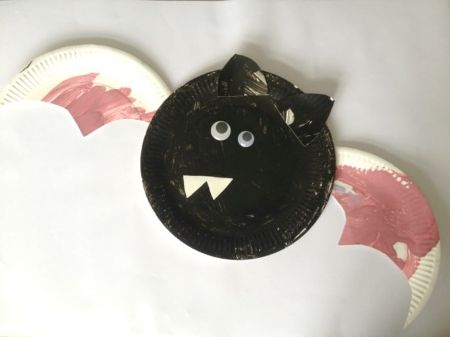 Paper plate crafts, like this paper plate bat by Crafts On Sea, are always a straightforward activity that requires less than 30 minutes to make.
Toddlers will have fun making this paper plate bat with basic materials like black paint, children's scissors, glue, and some googly eyes.
6 Easy Bat "Craftivity" Ideas for Kids
10. Clothespin Bat Craft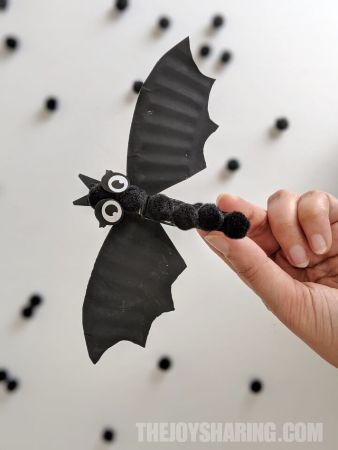 Here's an adorable decoration that you and your children will enjoy making together. The Joy Sharing has a guide on how to make this bat craft for Halloween.
You need a clothespin and black pom-poms for the body, and paper plate scraps for the wings. Finish-off this bat's look with some googly eyes for a very cute Halloween decoration.
You can even attach it to the fridge with some adhesive magnets.
11. Oreo Cookie Bat Snack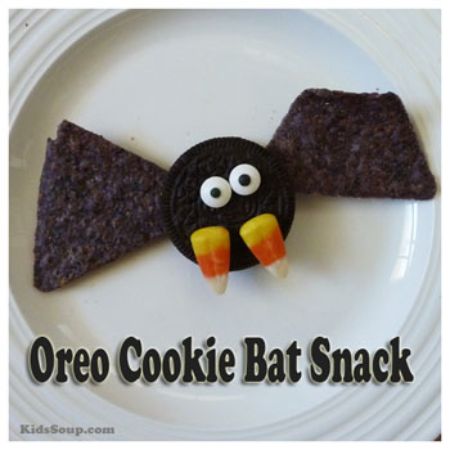 This snack is not an actual bat, even though one could be fooled by Kids Soup's clever oreo cookie snack.
Simply use an Oreo cookie for the bat's body, two black tortilla chips for the wings, two candy sugar eyes, and two pieces of candy corn to serve as the bat's not-so-sharp fangs.
12. Pinecone Bats Craft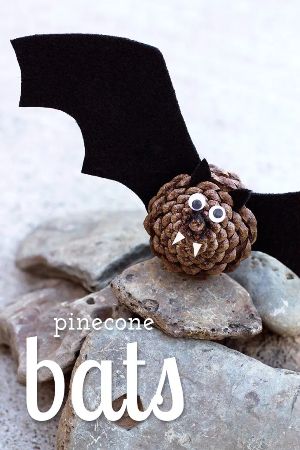 Time to stretch those legs and go for a nice stroll in the park to search for pine cones for this pinecone bat craft from Fireflies and Mudpies.
The other supplies you'll need for this project are black felt, a pair of scissors, and some googly eyes. You'll preferably want a glue gun for this craft because it'll get the job done perfectly.
Obviously, with any tool that gets hot or is very sharp, you'll want to make sure to exercise precaution and supervision with little ones.
13. Handprint Bat Paint Craft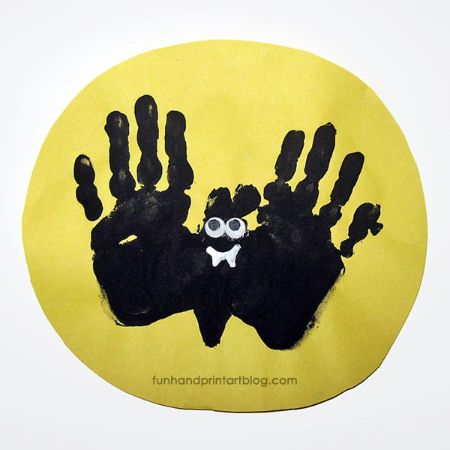 Handprints are always fun and interactive for toddlers and preschoolers alike. Though messy, it's a productive activity that enhances your children's fine motor skills and gives them a chance to explore, learn, and express their creativity.
For this bat craft from Fun Handprint Art Blog, you'll need to encourage children to dip their hands into tempera paint and then press them against a piece of paper.
This imprint of your kids' hands will look similar to a butterfly, so use other colors to see what else you can make with handprints!
14. Halloween Bat Handprint Craft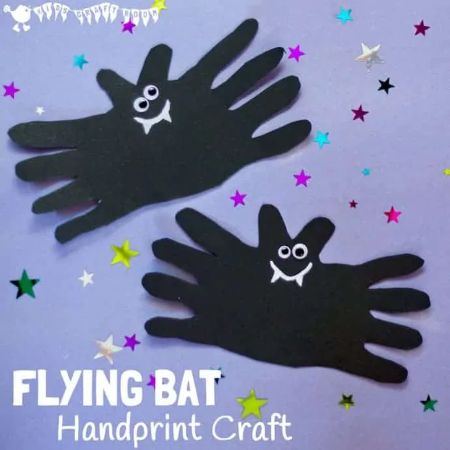 Here is another handprint craft shared by Kids Craft Room that's perfect for Halloween time.
Simply trace an outline of your toddler's left hand on a piece of paper. Their fingers will form the bat's wings, and the thumb its ears. Then, do the same for their right hand.
Now all you need to do is cut out the outline of their hands to create two bat wings! As always, adult supervision is highly recommended for children who are too young to handle scissors.
Halloween isn't the only holiday coming up. Check out these neat Thanksgiving turkey handprint crafts your kids will love doing this fall!
15. Clothespin Bat Preschool Snack Bags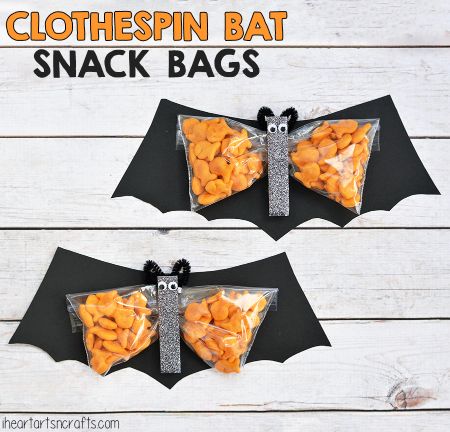 I Heart Arts 'N Crafts has got your Halloween snack needs covered with their idea for bat snack bags.
This is an ingenious craft that doesn't require a lot of resources to make. All you need is black cardstock paper, googly eyes, some black pipe cleaners, washi tape, and your children's favorite snacks.
5 Other Fantastic Bat Crafts for Preschool-Aged Children
16. Wooden Spoon Bat Craft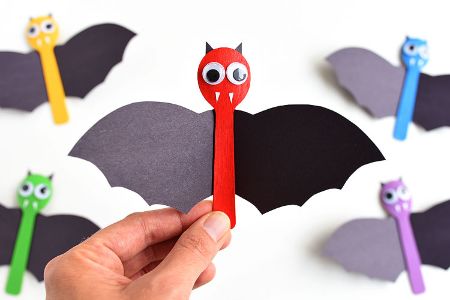 If you're interested in vibrant bat crafts, you will enjoy this wooden spoon bat craft. I'm loving the contrast between the intense shade of primary colors on the spoon and the black of the wings!
You too can make this one by following One Little Project's guide. For the materials, you will need wooden spoons, acrylic paint, black construction paper, and glue. Stick some googly eyes as a final touch.
They've also included a nifty (and free) bat wings template!
17. Yarn Wrapped Bat Craft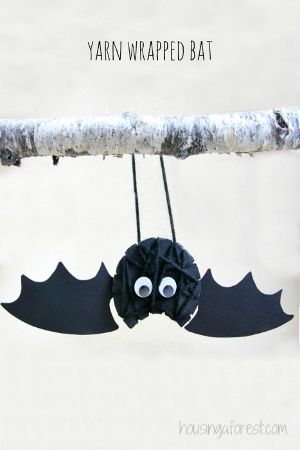 Do your kids want to get more involved with this Halloween's decorations? Check out Housing A Forest's yarn-wrapped bat craft. While it's not necessarily for kids, it will be a great way for them to get involved in this year's spooky holiday season!
This craft will give off the natural aura of a bat because of the yarn's texture, and you can hang them throughout your home!
18. Soda Bottle Bat Craft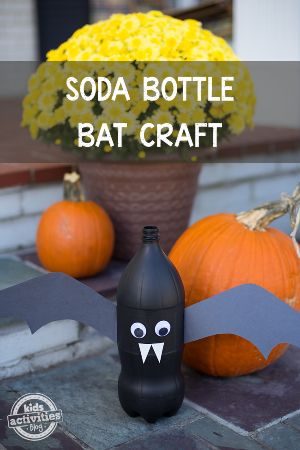 If you've just had a family gathering and have a few 1 liter or 1.5 liter soda bottles to dispose of, then you should first try to upcycle them into these soda bottle bats from Kids Activities Blog.
This straightforward bat craft only requires black paint, googly eyes, and black construction paper (for the wings).
Alternatively, you can paint your bat brown because brown bats exist, too (and really, shame on us for not recognizing them more).
The full guide for this project is available on Kids Activities Blog.
19. Pom Pom Bats Craft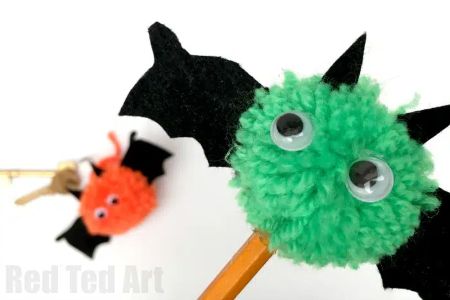 I love this pom-pom bat craft! They look like creatures that you would only find on cartoon tv shows. If you've got some pop poms lying around, then you're more than halfway there.
However, Red Ted Art recommends making your own pom poms with a pom-pom maker to get the desired texture of the bat.
20. DIY No-Sew Bat Costume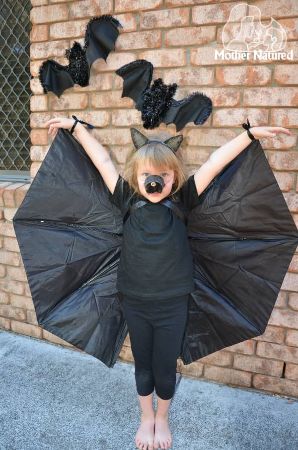 Last on the list, but certainly not least, is this DIY bat costume for kids. Fans of Batman (which should be everyone) won't be able to skip out on this bat craft by Mother Natured.
They suggest using an umbrella for this easy, no-sew activity. And while this is technically a craft for kids, an adult should put it together because it involves removing the metal structure of the umbrella.
But you can still engage your children during the rest of the craft once you've removed the metal part!
Bat Crafts That All Children Will Enjoy
Whether it's a simple decoration for Halloween or your children are a fan of bats, you and your children will definitely enjoy making some of these 20 bat crafts.
For other critter craft inspiration, check out these other craft lists:
Which of these bat crafts have inspired you? Let me know in the comments below.