The letter Z is the last letter of the alphabet, and probably one of the easier ones to recognize. To help make the process of learning this letter of the alphabet easier for you and your kids, here are 17 letter "Z" crafts for kids to help them learn all about the letter and the words associated with it.
10 Letter "Z" Crafts
Most of these crafts provide a template of the letter "Z" itself, but here's a template I found just in case none is provided.
A number of these crafts require googly/wiggly eyes, so here are some great options that come in various sizes.
1. "Z is for Zoom" Painting Activity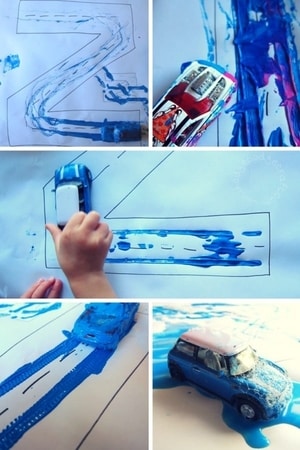 Hodge Podge Craft has a fun and messy letter "Z" craft for preschoolers that even a toddler can do.
If you already have some old toy cars, then just gather some paint and the typical craft materials, and your kids are good to go!
Make sure to prepare a work area and dress your little one in old clothes as this craft can get really messy!
2. "Z is for Zucchini" Craft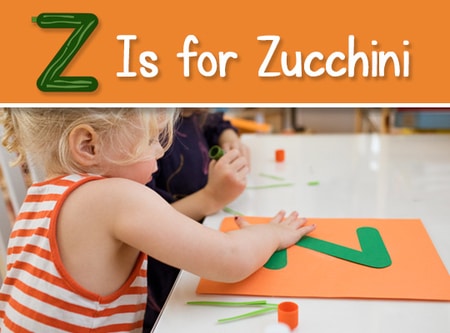 All About Learning Press shares an easy-to-do zucchini craft to help teach kids all about veggies.
The only prep you'll have to do is to print out the template as most of the craft tools and materials needed for this activity can be found at home.
3. "Z for Zebra" Marble Painting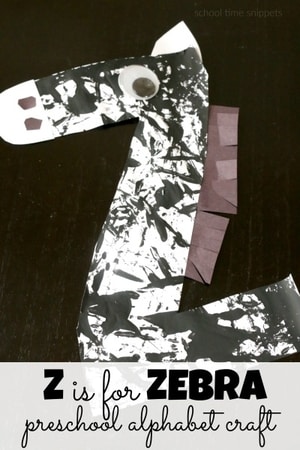 Schooltime Snippets has a cool marble painting idea for you that's also a zebra craft!
To make this work of art, you'll need marbles, paint, a googly eye, and some other crafting materials you most likely have at home.
4. A Fabulous "Z is for Zebra" Craft
Add a little more color to your next zebra craft by adding colorful pom poms like All Kids Network does.
The materials needed for this letter "Z" craft are pom poms and the letter "Z" and zebra parts templates provided on the site. You will need to sign up for their newsletter to access each.
5. "Z is for Zzzzz" Craft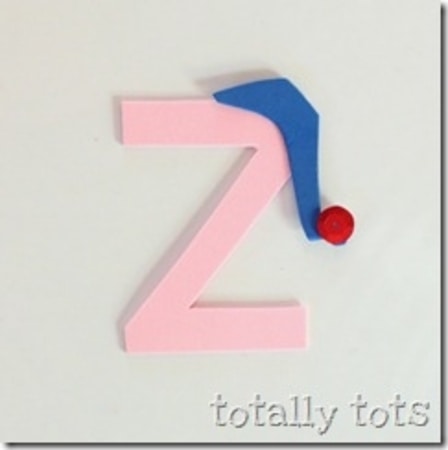 Letter "Z" crafts don't always have to represent nouns or verbs – they can also represent onomatopoeias!
Totally Tots shares a simple "Z" craft of the sound we make when we sleep.
What materials do your kids need to make one? Craft foam, a pom pom or a sequin, and just some staple craft supplies.
6. "Z is for Zigzag" Craft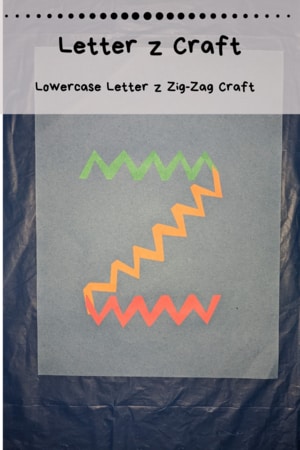 Now, the only difference between upper and lowercase letter "Z" is the lowercase one having a shorter line in the middle, making all three lines equal in length.
This zigzag craft by Hollie only requires basic arts and craft tools that you likely already have on hand.
7. Foam "Z is for Zipper"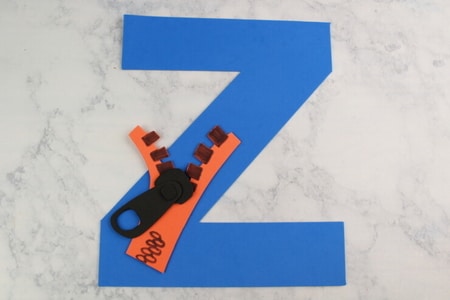 Here's an easy little zipper craft to help associate the word to the letter "Z" by Frugal Mom Eh!
After you finish up this craft, you can work with your kids on fine tuning their motor skills by teaching them how to zip up their coats.
8. "Z is for Zipper" Papercraft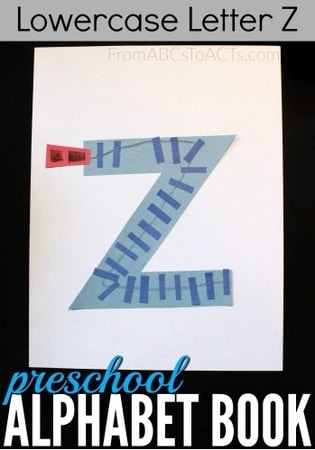 This craft is pretty similar to the one above, but this zipper covers the entire letter Z.
ABCs to ACTs has put together a fun and easy to do craft using materials you almost definitely have on hand.
9. "Z is for Zipper" Zipper Board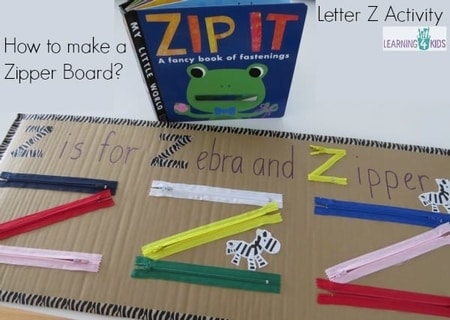 My kids constantly put holes in their pants, making them hard to donate. Instead of throwing them out, cut out the zipper and follow the instructions at Learning 4 Kids to make a fun sensory board.
Bonus points for helping your kids work on zipping up their own clothes.
10. Letter "Z" Origami
Origami can be a fun challenge for kids, but you will definitely need to lend a hand.
This one may be more of a "watch Mom or Dad fold this paper" type craft, but your kids will have fun just spending time with you.
7 Other Letter "Z" Craft Ideas
11. Fuzzy Stick Zig Zags
Now, here's a really easy activity to enhance your little one's fine motor skills.
Craft Project Ideas shows that just using fuzzy sticks (aka pipe cleaners) and shaping them into zig zags helps improve a child's dexterity while associating the word with the letter "Z."
12. Zinnia Finger Painting Activity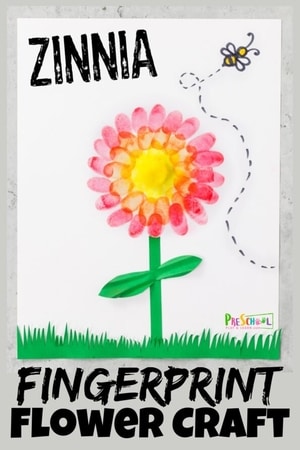 Here's another easy "Z" craft toddlers can do courtesy of Preschool Play and Learn.
With some usual crafting materials, a pom pom, and an ink pad, kids will be able to paint this simple zinnia.
Oh, and be sure to have some baby wipes handy to wipe the paint off your little one!
13. Zucchini People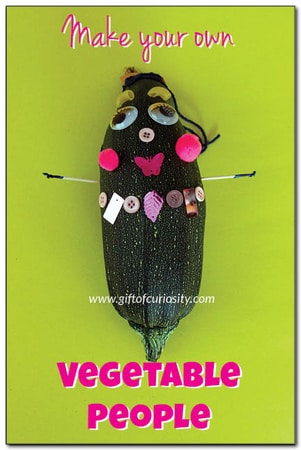 Okay, I'm running out of ideas for the letter Z here.
So let's get abstract. Grab a zucchini from your kitchen (or more likely the store because who just keeps zucchinis on hand?) and follow Gift of Curiosity to turn that zucchini into a person.
Your kid may or may not enjoy slicing up their new friend at the end of the day too.
14. Toilet Paper Roll Zebra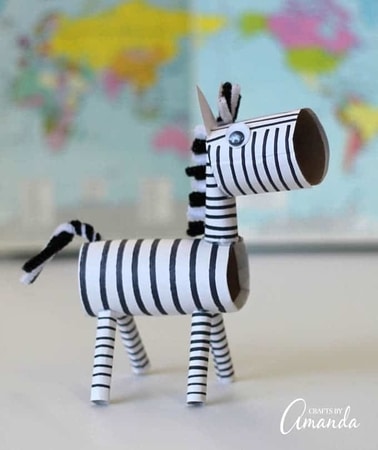 Next time you empty a roll, set it aside instead of tossing it into the trash.
Crafts by Amanda shows kids how to turn those empty rolls into zebras in this tutorial!
Kids can make even more animals by checking our list of toilet paper roll crafts.
15. Zoo Craft
Kids can make a zoo that houses animals with this zoo craft by Ducks' n a Row.
They include a printable cage template at the bottom of their website, so all you need to gather up are pipe cleaners, animal stickers, a craft knife and some basic arts and crafts supplies.
Afterwards, why not head to the local zoo as a special treat?
If you want to let your kids draw the animals themselves, then I've compiled some easy animals to draw as well.
16. Zebra in a Zoo Craft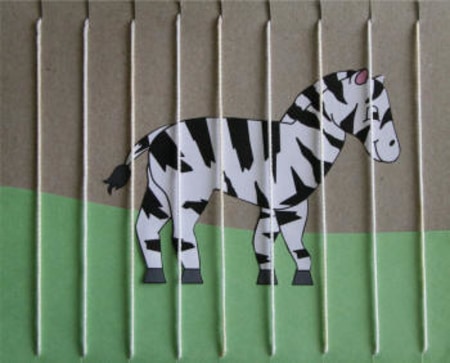 How about combining a zebra and a zoo for some Z-ception? DLTK's Sites for Kids has a cool zoo craft with animals such as a zebra or an elephant inside a cage. The materials needed for this are just common craft materials you most likely have handy.
DLTK also provides printables for the animals:
Colored or black & white for the zebra and elephant.
Colored or b & w for a lion and a monkey.
17. Popsicle Stick Zombie Craft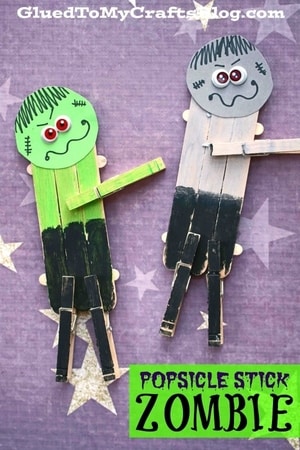 Get ready for the zombie apocalypse with an easy-to-do letter "Z" craft.
Glued to My Crafts has this neat zombie craft that uses jumbo and mini popsicle sticks, as well as clothespins. Kids will just need an additional glue gun, googly eyes, and some common crafting tools they might already have.
Letter "Z" Crafts with a Zing!
Look, there's not much you can do with the letter Z outside of zoos, zebras, and zippers.
If you've reached this point and still haven't found a craft that you like, I'm not sure there's much more I can do.
Once you're done teaching them all about the letter "Z," why not go back and have a review of previous letters like the "V," "J," "F,"or "H"?