Using crafts to teach younger kids about new topics helps them retain what they've learned SO much better. These letter "Y" crafts are sure to help children remember how the letter "Y" looks, sounds, and the words associated with it.
And while most of these crafts are for pre-k students and preschoolers, most are easy enough for toddlers, too!
What are you waiting for? Get the kiddos learning and crafting at the same time with these 20 letter "Y" crafts!
8 Uppercase Letter "Y" Crafts
If you prefer your little one to exercise independence, I highly recommend they use safety scissors.
And while a lot of online craft tutorials provide templates, here are some free letter "Y" templates I found!
1. "Y is for Yak" Craft
Yaks are a type of cattle usually found in the Himlayan region that have THREE TIMES the lung capacity of a cow!
Teach your kids about the different types of animals in the world, such as this horned and hairy one, with this simple and fun yak craft by Miss Danielle that only requires basic crafting materials already found in your home or classroom.
2. "Y is for Yarn" Craft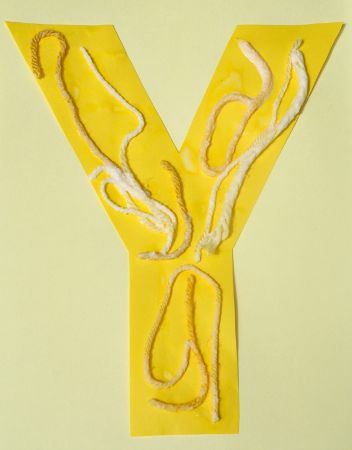 Yarn is a safe material used in various crafts for young children. Here's a quick yarn craft you can do by Fantastic Fun and Learning to teach kids not just about the letter "Y," but also about word association!
There's no need to run to the store for special materials for this craft, either, because you probably already have everything you need at home.
3. "Y is for Yellow" Sponge Stamping Art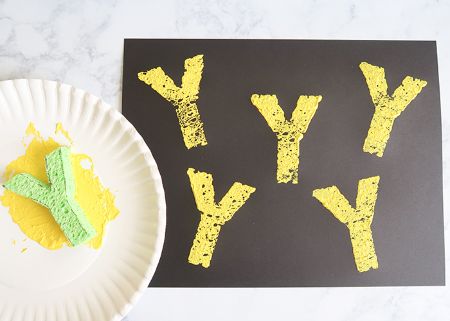 From sunflowers to mustard, there are a lot of yellow things in the world. Teach kids about the letter "Y," and the color that begins with this letter, with this sponge stamping activity from Woo Jr..
For this project, you're going to need a few more specialized materials, such as a craft knife and craft paint (also known as tempera paint), in order to get the perfect capital Y shape.
4. "Y is for Yellow" Craft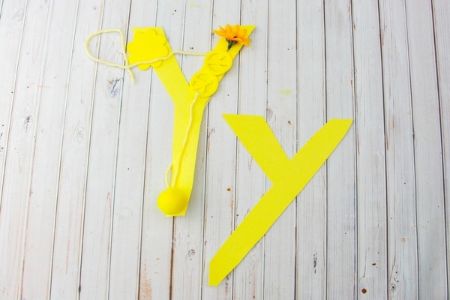 Can be done by: Preschoolers
This is a simple color yellow craft from The Kindergarten Connection that teaches kids about upper and lowercase "Y."
The only materials besides basic craft supplies that are needed for this activity are pom poms and other small yellow things you can find around the house to glue onto the letter, such as foam shapes and stickers.
5. "Y is for Yellow Yacht" Craft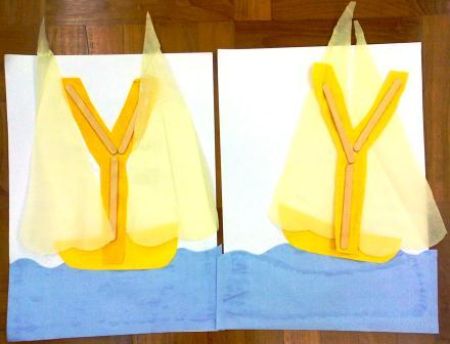 Hit "two words with one stone" (ehhh, get it?) with this color yellow yacht craft courtesy of I Wonder Bee that incorporates the letter "Y" as part of the boat!
Now, while you may have popsicle sticks, scissors, glue, and construction, tissue, and crepe paper laying around the house, you may need to invest in the art block sheet this craft calls for.
6. "Y is for Yeti" Craft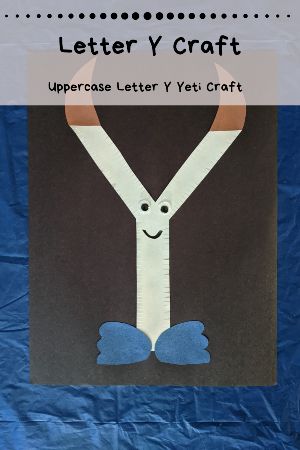 From Himalayan folklore, Home with Hollie brings the mythical yeti to life in a fairly simple craft kids can do at home.
To make this cute creature, you'll need construction paper, scissors, glue, googly eyes, and a pencil or black marker.
7. "Y is for Yo-Yo" Craft
Here's some yo-yo trivia for ya: the term "yo-yo" comes from a Tagalog word which means "come back." Yo-yos are also considered to have been popularized in the U.S. by a Filipino businessman named Pedro Flores.
Kids can make this really easy and interactive yo-yo craft from All Kids Network with a few simple craft supplies and the template available on the tutorials site. Fair warning: you'll need to create an account and log in to download it.
8. Origami Uppercase Letter "Y"
It's never too early to start learning how to fold, so grab a piece of paper and teach your kids how to fold it into an uppercase letter "Y" using this tutorial from Origami Humpy.
If you don't have origami paper available, it's okay for little hands to use regular-sized sheets of paper to make folds a bit easier. And remember, a grown-up can help with complex folds.
7 Lowercase Letter "y" Crafts
9. "y is for Yak" Craft
The yak is back! This time it's in the form of a lowercase letter "y" courtesy of CreativeTrades. I love this craft because all that's needed are basic materials such as construction paper, markers, scissors, and glue.
This activity also helps promote creativity because kids can draw the yak's face however they want!
10. "y is for Yarn" Craft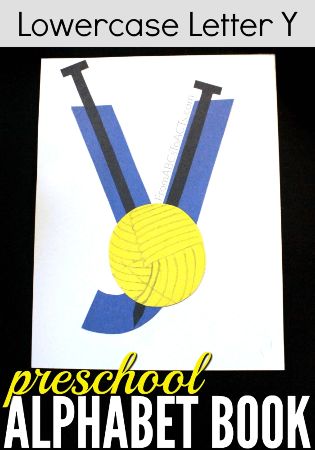 Don't worry, there's no need for knitting with this easy-to-do yarn craft by From ABCs to ACTs. All that's needed for this simple activity is cardstock, construction paper, scissors, glue, and a crayon.
11. "y is for Yacht" Craft
Here's a simple and easy yacht craft from creator Tazz that not only teaches kids about the letter "y," but also about shapes and sound.
This craft is SO easy, it only requires construction paper, scissors, and glue – that's it. You could get started right now!
12. "y is for Yo-Yo" Craft
A fun fact about yo-yos is that their existence dates back to ancient Greece, evidenced by a vase that shows a boy playing with a yo-yo!
While this yo-yo craft from Miss Sarah won't transport you back to 5th century B.C. Greece, kids will still have fun making it using string, glue, scissors, a marker, a cup, and construction paper.
13. Curvy "y is for Yo-Yo" Craft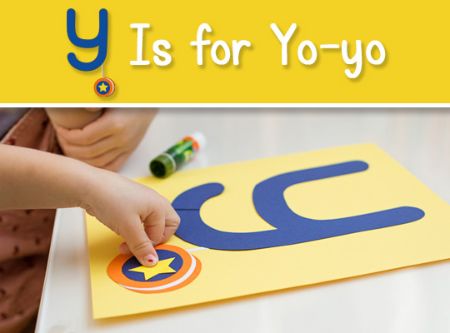 As we all know, there are two ways to depict lowercase "y" – with straight or curvy lines – so it's only fair that we show kids every way to write the letter.
All About Learning Press shares their own yo-yo craft using a curvy version of the letter "y" and some pretty basic craft materials.
And the great thing about this activity is that a nifty template is available!
14. "y is for Yardstick" Craft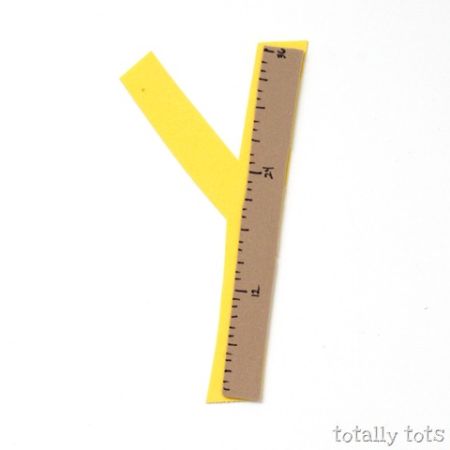 Here's a great letter "y" craft from Totally Tots that will help you teach kids about basic units of measurement.
This very simple and easy-to-do yardstick craft only requires materials that are probably already found in your home (with the exception of craft foam).
15. Origami Lowercase Letter "y"
Did you know that origami is a great way to enhance and develop fine motor skills? Easy Art Craft shares a video tutorial on how to make a lowercase letter "y" from a piece of paper.
5 Other Letter "Y" Craft Ideas
16. Toilet Paper Roll Yak Craft
Have some empty toilet paper or paper towel rolls? Instead of throwing them out, use them to make this cute little yak craft courtesy of Red Ted Art.
Besides simple craft supplies, you'll also need googly eyes and fibre wool to follow the exact instructions for this project.
17. Cupcake Liner Yo-Yo Craft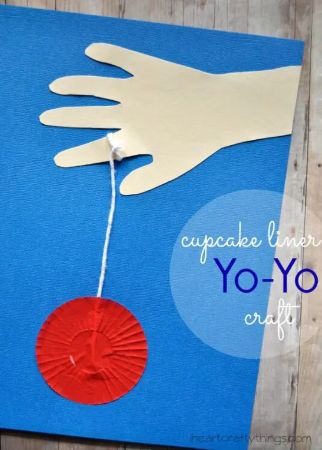 While making an actual yo-yo might be a bit too advanced for the little ones, here's a really easy-to-do yo-yo craft that replicates this popular toy.
Using a cupcake liner, cardstock paper, a Manila folder, scissors, glue, and a piece of string, I Heart Crafty Things shows kids how easy it is to make one!
18. Paper Bag Yoda Craft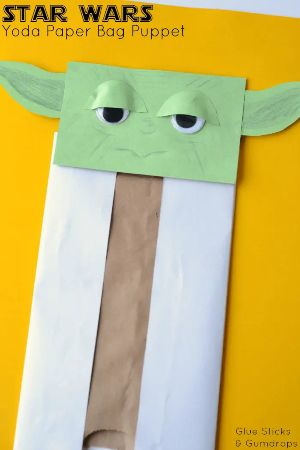 The force is strong with this craft from Glue Sticks + Gumdrops. Kids can make the most powerful Jedi master from the Star Wars franchise with a paper bag and some basic craft materials.
19. Felt Yeti Craft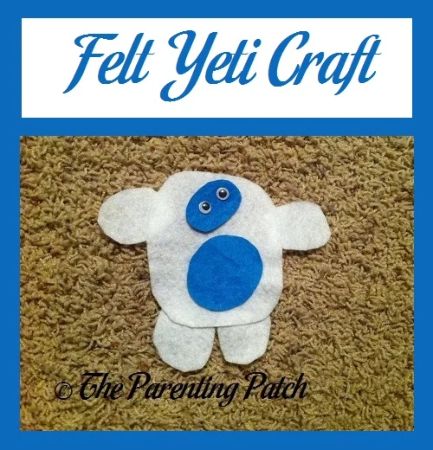 I cannot get over how adorable this felt yeti craft by Parenting Patch is! Not only will this activity help kids with word association, it's a great way to also teach them about shapes.
In addition to the usual materials required for kids crafts, you'll need felt and googly eyes to make this cutie pie.
20. Pipe Cleaner Yoga Craft
If you or your child are a self-proclaimed yogi, then here's a very bendy yoga craft by CraftProjectIdeas that's as simple as can be! This is a great opportunity for kids to replicate the different shapes their body can make.
Exactly how simple is this pipe cleaner craft? The only supplies you need are pipe cleaners and magnetic adhesive sheets – that's it!
Letter "Y" Craft Ideas for Kids of All Ages
Kids will definitely learn how to recognize and possibly write the letter "Y," as well as recognize words that begin with it, with these 20 letter "Y" crafts that'll bring out their creativity and improve fine motor skills!
Don't worry – I've got all your letter craft needs covered. Check out this list of very vital letter "V" crafts next.
What letter "Y" craft was your little one's favorite activity? I'd love to hear all about your experience in the comments!